W.C. Heinz died last week. It barely made a ripple, a couple of obits here and there, but no big tributes, no moments of silence or flags lowered to half mast. There are three groups of people: those who knew Heinz's death was coming, those who were surprised that he was still with us and the other 99.44 percent who have never heard of him.
W.C. Heinz was from another time, an era when boxing and horse racing were staples of sports sections, as hard as that may be to imagine. Ninety-three when he died, Heinz outlived most of those he worked with and most of the outfits he worked for. Maybe there would have been big Heinz tributes in The Sun or True or Look if they were still around. And Heinz outlived all those he most famously wrote about: middleweight champion Rocky Graziano, lightweight champ Lew Jenkins and Air Lift.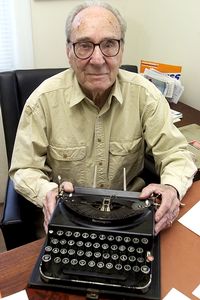 AP Photo/Tim Roske
The impact on sportswriting of W.C. Heinz, who died last week at 93, cannot be overestimated.
You might be familiar with Graziano, who enjoyed a bit of celebrity because Paul Newman played him in "Someone Up There Likes Me."
If you know Jenkins' name, you're a hardcore boxing fan who's up on your champions from the '40s.
And if you know Air Lift, odds are you're a well-read sportswriter, odds are you have gray hair and odds are you know it's "Air Lift, full brother of Assault." Bet the triactor on that one.
Air Lift was a well-bred, 2-year-old thoroughbred, brother of a Triple Crown winner and son of a Kentucky Derby winner. He ran but one 5½ furlong race and made it only about halfway. Air Lift would have left only a hoofprint on the heart of his owner when he broke down if W.C. Heinz had not witnessed it from a seat behind a typewriter on press row at a racetrack in Jamaica. It was just one story, "Death of a Racehorse," in The Sun on July 29, 1949. Those who picked up The Sun at New York newsstands that day had no idea that they held in their hands a classic piece of literature. Not sports literature, mind you. No, a short story that would stand up with those knocked out by the acknowledged American master of the form, Ernest Hemingway.
---
They were off well, although Air Lift was fifth. They were moving toward the first turn, and now Air Lift was fourth. They were going into the turn, and now Air Lift was starting to go, third perhaps, when suddenly he slowed, a horse stopping, and below in the stands you could hear a sudden cry, as the rest left him, still trying to run but limping, his jockey -- Dave Gorman -- half falling, half sliding off.
"He broke a leg!" somebody, holding binoculars to his eyes, shouted in the press box. "He broke a leg!"
Down below they were roaring for the rest, coming down the stretch now, but in the infield men were running toward the turn, running toward the colt and the boy standing beside him, alone. There was a station wagon moving around the track toward them, and then, in a moment, the big green van that they call the horse ambulance.
"Gorman was crying like a baby," one of them, coming out of the jockey room, said. "He said he must have stepped in a hole, but you should have seen him crying."
"It's his left front ankle," Dr. J.G. Catlett, the veterinarian, was saying. "It's a compound fracture; and I'm waiting for confirmation from Mr. Hirsch to destroy him."
---
At the ends of another writer's fingertips, there might not have even been a story, just a statement of fact. A promising 2-year-old colt broke down and had to be destroyed. … Another writer would have fetched a couple of quotes and transcribed them. "It's a tragedy," the owner said. W.C. Heinz, though, was a master of many things, foremost among them setting scenes, establishing characters and portraying attempts at grace under pressure.
---
They had sponged off the colt, after they had given him the shot to deaden the pain, and now he stood, feeding quietly from some hay they had placed at his feet. In the distance you could hear the roar of the crowd in the grandstand, but beyond it and above it you could hear thunder and see the occasional flash of lightning.
When Catlett came back the next time he was hurrying, nodding his head and waving his hands. Now the thunder was louder, the flashes of lightning brighter, and now rain was starting to fall.
"All right," he said, shouting to Gilman. "Max Hirsch talked to Mr. Kleberg. We've got the confirmation."
They moved the curious back, the rain falling faster now, and they moved the colt over close to a pile of loose bricks. Gilman had the halter and Catlett had the gun, shaped like a bell with the handle at the top. This bell he placed, the crowd silent, on the colt's forehead, just between the eyes. The colt stood still and then Catlett, with the hammer in his other hand, struck the handle of the bell. There was a short, sharp sound and the colt toppled onto his left side, his eyes staring, his legs straight out, the free legs quivering.
"Aw ----" someone said.
That was all they said. They worked quickly, the two vets removing the broken bones as evidence for the insurance company, the crowd silently watching. Then the heavens opened, the rain pouring down, the lightning flashing, and they rushed for the cover of the stables, leaving alone on his side near the pile of bricks, the rain running off his hide, dead an hour and a quarter after his first start, Air Lift, son of Bold Venture, full brother of Assault.
---
"Death of a Racehorse" is not even a thousand words long, but any abridged version insults it. Heinz kept it short, what turned out to be a favor to a couple of generations of sportswriters who tried to memorize it over the years. And in keeping it short, Heinz probably made it easier for a couple of his other longer stories to appear alongside it in the "Best American Sports Writing of the Century," a collection edited by David Halberstam. Heinz was the only writer that Halberstam rated as deserving three entries in the anthology.
I first read "Death of a Racehorse" as a college student. I spotted a copy of his collection, "American Mirror: A distinguished writer on courage," in a used-book store. I didn't recognize his name, but I did recognize the photo of Graziano standing over a thoroughly knocked-out Johnny Greco, and I did recognize the name of the fellow who offered the foreword, Red Smith, The New York Times' Pulitzer Prize winner. On those two counts, I figured the book was worth a the risk of a couple of bucks.
Truth be told, it was Smith's foreword that I wanted to read. He had died not long before my purchase. "My admiration for his work is older than our friendship, which can be dated only with carbon 14," Smith wrote.
I figured the praise Smith heaped on Heinz owed more to that friendship than the quality of the friend's work. Not even close. If the stories in "American Mirror" had been written by a complete stranger and dropped on Smith's desk, he'd have blushed.
A couple of years back, I set about re-reading "American Mirror" and only then did I think about the title. When I bought the book, one of my life's great bargains, I presumed that it was your basic metaphor: the author holding up a mirror to look at brave men. That, it turned out, was too obvious, too easy. No, what Heinz did was a little more complex: He handed the mirror to others and captured them looking in it.
When Heinz handed the mirror to Graziano, the fighter saw himself as a nervous wreck in the hours before Tony Zale nearly punched a hole in him. When put the mirror in the hands of Jenkins, a hard-living boxer realized that the recklessness that made him a champion also made himself old before his time.
When he put the mirror under the nose of Bummy Davis, there was not a wisp of fog because the journeyman pug had died the way he lived, "willing to go the distance for whatever he believed or whatever he was." In Davis' unfortunate case, that meant he died throwing his signature hook against a guy with a gun.
Heinz was at his best with brave men, whether it was in the ring or on the front lines. If he had never covered a fight or a game or a race, he would have left a tidy archive of great reporting about war and civil rights. Even without his newspaper and magazine work, he left a couple of pretty big marks in the book world. He was one of the co-writers of "M*A*S*H*," not the movie or the TV series, but the book that started the ball rolling. He also wrote a novel, "The Professional," that Hemingway praised as "the only good novel about a fighter."
That would be something you could dine out on. W.C. Heinz deserved more. The Red Smith Award is to sportswriters something like the Oscar for lifetime achievement for actors. The Associated Press Sports Editors hand it out to those who have made "major contributions to sports journalism." They gave the first one to Red Smith himself. In a ridiculous oversight over a couple of decades, the APSE never got around to handing one out to his good friend Bill Heinz. So a couple of years ago, a bunch of sportswriters put together a petition lobbying the APSE to give the award to a writer who had Smith's seal of approval, to a friend of the ol' redhead. The group was something like the cult of "Death of a Racehorse."
I pitched a publication on doing a story about the petition and received a tentative green light. So I tracked down Heinz in a Vermont nursing home to get his reaction. He seemed genuinely surprised that anyone would take an interest in his work and had no idea of his influence on a couple generations of sportswriters.
"If young writers appreciate my work now, that's a positive," he told me. "I hope they learn something about writing."
Heinz expressed no interest in awards.
"I remember having dinner at Red Smith's after he won his Pulitzer," Heinz said. "Red was pretty proud of what he could do in the kitchen. But this dinner … to be polite, it missed. I said to Red, 'Too bad you didn't get an award for cooking.'"
I asked Heinz if he remembered the night at the racetrack when he wrote "Death of a Racehorse."
"I can still hear the thunder," he said, "like it was yesterday."
I tried to coax Heinz to look in the mirror as he might have on July 28, 1949. I asked him if he had any idea that his story -- about an hour, one draft, on a manual typewriter, in the rain -- was as close to perfection as sportswriting could be.
"Oh yes," he said. "When you get a good story, you know. That story … I knew I had hit that one out."
You know how this story comes out. The APSE gave the award to someone else that year and the publication that talked to me about a Heinz profile lost interest.
The next year, the APSE passed him over again and I didn't call him. I wouldn't have blamed him if he thought the petition hurt his chances. Then he died. Maybe the APSE will get around to doing the right thing posthumously and name W.C. Heinz the winner of the Red Smith Award. I'd bet Red Smith would never have accepted his award if he knew his friend would forever be denied. And I'd bet that Red Smith and the rest on the honor roll would trade in all their awards to have written a story as good as "Death of a Racehorse."
Gare Joyce is a regular contributor to ESPN The Magazine and ESPN.com.