All game long this skinny junior safety was jacking up this wide receiver. This was Texas football -- 5A Division I playoff football, in the chill of November -- a game between San Antonio Madison (the safety's team) and Austin Westlake ( the receiver's team). On any one play there can be as many as 11 small wars, and a bunch of engagements within those conflicts, but this matchup -- between the safety, David Edwards, No. 5, and the receiver, Coy Aune, No. 1 -- was more intense than the others.
Did Edwards know No. 1's name? Or that No. 1's father used to hand the ball off to Earl Campbell in the University of Texas backfield? Well, it seemed like he did -- like he wanted to make this piece of Longhorns royalty his own trophy, like he was going to rattle every joint in his body. Just more fun on the Madison Mavericks' run that fall, with a record of 9-1 as they ran out on Neptune Field that day.
Aune was looking for No. 5. The kid didn't say much except "good play No. 1." But he didn't need words to get into Aune's head. Truth be told, Aune had thoughts unbecoming of a football legacy. He was feeling burned out. He was falling out of love with the game. The Westlake Chaparrals had been a powerhouse for years, but the 2003 season had been a disappointment, with four losses heading into the playoffs. He was falling more out of love with every play of this game. It was already one of the longer nights of Aune's life. The way he was feeling, this might be the last game he was ever going to play.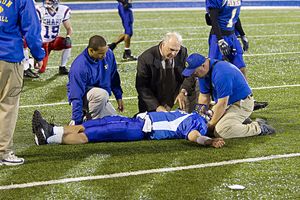 NBC
In "Friday Night Lights," the quarterback is the one severely injured.
Madison 20, Westlake 17. Westlake ball, fourth down. Aune was split tight. He was running a route down the middle. Edwards recognized it. He closed in a heartbeat, just as the ball hit the receiver's hands. Right at that moment their eyes met -- just for a split-second. Then Edwards drove his helmet right smack into Aune's chest.
The ball dropped to the grass. The curtain fell.
Many people saw the hit. Those on the field might have caught a glimpse of it out of the corner of their eye. Those in the stands saw it unfold in front of them. A bunch of cameramen were on the sidelines and around the stadium, and at least a couple watched it through their viewfinders. It was a hit that made people wince.
The bodies came to rest on the field. The stadium was silent for a second or two. Then you heard a scream, from the safety's sister. In the next few moments the air temperature seemed to drop about 20 degrees.
Aune had never been hit so hard. It took all his strength just to get up on his knees. Everything hurt, and his head was ringing. Staggering back to the huddle -- what down is it? -- he thought the silence was for him. Then he looked back and saw No. 5 on the ground, legs splayed at a weird angle, not moving.
Aune's head was still ringing when he saw the trainers run out, still ringing when they brought out the stretcher, still ringing when the siren of an ambulance blared in the distance. A chant went up: "David, David, David." It started on Madison's side of the field, but then the Westlake fans joined the chorus. Everyone looked for a wave, or a thumbs-up. Nothing. At one point during the 20-minute delay, the ringing died down and Aune said to himself, "His name is David."
The ambulance rushed Edwards to the hospital, and the other players finished a game that no one felt like playing anymore. Westlake came back and won the game with two touchdowns in the final three minutes. By that time Edwards was in the intensive care unit at Brackenridge Hospital. Surgeons were working to save and salvage his life by the time the Madison team boarded their charter back to San Antonio.
Crucial minutes, important hours and, finally, unchanging days passed. Specialists and surgeons scrambled. They put David on life support until he could breath on his own. They looked for a sign of movement, but none ever came. They explained to his family that he was paralyzed from the neck down.
It was days before Edwards could talk again. It was a struggle, a long time coming. But when he could finally speak, his first words were a question: "How's the other guy?"
---
David Edwards died on Feb. 27, a little more than four years after the accident that left him in a wheelchair, unable to make even a fist.
It's left to "the other guy" to tell David's story. It's left to him to tell their story. He isn't crazy about the idea. "It's not about me," he says. But Edwards would be OK with Aune telling the story if it gets the message out about spinal injuries, if it gets people to seek out the charity set up for Edwards' family. Edwards was OK with getting his story out there. Peter Berg, a producer and director, was on the sidelines with his cameramen that night in Austin, doing research for the pilot episode of the "Friday Night Lights" TV series. Edwards gave Berg his blessing to have a story line featuring a star player suffering a paralyzing spinal-cord injury.
Aune will tell the story, with one condition that Edwards would have attached: Don't make it a sad story. Everyone will tell you that David Edwards was always smiling. He never let himself be sad. Not when he faced a surgery. Not when they tried to make him feel even the tiniest sensation. Not when his bed sores got infected. Not even when he was having another bout with pneumonia, which ultimately took his life.
So read this and smile.
---
Coy Aune: "David was a good football player. He was a conference first-team all-star as a junior, which is pretty good. He probably could have gone on to play small-college Division I, at least. It's hard to say. He was just a junior and he was probably going to fill out.
"He was locked on me all game long. That game, it was a fun deal right up to the point. He hit hard for a skinny kid.
"My mother was at the hospital. She went there straight from the stadium. I went with Peter Berg after the game. I got there at 2 a.m. I wanted to be part of it. I couldn't see him then. They told me it was bad.
"I wanted to quit football right then. I didn't want to play anymore. I thought, 'It could have been me.' I thought this was stuff that you just read about, nothing that you're ever going see, nothing that I ever thought I'd be a part of.
"I didn't feel guilty about it. There wasn't anything I could have done different. He hit me. It just turned out wrong.
"It was amazing how many people he touched. He touched me. I became friends with him afterwards. David had lots of friends -- not like he needed more, because he had lots. But we became friends, and I told him that I didn't want to play anymore. And he told me, 'No, you keep on.' I gave him my word, and I always keep my word. From then on I felt like I was playing for the both of us. He rekindled my fire.
"I had a couple of Division I offers, but they were from smaller schools where there was weather. I decided to walk on here in Austin. It wasn't that my father played for the Longhorns -- I wanted to stay close to home. Looking back on it, David had something to do with it. I knew I could stay in touch with him. I knew he could see our games. The way I figured, if I was playing for him, it shouldn't be just someplace he can only read about.
"We won a national championship and we got to go to the White House. It felt like David was there with me. And I was there for him too. It's not about me.
"He smiled when I saw him after the championship game. But he always smiled. I know that I wouldn't have been like that. I'm sure I would have been bitter if I ended up in a wheelchair. He was better that way than I could have ever been. When he spoke at the graduation at our high school the next year, he was so positive, his smile was so real -- not just when he was on stage, but afterwards. You couldn't fake that. It comes from a good place.
"Someone asked him if he had any regrets. He said he'd do it again. He said he never liked doing anything as much as playing football. And he asked me how good the hit was, and I told him, 'Oh yeah, it was good. You knocked the hell out of me.'
"I thought Peter Berg did a good job with it. If it gets out there -- the idea that this can happen, that this is what the game is about -- then I think it served a good cause. It was tough to watch just because it was so real, but it didn't haunt me or anything. That play just happened, there wasn't anything else that could be done. "Until you mentioned it, I didn't really think about the fact that 'Friday Night Lights' didn't tell the story of the guy who hit the player who got paralyzed. It would have been cool to find out what happened to him.
"I'm done with football now. I'll graduate this spring, [with a degree in] corporate communications. I'm going to try to do some work in photography, which I like, but I don't know what I'm gonna do. It was different after that hit. I'll admit that I just lived for me before that play. It was about me. I was selfish. Now I try to be there for others. I don't know if I'd go as far as saying I'm selfless, but I try to be a good person. I rarely go out of my way to talk -- I've always been that way -- but I listen to other people now. I'm interested in other people. I'm sure that I'm that way because of the friendship I had with David and the way he was."
---
Your natural reaction is that David Edwards' story is a sad one. But it's not. Don't think of what might have been. Just think of what was -- the joy and goodness around David Edwards.
People from San Antonio and Austin and many other places did their best to support him and his family. They gave his mother the keys to a condo where she and her four other children could stay while David was in the hospital. They brought food on Thanksgiving and Christmas. They raised funds for a wheelchair-accessible van. They built a home for the Edwards family, one that David could get around. They raised funds to make up for stuff that insurance didn't cover. They made David the homecoming king.
A couple of days before his 21st birthday, David fell into a coma. Even then, others were there for him. At the moment when he died, Coy Aune's mother, Marci, was hanging birthday decorations around his bed. At the memorial service at the Madison gym, the preacher didn't talk about tragedy. He said David brought people together -- from two schools, from two cities, and far beyond that. David Edwards' gift was harmony.
Coy Aune will never forget his friend, David Edwards. They were brought together by an awful moment. But Aune can look back on that play and find a certain beauty.
"Something happened on that play that I never experienced before or after in football," he says. "There was a moment right before the hit where we locked eyes. He could see what I was thinking: 'S---, I'm going to get drilled.' His eyes were wide, wide open, and he was energized, like he was doing something he loved.
"It was a privilege to be the last person to feel him move."
For more info on the Gridiron Heroes Spinal Cord Injury Foundation, click here, or contact Eddie Canales at ecanales07@yahoo.com.
Gare Joyce is a regular contributor to ESPN The Magazine and ESPN.com.