Two nights. The first, a tribute, brought memories of the Montreal Canadiens' dream teams of the '70s. The other, a brawl, was one of hockey's recurring nightmares.
A few weeks back, the Canadiens honored Bob Gainey, their former captain and current general manager. The Canadiens specialize in these gala evenings. Fourteen Montreal players have had their numbers retired. On this night, Gainey took a sentimental skate around the rink wearing his No. 23 -- for the fans, the city and the game more than himself. The ceremony was like so much of the Canadiens' history and so little of sport these days. It was dignified.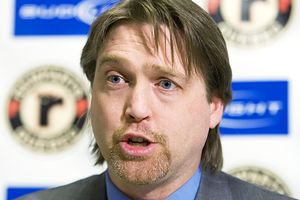 AP Photo/The Canadian Press, Clement Allard
Patrick Roy keeps damaging his sullied legacy.
That weekend, people were talking about Patrick Roy, everybody's best guess to be the next to have such a night. With due respect to Montreal's legends, from Howie Morenz, through Rocket Richard and Jean Beliveau, none played a more significant role in a run to a Stanley Cup than Roy did as an unheralded crooked-nosed 20-year-old in 1986. He won the Conn Smythe Trophy that spring and another in leading Montreal to the Cup in 1993. For that he deserved the same ceremony as Gainey -- but how? There's one thing you can say about Patrick Roy: Dignified he ain't. People in the Canadiens' offices and along press row reckoned that his image was in need of repair. It wasn't that he led the Colorado Avalanche to two Stanley Cups or that Colorado already retired his number. No, it all came down to dignity. In Patrick Roy's best season, his goals-against average was 1.94. That's also the ballpark number for Roy's dignity. In ounces. When other Canadiens greats left Montreal, the vast majority of them were on good terms with the team. Not Roy. No, it came undone in December 1995. Roy undermined his former roommate, Mario Tremblay, who had been named Canadiens coach. Tremblay in turn left Roy in for nine goals in a dismal loss to Detroit -- the fans' mocking cheers ringing in his ears. When Roy finally came off the ice, he looked ready to sucker punch Tremblay, and he yelled menacingly at Ronald Corey, the team president sitting in the front row behind the Canadiens bench. More than any other sports franchise, the Canadiens treasure their image and value class. Roy was way outside that image and lacked class. So, Roy was dealt to Colorado, a fire sale more than a straight trade as it turned out. With the Avalanche, Roy trash-talked, scrapped with the Detroit Red Wings and played the jerk-athlete role to perfection. The Canadiens don't figure to be retiring Roy's number anytime soon. Not after last weekend. At an arena in Chicoutimi, Quebec, Roy shaved a few grams off what remains of his dignity. Upon his retirement, Patrick Roy bought the Quebec junior franchise, the Remparts, the team closest to Sainte-Foy, where he grew up, a homecoming to warm your heart. He even coached the Remparts to a national title. But any goodwill went out the window this weekend, when the Remparts gooned the Chicoutimi Saguenéens in a Quebec league playoff game. Every viewing of the video on YouTube made Roy look worse. It wasn't the first line brawl in a junior game, and it won't be the last. It might not be the only line brawl featuring a coach's son in a leading role. Roy 's Remparts were losing 7-1 late in the second period. Jonathan Roy, usually Quebec's backup goaltender, a kid no NHL team bothered to draft -- even with his bloodlines -- was in the game to mop up the mess. One thing led to another, one facewash led to another and one pair of dropped gloves led to another. Five fights. On-ice officials had no shot at breaking up the brawl.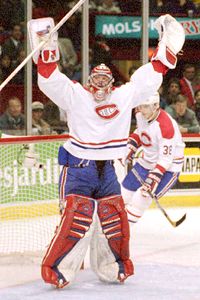 AP Photo/Montreal La Presse-Bernard Brault
Roy responds to mock cheers from Montreal fans on Dec. 2, 1995, his last game with the Canadiens.
Jonathan Roy skated out of his net to threaten Chicoutimi goaltender Bobby Nadeau, who stayed in his crease and had no interest in fighting. Jonathan Roy got as far as center ice before he was turned back by a linesman. Then he spotted his father yelling on the bench and pointing in the direction of the Saguenéens' end of the rink. Jonathan Roy doubled back and skated 100 feet. Nadeau at this point must have been the only guy in the rink who didn't know what was coming, because he never dropped his stick, his blocker or his glove. He never even raised a hand to defend himself. At the end of a brutal beating, he was breathing but not moving, probably grateful for small mercies. Jonathan Roy managed to get in another fight on his way to getting kicked out of the game. He flashed middle fingers (it translates the same in French) to a jeering crowd. The ref decided to send the teams to their dressing rooms at that point, a little like sending the teenage players to stand in the corner. As Patrick Roy crossed the ice, to go to the Remparts' room, the fans worked their best fastballs and pelted him with garbage. He covered his head. His turn to turtle. Jonathan Roy apologized, though for using profanity, not for gooning Nadeau. "I acted in an unacceptable way for an athlete. I gave the finger to the crowd, and I used unacceptable words before TV cameras," he said at a news conference. Patrick Roy shrugged off any blame for the incident. "I can't control the reactions of my players in the heat of action," he said. "That's part of the game." Pretty weak. Patrick has control over his players. If they don't do what he says, they're as good as gone. He's not just the coach, but the owner, too. Patrick Roy in Quebec City is bigger than Elvis in Memphis. On Tuesday, the Quebec Major Junior Hockey League dealt out punishment. Jonathan Roy received a seven-game suspension, a hollow sentence because he is the Remparts' backup. Patrick Roy received a ban of five games. Again, a wrist slap. He'll coach from behind the scenes, just not behind the bench. Roy's team was fined $4,000, the face value of 250 tickets. When you consider that almost 15,000 fans came out to see the Remparts beat Chicoutimi 6-1 Tuesday night -- the second largest crowd of the season -- the brawl turned a profit for the Remparts and Patrick Roy. So far, criminal charges haven't been filed. The real punishment will take a little longer to mete out, and it won't be the QMJHL or law enforcement that will make the call. No, it will be the Montreal Canadiens who sit in judgment. It was never going to be easy for the Canadiens to honor Roy, and after Saturday night, it's tougher now. Do hockey fans in Quebec put Patrick Roy up there with Rocket Richard, Jean Beliveau or Bob Gainey? They knew only cheers. You have to go to Quebec to find the nearest thing to worship in sports. In Chicoutimi on Saturday night, fans hurled trash at Patrick Roy. It's hard to imagine that the Canadiens will rush to pay the tribute to a player who commands so little respect from the fans and has so little respect for the game. If they retired his number, he could suck the dignity right out of the tradition.
Gare Joyce is a regular contributor to ESPN The Magazine and ESPN.com.