By Brian and Andy Kamenetzky
Special to Page 2
As if Snoop Dogg isn't ubiquitous enough already, the rapper-actor-producer-pitchman-NBA Summer Pro League staple recently revealed this next feather for his cap: "My dream is to coach in the NFL, probably for the Steelers. Put that out there for me."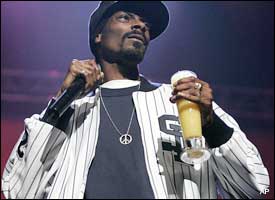 Snoop arrives at Steelers mini-camp set on reaching the Supizzle Bizzle.
Sure, it might seem odd to fire Bill Cowher after Pittsburgh's 15-1 season and his 13 years as head coach. But with the talk brewing that the Bus might retire and that Plax might look for another uni to wear, perhaps it will take change of the most drastic kind at the top to keep this powerful unit going strong. Assuming owner Dan Rooney has the guts to make such a radical move, here is our crystal-ball look at the highlights of Pittsburgh's 2005 season:
The Press Conference
After a kickin' opening set by 50 Cent, owner Rooney, who has previously promised to "drop a mother-(bleeping) bomb on the Steel City," introduces Coach Dogg to the media.
"It's all about tradition, you know?" he says, pointing to the "old-school" 1970's Steel Curtain teams as his model for success. Rooney also announces a late November release date for a new offense featuring samples of the Immaculate Reception and Terry Bradshaw's 1978 Pro Bowl season.
New Additions to the Coaching Staff
Offensive Coordinator: Eminem.
Defensive Coordinator: Dr. Dre.
Special Teams Coach: Some dude called "Lem." None of the players have actually met him yet, but Coach sure does page him a lot.
Preseason
The excitement of training camp is tempered when players pass out left and right during the first practice. Later, Coach Dogg points to poor conditioning, hot weather, and the fact that he switched out the traditional Gatorade for gin and juice. "We got too many people with their mind on their money and their money on their mind," he explains, noting the beverage switch was an ironic effort to highlight selfish behavior that backfired.
Week 1
Big Ben Roethlesnizzle throws for only 145 yards and is picked off three times in a 38-13 loss to New England. The QB refused to cry about the sophomore jinx, but admits he was struggling to work the Sidekick that Coach Dogg insists on using to call in plays.
Week 2
The staff conducts a post-practice, coaches-only meeting, only to see it go up in smoke early. The staff agrees to switch to two-a-day coaches meetings from that point on.
Week 3
After a 1-2 start, fans are getting on Coach Dogg and his offensive scheme, which is the same system he used when he coached his son's Pop Warner team. Reluctantly, he fires offensive coordinator Eminem and brings in The Neptunes to remix the playbook. Immediately, things begin to click.
Week 6
A 41-10 rout of the Browns moves the Steelers to 4-2. Highlights include Hines Ward's 63-yard TD run on a third-and-18 Reversahizzle, and a stunning Statizzy of Libertizzy.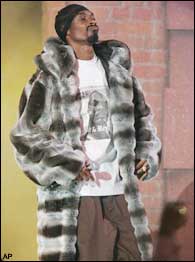 Snoop models the new sideline gear he designed for the Steelers.
Week 9
A storm of controversy explodes in Pittsburgh with the DVD release of "Cheerleaders Gone Wild," featuring the Steelers girls. Coach Dogg refuses to comment on his roles of Producer, Writer and Director of Photography, but does ask a female beat writer if she's a fan of t-shirts and beads.
Week 12
Coach Dogg implements a $1,000 fine for every receiver and running back who "drops it like it's hot."
Week 14
The Steelers drop to 9-5 after Coach Dogg's offense endures 11 consecutive delay-of-game penalties while its distracted leader struggles to create a rhyme using veteran tight end Jay Riemersma.
Week 17: Fan Appreciation Day at Heinz Field
The first 35,000 fans receive a free sample of Snoop-endorsed "Chronic Candy," in their choice of Acapulco Gold or Chronic flavors. In the bitter cold of Pittsburgh in December, players replace their standard overcoats with classic furs. As playoff lives hang in the balance, the ultra-warm Steelers defeat Detroit when ivory-tickling Joey Harrington throws five picks, distracted by Snoop's offer to bring him along on his next tour.
AFC championship Game
Chargers TE Antonio Gates unwittingly provides bulletin board material for Snoop's Steelers when he claims that East Coast football can't hold a candle to West Coast football. "I know I'm from the LBC," says Coach Dogg, "but my homies are in Pittsburgh now." Steelers 48, Chargers 10.
Super Bowl
Coach Dogg becomes the first coach in history to perform during the halftime show. ("That wasn't a nipple," he says of his controversial wardrobe malfunction.) Spurred on by the smooth beats and groovy rhythms, the Steelers overcome a 17-point deficit to defeat the Eagles in an all-Pennsylvania matchup.
Do we feel confident this is the future? Fo' shizzle!
Brian
and
Andy
Kamenetzky
DOGGING IT