Commentary
Could Twitter destroy real journalism?
Originally Published:
July 7, 2009
By
Tim Keown
| Page 2
Holly Robinson Peete has no business being part of the Steve McNair discussion, but she was. Ever so briefly, ever so irrelevantly, the wife of former NFL QB Rodney Peete made an appearance through thoroughly modern means: thoughts conveyed via Twitter and relayed to the non-Twittering masses through the blog Deadspin. It doesn't get any more new media than that.
Her opinions were either inane ("Will the Steve McNair tragedy scare married men straight like the '87 film 'Fatal Attraction' did for a while?") or distasteful ("i told hubby if i get a call some 20 yr old waitress he was doin offed him - me n kids boycotting funeral - not EVEN joking"). But more than anything, they were private -- or should have been.
[+] Enlarge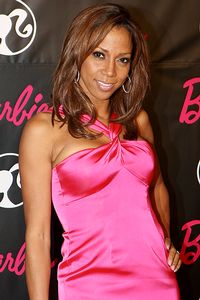 AP PhotoHolly Robinson Peete made waves with her Twitter comments regarding Steve McNair's death.
Instead, in this new age, when no thought goes unspoken or undisseminated, it's all free for public viewing and comment.
I know the whole Twitter/Facebook social-networking revolution is supposed to transform the way we communicate with each other. But for the most part it looks to me like just another way to avoid human interaction while tossing out meaningless tidbits of minutiae.
I admit to coming at this from a certain bias. Maybe it's age, or the complete lack of desire to be held prisoner by another electronic device -- or app or site or whatever -- but I have absolutely no interest in knowing where people are and what they're doing at all times. You're in the supermarket and can't believe the price of asparagus -- fine. Leave me out of it. I have no interest in being given 140-character opinions or observations or updates -- even from people I know and like.
But if the whole enterprise were confined to its rightful role as the electronic transmitter of the pointless and immaterial, it would be hard to find an objection. If its use was limited to people boring each other into stupefaction with their whereabouts and their moods and their shopping habits, it would be the equivalent of an inside joke at the high school cafeteria.
The problem is, there is a widespread attempt in the media to bring validity to the enterprise. There's pressure to get stuff out there, to be connected to the story. CNN wants us to follow it on Twitter, when following it on CNN should be about all it demands of us. Viewers are invited to respond, and there's nothing quite like the awfulness of a guy reading a truncated, abbreviated, code-language message from someone with no expertise beyond opposable thumbs.
(And I'll say it before you do: There are exceptions, and the election protests in Iran are a big one. Without Twitter, the amount of useful information leaving that country would be minimal at best. This leaves aside the validity of the information being Twittered -- or whatever the heck you want to call it -- but that's secondary to the importance of the technology in spreading useful information.)
But consider the other side: I don't believe Holly Robinson Peete, a successful actress with a solid reputation, would have told a newspaper reporter the same things she wrote on Twitter. If she had been called to comment on the situation, perhaps as an expert on being a quarterback's wife, she would not have been so flippant and caustic. Her comments would have been more in line with her subsequent Twitter remarks, which emphasized her sympathy for the family and sadness at the situation.
The line between public and private blurs. As does the line between journalism and non-journalism. One of the first McNair-related Twitter items that gained widespread circulation came from CNBC reporter Darren Rovell, who cited WSMV-TV in Nashville as confirming that McNair was shot and killed by his wife.
So, who was wrong? WSMV, for sure. But what about Rovell? Is it any different than calling a friend with the information, and then having it spread virally through phone call after phone call? Maybe not, but a phone call doesn't get picked up by media outlets the way Rovell's Twitter item did. And it's not his fault the original report was incorrect. But since he is more well-known and considered more reputable than WSMV, his decision to publicly lend his name to it -- consciously or not -- gave it more credibility and a bigger audience than it deserved.
Sometimes we just don't know. There's no shame in that. Sometimes events take place, even big events, without anybody knowing enough to venture a guess. This is not a weakness. It's all right to admit, and it's all right for people who have nothing to do with investigating or reporting the event -- the wife of an ex-quarterback or a reporter -- to stay out of it until more is known.
The 24-hour news cycle created a rush to be first, not best. And now the rush to expand on the 24-hour news cycle by introducing the immediacy and superficiality of something as limited as Twitter has taken it a step beyond the rush. News is threatening to become as credible as the local crank who sits at home and writes letters to the editor about the pothole on the street in front of his favorite bar.
It's understood that everybody has an opinion, and that those opinions will be voiced through outlets such as talk shows and message boards. Speculation is not a crime. But from a journalistic sense, it seems like Twitter -- and whatever technology comes next -- is becoming a place that you can be wrong without consequences. The trend is troubling.
ESPN The Magazine senior writer Tim Keown co-wrote Josh Hamilton's autobiography, "Beyond Belief: Finding the Strength to Come Back," which is available on Amazon.com. Sound off to Tim here.