By Tim Keown
Page 2 columnist
Pity Paul Hewitt. The guy doesn't stand a chance this week. He's standing in the middle of a big lovefest for college basketball coaches, and nobody even knows who he is. By the end of the week, he'll be lucky if they issue him the proper credentials to be on the floor to coach his Georgia Tech team in San Antonio in the national semifinals.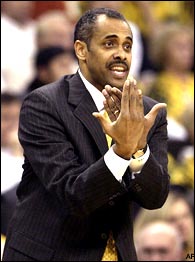 Paul Hewitt will be coaching with the big boys this weekend.
Everyone knows the conclusion of the college basketball season is the traditional time to canonize the coaches who do so much for the helpless young men who play for them. And this year's crop of immortals is a dream team for those who do the enshrining: The coaches in play are Eddie Sutton, Jim Calhoun and, of course, The Almighty K.
Going in, you already know that every great play, every decisive shot and every timely timeout is going to be relayed to the viewer in breathless superlatives meant to curry favor with the top coaches. The players? Mere putty in the hands of the great men who direct them.
And then there's Hewitt, the interloper. How do we explain this guy? He made it to the Final Four by winning two games almost entirely without his best player. He must be a great recruiter, or he must have played a soft schedule, or he must have a Great Coach in his past -- someone who nurtured him and challenged him to be the man he is today.
A quick Google search shows there is a man like that. Problem is, his name isn't Knight or Wooden or K The Omnipotent. His name is Paul "Bunky" Reid, from Westbury High School in Long Island. Hewitt told the Atlanta Journal-Constitution that Reid taught him how to watch the game and carry himself as a coach. That doesn't sound like riveting subject matter worthy of a nine-minute pregame feature, does it?
Some commentators, some of them employed by the same four letters currently displayed in your browser's address field, believe the Final Four should be re-seeded in order to make sure All-Knowing K and Calhoun meet in the championship game.
(This ignores the fact that Duke beat Xavier not because of its great play or The Genius K's strategy, but because it got the right calls at the right time and Xavier didn't. Not saying anything about the officials' intent or the impact of Duke's reputation on how the refs call a game. Just stating the facts, is all.)
So pity Hewitt, the forgotten man. There are those who want to impose retroactive legislation to keep him from appearing on your screen Monday night. Maybe "pity" isn't the right word, though. Maybe "envy" works better. He's the only one of the four remaining coaches who stands a chance of walking through the hotel lobby without getting his lapels covered in slobber.
This Week's List
Phrase I'd never heard before Saturday night: "The Sensational 6" to describe the teams that were left in the tournament entering Sunday.
Things you learn from watching "60 Minutes": Leslie Stahl sure doesn't seem to believe that Freddy Adu is only 14 years old.
I'm not saying it's not true, I'm just saying it sounded a little funny the way it screeched through my family room: Late in Duke's win over Xavier, a broadcaster paid tribute to the apparently gutty performance by Chris Duhon by bellowing, "What a player! What a man!"
Sacramento, as we all know, is simply Philadelphia with a few more days of sun: Chris Webber is reportedly upset with the way Kings fans have treated him since he returned from injury and suspension.
Could just be my eyes, but: The view provided by the "Dasani Sideline Camera" looks a lot like every other sideline camera.
Something to consider the next time you want to criticize Bud Selig for whoring out the sport by holding the Yankees-Devil Rays season-opener in Tokyo on Wednesday at 2 a.m. PST: There is an unbelievably huge following for the Rays in Japan.
If you don't believe that, consider this: Julio Lugo is the Michael Jordan of Japan; and a few years ago, Tanyon Sturtze couldn't even walk down the street in Osaka without being absolutely mobbed.
Selig, however, is trying to placate a long-ignored constituency: Graveyard-shift workers.
Just for the heck of it: Champ Summers.
Judging by CBS's coverage of the NCAA Tournament: The Masters is coming up soon, probably right after Freddy Adu and Leslie Stahl on "60 Minutes."
The risks of re-seeding at this time of year: 1.) crabgrass and thistles; 2.) any juggling to facilitate a Duke-UConn final automatically downgrades Oklahoma State, which isn't a wise thing to do.
How about if you try being comfortable in ... I don't know ... maybe Detroit?: Kenny Lofton, upon hearing the news that he will be batting ninth for the Yankees to start the season, was quoted as saying, "I feel like I'm a leadoff hitter, and that's where I'm comfortable. I don't feel comfortable nowhere else."
And finally, because America has an insatiable appetite for the unusual, demented and just plain sick: Upper Deck is planning to release a memorial baseball card featuring Ted Williams and son John Henry.

Tim Keown is a senior writer for ESPN The Magazine.