By Tim Keown
Page 2
Petco Park in San Diego is the latest retro ballpark to incorporate funky angles and cheeky quirks in an attempt to appeal to the bohemian sensibilities of the well-heeled baseball fan. The result of all this visible strain, sorry to say, is a wonderful trend that threatens to turn into self-parody.
Some of the new ballparks -- not including the design brilliance in Baltimore, San Francisco, Pittsburgh and Cleveland -- are too damn cute. The old parks, the ones they're trying so strenuously to imitate, came by their eccentricities naturally.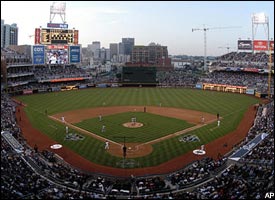 Petco Park is a beautiful ballpark, but even the name is a little too cute.
If there was a hill in center field at Crosley Field in Cincinnati, it wasn't because an architect drew it into the plans and a crew brought in truckloads of dirt. It's because there was a damn hill there, OK, and it was either too much trouble to take it out or nobody ever thought someone could hit it that far. Now there's a hill in Houston because ... well, just because. It's cute and quirky and evokes the pastoral innocence of the uphill triple and the $6.50 domestic beer.
And there's a U-shaped section of seats jutting out in right field at Petco because ... well, just because. There doesn't seem to be any practical reason for the affectation, unless the architect's father happens to be the orthopedic surgeon who won the bid to reassemble any right fielder who might find himself maimed or broken in the pursuit of a fly ball.
We all made fun of the concrete mixing bowls -- the Vet, Three Rivers, Riverfront -- but they weren't trying to be anything more than utilitarian facilities that placed function over form. The new approach, still such a welcome addition to the urban landscapes, are in danger of drifting into unwanted territory, somewhere in the netherworld between Camden Yards and Fairyland Mini-Golf.
There is another identifying quality of Petco -- they're probably going to need to hit the ball twice to get it out of there. Anyone who watched Ryan Klesko's post-double histrionics the other night will understand that the frustration is just beginning. It's funny to watch hitters stand in the dugout or on the field as they swear at the power alleys.
Pitchers, of course, would be called the ultimate bush-leaguers if they stood on the mound and cursed the architect after allowing a cheap homer at Minute Maid or Great American Ballpark.
This Week's List
And that, as you and your calculator know, is a sizzling, nearly historical 12-9 run: Recent media reports on the great Boston surge to the NBA playoffs make mention of the Celtics' ability to rally from a 23-36 start to be 35-45 as of Monday.
With the urine samples on the way, the federal agents involved in the BALCO deal have adopted a new motto: Doing what baseball won't.
If you had a stopwatch and a lot of time on your hands, you could probably determine that 15 percent of a game is spent watching someone play by himself: One of the biggest problems with the NBA right now is the number of point guards who dribble away the first 12-to-15 seconds of the shot clock.
Teams forced to use position players on the mound in the first five games of the season: Red Sox, Cardinals.
Just for the heck of it: Glenn Davis.
Here's an example of the kind of insight you can only get here -- or on your local sports-talk station: If the Kings don't advance to the Western Conference finals, someone other than Rick Adelman will be coaching the team next year.
Welcome to "Fun With Statistics," a weekly glimpse into the insanity of meaningless numbers: After Barry Bonds hit his 660th homer on Monday, some media outlets decided it was newsworthy to report that Bonds has hit fewer homers on Mondays than any other day of the week.
Not to be rash, but: Could it be that your traditional Major League Baseball club plays fewer games on Monday than any other day of the week?
It's what golf people are talking about when they say, "That's what I'm talking about": A solid 15 minutes of major-network coverage of Ernie Els standing in the woods, for just about forever, like a pitching coach stalling to give his reliever time to get ready.
It's the kind of riveting television we haven't had since that fuzzy-haired painter used to whip up landscapes on PBS: One of the course marshals was overheard telling Els, "Ernie, this all came from the ice storm we had a couple of weeks ago, and it's slated for removal."
And finally, here's a handy translation of the marshal's words from Golf to Baseball: "Dude, this (bleep's) from that (bleeping) ice storm. (Bleep's) nasty, but some poor (bleeper) will get it out of here soon."

Tim Keown is a senior writer for ESPN The Magazine.