By Tim Keown
Page 2
There are four African-American starting pitchers in the majors -- Dontrelle Willis, Jerome Williams, Darren Oliver and CC Sabathia -- and that stark fact has stirred the topic of the dwindling number of American-born black players in the game.
The attempts to identify a reason -- or a culprit -- for the situation don't seem rooted in reality. Baseball's leaders always blame basketball or football. They say the pace of baseball tends to dissuade a certain segment of the population from playing the game. This approach, aside from its obvious condescension, is simply a way for baseball people to blame something else while they simultaneously try to boost the alleged purity of their game.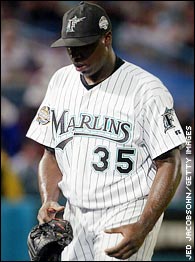 Getty Images
Without exposure to the suburban game, who knows what would have happened to Dontrelle Willis?
In the New York Times on Sunday, baseball's No. 2 man, Bob DuPuy, went so far as to blame the "instant gratification" of basketball and football for baseball's lack of popularity. This is so baseless it's almost laughable. Anyone who has gone through four years of high school football practice and then four years of college football practice might debate the "instant gratification" of that sport.
And besides, baseball is the sport with the largest guaranteed contracts. Football might provide a few more up-front bucks to a player; but in the long run, baseball gratifies in a way that nearly everyone in the NFL would love to be gratified.
Put it this way: The Expos just gave Livan Hernandez $21 million over the next three years, and the only way he won't collect every cent is if he retires before the contract expires.
So it has to be something else. I turn to a conversation I had with Joyce Harris, Dontrelle Willis' mother. Between his junior and senior years in high school, Dontrelle was offered the chance to play on a fancy traveling baseball team that was based in a tony suburb about 15 miles from the family's home in Alameda, California.
As Harris sat in the stands the first time Dontrelle pitched, another mom asked her for the name of her son's pitching coach. "His pitching coach?" Harris replied. "He doesn't have a pitching coach."
The woman was stunned. To be on this elite team, he must have had a personal, private and expensive pitching coach, right?
It seems to me that this is the symptom of a disease spreading throughout many sports. Kids are specializing in sports far earlier than is healthy, and they're being driven to strive for college scholarships and pro contracts. The way to do that is through exposure, and exposure means fancy teams and fancy coaches and fancy travel.
It's horrible to say, but amateur baseball in the United States is threatening to turn into soccer: Strictly a suburban game.
This Week's List

And by the way, Bob DuPuy: Why do the Kenyans keep winning all the marathons?
He wouldn't be the first guy to let all the Patriots' Day excitement get the best of him: During one stay on the bases in the second inning of Monday's game, Boston's Gabe Kapler twice forgot to run with two outs.
The Weekly World News is reporting: Johnny Damon lives in a 10-by-12 shack somewhere in the Green Mountains.
Call him 0-Rod: In his first big test as a Yankee, Alex Rodriguez was 1 for 17 in the Red Sox series.
And yet, by the end of the year: .315-37-112.
On the other hand, though, he might be the first guy to get out of his Rolls Royce and take off on foot to get away from the police: Ty Law is the latest athlete to learn the folly of the don't-you-know-who-I-am? defense.
Ladies and gentlemen: Lawrence Frank, the most unlikely participant in professional sports.
OK, here's two reasons why: 1) Frank was a team manager for Bob Knight in Indiana; 2) he didn't even play high school basketball, let alone college.
I made the toughest call in sports Monday night: I agreed with Shaq on the topic of the officiating.
Just for the heck of it: Señor Smoke.
You probably have to be either in or from the Bay Area to appreciate this, but: It sure is good to hear Hank Greenwald broadcasting baseball again.
Other expert journalists can have all their serious questions about the NBA playoffs -- Can the Lakers co-exist? Can the Kings win without Bobby Jackson? Will anyone watch Heat-Hornets? -- but I have only one burning question: How in the world is Clarence Weatherspoon still in the league?
We'll just call it hoopanasia and put them out of our misery: The Celtics.
Best move of the playoffs: Karl Malone backing out of Yao's way while playing post defense; the move conned a foolish-looking Yao into a travel.
What you learn from watching CNN: Wayne Newton is a big supporter of George W. Bush, and boy does Wayne's hair look great.
Another pressing question of our time: Does Kobe flip a coin before every game -- heads I shoot tonight, tails I pout?
Sometimes you think something is funny at first glance, then you realize it's sad, only sad: Shawn Kemp, Oklahoma Storm, USBL.
Best acquisition, so far: Milton Bradley, Dodgers; he brings a little edge to a team that needed one.
Probably not even if they paid me: Heat-Hornets.
There is no plausible explanation for the following fact: Tim Duncan, 60-percent free-throw shooter.
One place I'd take the Heat's roster over everyone else: One of those And1 streetball tournaments.
And finally, this might be what they mean when they call him a big man of few words: Mark McGwire really came up big when he was asked about the steroid issue on his return to St. Louis on Saturday, using the word "stuff" in various contexts four times over the course of two sentences.
Tim Keown is a senior writer for ESPN The Magazine.