By Tim Keown
Page 2
We need losers, apparently, so welcome to our world, Peyton Manning.
The latest superstar who can't win the big one lost another big one Sunday afternoon, and now he can resume the quest to return to our good graces by being the guy who sheds the label and finally wins the big one.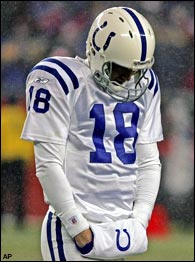 C'mon Peyton, keep your chin up. Your time will come.
There are categories in life, and Manning fits the one reserved for our best athletes who find themselves continually stymied when it comes to the ultimate prize, a championship ring.
Remember how Steve Young, after he finally won, hugged the trophy like a scared seven-year-old with his stuffed bear? Manning will do that one day; but today, he's the worst kind of loser -- the loser who loses the big one.
Better to have not advanced at all than to have never won the big one. Or something like that.
Never mind that Manning played against a better team. Never mind that his team's offense is built to play inside, in controlled weather conditions, and Sunday's game didn't conform to any of it. Never mind that our limited consciousness always points to the quarterback as the guy who either wins or loses the game, no matter what else is happening on the field.
Who had a better game this weekend, Ben Roethlisberger or Peyton Manning? The eye says Manning, but the results say Roethlisberger. So Big Ben it is.
In a weird way, Manning should take solace from this. He's being set up for the great resurrection, the atonement, the day the world falls at his long-suffering (another one of our self-imposed perceptions) feet and admits it was wrong, all wrong.
Not yet, though. Until that day, we're not wrong. For now, in the eyes of the myopic, black-or-white, red-or-blue world, Manning's a loser. He can either live with it or laugh at it.
If he's smart, he's laughing.
This Week's List

The good news is, these days those can probably be removed arthroscopically, with local anesthesia: During the Steelers-Jets game, Dan Dierdorf said, "The Jets have a lot of question marks, both internally and externally."
It's perfect, because afterward maybe the winners can move on to the state playoffs: Apparently, there's still a chance for the NHL to cobble together a 24-game schedule.
Just for the heck of it: Roosevelt Bouie.
Son of a coach, defensive coordinator, connect the dots: The San Francisco 49ers, faced with the need to make a big move at a crucial moment, tried to find the next Jim Mora Jr., who used to be their Jim Mora Jr.
When it got to $17 million, he began to get concerned: Scottie Pippen has filed a suit against a law firm that recommended an investment firm that Pippen's attorney suggests might have cost the former NBA star $20 million.
At least he wasn't playing for a team in New ... oh, forget it: Doug Brien.
Proving that she is a fan of both "American Gladiators" and "Dodgeball": Serena Williams debuted a new line of tennis clothing at the Australian Open.
And, no: Don't expect to see it on the local courts.
Besides, if they got rid of those, they'd have to give free admission to every day game after a night game: The Major League Baseball Players' Association wouldn't add amphetamines to the league's drug policy, claiming they had nothing to do with enhancing performance.
Somewhere, the man is chortling out a pretty thorough, "I told you so": Jerry Krause.
If they go public, I'm buying: Ohio State Athletics, even with all its Clarett-related problems, turned a profit of more than $13 million last year, and the football program's profit topped $30 million, according to a newspaper in Newark, Ohio.
The state of college basketball, a four-part saga: 1.) Illinois drills Gonzaga, etc., and becomes the best team in the history of this year; 2.) North Carolina smokes Georgia Tech to become the best team in the history of this year; 3.) Wake Forest drills North Carolina to make 1.) and 2.) irrelevant; 4.) Florida State knocks off Wake Forest, and we go back to the beginning.
And finally, for the last time: It's a duvet cover, now get off the couch, go find a job, and get off my television.

Tim Keown is a senior writer for ESPN The Magazine.