Single page view
By Tim Keown
Page 2
The NFL regular season begins this week, and it looks as though my fixation on baseball and cleaning the garage made me miss something vitally important: the sudden rise of the Minnesota Vikings.
Everybody is excited about the Vikings. It seems every expert has picked the Vikings to win their division, and several -- including John Clayton, the potentate of pigskin -- have picked them to go the Super Bowl.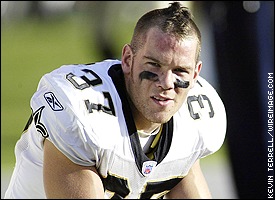 Wire Image
Steve Gleason's hurricane relief effort keeps the students in mind.
Daunte Culpepper is pretty much a lock for MVP. Nate Burleson is ready to burst onto the national scene. Mike Tice won't have to sell those Super Bowl tickets this year.
Why? The Vikings were 8-8 last year and are working on a long run of second-half collapses, so they have that going for them. Their defense is better in that how-could-it-be-any-worse kind of way, so there's another plus.
It appears the Vikings are taking on the role of trendy pick, the team that everybody -- all at once -- decides is the best bet to hoist itself into the public consciousness. It runs like a virus through the minds of the football cognoscenti.
Kind of like what has been said about the Seahawks for the past few years.
Of course, this time everybody could be right. Remember, betting against Clayton is like betting against Earth's rotation. He knows more about the Saints' long snapper than anybody else knows about Tom Brady.
Still, in trying to make up for lost time on the Vikings front, I investigated their apparent improvement, and found that it has something to do with Alex Rodriguez and teams' getting better immediately after superstars go somewhere else. The Texas Rangers figure prominently in the discussion, so there you have it.
If you choose to blaze your own path, consider this: The Chicago Bears' offensive line is vastly improved this year.
This Week's List
• Call it the downside of being 5-foot-11 and 250 pounds: Bartolo Colon has had a Cy Young season, but the fact that he's come down with a back problem after 195 innings should come as a surprise to nobody.
• If you want to watch running backs, head west: Reggie Bush (USC), Maurice Drew (UCLA), and Marshawn Lynch (Cal) might be the top three in the country.
• For the first time in a while, a home run milestone that doesn't call for an asterisk or a raised eyebrow: Ken Griffey Jr. tied Mickey Mantle on Sunday, and from all appearances he did it fair and square and clean, with a body that has aged the way they used to age in the good old days.
• Undeniable proof that the phrase has traveled the path from annoying cliché to outright parody: I heard an announcer refer to "Lobo Nation" during the New Mexico-UNLV football game.
• On a weekend generally reserved for 60-3s and 55-0s, it's not exactly what the hometown fans had in mind: Nebraska 25, Maine 7, in Lincoln.
• Just for the heck of it: Skip Jutze.
• Oh, you know, Mike -- same old, same old: During a game last week, St. Louis Cardinals announcer Mike Shannon, joined in the booth by Missouri congressman Russ Carnahan, asked the congressman how his dad was doing; former Missouri governor Mel Carnahan died in an airplane crash five years ago.