Close to halfway through another terrible NFL game Monday night, the guys on the television broadcast had a brief but vibrant discussion about the NFL's inability to judge talent at the quarterback position. The topic arose after a pictorial rundown of all the brutal drafting decisions that have occurred over the past decade with No. 1 overall picks.
It just so happens that Alex Smith and the 49ers were playing Monday night, so the pictorial rundown of draft busts was timely. Smith seems poised to join Tim Couch as one the worst top quarterback picks in history. He's at least putting himself in the discussion.
Smith has been a huge disappointment; there's no argument there. His failures are made more glaring by the successes of guys like Tony Romo and Jeff Garcia and of course Saint Tom Brady, because those guys were either unregarded or lightly regarded coming out of college and they've been successful.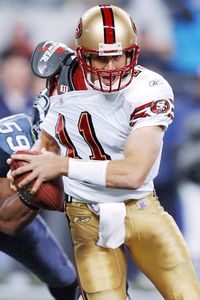 Kirby Lee/Image of Sport/US Presswire
The No. 1 overall pick in 2005, Smith has completed just 48.7 percent of his passes with two TDs -- while being sacked 17 times.
But removing the entire scouting/evaluation angle, I contend that coaches and organizations have as much responsibility for the draft busts as the quarterbacks themselves. This is especially true in the case of Smith and the 49ers, a classic case study for an NFL team's complete inability to innovate.
If you've watched the 49ers for as much as a series this season, you know they have one of the dullest, most poorly coached offenses in recent NFL history. In the first half against the Seahawks on Monday night, their one first down came on a desperation pass on the last play before halftime. And the receiver didn't even catch the ball.
Think about it, though: Smith was the No. 1 pick in 2005 mostly because he excelled in the fresh and innovative offensive scheme Urban Meyer created at the University of Utah. Meyer's version of the shotgun spread offense best utilized Smith's talents. It put a large number of receivers downfield, maximizing Smith's options and forcing him to make quick decisions. If nothing opened up quickly, Smith was fast enough and shifty enough to take off and gain yards in the middle of the mostly linebacker-free defense.
We have to assume that's what the 49ers saw when they scouted and evaluated Smith. Sure, there were combines that measured his athletic ability and psychiatric evaluations to assess his mental acuity, but the bulk of the available evidence came on the field in a University of Utah uniform.
So what do the 49ers do? They put Smith in a traditional offense, have him take seven-step drops behind an offensive line that is well below average in terms of pass blocking, and they wonder why they have the worst offense in a league full of bad offenses.
Does that make any sense?
To put it another way, can you imagine a successful college coach -- a guy accustomed to cycling new talent through his program every three or four years -- doing the same thing?
Last week I pointed out how many inexcusably awful teams are inflicting inferior football on the paying public, and one e-mailer seriously suggested this was "un-American." (Well, there's a vote for Giuliani.) The idea that a lot of people are watching the NFL with a critical eye, or at least not planning their entire Sunday around Raiders-Bears, apparently struck a nerve with those whose loyalty to the league leans a little toward the unnatural side.
But the Alex Smith situation is a perfect example of the rampant institutional arrogance of the NFL. It's bigger than just one player and one team and one coach. It gets to the root of why college football is the more entertaining product, and why the NFL has to rely on the Stepford-like devotion of its fans to continue to fill stadiums and empty their pockets.
There is no reason, right now, to believe Smith will ever be considered anything other than a horrible drafting blunder by a team that couldn't afford one. But most of the blame seems to fall on Smith -- he doesn't have the right instincts, he doesn't have the arm strength, he doesn't have the savvy to lead a team. In other words, Smith will be considered a bust forever, but the lack of creativity and intelligence will earn the 49ers coaches another job after they're inevitably fired from this one.
And somewhere, lost amid the white noise of the myth-making and myth-killing machine, someone might make a footnote of the fact that nobody ever came close to putting Smith in a position to succeed.
The truth is, most of the true innovations in football start at the college level. The shotgun spread is in wide use in the NFL now, but it started in college. College coaches adapt and experiment, maybe because they're less concerned with losing their jobs or maybe because they need to either win or lose in an entertaining fashion. There's also an element of necessity at work: Air Force doesn't have the size or the athletes to run the same offense as Notre Dame, but it can beat the snot out of the Irish by using misdirection and deception. If Mike Nolan coached Air Force, you get the feeling he'd put them in an I-formation, run straight ahead and use a seven-step drop on third-and-8. (Mouse Davis' run and shoot, really just an early version of the shotgun spread, was an imaginative failure in the NFL, and it might serve as a cautionary tale for coaches.)
Mike Leach might never win a national championship at Texas Tech, but I'll take three hours of his offense over six months of what the 49ers are dishing out. And if you turned over the NFL version of Alex Smith to Leach -- or to Meyer again -- I guarantee Smith would have better numbers, more wins and a hell of a lot more fun than he's having right now.
Tim Keown is a senior writer for ESPN The Magazine. Sound off to Tim here.