What's happening in Seattle isn't right. The NBA is enjoying a big run of positive press, with a fun regular season filled with headline-making trades leading to an intriguing postseason filled with fantastic matchups. But what's happening in Seattle isn't right.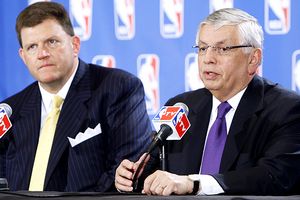 AP Photo
Clay Bennett and David Stern are breaking hearts all over Seattle.
The situation with the Sonics has stunk since the league approved the sale of the team to Clay Bennett, an Oklahoman whose idea from the beginning was to ensure Seattle's failure to upgrade or replace Key Arena and then move the team to Oklahoma City.
The only person who looks worse than Bennett and his co-owners is commissioner David Stern. At least the owners were transparent about their motives.
On Thursday, the Seattle Times reported on a series of e-mails between Bennett and his co-owners that validates the notion that Bennett wanted out from the time he got in. And the league, which promoted Bennett's group and its sleight-of-hand, had no comment.
One of the e-mails, written from one co-owner to another, read, "I don't think you or I want a team there [Seattle], either."
Steve Kelley of the Seattle Times wrote it about as well as it can be written: "Isn't it interesting how Stern couldn't wait to call the 11th-hour efforts of the city and an ownership group led by Microsoft CEO Steve Ballmer to keep the team in town 'a publicity stunt,' but he has no comment about the gaggle of liars whose bidding he has done?"
Well, Stern weighed in on Monday. He stood by Bennett, not surprisingly, since the only possible solution for Seattle was a $500-$600 million gift to Bennett in the form of a publicly funded super-arena. Yeah, it's a great time for municipalities to be paying that kind of ransom money to multimillionaires.
And because that won't happen -- and because that shouldn't happen -- 41 years of NBA basketball in Seattle could be over.
Stern summoned his Rumsfeldian best by calling the blatant lies "good faith." Asked about the e-mails, Stern said, "I haven't studied them."
He hasn't studied them. Think about that for a moment. One of the e-mails said, "I am a man possessed! Will do anything we can. Thanks for hanging with me boys."
He hasn't studied them? How much studying do you need to understand e-mails written as if they were messages on a MySpace page? David, understand one thing: This isn't Proust we're talking about here. These aren't elevated, nuanced concepts. They proved what everyone in Seattle suspected, or outright knew, all along.
The idea of having to "study them" to have an opinion on their intent is like saying you need to study ice to see if it's cold.
This Week's List
• And besides: Someone has to have the worst arena in the NBA.
• Later, he issued a statement saying, "I apologize if I offended any descendants of the Joads": Mark Cuban expressed his disagreement with the Sonics' proposed move to Oklahoma City by telling the Seattle Times, "My prejudice is against having a Dust Bowl Division in this part of the country."
• If I were the Yankees, I might have saved on the jackhammer rental and realized this thing was working out pretty well for me: David (.104) Ortiz looks like more than his jersey was buried.
• And while we acknowledge the restraint that must come with small sample sizes, you might want to mark the date they unearthed the shirt if you're interested in turning points: On Monday night, Ortiz went 2 for 5.
• But we do have a spiffy little car shaped like a baseball cap (model year: 1973) that we'd be happy to provide: The Yankees have informed Pope Benedict's entourage that he is not allowed to drive the Popemobile onto the Yankee Stadium grass when he visits to celebrate Mass on Sunday.
• This seems like a case in which proximity to the situation wouldn't really be necessary: Before Monday's news conference, numerous reports indicated Michael Beasley would enter the NBA draft, "according to sources close to the situation."
• Well, it's official: Tiger Woods is a failure.
• Just for the heck of it: Barry Foote.
• So there you have it -- a 5-7 record is good for business: The owner of Ticket Express in Lincoln, Neb., is getting as much as $95 a ticket for the Cornhuskers' spring football game this Saturday.
• As far as gooey and emotional Masters moments go, you can have your Amen Corner and your azaleas, I'm taking: The caddies in their traditional oil-change worker outfits.
• Again, small sample size, but still: The A's look pretty smart in getting starting pitchers Dana Eveland (1-0, 0.68 ERA, 0.98 WHIP) and Greg Smith (1-0, 2.08 ERA, 1.08 WHIP) for Dan Haren, who isn't disappointing the D-Backs, either.
• Immediately afterward, Matt Cain sent them a sympathy card: Two North Dakota State pitchers combined on a no-hitter in a 2-0 loss to Creighton.
• Guys prepare for the playoffs in different ways: Carmelo Anthony.
• And finally, pick a zone, any zone: Joe West, purveyor of random strikes for 30 years.
Tim Keown is a senior writer for ESPN The Magazine. Sound off to Tim here.