So take a look at O.J. Mayo now, staring bug-eyed into the camera, trying to get his mind to work fast enough to figure out how not to answer a question regarding improper payments while he was in high school and at USC.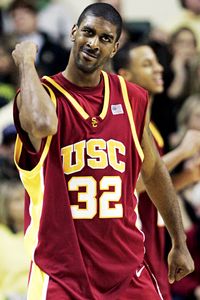 AP Photo/Don Ryan
Is anyone all that surprised by this O.J. Mayo story? Of course not.
And please, tell me again how great the NBA age requirement is for the college game.
It was a charade when it was enacted, a farce now.
David Stern's brainchild was hailed as a monument of wise paternalism and good sense back when it was enacted. Smarter, more mature players, with a year of college worldliness behind them, would make both worlds a better place.
But as the Mayo mess shows, it hasn't done the college game any favors.
First, let's dispense with the idea that one-and-done college basketball players are anything but mercenaries. Mayo was just the worst and most obvious transgressor, choosing USC to use both the school and the city to further his profile. The transparency of the entire Mayo operation was evident from the time he was a junior in high school.
Here's how the NBA's age requirement works for a guy who is guaranteed to be a lottery pick: He can do the bare minimum amount of work his first semester, then go to zero classes his second semester and be ineligible to compete the first semester of his sophomore year.
But guess what? Oh, you already guessed it -- he's gone by then, in the NBA getting paid legally.
So if someone really wants to work the system, he can go to zero classes, use the system for his own exposure, and in the end the NBA can feel good about itself for protecting the youth of America.
We get it, and that explains the lack of outrage in the wake of the news that a street runner -- agent-speak for "con man who is paid to get close to high school superstars" -- was paid by Bill Duffy and Associates to pay Mayo for being Mayo. Clothes, gifts, cash -- all with the hope that he'll remember BDA when the time comes for a little payback.
USC, of course, is the unwitting bystander in all this.
Yeah, right. Just like it was an innocent bystander when Reggie Bush was running the same game. Or when basketball player Jeff Trepagnier was running the same game in 2000 with -- oh, no, it couldn't be, could it? -- alleged Mayo bagman Rodney Guillory.
We've grown immune to this. It's just what happens. Agents pay guys to pay athletes; it's a financial funneling system that bypasses the rules against direct contact with an agent by allowing direct contact with a guy who is one step removed from the agent.
It was painful to watch Mayo and Guillory stammer and stare through their on-camera appearances on Sunday's "Outside The Lines." Guillory is apparently a pretty slick guy, but he sure doesn't play one on TV.
There's an outside chance you can feel a shred of pity for Mayo, and that's being charitable. But any sympathy for Mayo arises only because these runner types are really bottom-feeders, the lowest life form known to sports.
Think about it: They get paid to befriend and pay high school kids for the purpose of turning them over to an agent or financial advisor down the road.
It's pimping, no two ways around it. And somehow, in this system of tortured values, they're an indispensable part of the process.
This Week's List
• Say this for 'em -- they picked the right year to win all their home games and lose all their road games: The Celtics, 0-5 on the road during the playoffs, need to remind everyone they don't need to bother with road games.
• In no time at all, a Celtics-Hornets NBA Finals prediction can become: Cavs-Spurs.
• How did this get so messy so fast?: San Diego Padres, the worst team in baseball.
AP Photo/Morry Gash
Eric Gagne must have done some serious healing during that one day.
•
Because, after all, an average is simply the midpoint of two extremes:
The Rangers' pitching staff threw three straight shutouts and followed it up by allowing 28 runs in the next three games.
• I'm not trying to go all Chad Ford on you here, but: When I see Kosta Koufas being considered a top-10 NBA lottery pick, I'm thinking it must be a pretty down year.
• Still unfunny after all these years: The infantile our-city-is-better-than-your-city columns that appear in newspapers everywhere as soon as there's a slow day in a playoff series.
• And next week -- center field!: Two days after asking out of his role as Brewers closer, Eric Gagne asked back in.
• Call it a coincidence at your own risk: The Rays removed the Devil and got themselves to six games over .500 for the first time in team history.
• Just for the heck of it: Dickie Thon.
• Quite possibly the worst talented young player in the big leagues: Eugenio Velez, Giants.
• Still in their heads, without even being there: Sergio Garcia's first words upon winning the TPC on Sunday were, "I'd like to thank Tiger for not being here."
• And finally, Roger Goodell has to listen to Matt Walsh before he can go about the business of destroying these tapes, too: SpyGate gets another day in kangaroo court Tuesday, when the commissioner meets with the former Patriots video dude.
Tim Keown is a senior writer for ESPN The Magazine. Sound off to Tim here.