Since the NBA is in its unofficial offseason -- the gap between the conference finals and the Finals -- I'd like to revisit a topic that's been bugging me.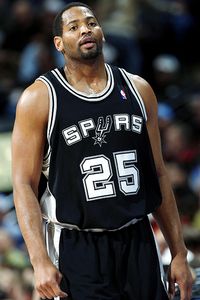 AP Photo/David Zalubowski
Horry had some great performances, to be sure. But is that enough for enshrinement?
I know this is late, because the Spurs are finished playing and he might be retiring, but I've always been fascinated by Robert Horry. More specifically, the Robert Horry Myth Machine.
Horry represents a phenomenon that runs across every sport -- a guy whose career leaves (left?) so much open for interpretation that it became his best quality.
America loves its intangibles, which means it loves to argue the relative merits of guys like Horry and David Eckstein and anybody else who causes announcers to proclaim, "Winning just follows him wherever he goes."
After all, it's easy to figure out why Kobe Bryant is valuable to his team, but deciphering the winning mystique of a guy like Horry is a true challenge.
It's a challenge that some people take too seriously, as evidenced by the growing contention that another NBA title should ensure Horry's election into the Basketball Hall of Fame. Call this errant attribution.
There's no denying Horry's success -- he's won seven NBA titles with three different teams. But his career numbers -- 7.0 points and 4.8 rebounds per game -- don't tell the story that needs to be told. That's where reason departs and myth-building begins.
Reason needs to be injected into the discussion. First, there's a practical explanation for why Horry always finds himself on good teams: He's not appealing to a bad team. The Grizzlies or the Sonics or the Bobcats don't want Horry -- it makes no sense for a bad team to sign an aging role player to fill a roster spot on a team that is playing for next year or the year after.
And yes, Big Shot Bob makes big shots. But again, apply reason. He makes big shots because he's often left open to take big shots because he plays with a bunch of stars who require double-teams.
This is not meant to denigrate Horry. The man put on a display for the ages in Game 6 of the '05 Finals, when he scored 21 of the Spurs' last 35 points. He's a fine player who will do just about anything -- legal or not -- to give his team an edge. But even accounting for the leniency of the Basketball Hall of Fame, his 7-point-per-game career scoring average makes his candidacy a stretch.
He had Hall of Fame performances; they just didn't come in a Hall of Fame career.
---
It's time for sports leagues to stop admitting mistakes, particularly when they have no rule vehicle in place to reverse the mistake. The NBA admitted the officials made a mistake by not calling a foul when Derek Fisher bumped Brent Barry last week, but what good did it do?
There's a good chance it made the officials, especially Joey Crawford, feel stupid and resentful and maybe even betrayed. Beyond that, since there was no consequence or do-over, what's the point?
The NBA did a do-over earlier in the year when Shaquille O'Neal was accidentally disqualified after only his fifth foul. That was a Hawks-Heat game -- meaning nothing -- and when they picked it back up, Shaq wasn't even on the team anymore.
But the Western Conference finals? That just merits a "my bad," and everybody moves on.
---
There's only one logical explanation for Ozzie Guillen: He and Isiah Thomas have the same public-relations people.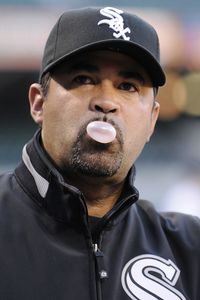 AP Photo/Nick Wass
Ozzie doesn't seem to have an on/off switch.
Either that or he's actively trying to get fired -- begging for it, down on his hands and knees praying.
Otherwise … what the heck?
He calls out his general manager, the one guy who has backed him every time his mouth starts machine-gunning all over the place. Kenny Williams better do something by Tuesday, Ozzie says, or else something is going to happen.
Whatever it is, figure on it including swear words.
The White Sox, by the way, were in first place when Ozzie went off.
In response, Williams said, "It's not a good idea to throw your boss under the bus."
Which brings up a far more pressing problem than Ozzie Guillen's employment status. Can we get rid of the phrase "Throw (insert person here) under the bus?"
How about we throw it under the bus?
---
So now we know Kimbo Slice is going to have trouble when the guys he's hitting have the capacity to fight back.
Clearly, this was set up to be a circus act, which is part of the reason the MMA traditionalists -- kind of like baseball traditionalists, only 21 years old -- recoil at the thought of this guy getting the kind of attention the real fighters couldn't pay to get.
But still, even if you know going in that it's a contrived spectacle, don't you still try to find an opponent who doesn't have a toddler hiding inside his left ear?
I mean, that was all anybody saw. Follow the bouncing ear. And then, when James Thompson's ear popped, the fight was over. Weird and sick and disturbing. If the dude's ear had been drained the night before, the fight might have ended differently.
But the most amazing aspect of Slice's nationally televised, over-the-free-airwaves performance on Saturday night came at the end, when it was mercifully over. It was then that someone hired to announce the fight threw out a comparison to Tiger Woods.
Tim Keown is a senior writer for ESPN The Magazine. Sound off to Tim here.