There's nothing worse than sitting in the stands at a game and having to put up with ignorant experts. These are the people who don't know anything but insist on broadcasting their ignorance in a loud, abusive and often profane voice. Their motto: Never an unspoken thought.
I don't know if this is even a sports topic. It might be a sociological one, and it might take a comprehensive study to figure out why everyone is so angry and mean and disgusted.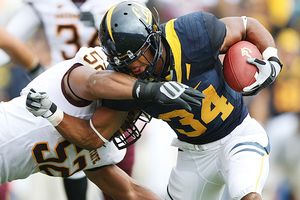 Jed Jacobsohn/Getty Images
What should you do when your team is winning? Complain, complain, swear ... and complain some more.
I've been attending Cal football games with my family for several years, and the raging, mouthy idiots make it worse every year. I'm not exactly a lifetime member of the glee club myself, but the negativity is out of control. I don't really care that much about the outcome of the game -- 22 years in this business will plunge most of the fan right out of you -- but I enjoy the big-time college football experience. The game is an event.
This past Saturday was the worst. Five or six complainers sitting right behind us, ranting about everything. Unencumbered by knowledge, they started in on a full-throated diatribe against the coaches, the players, and the referees that didn't stop until after the game. It was the kind of group that calls for the women to do most of the swearing.
I'm sure you know how quickly and completely these people can ruin the experience. Every play demands extensive comment. Just once would it be OK for you to keep your mouth shut between plays? Or maybe talk about something else, like the weather or the empty, cobwebbed abyss encased in your collective skulls?
No. Apparently not. A four-yard run on second-and-6 should have been a long touchdown pass if only the coach didn't have his head in an anatomically uncomfortable position. The defensive coach doesn't have any idea when to call a blitz.
(By the way and for your information, the appropriate time for a blitz is whenever the other team is going to pass. Duh. How could any coach be stupid enough to miss that?)
Oh, and when the defensive coordinator did call the blitz, and it resulted in a big hit on the quarterback and a fumble that was recovered by one of the Arizona State offensive linemen for about a 20-yard loss, make sure you pipe in with a near-Tourettic burst of swearing, ending with the following bolt of ignorance -- "We should have gotten that ball."
No play is good enough. No win is big enough. No pass is perfect enough. No play call is brilliant enough.
They run too much except when they pass, in which case they clearly should have run. The defense sucks. The offense sucks. The quarterback, of course, always sucks.
And these are college kids.
The thing is, their team was winning. From start to finish, Cal led Arizona State. They should have been happy, or at least entertained, or at least not ruining the game for everyone within 10 rows with their incessant griping and lack of human decency.
Instead, as everyone was loading up to leave after the game, one of them turned to the group and hollered, "If we play that way against USC, we'll lose 50-0."
This Week's List
• On the topic of professional idiots: According to several Redskins, a group of Eagles fans pelted Washington's bus with eggs after the game.
• 13 … 14 … 15 … OK, big guy, time to return to obscurity: Kimbo Slice.
• A further sign of desperation, since Mike Scioscia undoubtedly knows this better than anyone: With a left-handed batter at the plate, which gives the catcher a clear view of third base, a squeeze is usually a bad idea.
• One of the all-time his-face-looks-like-you-don't-want-to-be-around-him-when-he-loses guys: John Lackey.
• One more time, with feeling: Mario Williams or Reggie Bush?
• And they told him if he didn't play he could have jacked it up something fierce: In one of the traditionally nonsensical football diagnoses, Aaron Rodgers played Sunday with a sprained shoulder because doctors told him he couldn't reinjure it by playing.
• Just for the heck of it: Jim Corsi.
• The Lions, however, refused comment: A headline Monday read, "Coach Marinelli won't quit on 0-4 Lions."
• Since Kurt Warner is saying he might retire because of the hit Anquan Boldin took last week against the Jets -- follow the bouncing logic there -- it's worth asking a simple question: How does a hit cause a guy to get a one-game suspension and a huge fine but not a penalty on the field?
• Speaking of officiating in general: Who in the world decided Joe West should be umpiring behind the plate -- or anywhere else, really -- in the playoffs?
• Question for the Rays: America will be rooting for them, but will their hometown?
• Get ready for the onslaught of pontificating about the Rays' fundamentals -- bunting, moving runners, turning singles into doubles -- while ignoring what you see in front of you: Say what you want about the gutty, gritty, hardball Rays, but every time I see them, someone's hitting a big homer -- B.J. Upton had two Monday -- and the starting pitchers are working deep into the game.
• And finally, in the Burress household, there's no doubt -- it's academics first: Giants wide receiver Plaxico Burress attributed his one-game suspension to a family emergency, which he described as having to take his son to school.
ESPN The Magazine senior writer Tim Keown co-wrote Josh Hamilton's autobiography, "Beyond Belief: Finding the Strength to Come Back," which will be released officially on Oct. 14. It is available now from amazon.com. Sound off to Tim here.