Commentary
Welcome to the chaos of Oakland
Originally Published:
September 29, 2009
By
Tim Keown
| Page 2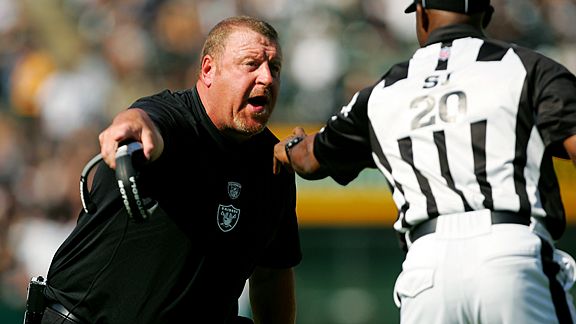 Ezra Shaw/Getty ImagesCareful Barry Anderson ... you do not want to get Tom Cable angry.
The timing was perfect: Raiders head coach Tom Cable was reportedly interviewed by police in Napa, Calif., on Monday about his role in the alleged assault of assistant coach Randy Hanson. As a general rule, you could do worse than to pay attention to the Raiders all the time, just for the unpredictability and unintentional comedy, but the past week has been amazing even by their lofty standards.
Late last week they tried to ban former Raiders quarterback Rich Gannon from the team's facility. Gannon was on the CBS announcing crew for Sunday's game against the Broncos, and the Raiders tried to keep Gannon from attending a pre-production meeting at team HQ, and then tried to ban him from doing the color commentary for the game.
It didn't work, but Gannon ended up being late and missed the meeting. Before that, one of the team's employees -- their titles are all nebulous and deliberately intended to throw you off the scent -- managed to launch into an inspired diatribe against Gannon.
Telling the San Francisco Chronicle that Gannon has made several comments that the Raiders should "blow up the building and start over," Raiders front-office exec John Herrera said, "We think in a post-9/11 world that's not a very proper thing to say. It's uncalled-for. He seems to be a guy who can't get over the fact that he played the worst Super Bowl in the history of the game and he wants to blame everybody but himself. I guess it's our fault he threw five interceptions."
So there you have it: Rich Gannon, terrorist. In the annals of Raider weirdness, where the owner trotted out an overhead projector to outline his reasons for firing Lane Kiffin, and where the head coach is a suspect in an assault on an assistant, a team executive savaging a former team captain -- creator of some of the few positive memories over the past 10 years -- qualifies as significant. They don't know where, or how, to stop.
No franchise in the history of sport mixes arrogance with incompetence the way this one does. It's so bad even Bill Romanowski sees it. He's found employment as a local TV analyst for Comcast, and the Raiders have lost him. Before Cable's weekly press conference Monday, and before the police interview was made public, Romanowski criticized quarterback JaMarcus ("I'm doing my job") Russell and pleaded with the team to "do something ... play football."
(By the way, if you've never seen Romanowski analyze on camera, seek it out. Seriously, you owe it to yourself -- vapid observations delivered by someone who speaks as if his entire face were injected with novocaine 20 minutes before the cameras went on. Oh, and with just enough of the empty-eye to make you feel just a little queasy.)
Raiders fans expressed their displeasure by chanting "Russell Sucks!" starting in the third quarter. Russell's numbers through two-plus seasons in the NFL occasioned a serious comparison between him and Ryan Leaf, widely considered the biggest draft bust of all time. The verdict: Russell is ahead of Leaf, though not by much. But if Russell could somehow continue his performance through three games (39.7 passer rating) he could threaten Leaf's career rating of 50.
It doesn't stop there: In the 23-3 loss to the Broncos, Raiders defensive end Richard Seymour was penalized for yanking on the hair of Broncos offensive tackle Ryan Clady. When Seymour told Lowell Cohn of the Santa Rosa Press-Democrat, "It wasn't no mistake, brother," the Raiders ushered Cohn away from Seymour's locker.
The Raiders are running an ad campaign -- Mike Rowe, where are you? -- based on the team's 50-year anniversary. They show a series of highlights from the distant past narrated mostly by the late Bill King (the greatest football and basketball play-by-play man ever) and finish with two questions:
Where were you then?
Where will you be?
I don't know the exact location, but I know I'll be paying attention. Seriously, you never know.
---
Browns coach Eric Mangini gets a lot of attention for fining a player $1,701 for taking a bottle of water from a hotel minibar, but I'm worried about Chiefs coach Todd Haley. He essentially conceded Sunday's game to the Eagles at halftime, a response to his team's sterling first half, which included 3 rushing yards.
Three rushing yards! Get up and take three big steps -- that's how far the Chiefs got in the first half. So maybe Haley's concession -- he denied it was one, but didn't deny he was making a point -- was just a matter of semantics.
But this follows last week's episode, which featured Haley screaming for more than three hours during Sunday's game. He screamed at his quarterback, his linebackers, his receivers, his assistant coaches. He screamed at the refs, and he screamed at the guy unlucky enough to be on the other end of the headset. Whoever that was, he's got a nasty case of tinnitus that might be around until December.
One caveat: All that screaming came in a loss to the Raiders. Maybe you'd scream, too.
---
More crazy news from Oaktown: On the Warriors' pre-camp media day yesterday, Stephen Jackson said he wants to be traded and Monta Ellis said a bunch of things that made far less sense.
Ellis, whose communication skills are far less developed than his open-court game, said he couldn't coexist in the same backcourt with first-round pick Stephen Curry. First, he said he wasn't going to answer the question, then he answered it in the worst possible way.
Under questioning, Ellis used four different variations of the words "Just can't" when asked about sharing the backcourt with Curry. When he was advised that the team believes they can, he first expressed surprised and then said, "They say we can but we can't."
Pre-training camp media days are usually happy occasions, like the first day of school when you know you're not going to do anything but see your friends and there's never homework. So when your season starts with two of your top guys either complaining or contradicting or both, you've got to be excited to see what tomorrow will bring.
This Week's List
• They don't tell you this part -- he grabbed it out of Tim Tebow's hands: A new AT&T commercial features Tyler Hansbrough finding and returning a puppy named Sarah.
• So far he's got Anthro 1, Poli Sci 2 and a freshman seminar in how to dig yourself out of a public relations hole: Former Cub Shawon Dunston, who made somewhere in the neighborhood of $25 million over his big league career, sent a letter to the bankruptcy court handling the Cubs' potential sale, citing money owed to him as part of MLB's College Scholarship Program.
• Despite everything, despite the diva-ness and the incessant indecision and the live cams of flights from Hattiesburg, I'll say this about Brett Favre: If you knew you could still do that, you'd leave the farm in Mississippi, too.
• Just for the heck of it: Webster Slaughter.
• The way it looks now, with a loss to the Lions on the résumé: The Redskins might be setting themselves up for a chance to draft Stephen Strasburg.
• Or, as a second option: Michael Crabtree.
• And finally, further proof that college football polls might as well be comprised of votes from 12 chimps, nine sports-information directors and that one guy outside Safeway who carries a sign that says even a smile will help: (1) Houston (4-0) is ranked 15th; Oklahoma State (3-1) is ranked 12th; Oklahoma State's loss is to Houston, and; (2) Cal (3-1) is ranked 19th in the coaches poll; Oregon (3-1) is ranked 24th; Oregon beat Cal 42-3 on Saturday.
ESPN The Magazine senior writer Tim Keown co-wrote Josh Hamilton's autobiography, "Beyond Belief: Finding the Strength to Come Back," which is available on Amazon.com. Sound off to Tim here.