Throwing zeroes with Lincecum and Oswalt
On Thursday night, Giants rookie Tim Lincecum took the mound against Astros ace Roy Oswalt. Lincecum, a 22-year-old phenom listed at 5-foot-11, 170 pounds, who looks several inches shorter, several pounds lighter and about seven years younger than that, dials his electric fastball into the high 90s and owns a huge curve that scouts have rated as a perfect 80 on the 20-80 scale. That already makes him an attraction. Match him up against Oswalt, a similarly proportioned right-hander who's already established himself as one of the best starting pitchers in baseball, and you get a game that we had to dissect.
Page 2's Jonah Keri and David Schoenfield watched every pitch of this 12-inning affair, exchanging e-mails throughout the game. Here's what transpired:
Jonah Keri: Watching Oswalt, it's easy to see he doesn't throw as hard as used to. It's reflected in his strikeout rate too -- that's been going down for years. But even just watching him pitch by pitch … you can see that he can get into trouble when he can't put guys away. He needed 10 pitches to get Randy Winn (the leadoff hitter) on a groundout, then walked Fred Lewis. If you're a patient hitter, you can spoil pitches against him until either you get a 90 mph fastball you can hit, or you draw the walk.
Of course, the Giants have decided it makes sense to have Ryan Klesko get more times at bat than Barry Bonds by having Klesko hit third and Bonds fourth. So Klesko hits into a double play, no damage done.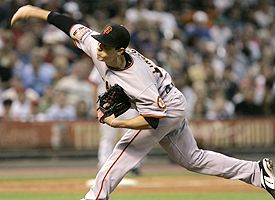 AP Photo/Pat Sullivan
Tim Lincecum struck out 10, allowed just two hits in seven innings … and didn't get a decision.
Tim Lincecum, one year out of college vs. Craig Biggio, future Hall of Famer. Three pitches and Biggio's back to the bench. Damn, the rookie's filthy. 0-0 after 1.
OK, now we get Bonds … bases empty, of course. And he pops out to third. He's 5 for his last 27, hasn't homered in a while. I'm liking my chances of seeing the record-breaker more and more when I go to San Francisco for Giants-D-Backs June 30. Wonder how ESPN Motion will look based on shots taken from a minicam from the top row of the stadium.
Is it just me, or do the Giants really need one more legitimate bat to have a shot this year?
David Schoenfield: I assume you're not counting Pedro Feliz as a legitimate bat?
What's amazing about Oswalt finally getting Bonds out for the first time (he was 4-for-4 with 4 walks off him -- 2 2B, 3B, HR) is they'd only faced each other eight times previously. I find that sad. You have two of the National League's premiere players over the past seven years and they've hardly faced each other. Sandy Koufax faced Willie Mays 118 times. (Mays: .263/.407/.484, 4 HR, 23 BB … looks like Koufax liked to pitch around him.)
The Astros announcers, by the way, said Lincecum's dad was a huge Koufax fan and had his son model his delivery after Koufax's over-the-top form. I guess you do see some similarities (other than the lefty/righty thing).
Lincecum just fanned Brad Ausmus with a 2-2, 97 mph heater right down the pipe. Ausmus was frozen. Must have been looking for that big curveball.
JK: You can definitely see the Koufax/Lincecum similarities -- I even mentioned it in my column. The flexibility these guys have, to generate that kind of velocity despite not being nearly the big, hulking types that a Drysdale was or Clemens is … the way both hold the ball so high at the top of their motion, all that stuff.
Astros color man Jim Deshaies just compared Lincecum's face to Alan Ruck, the guy who played Cameron Frye in "Ferris Bueller's Day Off." That's totally his nickname now, Cameron Frye. We just need to slap a Gordie Howe jersey and a surly disposition on him and we're golden.
DS: Now, this comment is coming from deep within my rear end considering my baseball career ended in eighth grade, but I'm thinking of Lincecum's heater vs. Justin Verlander's heater -- probably the two best (fastest) among starting pitchers right now. Lincecum's appears much harder to pick up than Verlander's, which maybe explains why Verlander doesn't have the big strikeout rate despite his impressive fastball.
JK: I've been a basketball player my whole life and played just one year of Little League, so my scouting capabilities are probably worse than yours. But I'd venture that the difference between Lincecum and Verlander has to do with location and movement. When you watch Verlander, he looks like an evolutionary Greg Maddux … he can dial it up to 98-100, but he can also paint the corners. Lincecum's fastball moves, it's what I guess you'd call a riding fastball.
The pitch he threw to Hunter Pence to strike him out first time up was typical. It may not have been a strike if Pence didn't offer at it. But when he did swing, there was no way he was making contact. Deshaies noted that Lincecum missed the catcher's target by a lot. But if you're throwing that hard, with that kind of movement, it's not going matter. Verlander's pitches you can hit, but if you don't swing, you'll get caught looking.
Five strikeouts the first time through the order. And he strikes out Biggio on a huge hook! Ten batters up, six strikeouts. Sweet sassy molassy.
DS: Holy crap, that 1-1 changeup he threw to Mike Lamb, diving low and away from the lefty hitter -- that's the pitch that will make this kid a future Cy Young winner if he masters it. Unhittable, but only Bonds would have the discipline to lay off it. And Lincecum doesn't have to face him.
JK: You're 100 percent right about that Lincecum changeup. Apparently scouts graded both his fastball and his curve as 80s. If he's going to locate the change the way he has tonight, with the same motion as the fastball … forget it. I'm going to go out on a limb and say Russ Ortiz isn't getting his job back.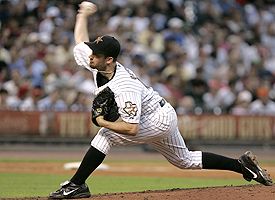 AP Photo/Pat Sullivan
Roy Oswalt took a no-hitter into the sixth, threw seven shutout innings … and didn't get a decision.
Meanwhile, Oswalt's looking very good too. The Astros announcers noted that Oswalt's falling K rate is by design, that he and Phil Garner devised a plan to make him more pitch-efficient and have him go deeper into games. It's a great idea in theory, but it's hard to imagine most pitchers doing this successfully. You're relying on your defense and the vagaries of your ballpark, instead of controlling the outcome by throwing it by the guy. It's worked so far for Oswalt, but will it keep working? His perennial low walk rates have to help a lot.
Bonds grounds out to first. Neither pitcher's giving up anything. A lot better than Lincecum's debut. He and Cole Hamels were both pretty mediocre that night.
Heading to the bottom of the fourth, still no score.
DS: Do these "pitch-efficiency" plans ever work? Going back to Dwight Gooden, it seems like those strategies are a cover-up for "he doesn't throw as hard as he used to." Oswalt's ERA is fine so far, but as you mentioned, his K rate is down -- and his walks and home runs are up. I would be a bit worried that he can sustain that 3.14 ERA.
JK: Yup, everything else has to go perfectly. Great command/low walks, high ground ball rates/low homers, and a bunch of great fielders behind you. Adam Everett is probably the single most valuable defensive player in baseball, so that helps.
You know the manager is convinced his team can't hit a guy when you're sending Lance Freakin' Berkman on a straight steal, with the cleanup hitter up. What's crazy is it worked. SB, E-2, then sac fly by Lee.
"Astrodome-type baseball," they just called it. Where's Cesar Cedeno when you need him?
Two outs now in the fifth. Do the Astros announcers wait until there's one more out before they point out that … you know … the thing that hasn't happened yet?
DS: Four and a half innings into this game, in a swift 60 minutes. So was this what it was like when Christy Mathewson squared off against Mordecai "Three Finger" Brown?
JK: We need more baseball players named Mordecai. I mean Ausmus is a nice Jewish boy. Would it have been so hard for his parents to give him a nice, authentic name? I need some company here … Shlomo Bonds? Chaim Pujols, maybe?
DS: Looking like we picked the right game to write about … especially since with the Suns/Spurs fiasco, the NBA playoffs are dead to me.
JK: What, you mean you're not enchanted by P.J. Brown vs. the same boring Pistons team we've been watching since nonexistent WMDs were just a twinkle in Karl Rove's eye?
DS: It's 1-0 through five. Oswalt hasn't allowed a hit, Lincecum still hitting 96 on the gun, with eight K's. More importantly, he's been more efficient than his first two stats, throwing 71 pitches, 45 for strikes. In his first two starts, he threw 100 pitches in 4.1 innings and 112 in seven.
JK: It would be awesome if Oswalt threw a no-hitter after we bashed him for his dwindling strikeout rate. Take that, you godless statheads!
The Astros announcers just listed the pitchers from last year's draft who've made the majors: Lincecum, Andrew Miller of the Tigers, Joe Smith for the Mets, and Brandon Morrow for the Mariners. Mariners fans were just reminded that they passed on Lincecum, who grew up in Bellevue (20 minutes from downtown Seattle), went to the University of Washington (10 minutes from downtown Seattle), then got scooped up by the Giants and now reminds people of a right-handed Koufax. Seattle just solidified its hold on being the suicide capital of America.
DS: Have I mentioned that I'm a Mariners fan? No offense to Brandon Morrow (who has his own electric fastball), but I don't see why the Mariners would pass on the local kid and then turn the kid they did draft into a reliever. Let's hope that's just a one-year thing and they eventually turn him back into a starter.
JK: Oswalt just struck out Vizquel and Lincecum to start the sixth. They showed Oswalt's line: 5.2 IP, 5 K, 2 BB, 0 H. Bill Brown, the play-by-play guy, still refuses to mention the no-no. He just said "very interesting pitching line you're looking at."
DS: We had a big discussion in the office the other day about whether announcers should mention a no-hitter during a broadcast. I was on the Bill Brown way of thinking, but my cube friend J.P. convinced me they really aren't doing their jobs if they don't mention. Case in point: What if you're doing a click through (on TV or radio) and hear "very interesting pitching line." Are you going to stop? But what if you hear "he's pitching a no-hitter"? You're going to stop.
JK: Do these hometown announcers call the game as if they're broadcasting only for a local audience, or is there some awareness of the super-dish customer who can choose from among 12 other games? If it's live Astros and the only other thing on is a "My Two Dads" rerun, and you click by the game when it's a shutout, no-no or not … well, you must really love Greg Evigan.
… and there you go, infield hit by Winn.
Wow, what a play by Luke Scott. Just saved the shutout after infield hits by Winn and Lewis. Still 1-0 Astros through five and a half. Great game.
Biggio just struck out for the third time. He's now hitting .237/.287/.414. Memo to Phil Garner: Do not play Craig Biggio every day. He's not a good player anymore. Everyone can see it but you.
Lincecum strikes out Berkman for another 1-2-3 inning. 10 K's through six. If he loses this game, Brian Sabean better get on the phone right quick looking for a bat.
DS: Oswalt fans Bonds on a 3-2 fastball on the outside corner. Well, it was a few inches off the corner, but Laz Diaz rung up Bonds anyway.
JK: Eric Gregg lives! That Strike 3 call against Bonds was on a pitch that was 8 inches off the plate. I think Diaz needs some PEDs for his eyes.
Biggio is beloved in Houston, lifelong Astro, probably loves puppies and babies and kittens. He also looks more like Neifi Perez than the Biggio of 10 years ago.
By comparison, Bonds probably eats puppies and kittens with a side order of orphans. But he leads the league in OBP and SLG. I'll take my team of jerky superstars against the nice-guy no-hits any day.
DS: You're just bitter because the Expos don't play in Montreal anymore.
Lincecum sails through the seventh. Due to lead off, the Giants will undoubtedly pinch hit for him, but what a game. What makes Lincecum so fun is not only that he has a unique style, but that's he's really good. Tony Batista was unique -- not so much fun to have on your team, however. (Not sure if Batista eats puppies and kittens or not.)
JK: Lincecum's out for a PH, but Oswalt is out too after seven scoreless innings and 105 pitches. Kind of leaves you a little disappointed, knowing the game now rests in the hands of guys like Trever Miller.
Don't be bagging on my Expos, unless you want to come to blows. I've got a Youppi! stuffed doll that doubles as a weapon, and I'm not afraid to use it.
DS: Ground ball to Lamb, he chucks it into right field on the force play … and the return throw from Luke Scott to third base bounces past Lamb. Winn scores, tie game.
And after Klesko (your No. 3 hitter, Giants fans!) is retired, Bonds is predictably intentionally walked.
Still tied through eight. You thinking extra innings? What are the chances we get a Lidge vs. Bonds showdown before this one is over? (OK, that was mean. Lidge's ERA is actually down to 3.38 and he's given up four hits in 8.1 innings in May with 12 K's and two walks.)
JK: I might be the only guy alive who thinks Lidge can still be a dominant closer and likes Bonds. That would be a great matchup.
Still 1-1 going to the bottom of the ninth. That inning included a shocking development: a weak groundout to short by Pedro Feliz. The announcers quoted Dan Wheeler, who described Feliz as a "mistake hitter." I agree. It's a huge mistake to have him hitting on any team above A-ball.
DS: It's abundantly clear that neither of these teams has the offense to stay in the playoff chase. Despite having Mr. Bonds, the Giants are ninth in the NL in runs. And the Astros, despite playing in their Little League park, are 10th.
JK: Biggio strikes out for the fourth time on a 3-2 fastball over his head, when a leadoff walk would have been huge.
But man, that guy and puppies. Don't get me started …
DS: Craig Biggio does not deserve this thrashing!
He does, however, deserve to be platooned. Garner needs to start playing Mark Loretta on Mondays, Tuesdays, Wednesdays, Thursdays, Fridays and Saturdays and Biggio on Sundays (against left-handed pitchers only).
JK: Two outs, walk to Berkman, ground ball single by Lee. Punch-and-Judy Orlando Palmeiro pinch hitting for Chad Qualls. Interesting. Granted, all they need is a single, not an extra-base hit. Still, Palmeiro over Morgan Ensberg here? Tough call.
DS: Ensberg in a 1-for-23 slump, so I guess I can see Palmeiro against the righty Hennessey.
JK: And Palmeiro grounds out … extra innings!
No problem … I once sat through 22 innings of an Expos-Dodgers game. It was scoreless through 21, Youppi! got ejected at one point, and end-of-career Rick Dempsey hit the game-winning home run. There were maybe 300 people left by the end of the game.
So whatever, this can go 30 frames, I'm ready. Maybe the Giants and Astros will run out of pitchers, and we'll get to see Lincecum and Oswalt again.
DS: Well, with one out in the 11th, Wheeler got to 2-2 on Bonds and threw a pitch a foot off the plate and a hanging curve in Bonds' eyes that he laid off for ball four. Can't say I blame Wheeler for not going after him. Bochy would normally run for Bonds here, but it's too deep in the game and only the backup catcher is left on the bench.
Big drama coming up: one out, bases empty, Biggio up: Can he go 0-for-5 with 5 K's?
JK: Biggio settled for a soft lineout.
Poor Brad Lidge! Giants finally make it 2-1 in the 12th on a 12-hopper that gets by the rangeless Biggio, a sac bunt, grounder, and then a 3-2 grounder that hits the bag at first and leads to a fluke infield hit. Man, that's tough.
DS: Well, the story of this game isn't Lidge getting the loss (if the Astros lose) -- it's Houston's offense. We know how good Berkman is (although, oddly, he only has one double all season), and we know Carlos Lee will pile up the bombs in that bandbox, but there are too many OBP holes, Ensberg's career is suddenly on shaky ground and Luke Scott hasn't matched his 2006 second-half magic. Hunter Pence provides some hope, but I don't think that will be enough.
Ahh, nothing like analysis off one game!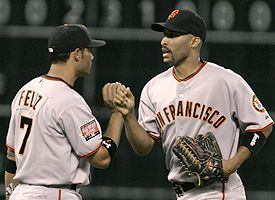 AP Photo/Pat Sullivan
We've got a decision! Pedro Feliz scores on Randy Winn's infield single in the 12th … and Vinnie Chulk gets the victory.
JK:
… and yet, you're right. Pinch hitter Ensberg jerks a long drive down the line, tries to Carlton Fisk it around the pole, but it goes foul. He strikes out a couple of pitches later. Ballgame, 2-1 Giants.
The best hope for either of these teams is mediocrity among their division mates, like the Cards pulled last year. It would take the addition of a major bat for either team to have a shot at 90 wins. Even 85 might not be easy.
And as for our whipping boy Craig Biggio? We're pulling for him to get his 3,000th. Just give Mark Loretta a chance to play sometimes. Maybe Chris Burke and Brooks Conrad once in a while too.
Jonah Keri is a regular contributor to Page 2 and the editor and co-author of "Baseball Between the Numbers." You can contact him here.

David Schoenfield is an editor for Page 2. Sound off to Page 2 here.