After Rex Grossman's cannon of incompetence exploded all over Miami, America needed a new target for its collective scorn. Luckily, Rivalry Week came to the rescue with college basketball's most reliable punching bag: Duke.
Facing two of their most hated rivals in North Carolina and Maryland, the Blue Devils dropped both games, extending their losing streak to four games -- the longest stretch of Blue Devils futility in 11 years. Duke now stands at 18-7 for the season, and just 5-6 in ACC play. The Blue Devils play four of their last six games on the road, with tough tests at BC, Clemson and UNC, plus a softer nonconference tilt at St. John's. Would the selection committee let Duke into the NCAA Tournament if the team loses three of its last five ACC games and finishes with a 7-9 conference record? How about 6-10?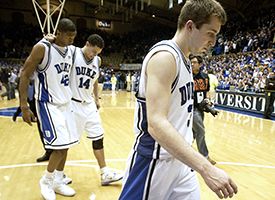 AP Photo/Sara D. Davis
With four straight losses, the Dukies have a lot to hang their heads about these days.
Yes, there's a real chance that Duke could miss the Big Dance. But should college basketball fans really be relishing this possibility? After all, this is a team that seems to really care, if players crying into towels is any indication. Plus, one of Duke's best players, freshman swingman Jon Scheyer, is an honest-to-goodness M.O.T. If he continues to develop his Redick Lite repertoire, he could eventually become one of the all-time great Jewish basketball stars, right there with Dolph Schayes and ummm … Shaq's not Jewish, is he?
Actually, there are two factors which probably explain America's hate affair with Duke in a nutshell. First, 28 of Duke's 31 games this season are nationally televised. That's more than 90 percent -- North Carolina and UCLA are the only two other teams to have more than half their games on national TV, and neither comes close to Duke.
Second, the record books show Mike Krzyzewski owning the third-longest streak of consecutive tournament appearances among active coaches, with 22. This neatly ignores the 1994-1995 season, in which Duke went 13-18, with an awful 2-14 record in ACC play. Coach K started that season 9-3 while playing a nonconference slate that included the likes of Brown, Northeastern and South Carolina State. He then bowed out due to medical problems, handing the interim job to Pete Gaudet just as Duke was about to enter the teeth of conference play. Not surprisingly, the Devils went 4-15 the rest of the way. Yet somehow history pinned the blame on Gaudet's coaching, and not the Krzyzewski-built roster that was led by Cherokee Parks, Jeff Capel and the immortal Erik Meek.
Gaudet's revenge was just one of many lessons we took away from the last week of college hoops. Here are some others:
Acie Law will rip your heart out, serve it with a light plum ragout and wash it down with a delicious Fresca. Law's game-winning bomb from the deep corner on Feb. 5 at Kansas added another chapter to the Aggies guard's legend of late-game heroics. He's the biggest reason Texas A&M sits atop the stacked Big 12 and now looks like a legitimate Final Four contender. I've got him third on my fake Player of the Year ballot, behind Kevin Durant and Alando Tucker and ahead of the likes of the Florida's Oh-Fours (they cancel each other out), Tyler Hansbrough (also too much talent around him) and Aaron Brooks (watch him -- he's been coasting lately).
Oklahoma State, Lords of Overtime. Make it 4-0 for the Cowboys this season in bonus-time games, after their 93-91 double-OT win over Texas Tech Saturday. Mario Boggan, the runaway leader in the race for America's most beloved former 300-pounder (Star Jones is a very distant second), dropped 35 and 14 on the Red Raiders. His winning putback wasn't as dramatic as the ridiculous 3-pointer he made against Texas to win last month's epic triple-OT game, but no one in Stillwater is complaining. They should be worried about one thing, though: Oklahoma State has won exactly zero road games against tournament-caliber teams, with a neutral-site win over Missouri State in November the team's only impressive win away from home this season. The Cowboys are an early-round upset candidate come March.
TALKING SOME BASEBALL
Come on out to sunny Peoria, Ariz., and meet two major league GMs at a spring training game, Saturday, March 3rd. Mariners GM Bill Bavasi and Padres GM Kevin Towers will talk and take questions from fans, before seeing the two interleague rivals face off in a fierce spring training game at the Peoria Sports Complex. Afterwards, you can buy a signed copy of the newly updated, paperback version of Baseball Prospectus' "Baseball Between the Numbers" and chat with editor/co-author Jonah Keri. Author Derek Zumsteg will also be on hand, with promotional items for his new book, the soon-to-be-released "The Cheater's Guide to Baseball."
Game time is 1:05 p.m., and guests should plan to arrive no later than 11:30 a.m. for pregame festivities, to be held in the section where we'll be sitting. Cost is $21, which includes your ticket to the game.
RSVP by e-mailing to seattlefeed@yahoo.com by Friday, Feb. 16. Please specify your full name and how many tickets you need.
Don't sleep on the CAA. George Mason's Final Four run last season has the conference playing with house money for the next few years. But this is a loaded league with at least two Sweet 16 candidates, maybe more. Hofstra might be the biggest bracket-busting threat, led by a backcourt of Loren Stokes, Antoine Agudio and Carlos Rivera that will scare any team in the country. Meanwhile, first-year coach Anthony Grant has guided VCU to first place at 13-2. Every night is a battle in the CAA -- Thursday night's 95-87 overtime win by Drexel on Hofstra's home court was one of the most entertaining comebacks you'll see all season.
So who's this year's George Mason? -- How about Southern Illinois? The Salukis completed a season sweep of Creighton with a 72-68 win in Carbondale even though the Bluejays shot 54 percent from the field Saturday against the best halfcourt defense in the nation. But the Salukis outdid their rivals, hitting at an astounding 65 percent clip, including a 9-for-12 performance by Matt Shaw that netted 25 points. SIU has avoided much of the carnage in a Missouri Valley Conference that's dragged down talented teams like Wichita State and Northern Iowa. Few players play bigger than SIU's 6-foot-7 forward, Randal Falker, and the Salukis' backcourt of Jamaal Tatum, Bryan Mullins and Tony Young is a nightmare for teams trying to run their offensive sets. Southern Illinois looks a lot like Texas A&M and UCLA right now, just without the BCS profile.
Speaking of those unpredictably predictable Bruins … Pit UCLA against crosstown rival USC, or just about any other Pac-10 opponent this season, and the Bruins seem to find a way to win. Twice this season, USC has jumped out to an early lead on UCLA, held the advantage until late in the second half, then watched Arron Afflalo, Darren Collison and company snatch the game away at the end. But Saturday's loss to West Virginia was no upset. The Bruins traveled across the country to face the Mountaineers' perplexing 1-3-1 defense, its constantly moving offense and its rabid fans -- without Collison in the lineup to boot. UCLA's No. 1 seed remains very much intact.
Both USC and West Virginia could give tournament opponents fits too: Taj Gibson might be the nation's most underrated freshman and Nick Young has become a dangerous go-to guy for the Trojans; John Beilein might be the best system coach in the country for the Mountaineers.
Dick Vitale's vocal chords are on steroids. Seriously, test the guy. Dickie V called four games in eight days, with three of the four going down to the wire. At last count, his totals for the week ran as follows: 22 mentions of Diaper Dandies, 18 exclamations of "Slam-Jam-Bam!", nine PTPers, five random anecdotes about superstar seventh-grade prospects from Sheboygan, and one four-minute segment where he dressed up as the Kansas Jayhawk when Dan Shulman wasn't looking. I lost my voice just watching him. At one point during the Duke-Carolina game, I'm pretty sure I yelled to my cat that my plate of nachos was super, scintillating and sensational.
Eighty-four to fifty-seven. Tennessee and Virginia Tech smoked in-state rivals Vanderbilt and Virginia Saturday, both by that same score. Vandy had grabbed plenty of attention in recent weeks as one of Florida's top challengers in the SEC and one of the few teams able to win road games in the conference. The 'Hoos had vaulted to the top of the ACC standings, thanks to the score-a-lot guard combo of Sean Singletary and J.R. Reynolds. But Tennessee's again a threat with Chris Lofton back and healthy, while Va. Tech's list of victims now includes Duke, Carolina, Maryland and Virginia. Good luck figuring out the second tier of teams in the SEC or ACC this season. Pat Forde and Andy Katz are still having Selection Sunday nightmares, and those were just mock brackets.
The heirs to Patrick, Dikembe and Zo. That would be Georgetown's nasty frontcourt duo of Roy Hibbert and Jeff Green. After a sluggish start to the season, when Georgetown was searching to replace last year's starting guards, the Hoyas have become experts at running John Thompson III's modified Princeton offense. So much so that Georgetown tops all other D-I teams in Ken Pomeroy's adjusted offensive efficiency rating. The Hoyas crushed No. 12 Marquette by 18 on Saturday in a game that looked like a possible trap. Marquette's dynamic three-guard attack figured to give the bigger Hoyas fits; instead, Georgetown made the Eagles adjust, feeding Hibbert and Green repeatedly and squeezing 47 points out of the twin towers. The Hoyas have no depth, and guard play often rules in March -- but teams aren't going to want their heads dunked on either. There's sure to be some intrigue in D.C.
Don't bet against Florida repeating. When they play well, no team can match the Gators' combination of talent and experience. When they don't, they can still beat you, as Saturday's 64-61 win at Rupp Arena showed. Florida turned it over four more times than Kentucky did, grabbed five fewer rebounds, and got just 1-for-6 shooting beyond the arc from Lee Humphrey and only 42 combined minutes from Al Horford and Joakim Noah due to foul trouble, and still won. Chris Richard could be a starting power forward almost anywhere else; for the Gators, he's the break-glass-in-case-of-emergency option who can go for 11 and five on the rare night Horford and Noah aren't producing.
If everything went according to form in college basketball, Connecticut would be the defending national champs and George Mason would be the Elite Eight wonders who fell just short of all-time Cinderella status. Still, it's going to take an off night for Florida, combined with an opponent's best shot, to knock the Gators off in the tournament.
Jonah Keri is a regular contributor to Page 2 and the editor and co-author of "Baseball Between the Numbers." You can reach him at jonahkeri@gmail.com.

Also See
ESPN Top Headlines