When Ron Shandler introduced his "2007 Baseball Forecaster" for pre-sale late last year, legions of fantasy baseball junkies rushed to Amazon with their credit cards at the ready.
Baseball Prospectus readers bombard Nate Silver's inbox with e-mails every offseason, pleading for a taste, even a tiny morsel, of what the coming year's PECOTA projections will say. When BP finally unveiled the '07 PECOTAs last week, the Web site saw a huge surge in subscriptions.
CACTUS LEAGUE STOP
Join Jonah Keri and Derek Zumsteg, author of the soon-to-be-released "The Cheater's Guide to Baseball," for a day of spring training baseball on Saturday, March 3, in Peoria, Ariz. Mariners general manager Bill Bavasi and Padres GM Kevin Towers will be on hand to talk baseball and take questions from fans. Signed copies of the newly updated paperback version of "Baseball Between the Numbers" and "The Cheater's Guide to Baseball" will be available for sale. A game between the Mariners and Padres will follow.
For more information, and to learn how to RSVP, click here.
Many more fantasy baseball outfits, blogs and mainstream sports sites will release their own sets of projections between now and Opening Day. Consumers will flock to those forecasts in droves. They'll collectively spend millions of dollars to get the experts' takes on everything from Carl Crawford's expected stolen base total to the number of starts Roger Clemens will make after holding half the league hostage, making a giant spectacle of himself and finally deigning to throw a few pitches at some point.
All of which begs the question: Why are people so obsessed with projections? Winning a fantasy league and the bucks … err … credits that go with it would seem to only go so far. Surely something else must explain the breathless anticipation that comes with every new set of projections, months before the season's first pitch is even thrown.
"It's something buried deep in our brains, something that says the season almost can't begin until we've pictured it in our minds and written our own mental script for it," said Sam Walker, a senior writer for The Wall Street Journal.
Walker should know. He spent years researching and writing the book "Fantasyland: A Sportswriter's Obsessive Bid to Win the World's Most Ruthless Fantasy League" (the new paperback version is due out Feb. 27). After talking to dozens of industry insiders, fantasy consumers and even a few major league players, Walker found that people like to have a preformed idea of how a season might unfold, before it ever starts. That way, if Ryan Howard suddenly lays waste to the National League or J.D. Drew finds new, creative ways to make fans hate him, fans can marvel at both the results and how much they differed from expectations.
"I wonder if you looked for cave paintings in France, you'd find one of an antelope hunt, with people guessing how many antelopes they were going to bag in the coming season," Walker said. "It's something embedded in our (consciousness)."
Player projections can take on many forms. The simplest set of projections will usually rely on a three-year weighted average of performance. That is, it will look at a player's numbers from the three most recent seasons, put the most weight on the most recent one, and spit out the results. Tom Tango, a baseball writer and analyst who goes by the name Tangotiger online, calls this the "Marcel the Monkey Forecasting System" (Marcels for short). In addition to the basic three-year weighted performance, the Marcels also account for regression to the mean, a statistical theory that holds that a phenomenon that occurred far more or less often than usual (like a player hitting 30 home runs when he usually hits 10, or 10 when he usually hits 30) is likely to creep back toward average levels in the future. Throw in an age adjustment, and you've got a projection system that any simian would be proud to assemble.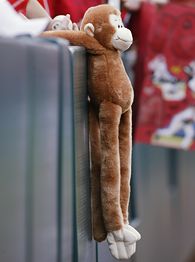 Stephen Dunn/Getty Images
Who says projecting stats is easy enough for a monkey to do?
In a sense, baseball analysts' overarching goal is to use all their talent and a dash of secret sauce to develop a method that can beat Marcel the Monkey. Silver devised the PECOTA projection system mostly because he grew bored while working as an economic consultant for KPMG. Using a spreadsheet that made it look like he was crunching numbers for a client, he devised an intricate model that went well beyond the primate approach.
PECOTA adds reams of additional information to the mix, including a player's height and weight, and a list of comparable players who fit a similar profile. The system then spits out more than the usual one-dimensional fare. Rather than simply saying Albert Pujols will hit .330 with 35 homers and 120 RBI in 2007, PECOTA will present a range of likely outcomes, from 10th percentile (where Pujols would fail to hit 20 homers and struggle to crack .280) to 90th percentile (where he'd hit about .360, smoke 50 homers and solve the world hunger problem).
"It can also look at the interaction between different characteristics," Silver explained. "If you have a player who only has power, or only has speed, he doesn't tend to age very well. But if you have a player who's got both, he's got a better chance to succeed long term. Strikeouts are one thing if you walk a lot, or hit a lot of home runs, and another if you can't do either. There are all sorts of interactions like that in the data."
But even the most sophisticated system needs some human intervention to create an added degree of realism, says Jeff Erickson, co-founder of Rotowire, a company that produces annual baseball and football magazines stuffed with projections and a Web site that covers baseball, football, hockey, basketball, golf, NASCAR and college sports. The most important variable that can affect a player's production is playing time, Erickson says. Injuries or ineffectiveness can severely limit a player's output.
"A lot depends on the type of injury -- is it a line drive that broke a pitcher's arm, or elbow tendinitis that led to surgery?" said Erickson. "That's why the growing emphasis on injury analysis is so important."
Forecasting injuries -- and the loss of playing time that can ensue -- has become so ingrained in the projections business that most Web sites employ a specialized injury analyst to add commentary to the usual preseason picks. Stephania Bell, an orthopedic clinical specialist and certified strength and conditioning specialist, weighs in on baseball and football injuries for Rotowire. Rick Wilton, who has covered baseball injuries for more than a decade, writes for Shandler's BaseballHQ.com site, Hardball Times and others.
Will Carroll doesn't have Bell's medical training or Wilton's longevity in the business. But his vast network of sources includes athletic trainers, general managers and other high-ranking personnel on both major league and minor league clubs. Carroll's injury analysis informs Baseball Prospectus' PECOTA projections, football commentary found at FootballOutsiders.com, and both baseball and football coverage on ESPN and its far-reaching tendrils.
With all these tools at their disposal, you might expect the experts to achieve huge success rates, routinely nailing the vast majority of their projections. But various studies, done by industry leaders and outsiders alike, peg the success rate for a typical weighted three-year projection system like Marcel at about 65 percent. The goal for primo projectionists is to eke out a bit more accuracy, for a year-to-year success rate approaching 70 percent. A perfect projection system, or even something close to it, is widely considered to be impossible -- at least until stat-generating robots replace human beings at Yankee Stadium.
Experts will often conduct rigorous self-analysis exercises at the end of the season. At first glance, this looks like an objectively worthy goal -- publicly acknowledging mistakes and looking for ways to improve on them would seem to help with future predictions. But there is a promotional element at work, too. When the results end up in one Web site's favor, you're sure to hear about it. BP pegs PECOTA as being "deadly accurate." At his Web site johnbenson.com, veteran tout John Benson trumpets dozens of past successes.
Shandler wrote his first Baseball Forecaster more than 20 years ago, and he was the first writer to incorporate advanced sabermetric concepts from pioneers such as Bill James into fantasy baseball analysis. He uses five years of past seasons' data, both from the major and minor leagues, to inform his projections. He breaks down the most granular aspects of a player's profile, from the frequency with which he hits line drives to how often a pitcher strands runners on base. Yet despite his meticulous approach, Shandler says he does less self-analysis than most others in the business.
"My goal is to help people win their leagues, and projections are just one element," he noted. "Precise forecasts can often be less important than learning how to read trends and being able to understand what they mean. If for instance a .260 hitter is batting .340 through May, with a .400 [batting average on balls in play], you know that's coming back down the pipe."
Determining what constitutes success is a tough proposition in itself. Say a player is projected as being worth $20 in a rotisserie league, or as a fifth-round pick in a straight draft. By season's end, the player ends up earning exactly $20 in roto value, and pans out as a worthy fifth-rounder. But instead of hitting .300 with 20 homers and 80 RBIs as predicted, the player hits .250, with 37 homers and 105 RBIs. Did the tout do his job?
Matt Berry, founder of the Talented Mr. Roto Web site and a fantasy analyst for ESPN.com, doesn't quibble over those kinds of details. Sure, his site generates its requisite projections. But Berry also wants to know what everyone else is predicting. If every other system says a player's worth $10, and he believes that player's worth $20, he can encourage his readers to get the player for $11 in the draft, hopefully banking $9 worth of profit. It's a Moneyball approach, geared toward fantasy baseball.
Berry notes that nailing a projection no one else saw coming, or whiffing completely, is what gets many sites remembered. Baseball Prospectus has made plenty of gutsy calls that panned out -- but it also once predicted that Bobby Estalella could be a future MVP candidate. Shandler's Baseball Forecaster has correctly pegged all kinds of breakouts among both pitchers and hitters -- but it also saw stardom for Brad Fullmer. Still, Berry's sanguine about such misses.
"Should we feel bad if we didn't predict a certain player would get injured, or that another player would get called up two months early and dominate?" Berry asked. "No, we shouldn't. We can't predict the future. Anyone who claims they can is lying to you."
In the coming weeks, representatives from many baseball Web sites and publications will take part in experts' fantasy leagues. The goal of these leagues is to pit the organizations' projections against one another. Add some in-draft management skills, and the eventual winners earn bragging rights for the next 365 days. Walker's "Fantasyland" book details his quest to win the hypercompetitive Tout Wars league, which includes many of the brightest forecasting minds around.
Tout Wars' counterpart, the League of Alternate Baseball Reality (LABR), once had a more open approach. Started in 1994 by John Hunt of USA Today, the inaugural league included such luminaries as Peter Gammons, Keith Olbermann and Bill James. After a few years, LABR decided to start inviting "regular guys" into the league, to see how fantasy players used to competing against co-workers and drinking buddies would fare against those who churn out projections for a living.
The results from recent years spoke volumes -- both about how far experts' projections can go, and how shrewd and informed those publications' customers had become. In 2004, a regular guy won LABR's American League competition, beating out some of the most successful baseball prognosticators in the business. In 2005, a regular guy again blew by the experts, claiming the AL LABR crown.
"When you talk to the paying customers, the ones who keep these sites in business, it's half and half when it comes to experts' leagues," said Walker. "Some people who follow these leagues really take the results to heart and remember who won. The other 50 percent are just giggling -- as if you can really be an expert, as opposed to just being as good as the best guy in a home league you do with your buddies."
The experts got their revenge in 2006, though, as one of their ranks finally won the AL competition last year. That the 2006 season was also the first year that LABR outlawed regular guys was just a happy coincidence. Had to be.
Jonah Keri is a regular contributor to Page 2 and the editor and co-author of "Baseball Between the Numbers." You can reach him at jonahkeri@gmail.com.

Also See
ESPN Top Headlines