Congratulations, St. Louis Cardinals fans! With an 83-78 record, the 2006 Redbirds became the worst team (or at least the team with the worst record) ever to win the World Series.
Not that anybody's apologizing by the Arch, nor should they. Despite fielding much better teams in recent years, the Cards hadn't won a World Series in 24 seasons before capturing last year's hardware. It was fitting to see baseball's greatest player, Albert Pujols, win the big one. And it was fun to see a cast of unlikely heroes, from Jeff Suppan to David Eckstein to scrap heap pickup Jeff Weaver, find redemption on the game's biggest stage.
The Cardinals' 83-win season also provides what we in the writing biz like to call a hook. For Page 2's 2007 MLB preview, we're rolling out 83 story lines you should follow this season. We'll lead it off with the question that begs to be asked after the latest World Series result …
1. Are dynasties dead in baseball? With apologies to the Chicken Little crowd stuck in the 20th century that thinks no one but the Yankees have a chance, we've now seen seven different World Series winners in the past seven seasons. At least one wild card team has made the World Series for five straight seasons, including three straight World Series winners from 2002 to 2004. And two hosiery-related teams that seemed doomed to a lifetime of suffering instead charged through the playoffs and sent their cities into ecstasy.
Those results underscore how tough it is to build a winning team, then maintain success over a long period of time. Teams like the Yankees (12 straight playoff appearances) and the Braves (14 straight before last year's miss, not counting 1994) are the rare exception, not the norm. Moreover, the best team often doesn't win in the playoffs. Studies of winning teams show that traditionalists pretty much had it right all along: Teams with a couple of great starting pitchers (especially high-strikeout guys), great defense and a great closer tend to fare best in October. As a result, the 100-win juggernaut that crushes everyone in the regular season with a killer offense might not be the overwhelming postseason favorite people expect.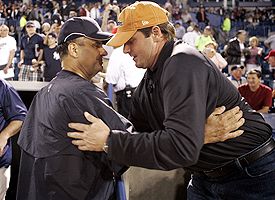 AP Photo/Robert F. Bukaty
C'mon Roger, just make a decision already would ya?
Just ask the 2006 Yankees. And maybe the 2007 Yankees, too.
2. Barry Bonds: He'll break the home-run record while showing a little life in his old legs … and the media will spill far too much ink while trying in vain to be the sport's moral authority.
3. Roger Clemens: He'll play coy and make himself the story for two months, then come back and dominate at age 44 … and no one will deign to ask about the S-word in his case.
4. Travis Hafner and Grady Sizemore: 1-2 in the MVP voting? They'll lead the Indians back to the postseason, fighting through the new toughest division in baseball.
5. DirecTV: Get yourself a clear view of the southern sky if you've moved away from home and want to watch your favorite team, baseball fans.
6. Player blogs: Curt Schilling is gaining lots of attention for the candor he's shown on his blog, 38pitches.com -- some of it of the "I have to call all bloggers and blog readers losers to protect my turf as a know-it-all newspaper guy" variety.
We applaud Schilling's efforts to reach out to fans. But our favorite MLB blogger is and always will be the submarining demon for the Minnesota Twins, Pat Neshek. His blog traces back to his days as a longshot prospect who was derided for his unorthodox, down-under delivery. Now he's on the verge of becoming one of the American League's best young relievers, after posting a 2.19 ERA and an 8.6-to-1 strikeout-to-walk ratio in his rookie season. The best part of Neshek's blog? He'll happily autograph any item you want if you mail it to him, and he loves to trade baseball and hockey cards. We'd offer him a torn Omar Vizquel for a mutton-chop Yaz, but Vizquel might make the Hall of Fame one day. OK, how about a 1958 Mickey Mantle for a picture of Homer sleeping on the couch?
7. The Nationals' starting rotation: The unknown can be a wonderful thing in baseball. And it doesn't get any more unknown than the Nats' Opening Day starting five. John Patterson, the talented but oft-injured de facto ace, you might know. But the next four starters are Shawn Hill, Jerome Williams, Matt Chico and Jason Bergmann. We're not poking fun -- Hill and Williams have talent, and we also sympathize with the erstwhile Expos. But let's just say that Bergmann won't last long in the rotation. That's because their projected No. 3 starter hopes to return soon after recovering from a groin injury. That No. 3 guy? Thirty-three-year-old Jason Simontacchi, who hasn't thrown a pitch in the majors in three seasons.
8. The Cardinals' starting rotation: It's one thing for the worst team in the National League to run out a bunch of kids and journeymen. But the defending World Series champs? Up-and-comer Anthony Reyes could be a worthy No. 2 behind Chris Carpenter. But Kip Wells? Converted relievers Adam Wainwright and Braden Looper? There are lots of question marks in St. Louis. Then again, their pitching coach is Dave Duncan, the same guy who turned Carpenter from an injury-plagued washout into a perennial Cy Young candidate. Ya never know.
9. Alex Gordon: The next George Brett? He's the rare phenom prospect who just might live up to the hype. The Royals certainly hope so.
10. Gil Meche: On one hand, he's a pitcher who's struggled to produce even average results, and got the kiss of death when the Royals signed him to the exact contract (five years, $55 million) that spelled the beginning of the end for Darren Dreifort and the Dodgers' payroll. On the other hand, scouts love him, and Meche's strikeout rates keep climbing. Dayton Moore's reputation hangs in the balance.
11. Zack Greinke: Can the former can't-miss prospect get over a social anxiety condition that's so bad it forced him out of the majors last season? He just might, if spring training results mean anything.
12. Kansas City Royals: They'll be better than you think, thanks largely to Gordon. Maybe not as good as Rany Jazayerli imagines, but they'll be competitive, and often fun to watch. And yes, we just spent four straight paragraphs on the Royals.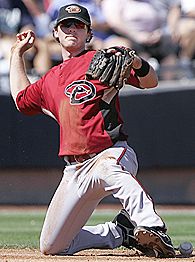 AP Photo/Lenny Ignelzi
Stephen Drew is a key part of Arizona's young core.
13. Arizona Diamondbacks:
A killer core of young hitters, headlined by Conor Jackson, Carlos Quentin, Chris Young and Stephen Drew -- mixed with a deep, veteran rotation, led by Brandon Webb and Randy Johnson. Add it all up and you get this year's NL West champs. This is the year they finally arrive.
14. Milwaukee Brewers: Ditto, except they'll be aiming to knock off the defending champs and the team that spent the GDP of Paraguay to restock their roster. Don't bet against the Brew Crew.
15. Daisuke Matsuzaka: He'll be as good as advertised, whether or not he breaks out the gyroball. If the Yankees don't get Clemens, the Sox will win the AL East, in no small part thanks to Dice-K.
16. Kei Igawa and Akinori Iwamura: They're not nearly as hyped as Matsuzaka, but both Japanese imports will help their respective AL East teams. Igawa looks like a rich man's Kaz Ishii right now, with a big, breaking curve and iffy control, but also good strikeout potential. In a rotation with Carl Pavano starting on Opening Day, the Yankees are happy to have him. Iwamura will fly under the radar in Tampa, and he won't duplicate the 30-homer power he showed in Japan. But he could hit .300 with lots of doubles, while stabilizing the Rays' infield.
17. Tampa Bay Devil Rays: For a perennial cellar-dweller, this team has lots of story lines that bear watching. Will B.J. Upton finally realize his potential? Will Delmon Young finally realize his potential and avoid chucking sports equipment at people? Will Scott Kazmir finally realize his potential and stay healthy? This could be the most exciting 75-win team in years.
18. Alfonso Soriano: He'll be good, but without Prior and Wood the Cubs might fall short of sky-high expectations.
19. Gary Matthews Jr.: He won't be good, or at least not $50 million good. And you could have said that before all the fit hit the shan.
20. Your fantasy team: No one wants to hear you talk about it, yet it's all you're going to think about for the next six months (or the next four, if your team stinks). You know what? I'll listen. But only if you'll let me blab about my own teams.
21. Carlos Zambrano's contract situation: When your rotation is "Zambrano and Hill, and pray for a cyanide pill," you'd better make damn sure you keep Zambrano and Rich Hill around. Hill isn't eligible for free agency until next decade. But Zambrano has issued an Opening Day deadline to work out a contract extension, or he says he'll play out his walk year and take his chances. The two sides are said to be mulling a five-year deal worth somewhere between $75 million and $85 million. Long-term contracts for pitchers are always dicey, but if you're going to spend $40 million for Ted Lilly and $136 million for Soriano, it seems silly not to lock up your ace.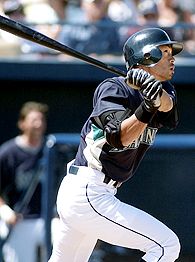 AP Photo/Tom Hood
Will Ichiro be wearing another uniform next season?
22. Ichiro's contract situation:
This isn't likely to have as happy an ending, as Ichiro seems more likely to leave Seattle at year's end than Zambrano is to leave Chicago. Then again, is that such a bad thing? We love watching Ichiro run and terrorize baserunners with his arm. But how much do you pay a soon-to-be 34-year-old outfielder who gets most of his value from hitting singles? Does the ample overseas revenue he attracts justify an above-market contract? A tough dilemma for Mariners GM Bill Bavasi.
23. The GM hot seat: Speaking of Bavasi, this season could be a pivotal year for him, as ownership will want to see improvement from the M's after a steady post-2001 slide. The pressure could be even greater on Jim Hendry after the Cubs' offseason spending spree. Do the Nats give Jim Bowden enough rope for a multi-year rebuilding project? How much patience will Peter Angelos show in Baltimore? How much longer can the Pirates live with Cam Bonifay … uhhh … Dave Littlefield?
24. The manager hot seat: Keep an eye on Mike Hargrove in Seattle and Buddy Bell in Kansas City, both of whom should have been fired a long time ago. There aren't that many other obvious candidates, mostly because teams have made so many changes in the past couple years.
25. Francisco Liriano's elbow: Johan Santana is the best pitcher in the game, but Liriano's ability to come back from Tommy John surgery in 2008 will be the key to the franchise's next half-decade. When healthy, he's that good.
26. The rest of the Twins' rotation: We're big fans of Boof Bonser, who's got both the name and the game to succeed in Minnesota. But the Twins have looked past their crop of top prospects, instead handing the No. 3 through No. 5 jobs to Sidney Ponson, Ramon Ortiz and Sanjaya Malakar. Memo to Terry Ryan: Degree of difficulty doesn't count in baseball.
27. Doug Mientkiewicz: See Ryan, Terry, re: making things harder for yourself for no good reason.
28. Florida Marlins' center field situation: Speaking of black holes, this could get ugly. Give the Marlins credit for being bold, though. After taking the awful Alex Sanchez for a test drive, the Fish named unknown prospect Alejandro De Aza as their starting CF. De Aza has just 69 games of experience above A-ball. But the Marlins liked his .351 spring average and his slick fielding enough to give him a shot. Before we bash them for handing a starting job to a total no-name, remember these two words: Dan Uggla.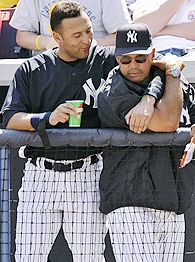 AP Photo/Kathy Willens
Is that the move Jeter pulls on the ladies too?
29. Jim Edmonds:
Will fall out of favor in St. Louis.
30. Lance Berkman: Will fall out of bed and hit.
31. Derek Jeter: Will fall out of bed and hit on starlets. And succeed.
32. Page 2 editors: Will fall for my devious plan to hit all 30 stadiums on a fat expense account.
33. Josh Hamilton: On a team suddenly short on outfielders after last year's boneheaded Austin Kearns trade, he'll get a shot, especially with Ken Griffey Jr. being a constant injury risk. He won't crush the ball like he did in spring training, but some gap power and a rocket arm in right field could bode well. The good: He's still only 25. The bad: Lingering shin splints, possibly the result of getting so much on-field action after being away from the game for so long.
34. Sammy Sosa: On a team loaded with outfielders, the Rangers are giving him a shot anyway. Bad idea. Texas has better alternatives, and Sosa's going to turn back into a pumpkin very soon.
35. A-Rod: Stays in the Bronx, hits a ton, and people keep bugging him anyway. Media and fans forever will pick on the highest-paid player in baseball. He could hit a ball to Jersey and people would complain that it didn't reach Delaware.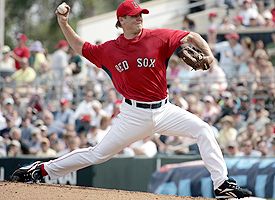 Getty Images
Welcome back to the bullpen, Pap.
36. Jon Papelbon returns to closer role:
Projected as a good but not great future starter when he was in the minors, the Sox are moving back to the role that made him better than great. Yes, stathead orthodoxy holds that starting pitchers are more valuable than relievers, and that closers grow on trees. But Boston's top four starters will be very good, and you don't blow up your bullpen for the sake of your No. 5 starter. Plus Papelbon's move to the pen opens up the No. 5 spot for youknowwho. Yup, Oil Can Boyd.
37. Fragile closers: Eric Gagne and Brad Lidge were once fire-breathing assassin strikeout artists who were a lock to shut you down at the end of the game. Now, Gagne's recovering from two years of injuries and Lidge still has a case of Pujols-itis. We like Lidge's chances to bounce back better than Gagne's, but both should get their share of saves. Too bad the two Texas teams will struggle to win 160 games combined.
38. Overrated: Derek Jeter (his defense), Sean Casey, Barry Zito, Juan Pierre
39. Underrated: Derek Jeter (his offense), Pat Burrell, Orlando Hudson, Nate Robertson, Bobby Abreu (still), Mark Shapiro
40. X-rated: Brian Giles
41. A's fifth starter: It's Joe Kennedy for now, as Oakland will need its No. 5 guy just once in the season's first three weeks, thanks to frequent off days. Expect a change at some point, maybe an out-of-nowhere one. Byung Hyun-Kim, another go-round with Juan Cruz, or maybe that lanky toll attendant on the Bay Bridge.
42. Relatively obscure breakout players: Kelly Johnson (Braves), Anthony Reyes (Cardinals), Kevin Kouzmanoff (Padres), Ryan Shealy (Royals), Chris Iannetta (Rockies), Terrmel Sledge (Padres)
43. Less obscure breakout players: Howie Kendrick (Angels), Dan Haren (A's), Jeremy Bonderman (Tigers), Prince Fielder (Brewers), Erik Bedard (Orioles), Chris Young (the outfielder from the D-Backs)
44. Still goin' strong: Greg Maddux, Tim Wakefield, Vin Scully
45. Wishing it was still '06: Kenny Rogers, Freddy Sanchez, Jermaine Dye
46. The White Sox tumble: A decline in the starting rotation (no Freddy Garcia, Mark Buehrle's human, John Danks isn't quite ready) and an aging power core (Dye, Paul Konerko and Jim Thome all regress) send the ChiSox to a 4th-place finish.
47. Pedro: Rotator cuff surgery is about as bad as it gets for a pitcher, especially a 35-year-old with a million miles on his right arm. But Pedro has defied the odds and made believers out of us for so long (where have you gone, Delino Deshields?), that you can't pound the nail in the coffin just yet. He's a big reason why...
48. The Mets aren't panicking over their starting rotation: With a deep stable of marquee position players and a solid bullpen back end, this is a team that should be good enough to get to the playoffs, even if the rotation looks shaky right now. Ollie Perez still has intriguing upside, and Mike Pelfrey could be the team's third-best starter before long. If Pedro returns to even 80 percent effectiveness by October, you've got a World Series contender in Queens.
49. Jose Reyes: Watch him on TV, draft him in fantasy, cheer for him at Shea.
50. Jose Guillen: Clean out the garage, take someone else in fantasy, boo him at Safeco.
51. The next generation of college-groomed superstars: Especially pitchers. Tim Lincecum, David Price and Luke Hochevar could the next Oswalt-Webb-Peavy (sorry, no Santana comparisons yet). Brandon Morrow probably lags the top three a bit talent-wise, but he'll get the first shot on an impatient Mariners team.
52. Padres turn more obscure relievers into gems: Heath Bell, Royce Ring, Scott Strickland ... no one knew who Scott Linebrink was five years ago either.
53. Ripken and Gwynn go to the Hall: We've got our vintage brown 1984 Pads jersey ready for a summer trip to Cooperstown.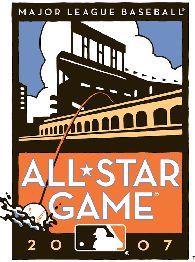 MLB
Forget about the game, let's get some beers.
54. All-Star Game in San Francisco:
Did you know they serve calamari and Anchor Steam on tap in the bleachers? Did you know that the third plate of calamari and fourth cup of Anchor Steam taste even better than the first?
55. Spending spree abates: Yes, the new Collective Bargaining Agreement and MLB's ever-growing media and new media deals have given more revenue and more revenue certainty to the 30 teams. But every time a new CBA comes out, teams go nuts, then retreat to their bunkers a year or two later, realizing the madness they've wrought. Sorry, no refunds on that $44 million Juan Pierre.
56. Sluggers you should pay to watch: Albert Pujols, Ryan Howard, Travis Hafner
57. Speedsters you should pay to watch: Jose Reyes, Carl Crawford, Hanley Ramirez
58. Glovemen you should pay to watch: Yuniesky Betancourt, Orlando Hudson, Ryan Zimmerman
59. Tigers contend again, but fall short: Through no fault of their own. Expect pullbacks by Rogers, Pudge and Verlander. But it's the Indians' killer offense and effective rotation that keep Detroit out of the playoffs ...
60. Unless: ... that C.C. Sabathia injury turns out to be worse than it looks. If healthy, he's got a shot at 20 wins this year.
61. The Phillies will be in the mix: Howard and Chase Utley anchor a very good offense, and the pitching is better than the bandbox stadium makes it look. Likable team too. Except for Brett Myers, of course.
62. Blue Jays move up to second again?: Could happen, if Roy Halladay and A.J. Burnett stay healthy, Chien-Ming Wang and Andy Pettitte don't.
63. The game's new power position: Alex Rodriguez, David Wright, Miguel Cabrera, Scott Rolen, Chipper Jones, Troy Glaus, Adrian Beltre, Aramis Ramirez, Garrett Atkins, Eric Chavez, Alex Gordon ... and more. If your favorite team doesn't have a really good third baseman, it's starting with a big disadvantage.
64. Lots more obsession over PEDs: Performance-enhancing drugs will remain the 'won't somebody please think of the children?' topic du jour. Meanwhile, bigger problems such as DUIs (check out Keith Law's excellent take) and spousal abuse keep getting swept under the rug.
65. The Dodgers go with experience over youth: For a team with more young talent than nearly anyone else, the Dodgers sprung for a lot of over-30 vets. Should Luis Gonzalez be playing over James Loney? Was $44 million for Juan Pierre necessary with Matt Kemp waiting in the wings? The window is open for the Dodgers to win now, but going the veteran route might prove to be the wrong move.
66. Pretty platoons: Dellucci/Michaels, Jenkins/Mench, Thorman/Wilson, Langerhans/Diaz and many others could loom large on pennant races. It's no coincidence that many of MLB's smartest teams recognize they can get comparable production out of a combination of spare parts and cheap pre-arbitration players as they can from one big-ticket free agent.
67. Fear the Rockies: The Rockies will continue to see the farm system bear fruit, as they finally develop a solid core of offensive talent that's not just a band of Coors-inflated Bichettes. They're not quite ready to contend with Arizona and the division's older clubs. But the Rockies could bank the franchise's second playoff appearance by 2009 -- maybe even '08.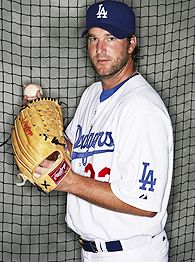 Getty Images
If your infield stinks ... so does Derek Lowe.
68. Worm killers:
Brandon Webb, Derek Lowe, Jake Westbrook
69. Arsonists: Horacio Ramirez, Jamey Wright, Jason Marquis, bottom three of the Twins rotation
70. Killer set-up men: Joel Zumaya, Scot Shields, Justin Duchscherer, Pat Neshek, Mike Gonzalez
71. Killer closers (they'll kill your patience): Dustin Hermanson, Jorge Julio, whoever wins the Tampa job
72. King Felix: The face of the franchise if (when?) Ichiro leaves. Management has made mistakes, but abusing their all-world young pitcher isn't one of them. Check him out when the Mariners come to your town.
73. Bad-rep player worth rooting for: Milton Bradley
74. Ready for return to playoffs: The Angels. Vlad, Lackey and K-Rod are still around. But the new guys will make the difference -- Howie Kendrick, Casey Kotchman, and who-dat catcher Mike Napoli.
75. Will he work in the regular season?: It's a veteran team in Oakland for a change, with no rookies expected to make a significant impact in '07. Yet the A's have more question marks than a squad full of 20-year-olds. Will Mark Ellis and Bobby Crosby stay healthy and play well? Can anyone stay healthy in the outfield aside from Nick Swisher? Is Eric Chavez finally ready to become the MVP-caliber player the A's need? Rich Harden, breakout or breakdown?
76. What happens in San Francisco when Bonds retires?: The Giants become one of the most lopsided clubs in recent memory. This team hasn't developed an impact position player since the Taft administration. On the other hand, Barry Zito is locked up for seven years, Matt Cain is already a front-line starter, Jonathan Sanchez could be really good, and Tim Lincecum could be really, really, really good. Brian Sabean might not be around much longer, but at least he won't leave the cupboard totally bare.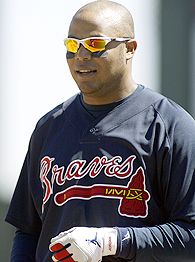 Getty Images
The future's so bright, Andruw's gotta wear shades.
77. Andruw Jones, we hardly knew ye: Well, actually we'll have known ye for more than 11 seasons in Atlanta. But Scott Boras will make sure the Braves' star center fielder doesn't settle for a hometown discount, meaning a deal worth $17 million a year or more could be on the horizon. John Schuerholz and company always find a way to bounce back, though. Young guns like Brian McCann and Jeff Francoeur will become the team's new stars, and the Braves will find a way to keep contending.
78. Say hello to: ... better interleague results for the National League.
79. Say goodbye to: ... low-risk, low-return draft philosophies. The Blue Jays and White Sox will be among the teams making the biggest shifts, after a string of blah draft picks (the Jays already landed potential star Travis Snider after starting such a shift).
80. Say whaaaaaaaaaat?! To teams increasingly going to 12-man pitching staffs, leaving managers with punchless benches such as the Twins' Jeff Cirillo/Mike Redmond/Jason Tyner/Luis Rodriguez combo.
81. Let the hype begin: For Yankees-Red Sox Part I, April 20.
82. Let the lobbying begin: For Tim Raines to earn his well-deserved place in the Hall of Fame.
83. Let the season begin: Opening Day is Sunday! 'Nuf said.
Jonah Keri is a regular contributor to Page 2 and the editor and co-author of "Baseball Between the Numbers." You can reach him at jonahkeri@gmail.com.