Pat Neshek is a hard-core collector of baseball and hockey cards, a huge fan of "The Simpsons" and one of the most entertaining bloggers around. He also happens to be one of the most dominant relief pitchers in baseball. In his rookie season last year, Neshek befuddled American League hitters with a sidearm right-handed delivery and nasty stuff, posting a 2.19 ERA, nearly 13 strikeouts per nine innings and a strikeout-to-walk rate of nearly 8-to-1. Now in his first full big league season, he's a key cog for one of the best bullpens in the majors. Page 2 sat down with Neshek to discuss his funky pitching motion, his jones for collecting and the perks of being a major leaguer:
Page 2: Who was your favorite player growing up?
Pat Neshek: Tony Gwynn. I loved how he studied videotape really seriously. It was pretty neat, how he could pick things up from pitchers by studying their tendencies. Growing up in Minnesota with no cable, the coverage wasn't great back then. But when I did get to see Gwynn hit, it was amazing to see how he could go to the opposite field against anyone.
P2: I take it you wanted to be a hitter before you became a pitcher, then? Did you think you'd be good enough to make it to the majors?
Neshek: When you're little, you always hope you can make it to the big leagues. Then as you get older, you hope you can develop into something, at least. In high school in Minnesota, I made the team as a sophomore, played shortstop, went to state, got pretty good. Pete LaCock, who used to play for the Kansas City Royals, wanted me to go to a junior college in California to play shortstop. But the scouts I spoke to wanted me to pitch -- my arm was my best tool. I took that route to college. Obviously I made the right choice.
P2: So how'd you develop that down-under pitching style?
Neshek: The Twins originally drafted me out of high school. In my very last game of high-school ball, a pitch came at my head. I protected myself with my arm and got hit pretty hard. I had trouble throwing from short, it felt like there was tearing in my wrist. The only position I could throw from was sidearm. So I head to college, and at this point, I'm throwing sidearm all the time as a pitcher. The coach says to me, "You might want to take a look at yourself on videotape, you're not the guy I recruited." But I had this unique style that was tough for hitters to pick up, and I was throwing in the 90s. Even today, it feels like I'm throwing from a three-quarters slot, not from the angle I do, which really is sidearm.
So I never meant [my motion] to be how it turned out. When I got hurt, it was the only way I could pitch that didn't produce pain when I threw. It just feels very natural for me. The Twins drafted me again out of college, from Butler, and I've stayed with it ever since.
P2: The Bulldogs looked great in the tourney this year …
Neshek: They had a great run. It's too bad they always have to play Florida.
P2: One of the things you've talked about a lot on your blog is your long journey through the minor leagues. Did you get discouraged after a while, thinking they might not call you up?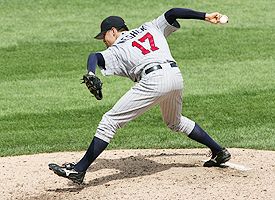 Getty Images
You're just a likely to find Pat dominating on the mound as you are on eBay.
Neshek: I've always put up really good numbers, and they drafted me pretty high [sixth round, 2002]. With the Twins, though -- not so much with their first and second-round guys but with their other guys -- they want to see you prove yourself. They're different than some other teams that call guys up really fast. Matt Garza last year was a rarity -- it usually takes awhile for a prospect to make it to the majors with the Twins.
Last year, I was having an unreal season, 13 strikeouts per 9 innings. By the time it got to June, I was thinking, "Man, this is getting annoying, I know I can pitch up there." It's happened to other guys I've played with too, and it can get frustrating.
P2: So tell me about the day you finally got the call …
Neshek: The Twins were doing some moves, and by this point I was saying, "When is it going to happen?" It was far beyond the point when I'd get excited, more of a feeling of being relieved. It was like, "Finally!" Then it was nervousness. Will my teammates be cool with me, will they pull the usual rookie hazing stuff, those kinds of things. I got a call at 11 a.m., and I had to get on a flight at 1:30 p.m. that day. My wife and I just grabbed a bunch of things, and our dog, and made it on the flight …
P2: What kind of dog? That couldn't have been easy …
Neshek: A little wiener dog, so it wasn't too bad. We took him along, then we had to smuggle him into the hotel. And it's the big leagues, so it's this really nice hotel that doesn't allow dogs, of course. The dog starts barking in the room, and all I could think was, "You're going to get me sent back to the minors!"
The first game was in Texas, and my parents came down. It's my first day in the majors and we're getting blown out. Usually when a guy gets called up, you might have to wait a week to get in there. But sure enough, they'd gone through a few pitchers, so they brought me in for the 7th inning. The first batter I faced was Kevin Mench. I got two strikes on him. I tried to put him away with a slider, hung it, and he ripped it up the middle. And I'm thinking, "You can't get away with a pitch like that here, these guys are too good." But then I retired something like the next 20 guys I faced over the next few games. It was a big relief to get established like that. But it was scary, for sure. You have to have your best stuff.
P2: It had to help that you had one of the best bullpens in MLB around to pick you up, right? Not every pitcher gets to break onto a pitching staff with Joe Nathan, Juan Rincon, Jesse Crain and Dennys Reyes around to help out …
Neshek: Oh, no question. Those guys all take their jobs so seriously, which is how I approach the game too. If you leave a guy on, they're trying to get out of the inning and help you out at the same time. When someone does well, you want to match him. Guys are going out and competing, and it's fun to be out there in that environment. It's great to be a part of that as a rookie, to take all that in.
P2: There are a bunch of other really good arms coming up in the organization too. Glen Perkins, Kevin Slowey, Scott Baker. It sounds like it's fun to compete, but if you don't compete, you could lose your job with all that talent around, right?
Neshek: When I got put on the 40-man [roster] last year, I said, "If I don't do something quick, I'm going to get passed by guys coming up in the minors." I mean, we released a lot of guys in spring training on the minor league side that were pretty darn good pitchers.
P2: Are you happy with your role now as a set-up man? Do you have aspirations of becoming a future closer?
Neshek: Not really. I could if they wanted me to do it, and I did it in the minors for a while. But Joe Nathan is one of the best, we're in great shape with him back there. I like the role I'm in now.
P2: What have you found to be the biggest differences between the minors and the majors so far?
Neshek: The lifestyle is pretty crazy, the money getting thrown around. You don't think about it on the field, but it can really help your family out. I'm just coming up, so it's not the same as some of the more established guys, of course, but it definitely helps. One of the biggest things I've noticed, though, is the degree of scouting, all the videotape and tools you have available. You can really find out what hitters are trying to do every at-bat. I rely a lot on that. It's nice to have that reassuring evidence, especially when you've already got a hunch about a hitter.
P2: That goes back to the Tony Gwynn influence, right? You're taking the traits you admired in Gwynn and applying it to your own pitching …
Neshek: Yeah, definitely. [Tuesday] night was the first time for me facing the Mariners, so I wanted to look at some things first. It's definitely tougher for me facing a team that first time. It's their first time facing me too, but I'd rather face them the fifth or sixth time, when I know their tendencies better. I feel like I can have more success that way. They know me better by then too, but that's when the matchups really start getting fun.
P2: A lot of your success relies on deception, though -- on your sidearm motion that's hard for batters to pick up the first time. Wouldn't they have a better chance of hitting you, the more they get used to your delivery?
Neshek: Well, I faced plenty of guys in the minors a bunch of times, and they never picked up on it, never really figured me out.
P2: Well, to be fair, it's not just the motion in your case. You're not exactly throwing slop out there, so it's different than facing some of the softer-tossing sidearm guys, someone like a Dan Quisenberry maybe …
Neshek: That's the other thing. I can get it up to about 94. A lot of sidearm guys don't throw that hard, for sure. But you're really starting to see more sidearmers coming into the league now, and more of them are bringing heat. Wes Littleton for Texas, Cla Meredith with the Padres. Joe Smith with the Mets went to Wright State [a rival school of Butler's in the Horizon League] … he throws hard too.
P2: It would seem like a smart idea for teams to seek out sidearm pitchers, wouldn't it? Isn't there a lot less strain on the arm when you throw that way?
Neshek: Oh, definitely. You might get a little sore sometimes. But you're sore in different places. It's never in the front of your shoulder, and that's where guys tear their rotator cuff. It's very rare that you'd get elbow soreness. Maybe a little if I'm really stretched out on back-to-back nights. But when I do get sore, it's more in the muscles behind the shoulder. The worst thing I'll get is a little tendinitis.
P2: Are your training methods different as a sidearm pitcher than they might be for a more conventional pitcher?
Neshek: Not really. I like to do a lot of lifting for my legs, that's where my strength comes from when I'm pitching. It's just basically getting in the gym, nothing too different. Normally you're supposed to lose velocity as you get older. But I feel like I'm getting stronger and throwing harder.
P2: What's your repertoire of pitches?
Neshek: Fastball-slider, mostly. The slider's been my bread and butter, it's the biggest reason for me having success against right-handed hitters -- a lot of guys end up swinging through it. With the deception in the delivery, they can have a lot of trouble picking up the ball. Then to lefties, I mix in a changeup.
P2: You mentioned working on the change against lefties. Last year you were almost unhittable against righties [.140 AVG/.159 OBP/.221 SLG], but lefties hit for a lot of power against you [.244/.300/.511]. Are you throwing the changeup more because of what happened last season, to try to adjust?
Neshek: When I was in college, my changeup was one of my better pitches. But when I came up, I could blow guys away with the fastball or throw a slider, so I didn't need it much. I'd never thought that much about splits. But then in the minors at one point people were saying "lefties are hitting .360 against you." So you have to make some adjustments. The changeup has been pretty good so far. It shows hitters I have another pitch.
P2: You were saying before that you didn't look at splits much when you first started out. But given what we see on your blog, it seems like you're pretty Web-savvy, and there are obviously a lot of stats out there if you want to find them. Do you consider yourself something of a stats guy now?
Neshek: I really like looking at my own stats, to see how I can improve. My college coach used to say, "try to walk a guy every three innings, at most," so that's always been a goal of mine. WHIP, ERA, K's per 9, all that stuff I like to look at. It's fun to compare to other guys, to see how other pitchers stack up. I'll also do that for hitters. I like seeing guys' strikeouts to walks, if they're taking pitches or if they're more aggressive. Any information you can pick up can help.
P2: I have to admit, even though you were a relatively unknown rookie, I owned you in every fantasy or simulation league I was in last year, your numbers were that good. My editor, who's also a stats guy, also had you on his fantasy team. Do you know that you have a following among statheads?
Neshek (laughs): That's great! I was just on ESPN.com today actually, looking at all the different stats. There's so much information out there, sometimes you'll get an obscure stat that might stick out. Maybe I do well in a certain park, or I have some trouble in day games. I'll dig up anything I can find.
P2: OK, so we have to get into your card collecting. For people who don't know, you trade baseball and hockey cards with people on your Web site, and you use the message boards to chat with people, and also to make all kinds of deals for different cards. I joked how I would trade you a 1958 Mickey Mantle card for a picture of Homer sleeping on the couch. Then a few days later, you dig up an old Simpsons card of Homer sleeping on the couch, and demand the Mantle card. I'll see what I can do about the Mantle card. In the meantime, what are your top three "Simpsons" episodes?
Neshek: Oh man, that's tough. Anything from the first three seasons. The baseball episode has to be up there. That's what I'd do almost every day in high school, come home, "The Simpsons" would be on at 5 on Fox. I even got my dad hooked on it. My wife and I went to Best Buy the other day, and we saw all the DVDs that are out now. We might have to get those.
P2: Back to card collecting. You're 26 years old -- wouldn't that make you more likely to grow up with video games than baseball cards?
Neshek: When I went to college, I had a teammate who was a serious collector, and he'd also sell stuff on eBay. So he'd say, "Hey, you want to go see the Pacers tomorrow? We can get their autographs." And I'd say, "You can't get the Pacers' autographs, there's no way." We'd go, and everyone would sign, and I thought, "Holy cow, this is awesome!" I really got into it that way.
I always said if I ever played in the minors, and especially if I made the majors, I'd let people in on it as much as possible. So when I started the site, I found that I could do trades with people, use my own cards and help my collection, and also make it fun for them.
P2: The site's grown a lot since then, right?
Neshek: It's gotten pretty crazy. When I started it in spring training 2004, I was getting three hits a day. Then it grew to about 10, and kept growing. The site had about 150,000 hits on it by the time I got called up, then 350,000 by the end of my rookie season. Now it's over 470,000, with about 1,500 hits a day. I don't want to change it or make it a better-looking site. I have no desire to make money from it. I like keeping it the way it is, with that raggedy feel.
P2: You have a questionnaire that you've used to interview a bunch of your minor league teammates. I'm going to steal one of those questions and ask you: If you could have an autograph from anyone in the sports world, past or present, who would it be?
Neshek: That's tough to say. My favorite card was always a Kirby Puckett one I've had for a while. It was during his rookie year, and he had a different autograph then. I just like to collect whatever I can find. I always went autographing, and hockey players always seemed to be the most fan friendly, with baseball players right behind. It's always something that's just meant to be fun. It's like a hobby within a hobby, and everybody's trying to outdo everyone.
P2: Have you run across other major league players who are big collectors?
Neshek: A lot of guys collect baseballs or signed jerseys. Often they're closet collectors. Someone mentions something about a jersey, and suddenly a guy will say, "I've got a Mantle one!" [Top Yankees pitching prospect] Phil Hughes is a graded card collector. Brad Lidge, I think, is a pretty big collector. In spring training, my locker was next to Mike Venafro -- I really got him into collecting. Some guys want to do it, but they don't know how to go about it. Oh, and Dmitri Young. He's a big collector, he likes the '50s and '60s stuff. He'll say to guys, "If you can find it, I'll buy it."
P2: Do you ever ask players from other teams to sign a card, or contribute a piece of memorabilia? It's got to be tempting, if you're playing against Roger Clemens or someone like that, to ask, isn't it?
Neshek: I never did it last year. This year, we were playing the Yankees, and I wanted to do it. I went over to the bat boy and sent a card over to be signed. That was the first time I'd done that. I usually don't like getting into people's business, but some signatures are tough to get. The thing is, if I ever needed something, there are all these fans who would go out and get it for me, then trade with me on the site. It's amazing how much they really reach out.
P2: Do you collect your own cards?
Neshek: Yeah, and it's crazy what's happened with that. When I was starting out, people would always ask me, "When are you going to get a baseball card?" Now, because of [the attention drawn to] my cards through my Web site, they're top sellers!
My favorite one is from A-ball. They were taking pitchers off the mound, and having them pose. I said I wanted to do something different. So I just took a pen, wrote a fake autograph on a ball, and that was my rookie card, fake-signing a ball. It's a rare one they only made one of. So the card went up for auction. One guy bid $150, I said I'd bid $200, which is my limit … and this kid bids $600! I told him, "I'll be back to buy that from you, when that thing's worth nothing."
Jonah Keri is a regular contributor to Page 2 and the editor and co-author of "Baseball Between the Numbers." You can contact him here.