It's often said the toughest thing to do in sports is to hit a major league fastball. A hitter has a fraction of a second to identify the pitch, react to it, start his swing, and generate enough leverage and bat speed to do something with it. Only the best athletes in the world can accomplish the feat with any degree of consistency.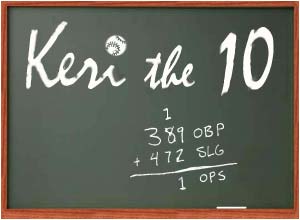 So what about the pitchers delivering that heater in the first place? Think how much natural talent, endless repetition and incredible concentration it takes to master a 95-mph fastball, to throw it to a precise target and not miss by even an inch. More than any individual in any team sport, the pitcher controls the action of a baseball game. If he's off his game or simply not good enough, his team is probably going to lose. But if he's on his game and everything breaks just right, he has a chance to dominate everything around him for the next three hours.
When it comes to the science of pitching, I'm a junkie. I want to know how a pitcher can so easily repeat his motion, when even the slightest miscue can cause a ball to hang, flatten out, or worse, tear a ligament and threaten a career. I want to know all the particulars of how a pitch moves, even a pitch whose very existence is disputed. Should teams develop more knuckleballers and sidearmers, to increase durability and give opponents a different look? What kind of steps can medical professionals and kinesiology experts take to help pitchers avoid injuries before they happen? How has modern medicine prolonged the careers of so many pitchers?
When it comes to the art of pitching, I'm just as obsessed. When a highly-touted pitcher makes his major league debut, it's a must-see event. No matter how much is expected of a rookie pitcher, there's always an element of uncertainty: Can he handle the transition to the big leagues, or will he become the next Todd Van Poppel? If that rookie pitcher succeeds, his potential is only limited by the imagination. When Dwight Gooden burst onto the scene, you could close your eyes and envision Bob Gibson or Tom Seaver. When Felix Hernandez made his debut, you could remember the young, spectacular version of Gooden, before life and circumstances conspired to sidetrack his career.
Sunday night, a skinny right-handed pitcher who has inspired comparisons to everyone from Pedro Martinez to Sandy Koufax made his first major league start, on ESPN's Sunday Night Baseball. If that weren't enough, his mound opponent was a left-handed strikeout machine who often looks so untouchable that comparisons to Steve Carlton don't seem out of place.
Until about 3 p.m. Sunday afternoon, that matchup was set to lead off this week's 10. Then, the big news hit.
1. The Yankees will be back in the playoff hunt. A lot of that will have nothing to do with Roger Clemens.
Before the announcement that Clemens had passed on the Astros and Red Sox to sign with the Yankees, doom and gloom ruled in the Bronx. We heard that Joe Torre would be fired, that Brian Cashman's job was in jeopardy, that a $200 million payroll would be wasted as the Yankees' season goes down in flames. Suddenly, with Clemens back in the fold, optimism reigns.
Clemens' recent track record suggests that he can give the Yankees pitching staff a big lift, even though he turns 45 in August. He'll definitely help. But the panic surrounding the team's slow start was a massive overreaction that ignores the likely bouncebacks ahead for several players. Johnny Damon's hitting .238 with a .357 slugging average. Robinson Cano's stuck at .269 AVG/.319 OBP/.352 SLG, after going .342/.365/.525 last year. Mariano Rivera has an 8.38 ERA. Doug Mientkiewicz ... oy.
Even as A-Rod's numbers return to the land of mortals, the Yankees should expect the improvements from their slow starters to give the team a big lift. Mientkiewicz isn't a viable option at first base, but expect the Yankees to make a deal for a much better hitter before long. The pitching staff, hammered by early injuries, will get a boost from a healthy Chien-Ming Wang and Mike Mussina, not just Clemens.
In an AL playoff race that figures to include as many as seven or eight solid teams, the biggest wild card could be Bobby Abreu, not the Rocket. Once one of the best and most underrated players in the game, Abreu's seen his home run totals plunge from 30 to 24 to 15 the past three seasons, and he has just five extra-base hits in 120 at-bats this year. If the Bombers don't get a lot more out of their No. 3 hitter, even a vintage Rocket season might not be enough.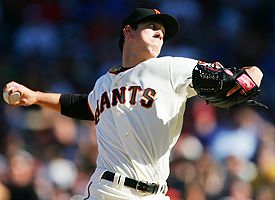 Jed Jacobsohn/Getty Images
Lincecum may weigh just 155 pounds dripping wet, but he brings a big fastball to the Giants' rotation.
2. Tim Lincecum will be very good. It just might take a little time.
Lincecum vs. Cole Hamels shaped up as a terrific battle. "Seabiscuit," as scouts call Lincecum, doesn't look like much on the mound. But the scrawny 22-year-old, who doesn't look a day over 15, has blown away hitters his whole life, from a stellar career at the University of Washington to a short but untouchable stint in the Giants' farm system. Matched against Hamels, who owns arguably the second-best fastball-change combo in the game behind Johan Santana and projects as a perennial 200-strikeout guy, you had to like the chances of the game becoming another Dice-K vs. Felix or Clemens vs. Liriano. I even drove 140 miles round-trip to attend a buddy's "Lincecum Party."
It didn't quite pan out the way we might have hoped, or the way the Giants hoped. After ceding a leadoff single to Jimmy Rollins, Lincecum hung an 0-2 curveball -- the same curve people have described as virtually unhittable -- and watched as Shane Victorino launched the pitch into the right-center field bleachers. Two innings later, Ryan Howard crushed a fastball down the heart of the plate over the center-field wall. Over 4.1 innings, Lincecum threw 100 pitches, just 53 for strikes, and allowed five runs.
Still, there were flashes. Relying mostly on his explosive fastball with a ton of movement, Lincecum struck out the side in the first inning, fanning five all told. He adjusted his approach based on results, mostly going away from his curve after the Victorino homer and finding success with the heater until Howard's blast. He needs to work on location, and things like recognizing that a straight 95-mph fastball that works against teenagers won't get Ryan Howard out.
Still, you have to love Lincecum's upside. For more on the kid's evocative pitching motion, check out this excellent blog post from detectovision.com. Warning: Contains graphic Koufax comparisons.
3. If the A's make the playoffs, it'll be Billy Beane's biggest magic act yet.
Only three teams have scored fewer runs per game than Oakland so far. In Sunday's game against Tampa Bay, Chris Snelling hit leadoff, Dan Johnson hit cleanup and Jack Cust hit fifth. The following players are on the disabled list: Rich Harden, Esteban Loaiza, Milton Bradley, Mike Piazza, Mark Kotsay and Bobby Kielty. Bobby Crosby's hitting below .230. Eric Chavez's OBP is below .300. So how can the A's, a team with a lineup that looks better suited for the PCL than the AL West, be sitting at .500, just a game out of first place and in contention?
Start with the pitching. Oakland owns the second-best ERA in the majors. Even after accounting for their pitching-friendly home park, it's hard to quibble with the A's team strikeout-to-walk rate (best in the AL) or its team OBP allowed (best in MLB). In the past, observers were split on whether the A's deserved credit for finding three aces to lead the staff at once in Barry Zito, Tim Hudson and Mark Mulder, or whether they were lucky. But today's A's staff is a study in scouting and player acquisition skills. The ace is Danny Haren, a 26-year-old Cy Young candidate plucked from St. Louis in the Mulder deal -- one of the most lopsided trades any team has made in years. Crack set-up man Justin Duchscherer was a soft-tosser and failed starting pitching prospect picked up off the scrap heap and converted to bullpen gold. Chad Gaudin has been a staff saver so far, posting a 2.70 ERA and just two homers allowed in 33.1 IP -- he was acquired for a player to be named later from Toronto after the '05 season. Lenny DiNardo (1.93 ERA) was claimed off waivers from Boston this winter. Joe Kennedy (2.48 ERA) came over in a trade with the Rockies two years ago (though Eric Byrnes has done well for himself since leaving the A's in that deal).
Still, the A's have lost more than their three aces. Jason Giambi and Miguel Tejada are also long gone, and the new crop of homegrown hitters expected to replace them -- led by Chavez and Crosby -- has failed to produce any legitimate stars. As a result, the A's have attacked the trade market lately. They acquired Ryan Langerhans from the Braves to patch the outfield. They flipped him to the Nats for Snelling -- a talented player who suffered through a ton of injuries in Seattle and got a raw deal in D.C., but could still pan out and become a good full-time outfielder -- a few days later. They picked up Cust, a one-time stathead favorite now pushing 30 and given what might be his last chance. They grabbed J.D. Closser, another one-time highly regarded prospect who was buried in the minors before Beane came calling. The A's even traded with the Reds to get Chris Denorfia, a multi-position outfielder with a broad range of offensive skills who also happens to be out for the season after reconstructive elbow surgery.
The Angels still have more talent, and should be considered the favorites in the West. But give Oakland an A for effort -- Beane is turning over every rock he can to stay in the race.
4. The White Sox aren't in any rush to trade Jermaine Dye or other big-name players, preferring to stand pat with their struggling stars. That's the right move.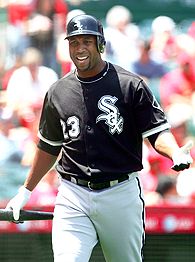 Harry How/Getty Images
Fifth in the MVP voting last season, Dye is off to a slow start with a .219 average.
The White Sox are just barely ahead of the A's in runs scored per game, despite playing in a significantly better hitter's park.
Unlike the A's, though, the White Sox own plenty of offensive talent, led by Paul Konerko, Jim Thome, Joe Crede, the underrated Tadahito Iguchi, and Dye -- the subject of trade speculation in his walk year before free agency. Thome is on the DL and the other guys aren't hitting right now. Chicago's team batting average of .222 ranks last in all of baseball. A number of players are flirting with the Mendoza Line. But that won't last. Kenny Williams has preached patience as the Sox work through their early struggles. He's mostly right. There's enough offensive talent at most positions for the Pale Hose to at least get back in the race.
But there are two positions crying out for offensive upgrades, especially in a loaded division that figures to have the Indians, Tigers and Twins in contention. One is left field, where his hot 33-AB start notwithstanding, Scott Podsednik had regressed into one of the worst everyday players in the game, even before a strained abductor knocked him onto the DL. Neither Podsednik, his backups, nor any of the organization's higher-level prospects (including Ryan Sweeney and Josh Fields) have shown enough to suggest they'd be above-average contributors at a corner-outfield spot. The Sox will need to add a big bat to keep up in the stacked Central.
The other player they need to upgrade is also the one with the highest batting average on the team to date: Darin Erstad. He's hitting .267 (including .366/.422/.537 over the past two weeks), playing solid defense in center field, and earning the undying devotion of Ozzie Guillen, but saying the Sox have much bigger problems to worry about than Erstad ignores years of history, as well as Erstad's own struggles in '07. Erstad's .322 OBP and .362 slugging average practically define a replacement-level player -- a guy you could pick up off the street. And that's only after he managed that two-week hot streak. He's had only one decent offensive season in the past seven years, when he posted a line of .295/.346/.400 in 2004. His stellar 2000 campaign, in which he hit .355 with 25 homers and 240 hits, is a distant memory. Erstad would be an excellent first man off the bench, able to play great defense at four positions and spell tired or injured starters as needed. But he's not good enough to be an everyday player on a championship team, let alone lead off for one.
5. The top 5 junkballers in MLB are ...
Tom Glavine. When you're Johan Santana or Pedro Martinez and you own a great changeup, the drop in velocity alone is going to drive hitters batty. Glavine's fastball can charitably be described as batting practice speed. But Glavine's changeup, which he holds with a circle change grip, is a sinking nightmare that few hitters can square up and hit solidly. A certain Hall of Famer, he's a shining example of how being called a junkballer can be a great compliment.
Trevor Hoffman. Once the owner of a highly effective fastball, age and injuries have forced Hoffman into relying on the change as his out pitch. He's been almost as dominant as his heyday, becoming the all-time saves leaders and setting batters down with ease. You don't need to be a fire-breathing, 250-pound bruiser to be a great closer, as Hoffman can attest.
Jamie Moyer. The frustration on batters' faces after whiffing on one of Moyer's tantalizing changeups is almost laughable. They start their walk back to the dugout, then look back in disgust as if to say, "Really, THAT guy struck me out?" Moyer didn't establish himself as a front-line pitcher until his 30s. Now 44 and the oldest pitcher in the majors (until Clemens returns), he's making up for lost time, he's anchoring the Phillies' staff with a 2.85 ERA.
Mark Buehrle. A huge regression last year had observers worried that Buehrle's high inning totals had finally caught up to him. But the crafty lefty has come back to confound hitters with his pinpoint location and assortment of off-speed pitches. His hit total's a little low this year given his peripherals, but that's what you get when you toss a no-hitter and etch your name in junkballer history.
The Hernandez Brothers. What Orlando and Livan Hernandez are likely to throw next is as big a mystery as there is in baseball -- other than their true ages. El Duque's older, but with more pop on the fastball, able to hit the high 80s with his slim build and high leg kick, while covering every inch of home plate with various curves, changes and other offerings. Livan's one of the heftiest pitchers in baseball, but his fastball has become so notoriously slow that even Vin Scully recently teased his 85-mph pitch as a case of Hernandez "throwing gas." Livan's earned a reputation as one of the most durable pitchers in baseball, while El Duque is a clutch playoff performer, with a 12-3 record and a 2.55 ERA in the postseason. The main attraction for both is the eephus pitch, a high, looping slowball each pitcher will break out once or twice a game, usually with great results.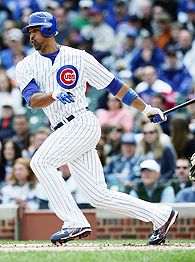 Jonathan Daniel/Getty Images
Even though he has just two home runs, Lee ranks seventh in the NL in slugging percentage thanks to 17 doubles and a .414 average.
6. Derrek Lee is the evolutionary Paul Waner.
One of the biggest upsets of the early season has been Lee failing to hit a double in his past three games. After all, he'd hit at least one in eight straight games before that. Even after his recent drop-off, the Cubs first baseman is on pace for 95 two-baggers, which would shatter the existing record of 67, set by Earl Webb in 1931.
More than just doubles, though, Lee has hit 'em where they ain't better than anyone in the majors, putting up a .414 average through 29 games. Lee's hot start has been a big relief following an injury-marred 2006 campaign that dimmed memories of an MVP-caliber 2005 effort. If the Cubs wanted to quibble, they could complain that Lee's home-run stroke hasn't returned to its '05 form. But if the warmer weather doesn't help him get back to 40+ homers, Lee could still settle for being the new incarnation of Waner.
Despite weighing about 80 pounds less than Lee -- and 100 pounds less than some other MLB sluggers, Waner was one of the most feared hitters of the 1930s. A lifetime .333 hitter, Waner (nicknamed "Big Poison" by a fan in Brooklyn) likely would've hit a lot more homers had he not played in spacious Forbes Field in Pittsburgh. Instead, he put up some of the biggest doubles seasons in MLB history (including 62 in 1932) and reached double digits in triples the first 10 years of his career.
7. The Mariners have a plane to catch.
How else can you explain the fact that Seattle ranks dead last in MLB in both strikeouts and walks? Yuniesky Betancourt, Jose Lopez and Jose Vidro all rank among the top 10 in toughest batters to strike out. On the flip side, Betancourt, Lopez, Kenji Johjima and Jose Guillen have combined for just eight walks in more than 330 plate appearances.
Given this blend of good and bad news at the plate, it's probably not surprising to see the M's sitting right at .500 through 26 games. In the shaky AL West, though, that's tied with the A's for second place, just a game behind the Angels. With 18 more runs allowed than scored so far this year, though, Seattle's record is a bit on the lucky side to date. May 15 could be D-Day for the M's. If Felix Hernandez comes back that day as scheduled and pitches well, things could get interesting. If his return gets pushed back again, it'll be time to wonder if his early-season injury isn't more serious than the team has let on.
8. No team integrates first-year starters into the lineup better than the Atlanta Braves.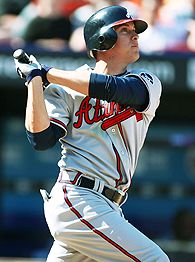 Al Bello/Getty Images
Atlanta second baseman Kelly Johnson is a key reason the Braves are tied for the NL East lead.
In his first full year as a big league starter, converted shortstop Kelly Johnson has terrorized the NL as the Braves' leadoff hitter, with a line of .314/.459/.562. He leads all major league second basemen in OBP and walks and ranks third in slugging. He's 25 years old, costs next to nothing, and won't be a free agent for five more years.
If this sounds familiar, it should. Last year, in his first full season, Brian McCann was the top-hitting catcher in the NL, going for .333/.388/.572. Adam LaRoche entered the big leagues with an .821 OPS in 2004. Marcus Giles hit .316/.390/.526 and finished 18th in MVP voting in 2003, his first full season as a starter. Rafael Furcal amassed a .394 OBP and won Rookie of the Year in 2000. Keep going back and you'll keep finding more success stories: Andruw Jones, Chipper Jones, Dave Justice and more.
It's one thing to keep costs down by calling up players from the farm and letting them sink or swim in an everyday job. What makes the Braves so good every year is that all their rookies apparently have gills.
9. It's been a rough ride for last year's playoff heroes.
The news that Chris Carpenter will be out at least three months due to elbow surgery dealt a big blow to the Cardinals' playoff hopes. But even before the Cards lost their ace, the struggles of last year's postseason stars had helped dig a last-place hole. Adam Wainwright finally bounced back with six strong innings against Houston Friday. But the budding star who left Carlos Beltran's bat on his shoulder as the Cardinals' closer in October still owns a 5.60 ERA while yielding nearly two baserunners an inning. Fellow 25-year-old Anthony Reyes has pitched a lot better, but a lack of run support has left him with an 0-5 record. World Series MVP David Eckstein has been awful, hitting just .220/.282/.250. The curse extends to playoff contributors who left the team too: Seattle's Jeff Weaver has been the worst pitcher in the majors by far, with a 15.35 ERA.
One playoff great has managed to shake the curse. The problem is, that player is Jeff Suppan. Last year's NLCS MVP has started the year 5-2 with a 2.63 ERA. Cards fans wish he hadn't, given he's turned the trick for the front-running Milwaukee Brewers, owners of an eight-game lead over St. Louis.
10. With Tim Lincecum graduated to the majors, Hank Conger should be your new favorite prospect.
Who is Hank Conger? A 19-year-old catching prospect in the Angels system, Conger (whose proper name is Hyun Choi) has promising power and a bright future. He fared well in rookie ball last year, and has shown flashes of pop this season, despite so-so numbers.
But that's not why you want to root for him. As Charles Barkley reminds us every time we see him in studio, an athlete with a sense of humor is a rare and wonderful thing. Whether or not you're an Angels fan, and whatever your political views, this clip is proof positive that Conger's got it. Enjoy.
---
Thanks for all the e-mails you sent after last week's debut column. I managed to reply to about 350 of them before my fingers started cracking and falling off. If you have any topics you'd like to see covered in the 10, drop a line anytime.
A few clarifications from last week's column:
In making the point about batting average on balls in play, I lumped Matt Cain and Rich Hill together. Both are excellent young pitchers. But unlike Cain, Hill doesn't throw a mid-90s fastball. His best pitch is actually his knee-buckling curve. Meanwhile, Cain is already signed to a long-term contract. Also, Bud Selig is most definitely not beloved anymore in Milwaukee, not after the Selig family left the team in bad shape for several years, before new ownership and new management helped turn the franchise around. As penance, I will coat myself in Miller Park brown ballpark mustard and give the ants invading my basement 10 minutes to do what they will.
Finally, after a decade of tireless and ground-breaking work at Baseball Prospectus, Keith Woolner has been hired as manager of baseball research and analysis by the Cleveland Indians, joining one of the smartest organizations in baseball. (Get to know the name Chris Antonetti, because he could be the GM of your favorite team by this time next year.) Congratulations, Keith. The AL Central just got even more interesting.
Jonah Keri is a regular contributor to Page 2 and the editor and co-author of "Baseball Between the Numbers." You can contact him here.