One of the topics frequently discussed in this space is the danger of judging the performance of a player or team based on a small sample of evidence. One at-bat doesn't make a player great, even if that at-bat results in a grand slam that wins the World Series. One game doesn't make a team terrible, even if the team loses 20-0.
The question then becomes, at what point should we start believing what we're seeing? We've reached the season's quarter mark, enough time for hitters to rack up 150 at-bats, for pitchers to pile up 50 innings. In many cases, that's enough time to draw some conclusions: Bobby Abreu isn't the player he once was; Jose Reyes has arrived as one of the best players in the game; the Cardinals aren't going to repeat as World Series champions.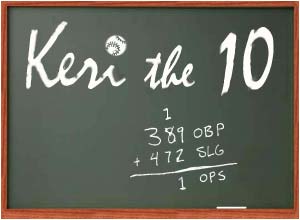 Those are the easy ones. But there are no hard and fast rules to tell us exactly when to start believing in a trend. In some cases, a quarter of a season can still leave us with misleading information. In the first edition of Keri the 10, we looked at BABIP (Batting Average on Balls In Play), a pitching stat that can help pinpoint fluky results among pitchers. This week's column starts with a look at one simple metric which reveals two teams that have played better than their records suggest.
1. Based on their 19-23 record, the Yankees look like one of the worst teams in baseball. They may turn out to be one of the best.
After they dropped two of three to the Mets, the biggest stories coming out of New York are that the Yankees supposedly have no heart; that Joe Torre should be fired; that Jason Giambi's contract could be voided because he kinda, sorta admitted he juiced; and that the Mets can start printing their World Series tickets. We'll skip the psychoanalysis, the dissertation on the role of a manager, the thesis on contract rules and the state of the NL pennant race. But there's no denying one thing: The Yankees have been one of the unluckiest teams in baseball.
With 27 more runs scored than allowed (227 to 200), the Yankees' combination of offense and run prevention points to a team that would figure to be three or four games above .500 instead of four games under. One of the biggest reasons for the divergence? The Yankees are just 2-8 in one-run games, the second-worst mark in the majors. Teams rarely fare so much worse in one-run games than they do the rest of the time. When you see a team post such a bad record in one-run games, it's usually the result of two factors: a lousy bullpen and bad luck. There's no denying that the Yankees' relief corps has been lousy, with Mariano Rivera uncharacteristically struggling, and a band of would-be set-up men failing to do the job. But bad luck can often turn for the better, especially over a 162-game season.
Adding Roger Clemens and Philip Hughes to the rotation will help a lot. Abreu, Robinson Cano and Melky Cabrera will probably start to play better, even if they don't get back to 2006 levels. The front office will probably make some moves to upgrade the roster. But even if the Yankees do absolutely nothing, it's unlikely that they'll keep scoring that many more runs than they've allowed, yet continue to flirt with last place.
2. Based on their 20-22 record, the Cubs look like one of the worst teams in baseball. They may turn out to be one of the best.
That one team with a worse record in one-run games than the Yankees? It's the Cubs, who've gone just 2-9, prompting Lou Piniella to ponder a series of ill-advised moves, from bumping Ryan Dempster to the rotation to having Rob Dibble, Norm Charlton and Randy Myers take his place in the pen.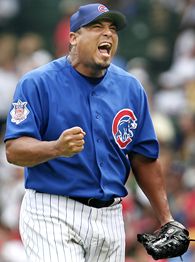 AP Photo/M. Spencer Green
Another reason for the Cubs' less-than-stellar start: Carlos Zambrano has a 5.61 through 10 starts.
Rob Neyer broke down the Cubs' bad luck in his blog last week. In that entry, he noted two facts: "Runs scored and runs allowed predict the future more accurately than wins and losses" and "The Brewers and the Cubs, at this moment, have identical run differentials: +34." Updating that figure, the Cubs have scored 30 more runs than they've allowed. The Brewers have scored 22 runs more runs than they've allowed -- eight fewer than the Cubs. But they're 10 games over .500 at 27-17 and are six games ahead of the third-place Cubs.
One final point on run differential: For the Yankees and Cubs, those losses are in the bank. To get to 90 wins, the Yankees now need to go 72-48 for the rest of the season. That's a .600 clip, about what a 97-win team would produce over a full season. With the Red Sox riding high and some stiff competition around the league for the wild card, 90 wins still might not be enough. The Cubs will need 70 wins to get to 90 for the season, a .583 clip that's the equivalent of a 94- or 95-win effort over a full season. If the Yankees and Cubs keep up their current pace at the plate and on the mound, they should both expect to play well above .500. But there's no guarantee their luck will improve -- and it's unlikely that it will "even out."
(For more on run differential, check out ESPN.com's standings page. To see how MLB's standings look after adjusting for run differential, check out Baseball Prospectus' Adjusted Standings report.)
3. Andrew Miller should stay in the majors.
Two pitchers made their first career major league starts last week. Both looked like world-beaters their first time out. One of them might get screwed out of a second start.
Considered by some to be the top talent in last year's draft, Andrew Miller is a 6-foot-6 intimidator with a refined approach who turns 22 on Monday. He made it to Detroit in time for the stretch run, and showed flashes of the powerful delivery that's induced copious ground balls at every level. Called up to start against the defending champion Cardinals Friday, Miller tossed six shutout innings, giving up only four hits, keying a Tigers win and confirming his status as one of the elite pitching prospects in the game.
A B-level pitching prospect, 22-year-old Jesse Litsch was perhaps best known for being a former Tampa Bay Devil Rays batboy. In his debut for the Blue Jays against the Orioles Tuesday, Litsch ripped through the Baltimore lineup, yielding just one run and four hits in 8.2 innings and earning the win. In his second start Sunday, Litsch had a tougher time, surrendering four runs on seven hits, including two homers, in four frames. Litsch lacks overpowering stuff, and might struggle to get by on guile. He's a great story, but might not be a major league-ready pitcher.
The Blue Jays, racked with injuries, lacking pitching depth and sitting well below .500, are sticking with Litsch in the rotation. The Tigers, riding a three-game winning streak and tied for first in the AL Central, might demote Miller to the bullpen or more likely the minors before he can make his second start, assuming Jeremy Bonderman returns from blister problems this week.
Preserving the status quo might seem like the right move for a first-place team. But in sending Miller down, the Tigers would be keeping mediocre 29-year-old journeymen Chad Durbin and Mike Maroth (who's allowed 69 baserunners and struck out just 15 batters in 40.1 innings) in the rotation. Hoarding a top prospect's service time, worrying about a pitcher's running out of options, not wanting to rush a young talent and striving to preserve team chemistry are all reasonable goals. But there's no margin for error in the AL Central this season, not with the Indians playing their best ball in years, the Twins armed with enough young talent to make a run and the White Sox fielding plenty of top-tier veterans. The Tigers had better not wait too long on Miller. He's ready right now, and every five days they wait could cost them a game in the standings -- a game that could very well decide the division race.
4. Players are complaining about interleague play. Some of those complaints have merit.
Jeff Kent slammed MLB for breaking with tradition and chasing the mighty dollar in scheduling interleague games. He added that "there's no rhythm to the game for the players," and that "it's hard for the players to get motivated." Arguing in favor of tradition is a subjective thing: Some people would rather not watch Randy Johnson ever swing a bat, while others enjoy the strategy that comes with making the pitcher's spot hit. Likewise, some people enjoy seeing different teams through interleague play, while others like the World Series mystique that comes from pitting two teams against each other, after not facing off all season. Lack of motivation, though? The Dodgers play just down the freeway from the Angels (the weekend's interleague opponent); the Angels are a first-place team; Vladimir Guerrero is the best player in all of baseball so far this year; and Kent gets paid $11.5 million to play whoever's on the schedule. Must not have been enough, though -- Kent went just 2-for-11 for the series and the Dodgers got swept.
Chipper Jones' complaint rings truer. Jones said the uneven interleague schedule, whereby some teams face weak opponents while others face powerful division leaders, can sway the standings significantly over the course of a season. The Braves dropped two out of three to the Red Sox, falling to the team with the best record in baseball. It's unlikely that things will change -- the players' union would likely need to intervene, and it's got bigger fish to fry. That's too bad, because Jones' complaint is a valid one: The Braves will play two series against the Red Sox, and three-gamers against the tough Indians, Tigers and Twins. The Cubs, a team the Braves might need to beat for the wild card, have the Rangers and Mariners as part of their interleague schedule. Something to keep in mind if this year's playoff races go down to the wire.
5. Speaking of Chipper, it might be time to start walking the guy.
What else can you do against a switch-hitter who's crushed pitchers of all stripes, to the tune of .307 AVG/.404 OBP/.647 SLG? At 35, you'd figure Jones would be slowing down, his bat speed eroding with age. Instead, he's accelerated his production in each of the past three seasons. He's tied for second in the NL in homers, and only Bonds and A-Rod own higher isolated slugging (slugging - batting average) marks. If not for nagging injuries (the latest a thumb injury that knocked him out for a few games earlier this month), he'd be a perennial MVP candidate. Yet he's not even the most famous Jones on his own team, let alone a player viewed as a bona fide superstar.
Brandon from San Angelo, Texas, brought up a good point regarding last week's column comparing veteran ace Roy Oswalt to rookie phenom Tim Lincecum: As fans, we have a tendency to get more excited about the next new thing than we do about the same old thing, even when the old thing is great. After seeing their long-standing streak of division titles snapped last year, the Braves have surprised the baseball world by rebounding to become one of baseball's best teams. No way that would have happened without Chipper.
6. Speaking of the Dodgers, better get to them early …
… because once you reach the back of the bullpen it's Game Over, even with Eric Gagne long gone. For all the hype revolving around younger Japanese imports such as Ichiro and Dice-K, some teams have found huge success by bringing in older talent -- especially relievers. As a 36-year-old, Takashi Saito finished seventh in ROY balloting last year and eighth in Cy Young voting. Those expecting the league to figure out Saito's delivery and catch up with his array of breaking pitches have been disappointed: Saito's got a 23-to-2 strikeout-to-walk rate in 19 innings with a sparkling 1.42 ERA that's 194 percent better than the league average. Power righty Jonathan Broxton has excelled as a set-up man, striking out a batter an inning this year after fanning more than 11 per 9 IP last season. Throw in surprise performances from reclamation projects Rudy Seanez and Chin-hui Tsao, and the Dodgers become heavy favorites every time their starting pitcher can scratch out six decent innings.
In fact, the NL West race could turn out to be the battle of the bullpens. The second-place Padres trail the Dodgers by just one game, thanks largely to a killer pen of their own. That's nothing new to Kevin Towers & Co., who've done a better job than anyone else at finding and acquiring cheap bullpen talent, then watching those virtually unknown pitchers flourish. Kevin Cameron, Justin Hampson, Doug Brocail and Heath Bell have joined Scott Linebrink, Cla Meredith and Trevor Hoffman to form another shutdown squad, leading the Pads to the best ERA in the game in their spacious pitchers' park.
7. Whatever happened to Hank Blalock?
The Rangers' third baseman looked like a surefire star after crushing AL pitching as a 22-year-old in 2003. In his first full season that year, Blalock hit .300/.350/.522, cracked 29 homers and made the All-Star team. He even hit the game-winning homer in that year's midsummer classic, off the then-unhittable Gagne. In 159 games the next season, Blalock hit .276/.355/.500 with 32 homers, made the All-Star team again, and finished in the top 20 in MVP voting. He signed a five-year, $15.25 million contract that season that looked like a huge bargain for the Rangers.
Then the bottom dropped out. In 2005, Blalock mostly kept up his counting stats, hitting 25 homers thanks to a career-high 647 ABs, but his production eroded badly, slipping to .263/.318/.431. His power had suddenly slipped, and pitchers were challenging him more, resulting in fewer walks and a subpar OBP -- especially in the hitters' haven at Arlington. Last year, Blalock hit just .266/.325/.401. This time, shoulder problems were blamed for his struggles. Given the current climate in baseball, there were whispers about the cause of Blalock's sudden, sharp regression. How could a player go from budding superstar as a 22-year-old to a huge liability just three years later?
Blalock's cratering coincided with the Rangers going from an 89-win team in 2004 to two straight sub-.500 finishes. Last week, Blalock began reporting soreness in his shoulder again. Diagnosed with thoracic outlet syndrome, he's slated for surgery today on a nerve that passes from the arm to the neck and involves removing a rib located just below the shoulder. He was off to a better start (.285/.335/.493), and Blalock's injury now leaves the last-place Rangers wondering what might go wrong next. With a starting rotation that hasn't been effective for years and a team defense that perennially ranks near the bottom of the league, the Rangers may have to start shopping for a long-term solution at third base.
8. Torii Hunter's going to be a very rich man.
The Twins' center fielder ranks among the league leaders in multiple categories, crushing the ball at a .318/.353/.611 rate. He's still considered one of the best glove men in the game. And oh yeah, he's a free agent at the end of this season.
Numerous studies have refuted many of the game's most sacred old yarns. Clutch hitting? It's mostly a myth. Giving yourself up for the good of the team? Bad idea -- you're probably costing your team runs. But the notion that players perform better in contract years, knowing they're closing in on free agency and a stack of riches? Turns out that's true. A study in "Baseball Between the Numbers" found that on average, players do perform better in their final season before free agency. That's even after accounting for the fact that players often approach their walk year in their late-20s, when many are also at their peak.
Given that fact, plus Hunter's 32nd birthday coming in July, I'm repeating what I said three months ago: The Twins should let Hunter walk. Hunter's 2007 production is so far above his career .271/.324/.469 line that it's hard to see him maintaining that pace. In every other year of his career, he's been an elite defensive center fielder with above-average power and below-average on-base skills. That's not the kind of player the Twins should try to sign into his late 30s. Especially with Johan Santana facing free agency after next season and a slew of young players who'll demand arbitration-buyout contracts. Hunter's one of the game's solid citizens and he'll be a big part of whatever success the Twins have this year. But the Twins should let someone else pay him his $100 million.
9. Ervin Santana could force the Angels to make a highly unusual decision. They shouldn't overreact.
After yielding just one run over six innings against the Dodgers Friday, Santana now owns the following line in home games: three starts, 21 IP, 2-1, 2.57 ERA, 17 K, 5 BB, 2 HR, opponents' batting average .221.
Now here's his line for road games: five starts, 26.1 IP, 0-4, 7.84 ERA, 20 K, 14 BB, 9 HR, opponents' batting average .336.
With Bartolo Colon back and healthy, the Angels have one of the deepest pitching staffs anywhere, so much so that they could conceivably start Santana at home, then slide him to the pen and start someone else on the road. Given the massive gap between his home and road performance to date (for his career, he has a 3.00 ERA at home, 6.69 on the road), that might seem like the best solution to the problem.
It's a bad idea. Shuttling Santana between six- and seven-inning outings and one- and two-inning appearances could increase his injury risk, for one. The huge gap between his home and road hit rates stems largely from good luck on balls in play at home and bad luck on the road -- those figures should normalize over time. Next, look at the parks Santana's pitched in on the road this season, and the opponents he's faced: three homers allowed in Texas, where the Rangers may now play in the toughest pitchers' park in baseball with Coors Field being more forgiving to pitchers in recent years; seven runs allowed against the loaded Red Sox lineup; and six against the slugging Indians.
Here's a better idea: Reopen trade talks on Santana. Even with Vlad crushing everything in sight, Garret Anderson and Howie Kendrick about to return from injuries and the Angels sitting in first place, this is a lopsided team, with a lot more pitching at its disposal than hitting. There are 29 other teams that could use a talented pitcher four years away from free agency. "Stand Pat" Bill Stoneman should make a move to give the Halos a shot at their second championship in five years.
10. Remember last week when I said Xavier Nady for Oliver Perez was the most lopsided trade since Travis Hafner for Einar Diaz? Scratch that.
After the 2004 season, the A's acquired Danny Haren, Kiko Calero and Daric Barton from the Cardinals for Mark Mulder. After one decent season in St. Louis, Mulder succumbed to injuries and may never again be an above-average pitcher. Meanwhile, Haren has emerged as one of the best pitchers in baseball. He leads the AL in ERA and has kept the staff afloat -- and the A's in contention -- in the absence of Rich Harden and Esteban Loaiza. Meanwhile, Calero's been a big part of Oakland's bullpen since the trade, despite struggling a bit this year; and Barton is the team's top hitting prospect with Travis Buck now with the big club. Think the Cards would like to have Haren in the rotation, picking up the slack for the injured Chris Carpenter?
If that deal doesn't cut it, several readers offered up the Twins' trade of A.J. Pierzynski to the Giants for Joe Nathan, Boof Bonser and Francisco Liriano. Let's see, Nathan is one of the top closers in baseball, Bonser is the Twins' No. 2 starter and ranks sixth in the AL in strikeouts, and Liriano at times looked more dominant than Johan Santana last season before going under the knife for elbow surgery and is expected to make a full recovery by next season. Meanwhile, Pierzynski remains one of the league's better offensive catchers -- with the White Sox. Yup, that works too.
---
One last item for this week. Father's Day is around the corner, and with it comes the usual gift choices of ties, socks or pens. I've got a better idea. Send me your favorite dad-related story having to do with baseball, by clicking the e-mail link below. It can be a funny tale about how you and your dad hopped a fence to sneak into a ballpark when you were 10, only he split his pants and the cops busted you both. Or maybe you're a dad yourself, and you have a touching tale to share about taking your son or daughter to their first game. I'll read all of 'em, and we'll give away a few copies of "Baseball Between the Numbers" to our favorite letters. The deadline to submit your story is Tuesday, May 29, 11:59 p.m.
Jonah Keri is a regular contributor to Page 2 and the editor and co-author of "Baseball Between the Numbers." You can contact him here.