Last week, I led off the column with a look at the Yankees and Cubs, and their prospects for the rest of the season. In a nutshell, I said both teams were likely to bounce back, as bad luck was the biggest reason they were below .500.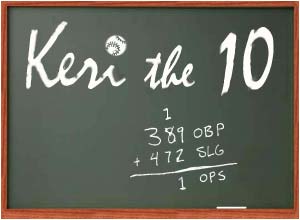 The column generated an avalanche of e-mails, accusing me of bias. Those who didn't call me a Yankee-lover accused me of being a Wrigley bleacher bum. The Yankees accusations were especially perplexing; just one week earlier, I gave a hat tip to Tim Wakefield and the surging Red Sox, leading dozens of angry e-mailers to rip me for knowing all the words to "Dirty Water" and having lots of friends named Murph and Sully. I've also been accused at various times of East Coast Bias, West Coast Bias, or playing up the big-name, big-market teams, because those are the ones that get featured most prominently on "Baseball Tonight." So before we roll onto this week's 10, here's everything you need to know about my baseball loyalties:
I live on the East Coast. I used to live on the West Coast. Some of my favorite ballparks to visit are in the Midwest. My honeymoon was in the South. I was born and raised in Canada. I was a lifelong Montreal Expos fan until they moved to Washington, D.C. I've never adopted a favorite team since then, and have no strong feelings for or against any team. And my editors don't strap me to a chair, yank my eyelids open, and force me to watch Derek Jeter or Big Papi highlights for days on end, "Clockwork Orange"-style.
With that said, there is one bias I want you to call me on if you catch even a whiff of it: confirmation bias. For instance, in the first edition of this column, I said that Sammy Sosa was hurting the Rangers -- that his prolific out-making did more to damage the Rangers' chances of winning than his occasional homers helped. If I were to pull a random box score, point to Sosa going 0-for-4 and say, "See, I was right!" that would an example of confirmation bias. In fact, Sosa has been one of the Rangers' best players in an otherwise miserable season; four weeks after labeling him a liability, it's clear that so far I've been brutally wrong.
As the season goes on, I'll revisit many more discussions, to see where I went right and where I dropped the easy pop-up and blew the game (it's early, but the Yankees and Cubs are each 2-5 since I talked them up last week). Got an "I told you so" to pass along? Go for it -- your e-mails have been great and help generate story ideas on a weekly basis. But in doing so, please don't accuse me of being a Yankees or Red Sox fan. I freaking hate those guys. (Kidding!)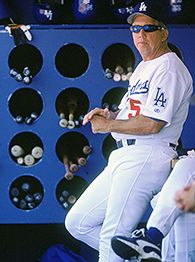 Jeff Gross/Getty Images
History says Davey Johnson knows how to turn around struggling franchises.
1. If the Orioles bring Davey Johnson back, it would be a sign that they care about winning.
According to a Baltimore Sun report, the Orioles would consider Johnson as the team's new manager if they fire Sam Perlozzo. The calls for Perlozzo's dismissal quieted a bit over the long weekend, as Baltimore won three in a row and reclaimed its hold on second place. Still, the O's are again under .500, after Perlozzo rolled up a combined 93-124 record in 2006 and the last two months of '05. You could argue that Orioles' management has failed to deliver the front-line talent the team needs to contend in the AL East. But you can't call the Orioles overachievers in the Perlozzo era either. In fact, crack open the track record of most MLB managers past and present and you'll find that they neither caused their team to crater nor led lousy teams to unlikely glory.
But if there's one unemployed manager who deserves the label of being a winner, it's Davey Johnson. Check this out:
| | | | | |
| --- | --- | --- | --- | --- |
| Team | Years | Before Johnson | With Johnson | After Johnson |
| Mets | '84-'90 | 68-94 | 7 straight seasons finishing 1st or 2nd | 6 straight losing seasons |
| Reds | '93-'95 | 73-89 | 2 straight 1st-place finishes | 235-252 next 3 seasons |
| Orioles | '96-97 | 71-73 | 1 AL East title, 1 wild card | 9 straight below-.500 seasons |
| Dodgers | '99-'00 | 83-79 | 163-161, finished 3rd, 2nd | 4 straight above-.500 seasons |
Some caveats apply. Johnson often had the good fortune of taking over a team with rising, young talent -- the 1984 Mets with Dwight Gooden and Darryl Strawberry being a prime example. There's also the question of whether or not the game has passed him by: Johnson, now 64, hasn't had a big league managing job in seven years, and his last effort with the Dodgers was arguably his worst performance, given how the team performed before and after his departure.
Still, there's a lot more winning than losing on his résumé. Johnson always had a knack for putting his best players on the field, valuing performance over name value. Jim Leyland's successful return to managing shows that a good manager can flourish even after a long time away from the dugout. His firings usually had more to do with his abrasive personality and refusal to genuflect in front of ownership than any failures on the field. By bringing him back, Peter Angelos would be burying the hatchet over disagreements that happened a decade ago, acknowledging the O's haven't been the same since Johnson left. It would be a great move for a franchise that needs to get back to their winning ways of old.
Plus, then we can move on to why Bobby Valentine and Larry Dierker aren't managing in the majors.
2. Seven teams hit the beach too early.
How else can you explain seven road sweeps among the 15 series played over Memorial Day weekend? Let's take a quick look at those seven results, and the lessons learned from each one:
Rockies sweep Giants
Prognosis: The Giants need more hitting. Ray Durham's abdomen injury weakens what's already one of baseball's worst offenses. The Giants own the eighth-best team ERA in the majors. But they also rank 24th in team OBP, their offense polluted by too many Pedro Feliz look-alikes. The Rockies are a couple of years and one well-placed Todd Helton trade away from being really scary.
Indians sweep Tigers
Prognosis: I've been on the Tribe bandwagon all year. C.C. Sabathia has gone from darkhorse Cy Young candidate to one of the front-runners. They've got the second-best record in the AL, and that's with Travis Hafner slumping through most of May (.189 average). The Tigers are still in fine shape; Magglio Ordonez (.357 AVG/.429 OBP/.686 SLG) has been the most valuable player in the game.
Red Sox sweep Rangers
Prognosis: The loaded Sox didn't miss a beat without Josh Beckett, and he's due back tonight. More on the Rangers later.
Phillies over Braves
Prognosis: The Phils are back over .500 and seem to be the wild-card contender they appeared to be on paper. The theory that most half-decent pitchers can be effective closers will get a severe test with Antonio Alfonseca thrust into the role by Charlie Manuel. The Braves are still for real, but they need help at the back of the rotation. Then again, who doesn't?
Angels sweep Yankees
Prognosis: If Ervin Santana could pitch only home games, the Angels' pitching would be nearly unbeatable. I still think the Yankees will rebound. But if they don't turn things around, would they consider dealing some vets for younger talent? Could you imagine the low-budget Twins or A's dealing prospects for Giambi, Abreu ... or even Clemens?
Mariners over Royals
Prognosis: Gil Meche might be turning back into a pumpkin; at least Alex Gordon and Ryan Shealy are showing some signs of life. The M's might be the most perplexing team in baseball, with a record that's better than their talent level would seem to suggest. Things could get interesting once Richie Sexson starts hitting, especially if Felix Hernandez returns to King Felix form.
Mets over Marlins
Prognosis: Carlos Delgado finally started hitting, which might have been the only thing the Mets lacked. Omar Minaya deserves his share of credit, but remember that Jose Reyes, David Wright and others were in the system before Minaya took the job. The Marlins should entertain offers for Dontrelle Willis; they're not making the playoffs this year, and Willis' perceived value is probably higher than his actual value at this point.
3. Jorge Posada's luck is going to run out soon.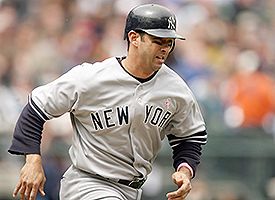 Otto Greule Jr./Getty Images
Jorge Posasa is one of the best catchers in baseball, but his batting average is deceptively high.
When Matt Cain rolled up a 1.54 ERA in his first five starts this season, I argued that the Giants righty was due for a sharp correction, given his unsustainable .118 batting average allowed on balls in play. Cain got rocked for seven runs in his next start, and has seen his ERA more than double in May. He's still a good pitcher -- he's just not 1968 Bob Gibson.
By the same token, Jorge Posada's one of the best catchers in the game, an underrated performer who could be a Hall of Fame candidate with a few more good years -- he just isn't Ted Williams. Posada's 2007 season looks nearly identical to his 2006 performance in nearly every way -- isolated power, walk rate, workload included. The only difference? A jump of nearly 100 points in his batting average. The culprit? Posada's BABIP (batting average on balls in play) is a stratospheric .423. Studies of pitching versus batting records suggest that hitters have more control over where their the ball lands once it's hit in play than pitchers do. That might explain a moderate jump from the league-average BABIP, which tends to hover near .300. But with all his other skills holding steady (an impressive feat in itself at age 35), it's unlikely that he's suddenly become a less annoying David Blaine at bat.
The top five hitter BABIPs through Sunday, courtesy of Rotowire.com:
| | | |
| --- | --- | --- |
| Player | BABIP | Batting Average |
| B.J. Upton | .462 | .325 |
| Derrek Lee | .425 | .357 |
| Jorge Posada | .423 | .372 |
| Matt Holliday | .397 | .343 |
| Kevin Youkilis | .381 | .353 |
4. The Astros have lost eight straight games. Here are three things they can do to get better.
Bench Craig Biggio against right-handed pitchers. I hate to keep picking on Biggio, a deserving Hall of Famer and an institution in Houston. But this has gone on long enough. He's at .228/.281/.380 this season, including a miserable .204/.257/.358 versus righties. Biggio's still a good enough hitter (.298/.353/.447) to be an asset against lefty pitching, garnering enough ABs to get his 3,000th hit before too long. Put him in a spot where he can contribute, instead of embarrassing everyone involved.
Play Morgan Ensberg every day. Yes, he's an incredibly frustrating player to watch, prone to long, painful slumps. But he also showed enough power and patience to rack up OPS marks of 945 and 858 the past two seasons. Mike Lamb doesn't scare anyone. Installing Mark Loretta at second and Morgan Ensberg at third, with Biggio and Lamb spot-starting, would give the offense a much-needed boost.
Find a legitimate major league catcher, as soon as possible. In Brad Ausmus' second tour of duty with the Astros, now in its seventh year, not once has he managed even a 700 OPS (he's at .242/.333/.312 this year). Those who defend Ausmus' employment by citing his defense are ignoring the diminished value of a stolen base in today's game, or the studies that show how a catcher's ability to help his team by calling a good game is highly overrated. Despite John Buck's emergence as an offensive threat in Kansas City, it's unfair to fault the team for trading him to acquire Carlos Beltran -- a deal that helped propel Houston to the brink of a championship. But the Astros need to put sentiment aside, acquire a new starting catcher, and usher Ausmus to the bench.
5. There might not be a Liriano or Verlander in the bunch, but this year's rookie class could rival last year's bumper crop.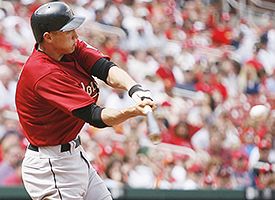 Dilip Vishwanat/Getty Images
After 27 games as a major leaguer, Astros outfielder Hunter Pence boasts a gaudy OPS of 1.006
Hunter Pence has been one of the Astros' few bright spots. The early leader in the NL Rookie of the Year race, he's bashing to the tune of .365/.400/.606 in the first 27 games of his major league career.
Here are three other rookies to watch:
Mark Reynolds: Hitting .435/.500/.804 in 13 games for the Diamondbacks since his promotion from Double-A. There's a potential logjam brewing in Arizona, with Chad Tracy due back off the disabled list soon. Would the D-Backs send Reynolds to the bench if he's still hitting .400-plus with power?
Ryan Braun: Called up last week to be the Brewers' everyday third baseman, Braun has as little pressure on him as a rookie joining a first-place team possibly could have. First, he's replacing the punchless combination of Craig Counsell and Tony Graffanino. Second, the Brewers still hold a healthy division lead despite their recent slump, thanks to a depressed NL Central with no other teams above .500.
Kevin Slowey: He'll make his first major league start for the Twins Friday, replacing Ramon Ortiz. Slowey owns pinpoint command, posting huge strikeout rates throughout his minor league career (including an outrageous 57-to-5 mark in 64 Triple-A innings this season). He should be an immediate upgrade. The bigger question is why the Twins bothered with the charade of starting the season with Ortiz and Sidney Ponson in the rotation-- apparently last year's slow start, and the big turnaround that occurred after Francisco Liriano and Boof Bonser were called up -- was quickly forgotten.
6. The Rangers need to pack it in, shop some assets and retool for 2008.
Status quo isn't working in Arlington. There's already speculation that Mark Teixeira will be dealt, with free agency pending after next season and Scott Boras sure to nix a potential hometown discount. GM Jon Daniels should embrace the rumors and shop Teixeira to the highest bidder. But he shouldn't stop there. Pursue a buyer for Sosa once he hits his 600th. Let Eric Gagne rack up a few saves, then deal him to a nostalgic, closer-hungry team. Seek out buyers for the still dependable Kenny Lofton.
The haul from those trades, combined with incumbent pieces Michael Young, Ian Kinsler and company and a decent crop of minor league pitching talent headlined by Eric Hurley could form the core of the next winning Texas team. With a free agent class that figures to be stuffed with quality center fielders, the Rangers could reload quickly with an upgrade at that position and a well-placed pitching signing or two.
7. The Reds have the worst defense in baseball.
According to Baseball Prospectus' Defensive Efficiency rankings, through Sunday the Reds had converted 67.8 percent of balls hit in play into outs, the worst mark in MLB. What's even sadder about that mark is that the Reds made an eight-player trade last year, with the specific goal of improving the team's defense. While it's true that Felipe Lopez was one of the worst defenders in the league at short, there's still no getting around the fact that Cincinnati dealt two everyday players (Lopez and Austin Kearns) for one reliever who was damaged goods and another who hasn't thrown a pitch this season. Neither Lopez nor Kearns has been all that useful in Washington. But the Reds also chucked throw-in Brendan Harris to Tampa in the offseason; Harris is hitting .309 while making near the league minimum for the Rays.
The best defense in baseball? The New York Mets, with a defensive efficiency of .743. No wonder Ollie Perez, Tom Glavine and company seem so good.
8. If the Yankees succeed in voiding Jason Giambi's contract, imagine the possibilities.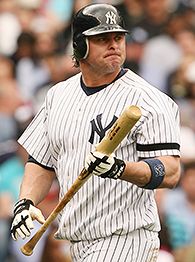 Nick Laham/Getty Images
Might the Yankees be disappointed
in the Giambino's production?
We're assuming that the rumored efforts by the Bombers to void the final two years left on Giambi's mammoth $120 million deal are due to their shock and outrage over the slugger's nearly-admitted use of performance-enhancing drugs. There's no way it has anything to do with Giambi being a shadow of his former self, going 4 for his last 44 while making more than any non-Yankee in baseball. But let's say the Yankees somehow succeed in getting their petition by the players union. The results would be immediate:
• The Dodgers lobby to chuck Juan Pierre's $44 million contract, claiming the center fielder hoodwinked them into believing he could hit or throw better than a Little Leaguer.
• Jon Daniels jumps in Tom Hicks' custom-made DeLorean and travels to the exact moment Vicente Padilla (5.77 ERA) was about to sign Texas' three-year, $33 million contract offer.
• The Cubs call for a mulligan on the last 98 years.
9. Bad luck has left a few pitchers stranded.
The average starting pitcher's strand rate -- the frequency with which the runners he puts on base fail to score -- usually comes in around 71 percent. Some top pitchers consistently will beat that mark. But when a pitcher comes in well below that level, that can indicate bad luck, often in the form of shaky relievers allowing their inherited runners to score.
Here are five top pitchers with low strand rates whose ERAs figure to improve as those numbers normalize, through Sunday (data again courtesy of Rotowire.com):
| | | |
| --- | --- | --- |
| Pitcher | Strand Rate | ERA |
| Roy Halladay | 62% | 4.37 |
| Javier Vazquez | 64% | 4.50 |
| Greg Maddux | 66% | 4.20 |
| Daisuke Matsuzaka | 66% | 4.43 |
| Aaron Harang | 66% | 4.50 |
10. Barry Bonds says he doesn't owe it to the Hall of Fame to donate bats, balls and other memorabilia relating to his chase of Hank Aaron's record. He's right, he doesn't. And neither will I.
"I'm not worried about the Hall," Bonds said of the expected requests for those souvenirs once he hits his 756th home run. "I take care of me."
Bonds is 10 homers shy of the landmark homer. According to Clay Davenport's latest estimate, that homer could occur around the time I hit AT&T Park to see Giants-Diamondbacks June 30. When Bonds' 756th sails over the right-field wall, know that I have very long arms, and a Canadian's scrapper mentality. Let the bidding begin.
---
Last week, I asked you to share your best dad-related baseball stories, with the best ones earning signed copies of "Baseball Between the Numbers." Thanks for the many, many great anecdotes you sent last week. For those who haven't written in yet, the deadline to reminisce about your favorite weird, funny, or touching dad-and-baseball tale is 11:59 p.m. tonight. We'll run the best entries in next week's column.
Jonah Keri is a regular contributor to Page 2 and the editor and co-author of "Baseball Between the Numbers." You can contact him here.