While the Red Sox and Yankees play in the background, here are 10 stories I found more compelling this week, starting with a division race that's far more exciting: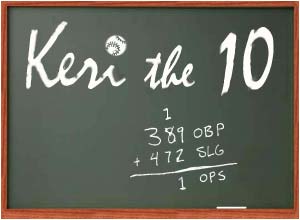 1. There's no better source of drama in baseball right now than the race in the NL West.
The Padres, Dodgers and Diamondbacks are in a virtual tie for first, with San Diego and L.A. owning identical 33-23 records and Arizona just a few percentage points back at 34-24.
Start with the Padres. Jake Peavy and Chris Young anchor a loaded starting rotation, ranking first and third in the league in ERA. Justin Germano is attempting to prove that an extreme control pitcher can succeed with a Jamie Moyeresque fastball: He's 4-0 with a 1.74 ERA in five starts since being called up from the minors, with just 10 strikeouts in 31 innings. Germano looks like Nolan Ryan compared to Trevor Hoffman. The Padres' 39-year-old closer is just two saves away from 500 for his career. And as Jerry Crasnick recently explained, he's doing it with just the ghost of his old fastball -- and a changeup that can be as unhittable and unpredictable as a perfect knuckleball. Collectively, the Padres own a team ERA of 2.94. Go ahead and adjust for the spacious confines of Petco Park; that's still obscenely good.
Save a lot of the credit for Padres GM Kevin Towers and the entire Padres front office and scouting department. Every time I talk to Towers, on or off the record, he's excitedly going on about the 25th man they just picked up or a no-name righty they intend to audition for the sixth spot in the bullpen. But the team's strategy of avoiding high-priced free agents and shopping for bargains has paid off. The Padres are the two-time defending NL West champions. The bullpen has been a big part of that success, with formerly anonymous pitchers like Scott Linebrink being acquired for next to nothing and then turned into star set-up men. The Padres target hard-throwing right-handers with strong strikeout-to-walk rates (often in the minor leagues), who are equally capable of getting righty and lefty hitters out. This year's crop of super bargains is led by Heath Bell, a 29-year-old righty acquired in what looked like an afterthought deal with the Mets who's struck out more than a batter per inning and owns a 1.08 ERA.
The one major deal they've made in the past couple years has been the clincher: Akinori Otsuka, Adam Eaton and catching prospect Ben Killian to the Rangers for Adrian Gonzalez (the team's best hitter, just 25 years old), Chris Young (Cy Young candidate, 28) and Terrmel Sledge (a useful platoon outfielder). No wonder they're in the mix again this year.
2. The Dodgers' youth movement has progressed gradually -- so far, so good. But they might want to step on it soon.
Thanks to scouting director Logan White and his staff, few if any teams own a better collection of young talent than the Dodgers. Russell Martin has been the best catcher in the National League by a wide margin; Jonathan Broxton and Chad Billingsley have been great setting up Takashi Saito in the pen; Tony Abreu is off to a hot start as the team's new third baseman.
Some of the team's top prospects are still plying their trade in the minor leagues, thanks to a batch of deals handed out to some name veterans. Luis Gonzalez has been solid (.284/.373/.443) on a short-term contract in left field, even if he's not the same slugger he used to be. But Nomar Garciaparra hasn't offered much at first base (.286/.335/.350, just one homer) and center fielder Juan Pierre has been one of the worst hitters in the league (.273/.303/.324). Top first-base prospect James Loney has struggled in Vegas and doesn't look ready to supplant Nomar.
But the heir apparent in center, 22-year-old Matt Kemp, is hitting a robust .317/.371/.522 in Triple-A (albeit in the hitter's haven of Las Vegas). He's an obvious candidate for a promotion, while Billingsley deserves a shot at the starting rotation. There's also enough talent elsewhere in the system to trade for an upgrade at first base or in a corner outfield spot. Led by Brad Penny (more on him later), the Dodgers are among the league's elite on the mound. A few well-crafted moves could provide a big lift to the offense -- and give the Dodgers the upper hand in the NL West race.
3. Randy Johnson's old enough to be the father of several Diamondbacks hitters.
LINKS OF THE WEEK
A few links and notes to pass along. As always, feel free to send in any interesting or wacky baseball-related links.


• A couple of interesting New York Times articles this week. Liked this one from Bryan Curtis on the mentality of fantasy baseball players. Curtis noted that playing fantasy is a great way to strip out all the things you don't like about the game -- PED use, managers who drive you crazy with their decision-making, etc. -- and give you more of a sense of control. I agree, and I'd add losing your favorite team to the list of things worth forgetting.


The second Times piece, by Buzz Bissinger, detailed the struggles of Kerry Wood, and the challenge young pitchers face in staying healthy enough to have long, successful careers. As he showed in "Three Nights in August" and especially "Friday Night Lights", Bissinger is an excellent storyteller and an engaging writer. But he also makes some sweeping statements in the article on how best to develop pitching prospects that are unsupported by empirical evidence. Not everyone who writes about the game needs to be an analyst or sabermetrician -- I'm glad most writers aren't, or we wouldn't have the works of David Halberstam, Peter Golenbock or even Jim Bouton. But if you want to make conclusive statements about the game, you need to be armed with some kind of evidence. Either that, or admit that your particular method -- in this case, taking the word of several old-time baseball players -- tells only a small part of the story.


• At age 53, Warren Cromartie is headed back to Japan to take a shot at professional wrestling. As if that weren't great enough, he may end up grappling with former WWF great Abdullah the Butcher. Let's just hope he has better luck than Johnnie Morton.


• Went to RFK last week for Nats-Dodgers, the first time I've been to that park for a non-exhibition baseball game. There were an inordinate number of foul balls hit, including one that was fouled straight back behind home plate, into the fourth row of the upper deck -- headed directly into the hands of my wife. Knowing she wasn't going to catch it, but trying to be relatively polite, I reached out with one hand to try and snatch the ball out of the air. Unfortunately the guy seated to her right had no such qualms, jumping directly in front of her and grabbing the ball just as my right hand made contact. I've already caught three foul balls in my lifetime -- but you're never happy when you miss one that close.


• I've already professed my appreciation for player blogs, especially the one run by Twins relief standout Pat Neshek. The list of MLB bloggers keeps growing every day, giving us a unique perspective on the game, especially among the more forthcoming writers. Curt Schilling, Curtis Granderson, Nate Robertson, C.J. Wilson and Geoff Jenkins were among those already on board. Now we have Kevin Youkilis too.


• It's probably just a coincidence, but I prefer to think that Houston manager Phil Garner is a reader. A few days after I called for the Astros to cut Brad Ausmus' playing time, they did just that, calling up former No. 3 overall pick Eric Munson to get a chunk of the reps behind home plate.


• In case you haven't seen it yet, Mississippi Braves manager Phillip Wellman, who's long been known as one of the most colorful skippers in the minor leagues, pulled out all the stops for this tirade. The grenade toss of the rosin bag was my favorite part. The Pentagon already has a call in to see if Wellman is willing to do some special-ops work.


• Finally, a number of my Page 2 colleagues have already weighed in with their views on Barry bonds' chase of Hank Aaron's record, so I won't bore you with my take. Besides, King Kaufman already said just about everything I'd want to say.
--Jonah Keri
Johnson is the elder statesman in an effective starting rotation that also includes 30-somethings Doug Davis and Livan Hernandez and defending Cy Young winner Brandon Webb. All four pitchers, along with fifth starter Micah Owings, own ERAs under 4, despite playing in the hitter's climate of Bank One Ballpark. That veteran staff is the flip side of an offensive core that's not far removed from legal drinking age. Chris Young, Conor Jackson, Stephen Drew, Carlos Quentin and recently promoted hitting machine Mark Reynolds are all 25 or younger.
The combination has worked out perfectly for the D-Backs, who've raised their winning percentage 117 points from last season and are one of the hottest teams in baseball. With Chad Tracy due back soon from the DL, and Scott Hairston and Tony Clark providing muscle off the bench, this is the deepest team in the division. If Drew (.242/.303/.338) and Quentin (.219/.314/.380) start living up to expectations, the sky's the limit for the Diamondbacks -- for the next half-decade or so.
4. The Giants got so fed up with Armando Benitez that they shipped him out of town -- and still agreed to pick up his $5 million price tag.
Benitez has long been considered a combustible ninth-inning head case, and Giants management may have witnessed the final straw last week against the Mets when Jose Reyes got in Benitez's head so badly that the righty balked in the tying run. The Marlins are paying Benitez only $333,333 for the remainder of the season. Still, you have to wonder why the Marlins are so obsessed with having a "proven closer." The Marlins' trade for Jorge Julio blew up in their face earlier this season, and it would be little surprise to see the Benitez trade do the same. Meanwhile, both Kevin Gregg and Henry Owens, two effective relievers with no major league track record as closers before this season, were both doing fine in the ninth-inning role.
There's no denying that it's a great luxury to have Billy Wagner or Trevor Hoffman at the back of your bullpen. But for every Wagner or Hoffman, there's a Papelbon or Gagne, a starting pitching prospect converted to closing who instantly dominates the league despite no experience in the role. Teams have gotten smarter over the years about not overpaying for relievers with closing experience. But every time you see a Danys Baez multimillion contract or Jorge Julio trade, you can see teams' old, ridiculous biases kicking in.
(For a great take on the Benitez deal, check out this excellent parody of The Onion).
5. Jim Leyland has no problem with Closer Cruelty.
The Tigers manager had to be teaching Todd Jones some kind of lesson. How else to explain Leyland's leaving Jones in through seven hits, two walks and 46 pitches in the Indians' dramatic comeback win Friday? Actually, Leyland may have had another reason to ride Jones and hope his stopper could muddle through: The Tigers don't have much else left.
Jones was arguably the fourth-best reliever on the staff last season. Joel Zumaya was lights-out in a set-up role, and Fernando Rodney and Jamie Walker were also stingy. In a way, the Tigers benefited from having their fourth-best reliever as the closer, since it often gave the team's better pitchers a chance to pitch in higher-leverage, tied or close games in the sixth, seventh and eighth innings. Now, Zumaya and Rodney are on the DL and Walker's in Baltimore. The Tigers are having another excellent season, leading the AL wild-card race, but the team's bullpen has gone from one of its greatest strengths to one of its biggest weaknesses. Dealin' Dave Dombrowski could be busy come deadline time.
6. The revolution will not be televised ... but the MLB draft will.
ESPN2 will provide TV coverage of the draft for the first time in its 43-year history. Vanderbilt left-hander David Price is expected to be the first overall pick for the Devil Rays (check back later this week for a Q&A with Price). After that, it's anyone's guess.
The most entertaining part of the draft? It just may be the reps each team is sending to Orlando for the event. You want random blasts from the past? How about Rico Brogna, Steve Buechele and the immortal Rob Ducey. If the Pirates draft a pitcher in the first round, think they'll want him shaking hands with Steve Blass? Will Walt Weiss offer tips to the Rockies' top pick on how to be the worst Rookie of the Year of all-time? It should be high drama.
7. Kevin Youkilis and Brad Penny are no longer streaking.
The neighbors are relieved, even if record watchers aren't. Youkilis' hitting streak ended at 23 games Saturday in predictable fashion: an 0-for-2 night with three walks. I was surprised Youkilis' streak lasted as long as it did. It's not that the best player not on the All-Star ballot isn't an excellent hitter. But Youkilis' discerning batting eye meant he was always a threat to draw multiple walks in a game, thus limiting his chances for a hit (even with his walk rate down this season). Asked if he was tempted to hack at a 3-1 pitch out of the zone Saturday with the Sox up four runs in the 8th inning, Youk grew indignant: "You don't know who I am then if you're asking that question. I don't swing at balls. I wouldn't have swung at that, no way."
Meanwhile, Penny saw his homerless streak end at 71 innings as Adam LaRoche became the first batter to clear the wall on one of Penny's pitches this season. The 29-year-old righty still appears on pace for a breakout season, sitting at 7-1 with a 2.37 ERA. Before we get too excited, though, consider that Penny's strikeout-to-walk rate is nothing special, sitting below 2-to-1. And then there's this: Last year, Penny went 10-2 with a 2.91 ERA in the first half, earning the starting assignment in the All-Star Game. His second-half numbers: 6-7 with a 6.25 ERA.
8. The Reds' announcement that Homer Bailey would be called up to make his major league debut against the Indians Friday made it official: A top pitching prospect's best shot at making the show is to play on a mediocre-to-lousy team.
| | | | |
| --- | --- | --- | --- |
| Pitcher | Team | Player's Status | Team Record |
| Homer Bailey | Reds | Debut Friday | 22-36, last place |
| Tim Lincecum | Giants | Debuted 5/6; RoY candidate | 26-29, last place |
| Philip Hughes | Yankees | Debuted 4/26; on DL | 24-30, 4th place |
| Brandon Morrow | Mariners | Made Opening Day roster | 28-25, 2nd place |
| Andrew Miller | Tigers | Started 5/18, sent back down | 32-24, WC leader |
| Adam Miller | Indians | On DL, awaiting debut | 34-21, 1st place |
| Yovani Gallardo | Brewers | 8-1, 2.14 in Triple-A | 32-25, 1st place |
9. How much more Jason Kendall can the A's take?
David Pinto mentioned the idea in his blog first, but it bears repeating: When Mike Piazza comes back off the DL, he should take over for Kendall as the A's starting catcher. Kendall is hitting .197/.238/.208. Aside from making him a leading candidate for the 2007 No-Stars team, that drought should earn him a spot on the bench. Due to a lack of a viable backup, though, the A's instead have had Kendall play in 48 of the team's 55 games.
There's enough offensive talent elsewhere on the roster to cover the DH spot, freeing up Piazza to move back behind the dish. Though he's obviously below-average defensively, it's not like we're playing in the '80s, when Tim Raines, Rickey Henderson and Vince Coleman were threats to take off two or three times a game. I mentioned last week how catcher defense is overrated, particularly a catcher's ability to influence a pitcher's performance. If Jack Cust continues to slump and Milton Bradley, Mark Kotsay and company keep struggling with injuries, the A's would still be better off pursuing a trade than sticking to the status quo. They can't expect to catch the Angels if their starting catcher hits like Tom Glavine.
10. Aaron Hill's steal of home conjured up a trip down memory lane.
The controversy over A-Rod's yell at Toronto third baseman Howie Clark overshadowed a play from the Yankees-Blue Jays series that was much more interesting: Aaron Hill's straight steal of home. To do it successfully, you need a left-handed pitcher on the mound. It helps if his attention is otherwise occupied, since you need the element of surprise on your side. It's probably a play best executed at home, since the fans won't be likely to yell and tip off the other team that it's happening.
Maybe it's just me, but whenever I see an unusual event happen on the field, I always think about the first time I saw that play occur in person. The first straight steal of home I can clearly remember seeing live was Rex Hudler's turning the trick against the Braves. Thanks to the awesomeness that is Retrosheet.org, I was able to find the exact date it occurred: July 3, 1988. The search was made easier by the fact that I clearly remember who was pitching at the time: German Jimenez, a forgettable Braves lefty whose big league career lasted just 55.2 innings, all in '88 -- making it easy to find the game in question. Hudler combined with Otis Nixon that year to form one of the fastest 1-2 combinations in MLB. In this game, he reached base off Jimenez in the first inning on a bunt single. His big lead off first caused the pitcher to balk him to second. He then stole third. You'd think Jimenez would have been obsessed by Hudler at this point. But instead, he forgot to check the runner, took a big, slow wind-up, and Hudler stole home easily.
As if that wasn't eventful enough, Expos starter John Dopson came within one out of throwing a 14-hit shutout (which has been done twice, by Larry Cheney of the Cubs in 1913 and Milt Gaston of the Senators in 1928). After finally giving up the Braves' first two runs, Dopson gave way to Andy McGaffigan, who quickly recorded the final out of a 9-2 victory.
You can check out the box score for that game here. I recommend flipping through the site afterward to find the first game you ever attended. Bet you'll have a smile on your face for the rest of the day.
Jonah Keri is a regular contributor to Page 2 and the editor and co-author of "Baseball Between the Numbers." You can contact him here.