Welcome to the second edition of the No-Stars Team. Rather than focusing on All-Stars, or All-Star snubs, we reward the worst players in baseball with special honors.
If you're a .190 hitter or own a 6.00 ERA, you've got a good shot at making the team. But special circumstances help. If a player is the weak link who could cost his team a trip to the playoffs, he gains an edge. A player who combines lousy performance with a payroll-sucking salary also garners extra attention. A player who's having a bad year and getting tons of playing time has a shot at the team. And a player who's having a bad year and getting tons of playing time, at the expense of obvious better options, is a near-lock.
Last year's squad included a Murderer's Row of non-performers, including Vinny Castilla, Jeremy Burnitz and Jurassic Carl Everett. With all three of those No-Stars out of baseball, this year's squad includes some impressive new blood, along with a few repeat offenders.
(Numbers in parentheses are batting average/on-base percentage/slugging average.)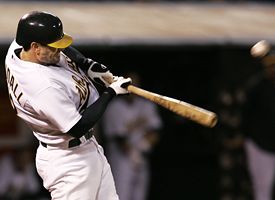 AP Photo/Jeff Chiu
Jason Kendall is a shadow of his former self.
C Jason Kendall, A's (.227/.263/.280)
Six years ago, Kendall suffered a serious thumb injury. After that he became a Punch and Judy hitter, able to bang out a bunch of singles and some doubles, and draw a few walks, but scare no one. But while Kendall hit just one homer in his first two seasons with the A's over 293 games, he still posted solid OBPs of .345 and .367. Not so in Year 3, when a nosedive in Kendall's hit rate has combined with a sudden evaporation of his walk rate to make him a complete non-threat at the plate. The A's are planning to shift Mike Piazza back to catcher once he comes off the DL. It's a bit of a desperate move, but when you've got the second-worst offense in the league and the worst everyday hitter in baseball, it's time to take action.
Runner-up: Dioner Navarro (.177/.238/.254). The Dodgers were panned for giving up on him. They'll live with the starting catcher in the All-Star Game (Russell Martin) over a .177 hitter.
1B Scott Thorman, Braves (.217/.253/.391)
After a hot start, Thorman stopped hitting in May and June. What started as a righty-lefty platoon evolved into a true job-sharing arrangement with Jarrod Saltalamacchia. Now that Thorman's 3 for his last 37, the next step might be a platoon with the mascot in the rookie league. Last year's first baseman, Adam LaRoche -- whom the Braves shipped to Pittsburgh for reliever Mike Gonzalez in the offseason -- has pulled back after a monster second half culminated in a 32-homer season in 2006. And Saltalamacchia has showed some promise in his rookie year. Still, with Gonzalez lost to Tommy John surgery and Thorman failing to deliver, you can't help but think John Schuerholz would like a do-over on that deal.
Runner-up: Ryan Shealy (.221/.286/.308). Sometimes there's a reason a player doesn't get a shot in the big leagues, even for the Royals, until he's in his mid-20s.
2B Adam Kennedy, Cardinals (.210/.280/.252)
For all the blame placed on injuries for the Cards' struggles this season, let's save some finger-pointing for a lousy Hot Stove season. St. Louis GM Walt Jocketty apparently missed last year's No-Stars selections. If he'd seen them, it's hard to imagine the Cards' giving Kennedy a three-year contract, after the second baseman flopped in Anaheim and made the No-Stars starting lineup. The Cardinals' farm system has improved in the past couple of years. But most of their top prospects are still a couple of years away from contributing in the majors. That gives Kennedy a fighting chance for a No-Stars three-peat next season.
Runner-up: Josh Barfield (.260/.285/.341). Kevin Kouzmanoff's been almost as bad in San Diego (.228/.290/.384), making the offseason swap of the two between the Indians and Padres a dud for both contenders, at least so far.
SS Julio Lugo, Red Sox (.197/.270/.298)
Already owners of the best record in baseball, it's scary to think where the Red Sox would be if they hadn't spent a big chunk of the season trotting out a leadoff hitter who's batting average is below the Mendoza Line. Lugo's 31, healthy, drawing walks and still showing at least a little pop, so it's hard to imagine his struggling this badly for much longer. Still, his four-year, $36 million contract is looking Pat Meares-esque on the scale of busts right now. Sometimes the best way to approach big-ticket free agents is to ignore them and find another way.
Runner-up: Omar Vizquel (.235/.284/.295). After a great career, this might be the last hurrah for the 40-year-old Giant. Little O could become the first No-Star to make the Hall of Fame.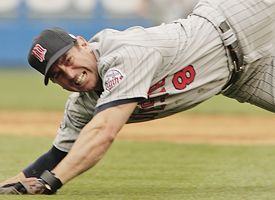 AP Photo/Kathy Willens
Nick Punto's play has fallen down this season.
3B Nick Punto, Twins (.211/.313/.272)
Despite monster offensive seasons from Justin Morneau (AL MVP) and Joe Mauer (the guy who should have been the MVP) last season, the Twins' offense earned the nickname "Piranhas" for their ability to take constant little bites out of a pitcher until they'd put up a bunch of runs. Punto was one of the lead piranhas, with a .290 average and .352 OBP to offset his one lonely homer. But players like Punto live on the margins in the majors -- when a little something goes wrong, it can get ugly in a hurry. The Twins nearly promoted Jeff Cirillo to full-time duty earlier this season, and everyone from Ty Wigginton to Troy Glaus has been rumored as a possible fit at third base in Minnesota. The one thing everyone agrees on: The Twins probably aren't going to win again with Punto in the lineup.
Runner-up: Nomar Garciaparra (.276/.319/.334). The Dodgers smartly moved Garciaparra to get James Loney in the lineup. The next step is giving more playing time to Wilson Betemit or making a trade, because Nomar's power is just about gone.
LF Craig Monroe, Tigers (.223/.270/.388)
Monroe was the outfield runner-up in 2006, compiling a line of .241/.276/.433 midway through the season as he racked up some homers and little else. He then went on a power binge in the second half that carried over to a five-homer outburst in the playoffs. Monroe still owns that power, and a second-half repeat wouldn't be surprising. But at some point the Tigers might want to upgrade from a poor-fielding on-base sieve at a corner outfield spot, even one with 30-home run power. Then again, with the best offense in baseball, they have bigger fish to fry.
CF Corey Patterson, Orioles (.232/.280/.324)
He's shown flashes of ability, including a 24-homer, 32-steal season at age 24 three years ago. Still, a look at his career numbers shows why the Cubs gave up on him, and the Orioles might too: Patterson's career line is just .254/.295/.410, about the same as noted hacker and out machine Pedro Feliz. Good hitters eventually learn plate discipline -- which pitches they can drive, and which they should avoid. Now in his seventh major league season, Patterson still hasn't learned that lesson. He could be a repeat No-Star if he doesn't figure it out soon.
RF Jermaine Dye, White Sox (.214/.271/.402)
For all the trade talk that Dye and Mark Buehrle generated a few weeks ago, few people seemed to ask whether Dye would've been much help to any team that acquired him. After being plagued with leg problems over parts of the past few seasons, Dye had an MVP-caliber season in 2006, cracking 44 homers and posting a 1.006 OPS. But his misery at the plate this season suggests he wasn't right, even before he started missing time because of injuries. If no team wants to buy low, the White Sox might be best off holding Dye until season's end, then collecting compensatory draft picks and kissing him goodbye. The next contract he signs could be a gigantic albatross for the team that grabs him.
Runner-up: Trot Nixon (.238/.333/.335). Always a far better hitter against righties than lefties, Nixon has shown no power this season, even against his better half. For all the offense the Indians have, they could use more in right field if they hope to hang with the red-hot Tigers.
DH Shea Hillenbrand, free agent (.254/.275/.325)
It takes an incredible degree of cognitive dissonance, or simply chutzpah, to go from team to team, produce below-average numbers at every stop, and still complain that you're being mistreated. To issue a trade demand when you're playing for a first-place team is even more impressively pathological. Of course, just because the rest of the world knows no good team would want to trade for him doesn't mean Hillenbrand knows that. The Angels designated Hillenbrand for assignment and, not surprisingly, they got no takers. The battle to sign him now that he's been waived is one no team should want to win.
Runner-up: Aubrey Huff (.259/.295/.393). One of three Orioles to make the squad, and a couple more just missed.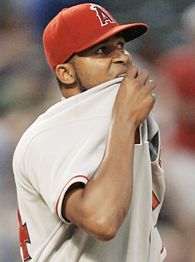 AP Photo/Matt Slocum
Ervin Santana on the road = disaster.
SP Ervin Santana, Angels (5-10, 5.97 ERA)
Santana's road woes, a problem throughout his three-year career to date, have worsened this season:
Home: 4-2, 3.42 ERA, 1.0 homers per nine innings
Away: 1-8, 8.59 ERA, 3.0 homers per nine innings
Either the Angels make Santana a home-only starter, or they're going to have a perennial No-Star candidate on their hands. This is long past the point of being a small-sample fluke.
Runner-up: Vicente Padilla (3-8, 6.69 ERA). Three years, $33 million, for this? At least Carl Pavano had the decency to not bother pitching at all.
RP Scott Eyre, Cubs (6.60 ERA, 21 BB in 30 IP)
At 10-15, the Cubs own one of the worst records in one-run games of any team in baseball. Part of that is simply bad luck. But the bullpen has done its share of damage too, with Eyre being the chief culprit. Lou Piniella deserves credit for placing higher-leverage innings in the hands of Bobby Howry, Carlos Marmol and Ryan Dempster (when he's healthy). If Eyre returns to the 2.63 ERA form he showed in 2005, the Cubs can start trusting him in close games again. If not, they're always looking for more beer jockeys in the bleachers at Wrigley.
Runner-up: Danys Baez (6.52 ERA, 17-16 strikeout-walk rate). The three-year, $19 million deal the O's gave Baez ranks as one of the 10 most predictable failed contracts of the decade. Maybe top five.
Jonah Keri is a regular contributor to Page 2 and the editor and co-author of "Baseball Between the Numbers." You can contact him here.