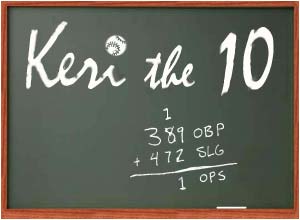 I'm a big movie guy. But you'll almost never see me at a first-run movie theater -- probably a good thing, if you've ever sat behind a 6-foot-4 guy with floppy hair. I'm way too picky about new releases and tend to go to the theater only when it's a movie that needs to be seen on the big screen (I've seen more than usual this summer, including "The Bourne Ultimatum," "The Simpsons Movie," "Transformers" and "Harry Potter and the Order of the Phoenix," all of which I enjoyed).
But old films? I could watch them all day. Give me a film-noir festival, or a showing of "The Bridge on the River Kwai" at a repertory theater, and I'm dropping everything to go.
I'm a sucker for baseball movies, too, at least the good ones. So with the summer movie season in full swing, but no great new baseball flicks on the horizon, let's take a look back at some of the classics, and how they relate to some of the biggest stories around the majors. With only 10 slots to work with, "Eight Men Out" and some other good ones are going to miss the cut, as are a few teams in the pennant race (I'll make it up to you soon, Braves, Phillies, Rockies and Dodgers fans, I promise). That said, here are the 10 flicks on my mind as we head down the home stretch: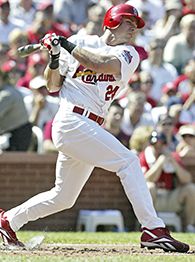 AP Photo/Tom Gannam
If Ankiel can keep this up, his story will be one of the greatest ever.
1. "The Natural" (1984)
Allow me to be the 6,149th baseball writer to point out the similarities between Roy Hobbs and the best story in the game right now, Rick Ankiel. Prospect to end all prospects, gets a taste of the good life, washes out of baseball, then re-emerges years later swatting every other pitch he sees into the bleachers. The story would be so much better if the Cardinals could continue their winning ways, storm into first place by season's end and make a run at defending their title. That's a long shot, though. As bad as the Brewers and Cubs have looked lately, passing two teams and making up 5½ games in the standings is a tough task, especially with a still-shaky roster. I'm just going to appreciate Ankiel's perseverance, cheer every homer he hits and hope he plays in a few more games that matter next year.
But if you're looking for a more playoff-relevant spin on "The Natural," how about Magglio Ordonez? Sure, his career path hasn't been nearly as unlikely as Ankiel's. But three years ago a serious knee injury forced Maggs to have major surgery. The Tigers gave him a five-year, $75 million contract before the 2005 season anyway, only to watch Ordonez hit just eight homers that season, making it look like he was finished as an effective player. Last season marked a great comeback, capped by a game-winning homer in Game 4 of the ALCS that launched Detroit into the World Series. And this year? Here's what Maggs has done: .357 AVG/.431 OBP/.599 SLG, with 21 homers and 102 RBIs. He's gone 20-for-42 in August with five homers and 14 RBI. And his two homers Sunday hoisted the Tigers back into first place after a short hiatus. Alex Rodriguez is still the pick for AL MVP, but it's getting closer.
2. "The Pride of the Yankees" (1942)
The easy choice, but an apt one, too. If you're a Yankees fan, what else could you feel right now but pride, after watching your team storm back from being a sub-.500 underachiever seen as dead in the water by almost everyone to the leader in the wild-card race and a real threat to the Red Sox less than three months later. The Yanks' three-game road sweep against a struggling Indians team was especially big, following 28 straight games against teams that don't figure to be direct competitors in either the wild-card race or AL East race.
All the Yankees' problems right now are good ones. How can they best make use of Joba Chamberlain, the fire-breathing reliever who after just four big-league innings already has the look of a young Mariano Rivera, back when Mo was the game's best set-up man? How can they work Jason Giambi into their stacked lineup, given his strong early performance since coming off the DL? And when they send Kyle Farnsworth off to clean the toilets, do they give him a toothbrush or a Q-tip to work with?
3. "It's Arbor Day, Charlie Brown" (1976)
What, you thought this list would include only movies people have actually seen? This incredibly obscure gem chronicles the story of the Peanuts gang's efforts to convert Charlie Brown's baseball diamond into a lush garden, in honor of Arbor Day. With nowhere else to play, his team takes on Peppermint Patty's squad on the revamped field. Hilarity sort of ensues.
Which team would be better off turning its outfield into a tree nursery? If you said the Cleveland Indians, give yourself whatever it is people get on Arbor Day. The Tribe has dropped 12 of its past 16 games at Jacobs Field, including a whitewashing over the weekend at the hands of the Yankees. Trees would at least be more patient. Andy Pettitte set down the Indians on just 97 pitches in 7 1/3 innings Sunday, after Mike Mussina held them in check for 7 2/3 innings Saturday on just 89 pitches. When asked when he expected Travis Hafner back in the lineup and producing, Indians manager Eric Wedge could only say: "Wha-wha, wha-wha-wha-wha."
4. "Field of Dreams" (1989)
"Is this heaven? No, it's Cincinnati."
So sayeth Brian Giles, after a monster weekend at Great American Ballpark. The former power hitter turned rich man's Rey Ordonez came into the weekend with just two homers all season. But he blasted five this weekend in Cincy, leading the Padres to a 2-1 series win and securing San Diego's one-game lead in the NL wild-card race. By also walking three times on Sunday, Giles hiked his OPS above .800 for the first time since April. With few reliable sources of offense in the lineup, the Pads sorely need Brian and his .223/.295/.307-hitting brother Marcus to hit the ball with some authority. That might be a tall order now that the Padres are headed back to Petco for a homestand. But the heavy marine air in downtown San Diego makes it tough for home and road teams alike. The Pads just need their revamped lineup to look relatively less listless than their opponents, and they'll be golden.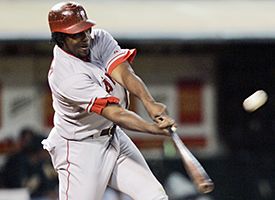 AP Photo/Marcio Jose Sanchez
Despite his home run drought, Vlad Guerrero and the Angels are flying high.
5. "Los pequenos gigantes" (1960)
Having taken the easy way out with the Yankees, we're looking past the obvious "Angels in the Outfield" reference to this classic about a group of kids from Monterrey, Mexico who claw their way through a series of tournaments, culminating with their winning the 1957 Little League World Series.
The Angels haven't shown much more power than those Little Leaguers, ranking just 28th in MLB with 82 homers. But after sweeping the Twins over the weekend, the Angels own the second-best record in baseball. While Vladimir Guerrero recently went through a 125-AB slump without a homer, the Angels kept doing what they've done all year -- kill their opponents with a thousand paper cuts at a time. The Halos rank third in MLB with a .285 batting average and second in stolen bases with 106, bundling together enough hits and timely baserunning to build a 3½-game lead in the AL West.
Sound familiar? It should. Five years ago, the Angels used strong frontline pitching, a killer bullpen and a barrage of singles and doubles to storm their way to their first World Series title. It could happen again.
6. "It Happens Every Spring" (1949)
An Oscar nominee for Best Writing, this film starring Ray Milland chronicles the tale of a college professor working on an experiment who has his life changed forever when a baseball crashes through the window of his lab. Infused with experimental liquids, the ball suddenly repels wood. Seizing the opportunity, the professor heads to St. Louis, cracks the big leagues as a pitcher and leads his team to the World Series.
No one would be surprised at this point if Brandon Webb announced he'd gained some kind of secret powers from a scientific experiment gone awry. Last year's Cy Young winner is looking like a good bet to make it two in a row after firing 33 straight shutout innings, including a 10-strikeout gem Saturday against the Nationals. The Diamondbacks have parlayed great pitching into the best record in the NL. Well, great pitching and plenty of luck, anyway. Arizona has a 67-52 record despite scoring fewer runs than it has allowed this season; its expected W-L is 57-62, given its negative run differential. A sparkling 26-16 record in one-run games goes a long way toward explaining that huge gap.
7. "Major League" (1989)
Forced to scour the bush leagues for talent after their meddling owner strips the roster, the Indians find salvation in a group of ragtag players, making an improbable run all the way to the division title.
Nintendo wasn't quite so nefarious in its handling of the 2007 Mariners. But the same question needs to be asked: Who are these guys? Lacking the star power of other playoff contenders, the M's have nonetheless reeled off 11 wins in their past 15 games, tying them with the Yankees for the AL wild-card lead and keeping them within striking distance of the front-running Angels in the West. Ichiro is the evolutionary Willie Mays Hays as the best leadoff hitter in the game. You might think closer J.J. Putz, with 34 saves and a 1.48 ERA, would be the logical fit for the Ricky "Wild Thing" Vaughn role. But Putz had a great 2006 season too, so I'm not buying it.
For a better comparison, how about Jeff Weaver? Sure, Weaver's a starter, not the guy who marches in for the ninth with theme music blaring. But he has also gone from an ERA well over 10 through mid-June to the nasty pitcher who tossed a shutout at the White Sox on Sunday. With 10 quality starts in his past 12 outings, Weaver has solidified what had been a wasteland at the back of the Mariners' rotation. Toss some thick black specs and a leather vest on him, and he'd be a hit with the ladies, too.
8. "Bull Durham" (1988)
An amazingly talented pitcher who couldn't find the strike zone for years, Oliver Perez was Nuke LaLoosh. But a few rough outings aside, the lefty has learned how to breathe through his eyelids, rediscovering his Cy Young-caliber form from three years ago and helping the Mets back to first place this season. And Crash Davis? Definitely Paul Lo Duca. Like Crash, Lo Duca needs to be coaching already, because he can't help a major league team as a player, either.
Omar Minaya just needs to bring back Anna Benson to be the team's Baseball Annie, and the Mets will be set for a run to glory.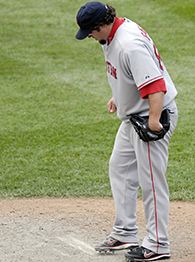 AP Photo/Nick Wass
It wasn't the most fun weekend for Eric Gagne and Red Sox Nation.
9. "Rhubarb" (1951)
Another Ray Milland blast from the past, this screwball comedy/film-noir hybrid follows the life of eccentric tycoon T.J. Banner, owner of the Brooklyn Lions baseball team and a cat named Rhubarb. When Banner dies, he leaves most of his money, and control of the Lions, to his cat. The intrigue takes off from there, as the Lions vie for the pennant while court battles and shady dealings swirl around them.
After watching the Red Sox over the weekend, the only logical conclusion to be reached is that Rhubarb the Cat has come to life to manage Manny, Papi and the rest. How else can you explain the horrendous mishandling of the bullpen on Friday and Sunday? The Sox took a 5-1 lead into the bottom of the eighth Friday night in Baltimore. Lefty hitters Corey Patterson and Nick Markakis were due up to start the inning, and fellow lefty swinger Aubrey Huff was due up fifth, a situation begging for lights-out lefty reliever Hideki Okajima. Instead, Terry Francona brought in Eric Gagne, ostensibly because Gagne was supposed to be the team's new set-up man, even though Okajima and Manny Delcarmen had done a great job in that role all year. After a Patterson double, a Markakis single, a Miguel Tejada walk and a Huff double, the O's were on the brink of tying the game. Okajima eventually put out the fire, but not before Baltimore tied the game. The Orioles later won it in the ninth on a Markakis sacrifice fly. Boston's best reliever, Jonathan Papelbon, never got into the game.
On Sunday, Okajima and Gagne again combined to give up the tying runs in the eighth, while Papelbon remained in dry dock. Tied at 3 in the ninth, Francona used Delcarmen to get to extra innings. Then, having used up his three best non-closers, Francona scoured the pen for the best possible option, saw that Papelbon had thrown only 1/3 of an inning all weekend … and went to Kyle Snyder anyway. A Kevin Millar three-run homer later, the Sox had dropped two out of three, allowing the Yankees to creep two games closer in the standings.
As my buddy Steve Goldman (maestro of the just-released "It Ain't Over 'Til It's Over" book on pennant races) likes to point out, the idea that you can't use your closer in a tie game on the road might be the stupidest bit of baseball orthodoxy in existence. Plenty of other managers do it, too, but that doesn't make it any less asinine to keep your best pitcher on ice because of the vagaries of the save rule. At least Rhubarb might've done something cute with a chew toy or rolled around with some catnip before blowing the game for his team.
10. "The Bad News Bears" (1976)
The Brewers and Cubs both apply here, and not for being a lovable group of troublemaking kids. Panic has set in for Milwaukee, which has seen its once-sizable lead in the NL Central dwindle to 1½ games, thanks to erratic pitching and an offense that's struggling to get consistent production from anyone other than Prince Fielder and "The Hebrew Hammer," Ryan Braun.
But despite a miserable 4-7 August, the Brewers have held onto their lead, thanks to an even uglier 4-8 month for the Cubs. Alfonso Soriano's injury weakened an already shaky Cubs outfield. Chicago's pitching staff, one of the best in baseball with a 4.01 ERA, has allowed nearly six runs a game this month. The team that wins this division might finish just a hair over .500. Not that style points matter, though, especially in the NL Central. Just ask the 2006 Cardinals.
Jonah Keri is a regular contributor to Page 2 and the editor and co-author of "Baseball Between the Numbers." You can contact him here.