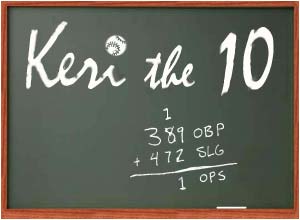 The dog days of summer are over. It's now or never. Every team has its back against the wall. It's time to put up or shut up. Time to give 110 percent. Only the strong will survive.
Hey, at least those clichés are mostly harmless. As we hit the home stretch of the 2007 season, expect a lot more mantras from announcers and headline writers. When you hear these tired old yarns, don't be afraid to call them out. Most of them aren't supported by facts, starting with my personal favorite:
1. At this time of year, experience means everything.
Tell that to Clay Buchholz. Making just his second major league start, the Red Sox rookie right-hander fired a no-hitter at the Orioles. Whatever poise or Zen-like calm a 10-year veteran is supposed to have, Buchholz apparently had it on Saturday. Or maybe he's just a very good, young pitcher, showing off his full repertoire of pitches, spotting his curveball wherever he wanted and giving a big lift to the Sox as they fight to protect their lead in the AL East.
Or tell that to Ian Kennedy. At least Buchholz had one big league start under his belt when he shut down the O's. Kennedy was an MLB virgin when he took the mound Saturday against the Devil Rays. Replacing demoted starter Mike Mussina, and with the tabloids buzzing about Joe Torre losing his hold on personnel decisions, Kennedy whizzed through seven strong innings, giving up just one earned run and striking out six.
Of course, Buchholz and Kennedy had years of experience honing their craft as pitchers. Meanwhile, Rick Ankiel spent nearly a decade in professional baseball as a pitcher before switching to hitting full-time this year. All he's done is become a scary second fiddle to Albert Pujols, hitting .352/.382/.676 in his first 19 games with the Cardinals. Ankiel was even better over the weekend, going 6-for-12 with two homers (one a grand slam) and eight runs knocked in, fueling a three-game sweep and keeping St. Louis just 1 1/2 games out of first place.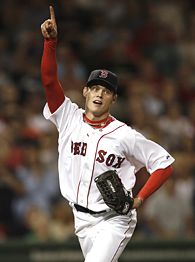 Winslow Townson/AP Photo
Don't tell Clay Buchholtz about the need for experience.
Dustin Pedroia, Ryan Braun, Carlos Marmol, Joba Chamberlain, Hideki Okajima, Micah Owings, Howie Kendrick, Heath Bell, Chris Young (Diamondbacks) and many other newbies have all played big roles in their teams' success this year. They also figure to play a big role in their teams' playoff hopes.
None of them have any significant experience in a major league pennant race. That won't make a lick of difference.
2. In a pennant race, momentum matters more than anything else …
… except when it doesn't. When the Mariners dropped seven in a row in July, it looked like their surprise run was ending. Then Seattle went on a 19-7 surge, blowing past the field and putting a stranglehold on the wild-card lead. Since then the M's have lost nine in a row, and people are ready to bury them again. Of course, if the Mariners rally back and beat the Yankees and Tigers this week, we'll probably hear about how they somehow found their mojo or whatever else it was that they were supposedly missing.
The Mariners aren't the only team that misplaced its mojo, only to find it later. Two months into the season, the Yankees and Cubs looked like they'd never get it -- now they've got so much of it that they could be headed to the playoffs. Same with the Indians. The Brewers had it all season, lost it, and now might have it back again. "Momentum" is just a silly word headline writers and announcers like to use because … who knows why, really. At any rate, it means nothing.
3. The teams with the most heart, guts and intestinal fortitude will be the ones that come out on top.
Distant cousins of momentum, these qualities are more likely to matter in a CAT scan than in a pennant race. Over then next few weeks, when a playoff contender wins a game, we'll hear how they wanted it more, dug deep and found a way to win. When a team loses, we'll hear whispers about its lack of heart, that they're chokers who laid down when it mattered most.
We don't even have to wait – it's already happened. When the Mets recently saw their lead in the NL East start to dwindle, articles in New York papers and talk-show callers began questioning the Mets' desire and Willie Randolph's ability to motivate his team. Considering that the Mets just swept a big series against the Braves over the weekend, the truth can now be told: Team doctors performed gut-enhancement surgery on the entire roster and on the manager, with great results.
Given a long enough period of time, the best team tends to win out in baseball. But as the time frame shrinks to a few weeks, to a short playoff series, three-game set or even a single game, luck becomes a bigger and bigger factor. If a pitcher gets shelled in an important game or a batter strikes out in a crucial at-bat, don't lower yourself to the level of the howling masses by calling him gutless or a choker. Though it may seem hard to accept, it's probably just a case of random variance, otherwise known as bad, stinking luck.
4. Good pitching always wins out.
It often does, sure. But the old saw that pitching is 75 percent of the game, or 90 percent, or 147 percent doesn't hold water. To win a baseball game, all you have to do is score more runs than you allow. There are lots of ways to get there.
The Yankees win games largely because they've hit more homers than anyone else in the AL. The Red Sox walk more than any other team in the majors. The Angels run the bases better than most. The Mets might be the best defensive team in the game. The Mariners pressure opposing defenses by putting the ball in play. All those teams fare best when they're getting great pitching in addition to good hitting, baserunning and defense. But handicapping the pennant race just by glancing at team ERAs will get you nowhere.
Even those teams that rely heavily on pitching instead of offense can succeed for different reasons. All five of the Cubs' starters have ERAs of 4.20 or better. Meanwhile, the Padres rely on Jake Peavy and Chris Young, but also a nearly unhittable bullpen.
Instead of searching for signs of momentum or heart, I'll be watching these next six storylines, all more likely to actually matter in September:
5. Strength of schedule could loom large.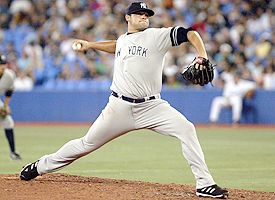 Dave Sandford/Getty Images
Time will tell if the "Joba Rules" will affect the Yankees playoff hopes.
Want to know how the NL Central race might play out? With two makeup games coming up, the Cardinals get no days off from here to the end of the season, plus a double-header against the Cubs thrown in for good measure. With the White Sox, Orioles, Devil Rays, Rangers and A's (twice) on their September schedule, the Angels have a great shot at finishing with the best record in baseball. The Yankees could be primed for a wild-card run, with only two series left against above-.500 teams. NL West too close to call? The Diamondbacks get the schedule edge, with four fewer road games on the docket than the Padres have. With some races likely to be decided by a game or two, the teams with the easiest road to the finish line could keep playing into October.
6. Just don't count out the spoilers.
Think you want to see Tampa Bay on your schedule? After losing two out of three to the Rays over the weekend, the Yankees might wish they hadn't. Tampa's won eight out of its past 10 games, with chances to spoil the party against the Yanks, Angels, Mariners and Red Sox (twice) down the stretch. Elsewhere, the A's rallied from down 7-0 to beat the Tigers on Sunday, giving Oakland a 2-1 series win. Next up: the Angels (twice), the M's (twice), Indians and Red Sox. Even the Rangers, once one of the true dregs of the league, have placed their stamp on the race, taking two out of three in Anaheim after splitting a four-game set against the M's a few days earlier.
7. The Phillies are a completely different team with Chase Utley in the lineup.
They've gone 4-2 since Utley came off the DL (3-2 in games in which Utley played). But it's more about what Utley figures to do for the team the rest of the way. The Phillies are a good offensive team without their star second baseman: Ryan Howard's one of the best power hitters in the league, Aaron Rowand's having a career year, Jimmy Rollins has become a star, and Pat Burrell can almost walk down the street without getting spit on, thanks to a blistering second half. But Utley makes the Phillies a great offensive team, one that can hang on with anyone in baseball, even after adjusting for their friendly home park. Two straight losses to the Marlins and a weekend sweep by the Mets set them back a bit in the NL East race. But the Phils are still within striking distance of New York, and just two games back in the loss column for the wild card.
No playoff contender has as big a gap between its runs scored (third in MLB) and ERA numbers (27th in MLB). Not that short playoff series ever prove much -- but the Phillies' sluggers doing battle against some of the elite pitching teams in baseball come October would be fun to watch.
8. The Brewers are a completely different team with Ben Sheets in the rotation.
They've gone 4-1 since his return from the DL (1-0 in his one start during that stretch). Collapses by Chris Capuano and Claudio Vargas created gaping holes in the rotation, and Sheets' six-week absence made things that much worse. Assuming the Brewers' ace can stay healthy, Sheets gives the team a chance to win every time out. At this point, his biggest impact could be the innings he provides. Even with rosters expanding over the weekend, the Brewers' overtaxed bullpen needs some relief of its own, as Ned Yost has had to make the slow walk to the mound far too often in the early innings of games. Ryan Braun and Prince Fielder are still crushing the ball; even league-average performances from the pitching staff from here on in could be enough to win the mediocre NL Central.
9. Health could be the deciding factor for these teams too ...
Tigers: On the verge of getting Kenny Rogers and Gary Sheffield back, with a big weekend series against the Mariners coming up.
Mets: They get Pedro Martinez back for today's start against the Reds. But could they get more mileage out of him as a patch for the leaky bullpen?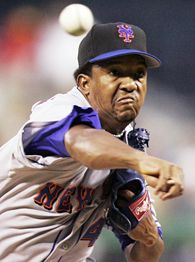 AP Photo/Keith Srakocic
Pedro's return could catapult (or kill) the Mets.
Cubs:
They're 4-2 since Alfonso Soriano's return from the DL. Tied for 19th in MLB in runs scored, the Cubs really needed the boost.
Cardinals: Juan Encarnacion joins Scott Rolen and Chris Carpenter on the list of players out for the season. If the Cards somehow pull off a division title with Pujols, Ankiel and a makeshift starting rotation, Tony La Russa might just ship his brain directly to Cooperstown.
10. The deepest teams could keep playing the longest.
You could argue that no teams have shown more depth than the Red Sox and Yankees. It's not even necessarily a case of outspending the competition either -- at least not at the major league level. By restocking their farm systems through both smart talent evaluation and a willingness to pay for quality in the draft, the two teams have nurtured a new batch of future stars to supplement their aging veteran cores. Not many teams can patch a bullpen hole with a young arm as dominant as Joba Chamberlain, or call up a starter like Clay Buchholz and watch him pitch a no-no.
It's not all money, though. The Padres have been transaction-happy since the end of last season, buying low on key players like Heath Bell and Milton Bradley to give themselves a great shot at a third straight division title. Tadahito Iguchi, Kyle Lohse and J.C. Romero have been great in-season pickups for the Phillies. Franklin Gutierrez and Asdrubal Cabrera have given an already potent Indians lineup a big lift, replacing underachieving incumbents.
Plenty of players are going to get hurt, or just plain fail over the next four weeks. Having a Plan B could make all the difference.
Jonah Keri is a regular contributor to Page 2 and the editor and co-author of "Baseball Between the Numbers." You can contact him here.