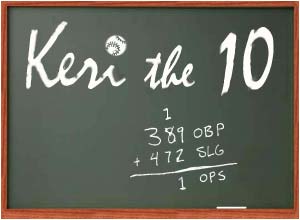 CLICK HERE for Part I of Jonah Keri's MLB awards
Last time, I broke down the MVP, Cy Young, Executive of the Year and Bust of the Year awards. This time, it's on to the Rookie of the Year, Manager of the Year, Comeback Player of the Year and Fantasy Player of the Year awards.
For position players, the numbers listed will be batting average/on-base percentage/slugging percentage, HR and RBI, and win shares. (I was going to include Baseball Prospectus' wins above replacement player stat like I did for Part I, but those numbers are currently unavailable.) Developed by Bill James, win shares works similarly to WARP, giving individual players credit for team wins by tabulating both their offensive and defensive contributions. The biggest difference between the two measures is that one point of WARP corresponds to one win added to a team's ledger compared to a fringe player's performance, where one win share is worth 1/3 of a win. For instance, here's how Hunter Pence's season-to-date performance would look:
Hunter Pence (.323/.359/.545, 14 HR, 56 RBIs, 17.5 win shares)
For pitchers, I'll use record, ERA and fielding independent pitching (FIP). Check out Part I for a more detailed description of FIP. Here's Daisuke Matsuzaka's year-to-date line:
Daisuke Matsuzaka (14-12, 4.44 ERA, 4.36 FIP)
1. AL Rookie of the Year (How the voters would rank 'em if the season ended today)
Dustin Pedroia (.325/.389/.445, 6 HR, 45 RBIs, 16.8 win shares): In a field stuffed with pitching candidates, Pedroia has been the best rookie position player in the AL by a wide margin. If the BBWAA rewards Rookie of the Year candidates who happen to have really good teammates like they do for the MVP vote, that'll only help Pedroia's cause more.
Daisuke Matsuzaka (14-12, 4.44 ERA, 4.36 FIP): I have Dice-K just missing my own Top 3 (his FIP is very close to Royals rookie Brian Bannister's, despite their ERAs being nearly a full run apart), but I think the voters might rank him near the top. Tough to tell, though: Do they play up Matsuzaka's solid rookie season playing under the glare of Red Sox Nation, or do they deduct him points for not being a "real" rookie because he'd already established himself in Japan?
Hideki Okajima (3-2, 1.76 ERA, 3.05 FIP): Okajima's been a staff saver for the Red Sox, preserving scads of late-inning leads and helping the team manage Jonathan Papelbon's workload. Sure, his 66.3 IP are a lot less than the inning counts produced by the top SP candidates. But Okajima's been the guy in high-leverage situations all year for Boston, and he's succeeded almost every time.
2. AL Rookie of the Year (how I'd rank 'em with my nonexistent vote)
Dustin Pedroia (.325/.389/.445, 6 HR, 45 RBIs, 16.8 win shares): An on-base machine at Arizona State, scouts wondered if he'd hit enough in the majors given his small frame. Pedroia's not only proven he can hit -- he's become of the best gloveman in the game at second.
Brian Bannister (12-8, 3.46 ERA, 4.27 FIP): It's tough to make a name for yourself in Kansas City, especially when the competition includes Japanese phenoms playing for the big-market Red Sox. But the numbers don't lie: Bannister has been the best rookie pitcher in the game this season. What he lacks in power pitching (just 4.3 K/9), Bannister makes up for it with great control (2.3 BB/9) and great luck (a batting average on balls in play of .264, sixth-lowest among pitchers qualified for the ERA title).
Hideki Okajima (3-2, 1.76 ERA, 3.05 FIP): Jeremy Guthrie's out for the season and Dice-K has struggled in the second half, opening the door for the most consistent of all the rookie candidates.
3. NL Rookie of the Year (how the voters would rank 'em if the season ended today)
Ryan Braun (.325/.369/.641, 30 HR, 79 RBIs, 18.1 win shares): He's demolished everything in sight since the day he was called up, so much so that he inspired me to write an article on the top 18 Jewish ballplayers of all time, with Braun making the cut in his first season.
Troy Tulowitzki (.291/.359/.470, 20 HR, 81 RBIs, 19.6 win shares): In a season that didn't include one of the most dominating offensive performances of all time for a rookie, Tulo would be a shoo-in for the award. A staple of the Rockies' lineup since day one, an excellent offensive player and a terrific fielder, he looks poised to become a perennial All-Star candidate and a franchise player in Colorado.
Hunter Pence (.323/.359/.545, 14 HR, 56 RBIs, 17.5 win shares): A rare bright spot in an otherwise miserable season in Houston, Pence has given the Astros' offense a big lift. If he can stick in center field he'll be an even greater asset to the team, allowing the Astros to use lesser defenders (hello, Carlos Lee) at the corners. Pence is probably miscast as a leadoff man, though: He's an aggressive hitter with power who'd do well hitting behind a big on-base guy. Now all the Astros need is a big on-base guy.
4. NL Rookie of the Year (how I'd rank 'em with my nonexistent vote)
Troy Tulowitzki (.291/.359/.470, 20 HR, 81 RBIs, 19.6 win shares): I'm as shocked as you are. The big difference maker between Tulowitzki and Braun, though, is their glovework. Tulo plays the toughest position on the diamond at short, and he might be the best in the league at doing it. Braun plays the less-demanding third base, and even the most charitable descriptions would rate him as pretty damn bad. The numbers bear it out too: Tulowitzki gets credit for 8.9 defensive win shares, to just 1.3 for Braun. It kills me not to pick Braun, who's quickly become one of my favorite players. But the numbers don't lie.
Ryan Braun (.325/.369/.641, 30 HR, 79 RBIs, 18.1 win shares): It's scary to think what he might've done if he got the starting job out of spring training, instead of around Memorial Day. Prorated over 162 games, Braun would project to 51 homers and 135 RBIs. He'd be ahead of Tulowitzki on this list too, even after accounting for the huge gap in the two players' defensive value.
Hunter Pence (.323/.359/.545, 14 HR, 56 RBIs, 17.5 win shares): As if this vote wasn't tough enough, imagine what might've happened if Pence hadn't missed 27 games with a wrist injury. As is, Giants rising star Tim Lincecum, Braves flashy young infielder Yunel Escobar and an army of talented, first-year relief pitchers don't even make the Top 3.
5. AL Manager of the Year (how the voters would rank 'em if the season ended today)
Eric Wedge, Indians (84-60): The Indians have gone from a below-.500 group of underachievers to the likely AL Central champs, despite trotting out most of the same personnel they did last season. Someone's going to get credit for the leap, and the smart money says it'll be Wedge.
Mike Scioscia, Angels (84-59): He probably sticks with "his guys" a little longer than he should, as evidenced by Scot Shields' second-half meltdown lasting longer than it should've before he got pulled off high-leverage work. Then again, many other managers can also be loyal to a fault, but without Scioscia's track record of success. Scioscia trusts in his young players, and guys like Reggie Willits always seem to reward him with results.
Terry Francona, Red Sox (87-58): Normally the voters like to pick a manager whose team won a lot of games and also beat expectations. But the only team that sort of fits that profile is the Mariners, and Mike Hargrove resigned weeks ago. So the vote may very well go to the three division winners.
6. AL Manager of the Year (how I'd rank 'em with my nonexistent vote)
Mike Scioscia, Angels (84-59): He'd be my manager of the decade if he'd taken a leap of faith and made Ervin Santana a platoon starter, slotting him in the rotation at home and using him as a long reliever on the road. Unfortunately, the days of creative managing died out when Earl Weaver retired.
Jim Leyland, Tigers (78-66): Yup, I'm picking the manager of the team that went from the World Series to probably out of the playoffs (barring a big comeback). Leyland did a commendable job managing a team with a decimated bullpen, continued to value results over reputation by giving playing time to up-and-comers like Ryan Raburn, and kept his team in the race down to the wire despite suffering through more injuries than most other contenders.
Terry Francona, Red Sox (87-58): A default pick, since no other candidates thrilled me. The Red Sox are loaded with talent, but they've also overcome terrible seasons by J.D. Drew and Julio Lugo. Credit Francona for sticking with his lesser-known rookies from the start, letting Pedroia and Okajima become key members of the team, same as the much wealthier Matsuzaka.
7. NL Manager of the Year (how the voters would rank 'em if the season ended today)
Bob Melvin, Diamondbacks (81-63): The first-place D-backs have actually scored fewer runs than they've allowed. When something like that happens, you can usually point to three factors: luck, a good bullpen and an effective manager. All three deserve credit in this case. Throw in the sub-.500 season to likely playoff berth angle that the Indians have, and Melvin's the likely winner.
Clint Hurdle, Rockies (74-69): Is Clint Hurdle a managerial genius? His record in five years with the Rockies stood at 352-436 (.447) heading into this season, and some wondered why he was still around. But when you surprise writers and their preconceived notions of who's good and who isn't, you tend to get noticed.
Willie Randolph, Mets (82-61): Just a few weeks ago, Randolph was getting raked over the coals by the New York media, because of a perception that the Mets weren't showing any heart (translation: they were losing games and looking bad doing it). Then again, if Randolph's going to get the blame for a random event like Carlos Beltran's quad injury, shouldn't he get the credit for Beltran randomly getting healthy and carrying the team since his return? Well no, but that won't stop the voters.
8. NL Manager of the Year (how I'd rank 'em with my nonexistent vote)
Bob Melvin, Diamondbacks (81-63): Quick, name two Diamondbacks relievers who aren't Jose Valverde. Melvin has leveraged a very young core of no-name relief arms into one of the most productive units in the game. For all the hype surrounding Arizona's young hitters, it's been the efforts of that young 'pen that have made the biggest difference, thanks largely to Melvin's handling of his relief corps.
Bud Black, Padres (77-65): Another year, another amazing performance by the Padres' bullpen. Only this time it's under a new manager, who's also a former pitching coach. Kevin Towers and the loaded Padres brain trust deserve most of the credit for buying low on Heath Bell, Kevin Cameron and the rest of the crew. But Black deserves a hat tip for phasing Scott Linebrink out of the key set-up role and trusting the newcomer Bell to become one of baseball's most valuable arms.
Tony La Russa, Cardinals (69-72): I think the practice of batting the pitcher eighth is pointless and ultimately just serves to draw attention to the manager. It also tears me up to have to recognize anyone who's put lives in danger by driving drunk. But the already talent-lacking Cardinals lost multiple free agents in the offseason, then lost their staff ace, their starting third baseman and a whole lot of other players to injuries this season. Yet they're on pace to finish with a record pretty close to the one they posted as World Series champs in '06. So yes, La Russa gets his due.
9. Comeback Player of the Year
These are simply my choices, since there isn't the same intricate balloting for this award as there is for others. My Top 3:
Carlos Pena (.275/.396/.609, 38 HR, 106 RBIs, 25.2 win shares): Let the hate mail begin! Make all the movies you want about Josh Hamilton and Rick Ankiel. All Pena has done is go from top prospect to fringe major leaguer on the verge of washing out of the game to an absolute terror who leads all non-A-Rod AL hitters in homers. Forget Comeback Player of the Year, he deserves a stack of top-10 MVP votes.
Jeremy Guthrie (7-5, 3.65 ERA, 4.56 FIP): The former first-round pick was chucked overboard by the Indians in the offseason, and looked like he might be done before the O's threw him a life raft. He's now out for the season with an oblique injury, but the amazing seasons turned in by Guthrie and Erik Bedard salvaged an otherwise miserable 2007 for the Baltimore pitching staff.
Josh Hamilton (.296/.373/.564, 19 HR, 47 RBIs, 13.4 win shares): His off-field story has been told countless times, and what intrigues me now is another angle. The common link between Pena, Guthrie and Hamilton is the quality of the teams that employ them. Would the Yankees or Red Sox have given Pena a shot at an everyday job? That's not even hypothetical -- both teams had him, barely used him, then dumped him. Likewise, Hamilton won a starting job in the big leagues thanks largely to the lack of quality players on the Reds' roster.
If you're wondering about Rick Ankiel, by the way, he missed the cut because he hasn't had enough playing time to make the same impact these other three players have. When it comes to Ankiel's off-field affairs, I just point everyone I know to Rob Neyer's excellent take on the matter (scroll down to the Sept. 7 entry).
10. Fantasy Player of the Year
This award recognizes the player who delivered the biggest positive return in your fantasy leagues, going in the late rounds of your drafts (or not at all) and for next to nothing in your auctions (or not at all). Stats listed are those used in typical 5x5 roto formats:
Ryan Braun (.325, 30 HR, 79 RBIs, 74 R, 14 SB): If you owned Braun and didn't finish in the top three of your league, you must also be the proud owner of Barry Zito, J.D. Drew, Chris Carpenter and B.J. Ryan, with the rest of your roster consisting entirely of the cast of "The Golden Girls."
Carlos Pena (.275, 38 HR, 106 RBIs, 85 R, 1 SB): Undrafted in every one of my leagues this season, including LABR, an experts league that saw 12 people who get paid to obsess over this stuff completely miss the boat on Pena.
Jeremy Accardo (4 Wins, 50 K, 2.43 ERA, 1.20 WHIP, 27 saves): Ah, the fill-in closer, the ticket to roto greatness. And just to show how fickle the closer position is, the Blue Jays bypassed Accardo in favor of Casey Janssen in a save situation last night. Breathe easy, Accardo owners: Janssen blew the save and lost the game.
Jonah Keri is a regular contributor to Page 2 and the editor and co-author of "Baseball Between the Numbers." You can contact him here.