The underachiever who always looks uninterested. The loudmouth who complains from Day 1. The choker who lets his team down when it matters most. These are the players who drive their fans nuts.
In honor of these boo magnets, I set out to find the 100 players most hated by their home fans during their playing days in that city.
Some quick ground rules: This is all in good fun, so we're avoiding examples such as Donnie Moore, the Angels relief pitcher who committed suicide after several high-profile blown saves, or Andres Escobar, the Colombian soccer player who was murdered after scoring on his own net in the 1994 World Cup. Also, remember that these are players hated by their own teams' fans. Everyone in the free world seems to hate Barry Bonds, but Giants fans love him, so he's not in here.
Without further ado, here are 100 targets of your boos and batteries:
QUARTERBACK DIVISION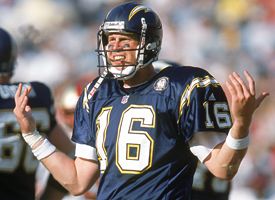 AP Photo
Mr. Leaf, the gold standard for fan hatred.
1. Ryan Leaf, San Diego Chargers:
The QB drafted one pick after Peyton Manning in 1998 was loathed by fans and teammates alike, a disaster both on the field and in front of a microphone. When he finally retired in 2002, former teammate and frequent verbal sparring partner Rodney Harrison summed it up best: "He probably did the best thing; he took his money and ran."
2. Tim Couch, Cleveland Browns: The No. 1 overall pick in the 1999 draft, Couch's disappointing five-year tenure in Cleveland ended with fans calling for the immortal Kelly Holcomb to take his place.
3. Tony Eason, New England Patriots: The first QB in Super Bowl history who failed to complete a pass.
4. Drew Bledsoe, New England Patriots: Before Tom Brady ever came along, Pats fans were calling for backup Michael Bishop to take his job, chanting "Bishop! Bishop!" while Bledsoe was still on the field.
5. Cade McNown, Chicago Bears: Once busted for using a handicapped parking pass while at UCLA; also tried to steal Playboy Playmate girlfriends away from both Tim Couch and Hugh Hefner. He was a lousy QB, too, inspiring Bears fans to start the Web site tradecade.com.
6. Rex Grossman, Chicago Bears: The popular sentiment in Chicago is that the Bears made it to the Super Bowl in spite of their quarterback, not because of him. A mistake-prone gunslinger often criticized for making poor decisions, Grossman may be best known in the blogosphere for his various nicknames, including the Steve Spurrier-bestowed "Sexy Rexy" and, later, the "Sex Cannon."
7. Andre Ware, Detroit Lions: The former Heisman Trophy winner was drafted No. 7 overall by the Lions, only to start just six games in his four-year stint in Detroit.
8. Scott Mitchell, Detroit Lions: Surrounded by a potent offense that included Barry Sanders and Herman Moore, Mitchell led the Lions to the playoffs in 1994, 1995 and 1997. But a sudden crash in 1998 led to Mitchell losing his job to Charlie Batch, then getting booted out of town.
9. Joey Harrington, Detroit Lions: The No. 3 overall pick in the 2002 draft, Harrington posted two of the worst seasons ever recorded by a QB, setting a record for the two worst yards per attempt (YPA) passing averages since the NFL-AFL merger.
10. Byron Leftwich, Jacksonville Jaguars: The No. 7 pick in the 2003 draft, he was cut just four years later by the Jags, just in time for the season opener.
11. Kordell Stewart, Pittsburgh Steelers: An all-around talent who bounced between spectacular and horrific as a QB, Kordell lost the fans' favor for good in the 2002 AFC Championship Game. For more on Kordell, see also: Fantasy Seasons, Most Destroyed.
12. Marc Wilson, Oakland Raiders and New England Patriots: Never lived up to his great college career at BYU with the Raiders, then later guided the Pats to a 1-15 season, one of the worst in NFL history.
13. Vinny Testaverde, Tampa Bay Buccaneers: An interception machine with the Bucs, he was constantly heckled for his color blindness. A Tampa radio station once rented a billboard after a loss to the Giants, with Testaverde standing in front of a blue background. The billboard read: "Vinny thinks this is orange!"
14. Rick Mirer, Seattle Seahawks: Seahawks fans hoped for the next Joe Montana when Seattle drafted the former Golden Domer No. 2 overall in 1993. Instead, they got Hannah Montana.
15. Chad Pennington, New York Jets: Were Jets fans cheering Pennington's injury in Week 1 or just happy that Kellen Clemens was finally getting his shot? Whatever the case, Pennington's frequent injuries and weak throwing arm made him unpopular in Gotham well before his latest setback.
16. Brian Griese, Denver Broncos: In an otherwise impressive string of successful seasons, the Brian Griese years rank as the ugliest during the Mike Shanahan era.
YANKEES DIVISION
17. Ed Whitson, New York Yankees: High-priced free agent mercilessly booed and heckled by Yankees fans both for his on-field failures and for breaking manager Billy Martin's arm in a bar fight. To this day, Whitson refuses to sign any pictures or baseball cards showing him in a Yankees uniform.
18. Kenny Rogers, New York Yankees: Ed Whitson with fewer death threats.
19. Jeff Weaver, New York Yankees: Kenny Rogers with fewer death threats.
20. Kevin Brown, New York Yankees: Two incidents stand out in Yankees fans' memory -- Brown breaking his hand and missing the end of the 2004 season after punching a wall in anger, and Brown returning for the playoffs that season, only to last less than two innings before getting pulled in the Bombers' loss to the Red Sox.
21. Alex Rodriguez, New York Yankees: Sure, they love him now. But just wait until he goes 49-for-50 with 49 homers and 150 RBIs in the playoffs, only to make the final out of Game 7 of the World Series. Then we'll know that A-Rod the Choker never left us.
22. Kyle Farnsworth, New York Yankees:
Google "Kyle Farnsworth" and "The Dugout" and you'll gain a better understanding of the Yankees' goggle-wearing arsonist. It's hard to say what would be a bigger long shot for Professor Farnsworth: an All-Star appearance or a Mensa membership.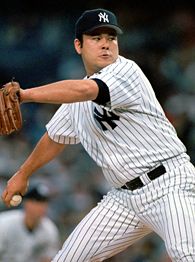 AP Photo
Long live the Toad! Long live the Toad! Long live the Toad!
23. Hideki Irabu, New York Yankees:
When your team's owner calls you a fat toad in the media, things probably aren't going so well.
24. Kei Igawa, New York Yankees: Yes, he's another Japanese pitcher who was horribly overpaid by the Yankees, then failed miserably on the mound. On the plus side, he's pretty slim.
25. Carl Pavano, New York Yankees: He's been totally unfair to Yankees fans -- most of the players on this list have the courtesy to actually play once in a while and receive their boos.
PHILLIES DIVISION
26. Dick Allen, Philadelphia Phillies and elsewhere: The Albert Belle of his era, Allen was a fearsome power hitter who was still hated in Philly. Some of the abuse, including a stream of racial epithets from fans, was unwarranted. But Allen often came across as immature and selfish: He once missed a doubleheader against the Mets because he went to see a horse race that morning and got caught in traffic on the way back, then walked out on the White Sox with two weeks to go in the 1974 season.
27. Mike Schmidt, Philadelphia Phillies: Yes, they even hated the greatest third baseman in major league history. Schmidt's reserved demeanor on the field gave some the perception that he was aloof, a trait Phillies fans hated most when Schmidt would walk back to the dugout after striking out. In related news, Philly fans, while incredibly loyal to their teams, are also insane.
28. Scott Rolen, Philadelphia Phillies: Hated because he wasn't Mike Schmidt.
29. Von Hayes, Philadelphia Phillies: Another former Phillie who lacked passion, Hayes also carried the twin burdens of being a good, but not great player, and of being acquired in an infamous, lopsided traded with the Indians. In reference to the trade, Hayes earned the unflattering nickname "Five-for-One."
30. Bobby Abreu, Philadelphia Phillies: Perpetually underrated offensive player who derives a lot of value from his great batting eye. Or from Phillies fans' perspective: lazy, good-for-nothing albatross who couldn't get out of town fast enough.
31. Pat Burrell, Philadelphia Phillies: Why do Phillies fans hate him? Let's see: No. 1 overall pick, signed to a $50 million contract, terrible defender, who strikes out more than almost anyone else in baseball. On the other hand, Burrell's also one of the baseball's most dangerous power hitters when he's on his game. Watching Phillies fans figure out how to deal with Burrell's recent hot streak has been a rare treat.
RED SOX DIVISION
32. Calvin Schiraldi, Boston Red Sox: The pitcher who set off the events that led to the infamous Bill Buckner boot. Later went to Chicago, where Cubs fans couldn't stand him either.
33. Jose Offerman, Boston Red Sox: aka Jose Awfulman
34. Edgar Renteria, Boston Red Sox: One of several disappointing big-ticket acquisitions made by the Red Sox since the 2004 World Series win, Renteria was doubly hated for replacing popular '04 stretch-run pickup Orlando Cabrera. A local radio station called him "Rent-A-Wreck," as well as several names related to loose stool.
35. J.D. Drew, Boston Red Sox: The $70 million outfielder has earned the nickname "Nancy Drew" for his disappointing performance and passive approach at the plate. A big hot streak by top prospect Jacoby Ellsbury might send Drew to the bench before Year 1 of his five-year deal is complete.
36. Matt Clement, Boston Red Sox: In a photo finish, it's "HazMatt" over "DoorMatt" for best Clement nickname. If you're wondering where all the nicknames in sports went, by the way, the answer is WIP in Philly and WEEI in Boston.
METS DIVISION
37. Doug Sisk, New York Mets: So hated that a fan once sent him a mock prescription for cyanide, "to be taken daily."
38. Dave Kingman, New York Mets and everywhere else: Actually a pretty good hitter in his 16 seasons with the Giants, Mets, Padres, Angels, Yankees, Cubs, Mets (again) and A's. But fans let him have it for every one of his 1,816 career strikeouts.
39. George Foster, New York Mets: Blamed for the Mets' largesse after the team gave him a fat contract before the 1982 season, hoping to recapture his 52-homer form and ignoring his advancing age and falling numbers. His attitude didn't help: Foster used to roll up to the stadium for games in a stretch limo.
40. Roger Cedeno, New York Mets: Reader Jon Harpula's take on Cedeno: "A fat man's Juan Pierre."
41. Vince Coleman, New York Mets: So many reasons for hatred to choose from, but I'm going to go with this 1991 quote: "I don't know nothing about no Jackie Robinson." Actually Vince, that should be, "I don't know anything about Jackie Robinson." Please work on your grammar.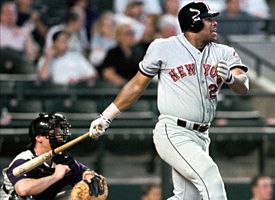 AP Photo
They're not booing, they're chanting ... actually, yes, they're booing.
42. Bobby Bonilla, New York Mets and other places:
Wore earplugs to the plate to drown out the boos that greeted him for every at-bat.
43. Braden Looper, New York Mets: Blow late-inning leads, get booed in Queens.
44. Mel Rojas, New York Mets: Blow late-inning leads when you're carrying extra poundage, and you get booed a lot in Queens.
45. Guillermo Mota, New York Mets: Blow late-inning leads even when you're juicing, then return and post an ERA near six, and you might want to ask for a trade.
46. Kazuo Matsui, New York Mets: Expected to improve the Mets' offense and shore up their defense, Matsui instead stank at all facets of the game. Bonus points for turning his career around now that he's out of New York.
CUBS DIVISION
47. LaTroy Hawkins, Chicago Cubs: Whenever I try to argue that anyone can be a closer and that the last three outs of a game are no big deal, someone always brings up LaTroy Hawkins. I have no rebuttal for LaTroy Hawkins.
48. Corey Patterson, Chicago Cubs: A .215 batting average plus a half-dozen Old Styles per fan equals bad times at Wrigley.
49. Sammy Sosa, Chicago Cubs (late career):
Beloved by Cubs fans for his long home runs and gregarious personality, Sosa took much of the blame for the 2004 season, after Dusty Baker and abrasive local media members piled on and berated him for "only" hitting 35 homers that season.
50. Todd Hundley, Chicago Cubs: A constant target of boos at Wrigley, Hundley once flipped off the fans during a home run trot, likely figuring he wouldn't get to run around the bases many more times. It's not easy to cheese off a fan base that loves your dad, but Hundley pulled it off. His Baseball Reference page says it all.
POLITICAL DIVISION
51. Mahmoud Abdul-Rauf, Denver Nuggets: His refusal to stand for the national anthem before games earned him a brand of hatred that transcends sport.
HOCKEY DIVISION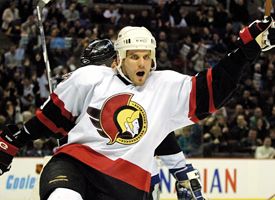 AP Photo
Here's your $18 million ... now go get your shinebox!
52. Alexei Yashin, Ottawa Senators and New York Islanders:
First, fans in Ottawa started calling him "Alexei Cashin" after the Russian star sat out an entire season trying to get a raise. Eight years later, the Islanders soured on him so badly that they bought out his contract for nearly $18 million just to make him go away.
53. Andre Racicot, Montreal Canadiens: The former backup goalie for the Habs let in so many goals that fans stuck him with an unforgettable and unforgiving nickname: "Red Light Racicot."
54. Patrice Brisebois, Montreal Canadiens: The most hated Hab of the past decade, Brisebois earned the moniker "Breeze-by" for his tendency to let opposing skaters breeze by him. After two years in Colorado, Brisebois inexplicably returned to Montreal for more abuse.
55. Larry Murphy, Toronto Maple Leafs: Traded to his hometown team in 1995, Murphy was the team's highest-paid player and the scapegoat for the Leafs' failures. Later traded to Detroit, he won two Stanley Cups with the Wings; on his first day with the Cup, Murphy brought it back to Toronto, deepening fans' misery.
56. Nikolai Antropov, Toronto Maple Leafs: Leafs fans can't decide what they hate most about Antropov -- his constant injuries, his stork-on-ice skating, or the fact that Toronto just signed him to a two-year contract extension.
57. Eric Lindros, Philadelphia Flyers: The bruising center once dubbed "The Next One," Lindros became hated by many Flyers fans for failing to live up to his potential after a series of injuries and concussions derailed his promising career. Lindros does garner sympathy in some corners, though, if only because the man he feuded with in Philly, Bobby Clarke, ranks as one of the most reviled executives in sports history.
58. Keith Primeau, Detroit Red Wings: A first-round pick who never lived up to the hype in Detroit, Primeau was another talented player criticized for being a poor skater. Many Wings fans see it as no coincidence that the team ended its 40-year championship drought after Primeau was traded for Brendan Shanahan.
MULTITEAM OFFENDER DIVISION
59. Jose Mesa, 8 teams: Actually deserves the scorn, both for his frequent late-inning implosions and his oh-so-pleasant off-field demeanor, including his famous comment about former teammate Omar Vizquel: "I want to kill him."
60. Armando Benitez, 6 teams: Mets fans won't forgive him for the 1999 NLCS or 2000 World Series. But Benitez has been an equal-opportunity save blower throughout his career, botching chances for what seems like half the league.
61. Gary Sheffield, everywhere except San Diego and Detroit: His foot-in-mouth tendencies rank with the all-time greats. But nothing tops his early-career days with the Brewers; in Milwaukee Sheffield openly admitted to tanking on purpose so that he would be sent to another team.
62. Terrell Owens, 3 teams: San Francisco: implied that Jeff Garcia was gay. Philly: feuded with Donovan McNabb. Dallas: hated before he ever got to town, after celebrating on the star at midfield following a TD against the Cowboys.
"MAJOR LEAGUE" DIVISION
63. Rick "Wild Thing" Vaughn, fictional Cleveland Indians: His control problems in his rookie season made him the target of jeers from the sparse crowds in the Mistake by the Lake. But a more consistent fastball, a pair of thick specs and a catchy theme song soon won the fans over. Even Randy Quaid.
64. Jack Parkman, fictional Cleveland Indians: The Tribe hoped to build on their unlikely division title by signing the power-hitting catcher to bolster the offense. Instead, the arrogant Parkman alienated teammates and fans, got traded to the archrival White Sox, and he later struck out against Vaughn with the AL pennant on the line.
LEGITIMATE JERKS DIVISION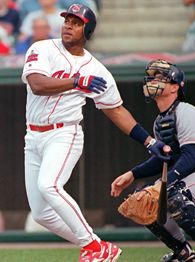 AP Photo
Trick or treat ... run! It's Albert Belle!
65. Albert Belle, Cleveland Indians:
Once threw a ball at a fan in the stands, and also chased down a group of teenagers for egging his house. One of the most feared hitters of the '90s, but Tribe fans barely put up with him even in the best of times.
66. Lleyton Hewitt, Australia: It takes a lot for an entire country to dislike their native son on the tennis circuit. But Hewitt's history of racist and homophobic comments (he once accused a U.S. Open linesman of siding with James Blake against him on a series of foot fault calls, because both Blake and the linesman were black) have made him hated by rival players, tennis fans and, yes, many Aussies too.
67. John Rocker, Atlanta Braves: Not a big fan of riding the subway, apparently.
68. Bonzi Wells, 4 teams: Threatening the all-time record for being "absent due to personal reasons."
69. J.R./Isaiah Rider, 5 teams: Threw a milk shake at a Jack In The Box worker; convicted of assault for kicking a female sports bar manager; spat at hecklers; once pulled a woman into his car against her will. Other than that, super guy.
70. A.J. Pierzynski, Minnesota Twins, San Francisco Giants and Chicago White Sox: Clubhouse cancer? You bet. But how about also being the guy traded for Joe Nathan, Boof Bonser and Francisco Liriano? The best story comes courtesy of GQ: Three years ago in spring training, Pierzynski took a pitch to the groin. Trainer Stan Conte rushed out and asked how he felt. "Like this!" Pierzynski said, right before he kneed Conte in the family jewels.
WE WISH YOU WERE SOMEONE ELSE DIVISION
71. Kyle Brady, New York Jets: In retrospect, maybe Warren Sapp would've been a better pick.
72. Blair Thomas, New York Jets: It wasn't the Penn State running back's fault that the Jets picked him No. 2 overall in 1990, one of many draft blunders for the cursed franchise. But he still bore the brunt of the blame.
73. Glenn Davis, Baltimore Orioles: The O's gave up Curt Schilling, Pete Harnisch and Steve Finley to get him. He could've hit like Albert Pujols and they'd have hated him in Baltimore. Also, he didn't hit like Albert Pujols.
74. Tino Martinez, St. Louis Cardinals: Cards fans love everybody, but when Martinez failed miserably after several big years with the Yankees, Busch Stadium booed him for two full seasons.
75. Adam Dunn, Cincinnati Reds: In the eyes of Reds fans and their hatchet-wielding broadcasters, Dunn's 40 homers and 100 walks a season are a big fluke, and only his high strikeout totals and sketchy defense matter. The abuse has grown so harsh this season, you'd think he sold the recipe for Skyline Chili to Osama.
PAINFUL MOMENTS DIVISION
76. Scott Norwood, Buffalo Bills: Wide right.
77. Salomon Torres, San Francisco Giants: Lost the final game of the 1993 season, causing the 103-win Giants to lose the NL West title by one game to the 104-win Braves. Old grudges die hard -- when Torres returned to San Francisco this season as a reliever with the Pirates, fans serenaded him with a chorus of boos.
78. Mitch Williams, Philadelphia Phillies: Received death threats after serving up the winning home run to Joe Carter in the 1993 World Series, prompting hundreds of fans to call Philly's sports talk radio station claiming to be the culprit. Give Williams huge credit for keeping things in perspective, though. Asked about the homer, Williams took the blame for the incident, but refused to feel sorry for himself: "I could be digging ditches. I'm not."
79. Bill Buckner, Boston Red Sox: It's a bit less depressing for Sox fans when Vin Scully and "RBI Baseball" are involved. OK, not really.
BIG MAN STIFFS DIVISION
80. Benoit Benjamin, Seattle SuperSonics: Did a better job perfecting the confetti trick with the Harlem Globetrotters than he did scoring in the NBA.
81. Rafael Araujo, Toronto Raptors: Three years after the Raptors drafted him eighth in the draft, he's now plying his trade with Spartak St. Petersburg in Russia.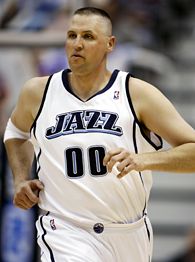 AP Photo
When your look is Drew Carey chic, yeah, you're already in the hole.
82. Greg Ostertag, Utah Jazz:
Reader Clint Cunningham says: "We hate him. We hated our GM for reacquiring him for his last season. He has a Fred Flintstone tattoo, was bitch slapped by Shaq and appeared in 'Eddie' with Whoopi Goldberg. ... What is not to hate?"
83. Bryant Reeves, Vancouver Grizzles: Oh, the venom that's been spewed over the years because of GMs' big-man fetishes.
POWER FORWARDS DIVISION
84. Derrick Coleman, New Jersey Nets: The poster child for unrealized potential, the former No. 1 pick's path to superstardom was derailed by alcohol abuse, weight gain and a lousy work ethic.
85. Chris Webber, Golden State Warriors: Though not the malcontent Coleman was, C-Webb's legacy in the Bay Area is still one of disappointment, as his feud with Don Nelson paved the way for an eventual 65-cents-on-the-dollar trade out of town.
86. Rasheed Wallace, Portland Trail Blazers: Broke the NBA record for technical fouls in a season, then broke his own record a year later. He also earned a seven-game suspension for threatening referee Tim Donaghy after a 2003 home game. Hmmm ...
FOOTBALL PLAYERS WHO DON'T FIT INTO AN OBVIOUS CATEGORY DIVISION
87. Randy Moss, Minnesota Vikings and Oakland Raiders: When he tries, he's one of the all-time greats. When he doesn't, he's Todd Pinkston with a higher salary.
88. Todd Pinkston, Philadelphia Eagles:
He's always Todd Pinkston.
89. Eric Dickerson, Los Angeles Rams and Indianapolis Colts: Rams fans didn't like him asking for a new deal while he was still under contract, and he was soon dealt to the Colts. A couple of years later, another long holdout made him Public Enemy No. 1 in Indy.
90. Ricky Williams, Miami Dolphins: Gave up his lucrative NFL career to travel the world and discover inner enlightenment. Earned lots of enemies for his decision, but I'd root for him over repeat DUI offender Leonard Little any day.
91. Willis McGahee, Buffalo Bills: Told a reporter he'd like to see the Bills move to Toronto. Traded to Baltimore soon afterward.
92. Jerramy Stevens, Seattle Seahawks: Talked trash about Jerome Bettis and ostensibly guaranteed victory before Super Bowl XL, then played a big role in losing the game by dropping several key passes. His busts for hit-and-run driving, DUI and other offenses didn't help his popularity either.
BASEBALL PLAYERS WHO DON'T FIT INTO AN OBVIOUS CATEGORY DIVISION
93. Garry Templeton, St. Louis Cardinals: When fans booed the talented but petulant shortstop in an August 1981 game for not running out a ground ball, Templeton responded with a middle-finger salute. With the relationship soured, the Cardinals were forced to trade Templeton, hoping to get a decent player in return. They got Ozzie Smith.
94. Johnnie LeMaster, San Francisco Giants: Career .222 hitter, nicknamed "Johnny Disaster" by Giants fans. Once wore a uniform that said "Boo" on it as homage to his critics.
95. Juan Gonzalez, Detroit Tigers: You think you hate him now, Tigers fans? Imagine what could've been. Had JuanGone accepted the $140 million offer from the Tigers, he'd just be serving out the end of his contract in the next two weeks.
HIGH-PRICED LETDOWNS DIVISION
96. Carlos Zambrano, Chicago Cubs: Too soon? Not after Big Z signed a five-year deal worth more than $90 million, then proceeded to stink up the joint. Asked for his thoughts after a recent disastrous start, Zambrano whined: "I don't accept that the fans were booing at me."
97. Richie Sexson, Seattle Mariners: Making $50 million and struggling to hit above the Mendoza Line will get you booed anywhere, even a short drive from your hometown.
98. Barry Zito, San Francisco Giants: Signed the richest contract for any pitcher in major league history. Unfortunately, he isn't the best pitcher in major league history. He's not even the best starter on his own team. Or the second best. Or the third best.
99. Mike Hampton, Colorado Rockies: Sure, he was terrible in Denver. But man, his kids must be geniuses by now.
BOBBY AYALA DIVISION
100. Bobby Ayala, Seattle Mariners: Often blamed for the Mariners' inability to break through in the mid-to-late 1990s, despite a roster stocked with Hall of Fame talents such as Randy Johnson, Ken Griffey Jr. and Alex Rodriguez. Normally it's unfair to place all the blame on one player. But did you see this guy pitch?
Thanks to the Page 2 staff and a number of readers for offering input for this list.
Jonah Keri is a regular contributor to Page 2 and the editor and co-author of "Baseball Between the Numbers." You can contact him here.
PAGE 2 HOT READS
ESPN Top Headlines