On Nov. 1, the New York Islanders honored Mike Sillinger with a ceremony commemorating his 1,000th game in the NHL. It was a nice gesture, though maybe an incomplete one. After all, the 11 other teams that have employed Sillinger were nowhere to be found. That's right, the 36-year-old Regina, Saskatchewan, native has laced 'em up for 12 NHL teams, the most in league history. He's been traded nine times, switching teams in the middle of a season eight times. Among the four major pro team sports, no one has made more moves.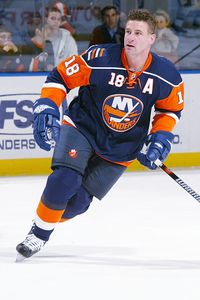 Mike Stobe/NHLI/Getty Images
Mike Sillinger has skated for 12 NHL teams: the Red Wings, Ducks, Canucks, Flyers, Lightning, Panthers, Senators, Blue Jackets, Coyotes, Blues, Predators and Islanders.
But Sillinger's career accomplishments amount to a lot more than the answer to a trivia question. Now in his 17th season, he has tallied 226 goals and 300 assists. Considered one of the better two-way players in the league, he's been a reliable penalty killer throughout his career, also chipping in on the power play. Maybe most surprisingly, Sillinger seems to be peaking in his mid-30s. The NHL's new wide-open style of play has given the 5-foot-11, 195-pound center a chance to capitalize on his skating and puck-handling skills. Sillinger responded with a career-high 32 goals and 63 points in 2005-06, while playing for St. Louis and Nashville, earning him a three-year contract with the Islanders. He's in his second season with the Isles.
Page 2 recently chatted with Sillinger about growing up in Saskatchewan, his early experiences as a pro and living the life of an NHL nomad.
Page 2: Since I'm a fellow Canadian and not far from your age, I have to start by asking you about growing up in Regina in the '70s. As a kid, was it all about games of shinny out on a pond or an outdoor rink somewhere, only without the constant falling down and embarrassment?
Mike Sillinger: Hockey was just something I loved to do. I can remember way back -- the first team I played on was the Citations hockey club. I was 4 or 5. We had these bright orange jerseys, some real beauties. When I got older, I'd always do my homework right away after school so I could go outside and play. There was an outdoor rink across the street from my house that was frozen six months a year. I spent a lot of time playing shinny in that rink. I also had a buddy whose backyard backed onto a high school. We'd shovel off the tennis courts and play there, too. In the summertime, we'd all play in the driveway or on the street, where we'd take turns being the goaltender. I used to play a lot of Intellivision … do you remember Intellivision? [Editor's note: Yes, we do.] … a lot of Intellivision hockey too.
How was the equipment situation? Were you the kid with the shiny new skates and sticks, or did you use more well-worn, comfortable gear?
A dozen stops
Among the four major team sports, these six athletes have each played for 12 franchises:
| | | |
| --- | --- | --- |
| Player | League | Years |
| Mike Sillinger | NHL | 1990-present |
| Jim Jackson | NBA | 1992-2006 |
| Tony Massenburg | NBA | 1990-2005 |
| Chucky Brown | NBA | 1989-2002 |
| Mike Morgan | MLB | 1978-2002 |
| Deacon McGuire | MLB | 1884-1912 |
It was mostly hand-me-downs. I wasn't picky as far as sticks, skates or gloves. Sometimes I'd get something new for Christmas from my parents. When I got something new, I cherished it. My parents were supportive, but a lot of the equipment was expensive -- I have three boys, so I can tell you it's expensive now, too.
I remember there would be a lot of local tournaments -- just going away to Saskatoon for a tournament was a big deal. My parents worked, and they'd try to make it to as many as they could. But when they couldn't, one of the other kids' parents would always take me. I was one of the best players all the way through minor hockey. Was I going to stay home? Yeah, right!
How good was the competition in those days?
Very good. I always played at the highest levels. Every team seemed to have two or three really good players. I remember there was one point, though, where I ended up playing three years of bantam. I was supposed to play Midget Triple-A that third year, but ended up in bantam because of this weird age-change rule that affected about six of us. I had like 80 goals, something like 150 points in 30 games. It was kind of a wasted year. It was great for my confidence, though (laughs).
So you were obviously skilled, always one of the best players, but you were never a big guy. Did you just try to outskate people?
Well, I always carried good weight for my height. My dad played football, my brother too. When I weighed in at Central Scouting, I was about 190 pounds. They wondered how I could keep that weight on, but it was just genetics.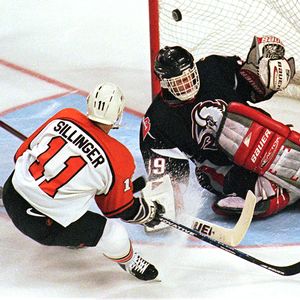 AP Photo/George Widman
Sillinger beat Dominik Hasek for this goal in the 1998 playoffs, but the Sabres beat the Flyers in five games.
But yeah, my draft year in '89, in the first round, there were only two guys taken who were under 6 feet: Stu Barnes at No. 4 and myself at No. 11 … Back then, if you weren't 6 feet, you weren't going to get drafted. Now, there's a lot more emphasis on speed and skill, but not then.
When did you first start to realize that you were a really good player, that you might be able to do this for a living?
It's tough to say, it just happened so quick. I was just a kid when I was drafted by Detroit. I'd just turned 18. You never believe it's going to become this big thing. I just wanted to play for the Red Wings. I never thought of it as a job then. That wasn't until a few years later, when I got married and kids got involved. But when you're 18, 19, 20 years old, it's just too hard to picture that as your job, as your livelihood.
Do you remember the amount of your signing bonus when the Wings drafted you?
Yup, it was $115,000.
What did you do with the money?
I bought a car. I went to Crestview Chrysler [in Regina] -- they had Nissans there too, at the time. I bought a Nissan 240SX. The 240SX was $25,000; the 300 was over $40,000. I couldn't step it up to the 300. That was too much money.
You got your first cup of coffee in the NHL really quickly, right?
Yeah, when I was 19 years old, I played three games with the Red Wings. I remember the first game I played was in New Jersey. I ended up actually playing three games, but I was expecting to go back to junior. The rule was they could have you play 10 games, I think, then they'd send you back down. Then I played in the playoffs, which was a lot of fun. Then boom, I got sent to the minors right away. It wasn't a shock, but it was an eye-opener. You understand it's for development, but you're 20 years old and you're thinking, "Why did I have a better chance to make the team when I was 18 or 19, but not at 20?"
Then by the 1992-93 season you were up for good. What were the biggest lessons you learned as a young player in those first few years in Detroit?
They really teach you the defensive aspect of the game. I was a player drafted in the first round, as a skilled scorer out of junior. But then when I came up, I really learned how to play in all areas of the game, so that it wasn't just about scoring goals. I played with [Sergei] Fedorov, [Dino] Ciccarelli, [Ray] Sheppard. They had so many good players, so many scorers, I knew I would never get a sniff on the power play. When I broke into the league, I knew I was going to kill penalties and that was about it. That's why I became a good faceoff guy: If you weren't winning faceoffs, you weren't going to kill penalties either.
Then, a few games into the 1994-95 season, the Wings traded you to Anaheim. How did you feel when you found out you were traded? A lot of players talk about being really hurt and disappointed when they're traded, like somehow they did something wrong. Is that how you felt?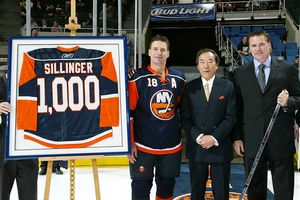 Mike Stobe/Getty Images
Sillinger was feted by the Isles a his 1,000th career NHL game on Nov. 1.
Back then, I thought being traded was actually a good thing. I broke in with a really good organization, so I was playing behind endless good players. No matter what I did, I wasn't going to be on a top-three line. I was getting a few minutes a night, killing penalties, asking myself, "When is it going to be my turn?" When I got traded, I thought, "Yeah, I'm going to get a chance to play."
Then again, the timing was tough. That was a Red Wings team on the rise, and they won the Cup two years after that trade.
Yeah, they won the Cup, and I realized that, in some ways, it would have been great to stick it out. But when it comes to your career, you can't look back and dwell on things. Everything that happens, happens for a reason. In Anaheim, they had a young team, a lot of the guys were 23, 24, 25 years old. It was a fun team, a good group of guys.
And then of course the trades and moves kept coming. You went from Anaheim to Vancouver, then Philly, Tampa, Florida, Ottawa, Columbus, Phoenix, St. Louis, Nashville and eventually the Islanders.
I was in Anaheim for a year. When they traded me to Vancouver, though, I was shocked a bit. Now I look back at it, and I think that trade, maybe the first couple, were just trades for the sake of trades. In Anaheim we were going nowhere, then in Vancouver we weren't going to make the playoffs. I got traded from Vancouver to Philadelphia a couple weeks before the deadline. I actually ended up with my first 20-goal season then -- I had 11 in 27 games in Philadelphia. When I got traded, I thought I was going to have a really good chance to do something in the Stanley Cup playoffs. [Editor's note: The Flyers got knocked out by Buffalo in the first round that year.] Then the next year there was another deal to Tampa. I went to Florida at the deadline. Ottawa was also at the deadline. Any time the deadline would come around, I'd think, "Geez, I'm going to get traded."
Why do you think you ended up getting traded so much?
That's just what happens sometimes, you get pinpointed as a tradable guy. I'd hear people talk about me, they'd say, "He's a great leader, a great teammate, a good player, why has he been traded so much?" I think it just becomes a case where the organization is looking to trade their No. 9 for your No. 9, you know? I was never breaking banks in terms of salary, so that also makes you a tradable asset. Then once I started to establish myself as a solid, two-way player who could play in different situations, on the power play, killing penalties, I just became one of those guys that teams seemed to trade for.
It's one of those things you find out quick in the NHL: You have to do something special. Fighters fight, hitters hit, penalty killers block shots, scorers score. You have to find your niche.
Obviously it couldn't have been easy for you at the time, getting traded so much. But what about your family? If you're the wife of a professional athlete, you're probably going to move more often than if you're married to, say, an accountant. But still, 12 different teams, nine teams in seven years …
My wife and I got married in '94, when I was with Detroit. I was 23 years old, with my first team, so of course neither of us had any idea this would all happen. It definitely got tougher later on. When I got traded from St. Louis to Nashville, that was tough. My little guys loved school in St. Louis; they loved playing hockey with their friends there. [Editor's note: Sillinger has three sons, Owen, 10; Lukas, 7; and Cole, 4.] My wife jokes about [moving] all the time, that she never signed up for this. But she's very supportive, we have a great relationship. It can be tough for my sons, too, but I know they're also proud to have a dad who plays in the NHL.
It seems like you've really hit your stride over the past couple of years. Do you think that's because of the rule changes allowing more skating, more open ice?
When the rule changes first happened, I was in St. Louis, and I had my first 30-goal season -- 22 in St. Louis, 10 in Nashville. But the year it happened, power plays were up, and there was a lot more special-teams play. That was a huge part of it. I was playing a lot more on the power play, and ended with 14 power-play goals that year. It's not like I couldn't score before. It's just that I started getting more chances. The first year I scored 20 goals, goal scoring was actually down that year.
I've always been a player that's made the most of my opportunities. Breaking into the league with a great organization, with great leaders, you learn not to make excuses. Steve Yzerman taught me that. Guys talk about getting screwed on a contract, this and that. If you play better, someone will be watching -- either someone from your team or someone else.
How long do you think you'll play?
All the guys who are retired, they always say, "Play as long as you can." I got my first taste of what retirement was like the year we were locked out, when there was no hockey for a full year. The reason I had something to do in the morning was my kids. But still, you're waking up, and for most of the day, you've nothing to do. It really felt like a year of retirement. I remember thinking, "Oh my God, is this what's going to happen when I retire?"
You learn not to take the game for granted. I love going to the rink, being around the guys, I love that part of it. When that was taken away from me, it became very clear why those retired guys say to play as long as you can. So as long as I can stay healthy and play at a high level, I'll keep playing. I'm 36 years old. There are some days where I wake up and I don't feel so good. But then as soon as I jump on the ice, I feel great.
Jonah Keri is a regular contributor to Page 2 and the editor and co-author of "Baseball Between the Numbers." You can contact him here.