With each home run Milwaukee Brewers slugger Prince Fielder hit in his breakout 2007 season, a prototype was confirmed. Here was a big, beefy athlete swinging from the heels, producing an NL-leading 50 homers. His physique resembled an evolutionary version of his dad, Cecil, a more muscular version of another hulking and somewhat round power hitter. If you had to guess Prince's diet, you'd probably picture lots of steaks, with a side order of steak sandwiches and a steak smoothie.
But a funny thing happened in the offseason. Fielder told the world he wasn't a big meat eater at all. In fact, he'd given up animal flesh entirely after he read some eye-opening books, talked at length with his wife and soul-searched for months. At first there was some gentle poking, a few writers and talk show hosts wondering out loud whether a man who makes his living as a big, strong destroyer of baseballs could cut it on a diet of tofu and pixie dust. Ha, ha, ha.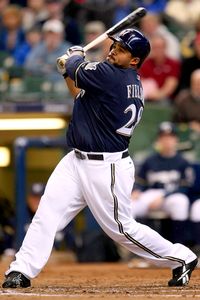 Jonathan Daniel/Getty Images
Prince Fielder was scrutinized this season when he got off to a slow start after becoming a vegetarian.
Then the season started. And Fielder wasn't hitting. One week went by, then two. Still no home runs. Now this was getting serious. Those who owned Fielder in fantasy leagues started cursing his name. The yuk-yuk set started indirectly questioning his manhood. Even some of the industry's serious journalists started shouting from the rooftops: Someone give this guy a cheeseburger already!
Fielder eventually hit his first homer of the season on April 17. But his numbers continued to lag. Three weeks into the season, he was hitting .215. Though he's since raised his average to .285, his power numbers still pale next to the monster stats he put up in '07. With the only obvious change to Fielder's regimen his switch to a meatless diet, some sports pundits have gone beyond the little digs and jokes, asking seriously whether Fielder can ever again be the player he was last year without consuming animal flesh.
Fielder, who's affable with the media, turned down an interview request for this story. A Brewers representative said Fielder talked so extensively about the subject earlier this season that he didn't want to do so anymore.
Nevertheless, the noise generated from Fielder's decision brings up broader issues within the sports world. With athletes paying more and more attention to what goes into their bodies and how nutrition affects performance, can a no-meat diet fuel success? Will more athletes turn to a meatless diet, whether for performance, or other reasons? How would such choices be received by a society that values meat eating and assumes our greatest athletes to be among the greatest carnivores? Because so many different factors affect performance, and all athletes have different bodies and metabolisms, how will we even know what's working and what isn't?
Already we've seen a number of world-class athletes move toward vegan and vegetarian diets. NBA guard Salim Stoudamire, former NFLers Desmond Howard and Ricky Williams, track and field greats Carl Lewis and Edwin Moses and others have followed that path. Four other athletes who have made the switch to vegan or vegetarian diets recently shared their thoughts on these and other meaty issues tied to their choices. Here's what they had to say:
The football player

When you're a Pro Bowl tight end, it's difficult to change your routine. Difficult, and maybe crazy. If you're in the midst of a Hall of Fame career, why change anything? As Tony Gonzalez discovered, sometimes change comes to you.
Sitting at home one day in May 2007, Gonzalez suddenly lost all feeling in his face and felt a terrible pain in the back of his head. He initially thought he was having a stroke, but hospital tests confirmed he had Bell's Palsy instead. Many doctors prescribe a diet consisting entirely of raw fruits, vegetables, nuts and seeds -- no animal products or processed foods -- as a way to improve digestion and combat the condition. A few months later, Gonzalez got another health scare, when doctors warned him of a low white blood cell count, raising the possibility he had leukemia. In the end, a mix-up with another patient's blood had caused that diagnosis. Still, with two scares in a span of a few months, Gonzalez became more attuned to his health and to what he put into his body.
Not long afterward, Gonzalez was on a cross-country flight when he struck up a conversation with the man next to him in first class. When lunchtime arrived, Gonzalez's seatmate ordered the salad with shrimp, hold the shrimp. Come dessert time, the man turned down the flight attendant's offer of milk to go with his cookies.
"So I asked him, 'Are you a vegetarian?'" Gonzalez recounted. "He said he was a vegan. Not eating meat I could understand, but I asked him why he wouldn't even drink the milk. He said that we're the only animals on Earth who drink milk after being babies."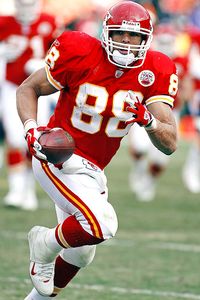 Josh Umphrey/Getty Images
Tony Gonzalez is proving that even football players can compete at a high level on a strict vegan diet.
A few years earlier, or maybe even a few months earlier, Gonzalez might have nodded politely and ended the conversation right there. But that year, he'd started to seriously ponder his long-term health and the dietary choices he was making. The health scares had opened his eyes. But more than that, Gonzalez wondered what life would be like after football. He wanted to stay in shape and live well after his playing days were done.
When the man recommended "The China Study" as a must read, Gonzalez devoured it. The 2005 book by Cornell professor and nutrition researcher T. Colin Campbell claims people who eat mostly plants contract fewer deadly diseases than those who eat mostly animals. The book got its name from diet studies and blood samples drawn from 6,500 men and women in China. Gonzalez has since met with Campbell and now plans to write his own book about dietary choices from the perspective of a 246-pound football star.
For Gonzalez, now 32, getting from Point A to Point B took a great deal of thought and self-doubt. Conventional wisdom held that eating steak and drinking a gallon of milk a day would make you big and strong and prepare you for the rigors of NFL life. Gonzalez followed that path, pounding steaks and milk, as well as pizza, hot dogs and burgers -- whatever it took to pack on the pounds. He especially loved macaroni and cheese, with an emphasis on cheese, piled as high as possible. You couldn't argue with the results. In his first 10 seasons with the Kansas City Chiefs, Gonzalez had made the Pro Bowl eight times, establishing himself as the best tight end in the league.
When he switched to a meatless diet, he wondered whether the move would backfire on him. At first, it looked like it might. In the first few weeks of his new regimen, he lost 10 pounds. His strength quickly dropped, and Gonzalez found himself unable to lift the heavy weights he'd hoisted with ease in the past. Teammates started telling him he looked skinny. "You're going to get your butt kicked" was another common refrain.
"It was a trial by error," he said. "I had to educate myself on how to do it the right way."
After reading up on vegan-friendly recipes, Gonzalez found the right balance. Though he had more than enough money to buy any foods he wanted, Gonzalez still wasn't thrilled with the prospect of spending through the nose on groceries. Instead, his grocery bills stayed about the same, but the check at restaurants got slashed with no $50 porterhouse steaks on his plate. Gonzalez says he now focuses on produce when constructing his meals. He loads up on berries, bananas and mangoes, fresh vegetables and milk alternatives like rice milk or hemp milk, then blends them into what he calls "power smoothies."
He gained back most of his lost weight, settling in around 246 pounds. His strength quickly returned. When the season started, he was shocked at how good he felt. In the fourth quarters of games, he found himself sprinting past tired defenders. He became more alert during team meetings. On the day after a game, he'd skip into the gym, while teammates looked sore, beat up and worn out.
"People were still making fun of me, because I think they wanted to make themselves feel better," Gonzalez explained. "I'd be ordering salad, potatoes, veggies. I think they felt guilty. Unless you've been in a cave, you know what's healthy and what's not healthy. But most of them still keep eating what they've been eating, because they think that's the only way to get enough protein and compete at a high level."
As the season progressed, Gonzalez's numbers picked up. Playing in his 11th season, Gonzalez made 99 catches (the second-highest total of his career), racking up 1,172 yards (the third-highest total of his career). In the previous three seasons, he'd dealt with an arthritic foot that got so bad he could barely walk the day after a game. The foot condition had forced him to give up basketball, a sport Gonzalez loved, having played varsity ball alongside the Sacramento Kings' Shareef Abdur-Rahim at Cal. Coincidence or not, the foot condition improved dramatically over the course of an offseason, to the point that he started hitting the hardwood again. Playing basketball in turn gave Gonzalez another good way to boost his training, which he says helped improve his agility.
More surprising than his improved health, he says, was the reaction of some of his friends, especially ex-players.
D'Marco Farr was a bruising NFL defensive lineman for seven seasons before injuries forced him into early retirement. Seven years after leaving the league, Farr told Gonzalez he still didn't feel 100 percent, carrying extra weight and still suffering from aches and pains. When Gonzalez told him about the changes he'd felt since going vegan, Farr jumped on board. He has since spread the word to other ex-players, including Lincoln Kennedy, a three-time Pro Bowler who retired at well more than 300 pounds.
Gonzalez has become something of a spokesman for healthy eating. When he retires, he wants to travel around the league speaking about the value of healthier diets. He's excited about the prospect of his first book on the subject. Gonzalez wants to reach out to younger players, too. He recently spoke to a group of 300 college football prospects at USC, where he counseled the group not to fall into the trap of scarfing down fatty foods just because that's the norm for aspiring players trying to pack on weight.
"I believe in moderation," he said. "I know this isn't easy. One steak or a chicken dinner once in a while, that's fine. You just have to be smart about it. When you go from eating that way to a vegan diet, you can get into situations where it's like an alcoholic going to a bar: You say you're going to have one drink, and you end up having 10."
Pin Gonzalez down, and he'll concede his new diet hasn't necessarily improved his on-field performance. Science agrees with him on that point: No conclusive studies have proven a vegan or vegetarian diet helps an athlete run faster, jump higher or throw a ball harder or farther. To Gonzalez, making the change was about living healthier and about recognizing there's a life beyond football.
"In this league, you think you're invincible, that you'll last forever," he said. "Then you look at some of the numbers, that the average football player dies young. I'm sure there are other reasons, but eating unhealthy foods and carrying around all that extra weight can't help.
"I realized football's not going to last forever. To me this isn't a diet. It's a complete lifestyle change."
The mixed martial arts fighter
For all the health and performance reasons an athlete might consider when switching to a meatless diet -- cutting out animal fats, introducing a broader range of vitamins and nutrients -- occasionally you'll find an athlete who makes the switch for entirely different reasons. In Mac Danzig's case, it takes awhile to fully digest the idea.
At a ripped 5-foot-9, 155 pounds, Danzig is a rising star in mixed martial arts. He fights under the direction of the Xtreme Couture gym in Las Vegas, training with some of the biggest names in the sport. To succeed in mixed martial arts, competitors must wield explosive strength, the kind typically linked to high-protein foods. When your job is to clobber other men into submission, a meaty diet seems like a given.
"I believed what everybody said," Danzig confirmed, "that you need animal protein in your diet if you're going to train hard and win."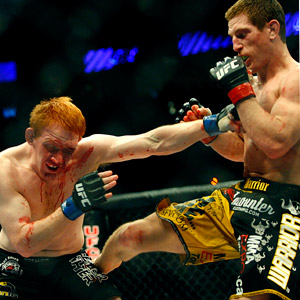 AP Photo/Ryan Remiorz
Mac Danzig doesn't seem hindered by his vegan diet. Just ask his bloodied and battered opponent.
That path butted up against beliefs he'd held since childhood. Raised by his single mom in western Pennsylvania, Danzig loved animals and has owned pets throughout his life. A nature lover from a young age, his mother would take him camping and hiking any chance they could get. He'd go to his grandmother's house in the woods and watch the birds, so much so that he learned how to identify them, cataloging each bird in a guidebook. While other kids watched cartoons, the precocious Danzig was watching "Nova," "National Geographic" and any other nature specials he could find. When he finally switched to an all-vegan diet four years ago, he did so for ethical reasons, primarily his love of animals and his concern for the environment.
He'd always wanted to go vegetarian, but he and his mom had never thought they'd had the resources to do it. His surroundings also made that kind of lifestyle change seem impossible.
"Western Pennsylvania was the same as a lot of Midwest areas," Danzig said. "There were regular grocery stores, Denny's -- that was about it. No one around us was doing anything like that, going vegetarian or vegan. So it didn't happen."
In 1999, right before he started training to become an MMA fighter, Danzig got a job at an animal sanctuary. The people who owned and operated the place were vegans and showed him that a meatless diet could be healthy and affordable if done the right way. But there was another side to their education.
"They just seemed like these fanatical vegan people," he said. "They kind of wore it on their sleeve, and I wasn't into that. I said to myself that I'd want to do it one day. But with my training about to start, I didn't think the time was right. I thought, maybe after I have a successful career, I could try it then."
Danzig dove into his training, determined to make a career out of his love for MMA competition. First he took up jiu-jitsu, then submission grappling. In 2002, he moved to California to train more seriously and compete full time. He found early success, rising to the rank of lightweight champion and winning the King of the Cage competition. To further advance his career, he entered the UFC-sponsored reality series "The Ultimate Fighter," which he also went on to win, raising his celebrity status in the sport.
As his career evolved, so did his diet. He'd already cut out all dairy products years ago, as they'd given him health problems, all the way up to debilitating ear infections, sinus problems and even vertigo. He then stopped eating mammals entirely. But poultry and fish remained staples of his diet. In 2004, he took the next step, cutting out poultry and fish and going entirely vegan. His role model was strength and conditioning instructor Mike Mahler. Danzig followed Mahler's diet down to the smallest detail. If this famed fitness guru could do it, that was proof enough for Danzig that he could do it, too. Danzig won his first fight after the switch, giving him further inspiration.
"I felt really good for that fight," he said. "I didn't have any problems with strength, didn't feel weak. I had cravings for about a month, then they stopped. I haven't had any cravings since."
Though Danzig at first feared a meatless diet would hurt his performance, he now says it has helped him recover faster from fights and workouts. Rather than heavy weightlifting, Danzig's training focuses on plyometrics (rapid muscle stretching and muscle contracting), calisthenics and various cardiovascular routines. He hasn't lost any strength, he said, and his endurance has improved, allowing him to work out longer and recover more quickly.
In the meantime, Danzig has continued to build up his career. Fighting in UFC 83 in April, he battled jiu-jitsu expert Mark Bocek for 14 minutes before forcing his opponent to submit to a choke hold. The fight was Danzig's first since winning the finale of "The Ultimate Fighter" and moving to the lightweight division.
Other challenges remain. Though his training partners and fellow competitors have respected his dietary decisions, some MMA fans have lashed out at Danzig.
"I've noticed a lot of negative things said about me, saying 'Who does he think he is?'" Danzig explained. "So many people who are vegetarian or especially vegan, really wear it on their sleeve, like they're part of some exclusive club. That's not my style."
Instead, Danzig is content to be, as some friends call him, a nature boy. When not slapping submission holds on opponents, he's passionate about backpacking. He has developed his second career, Mac Danzig Photography, and specializes in taking pictures of natural landscapes. And he's sticking to his convictions, both inside and outside the octagon.
"What I'm doing might be just a drop in the bucket," he mused. "My whole philosophy is not that it's bad necessarily -- we are omnivores, with the ability to survive on both. But in this day and age, I don't want to contribute to the meat and dairy industries if it's not necessary. That's not just for the animals. It's for the Earth, too."
The baseball player
Spend 10 minutes talking to Pat Neshek, and it becomes obvious he does things his own way and doesn't care much about what other people think. The Minnesota Twins reliever wields the most unorthodox pitching style in the game. He'll sometimes ask the bat boy to to get autographs for him from the other team, even from a player he just struck out. Though many other professional athletes have blogs, it's safe to say his is the only one that prominently features a picture of a pink "My Little Pony" backpack.
So when Neshek decided in January to cut meat out of his diet forever and risk incurring ridicule from teammates and fans -- even his manager -- it didn't come as a huge surprise. What was surprising was his reason for changing his diet.
"I read a lot of books about juicing," Neshek said.
Wait, what?!?
"Yeah, the good juicing!" he quickly explained. "I used to joke about juicing, but it got to the point where people would look at me weird."
An unheralded prospect who pitched at Butler University, Neshek spent four years in the minor leagues, improving at each stop. When he finally cracked the Twins' roster in 2006, he immediately excelled, using his funky delivery and difficult-to-hit repertoire to mow down hitters. Thrust into a set-up role ahead of closer Joe Nathan last season, he again put up big numbers, ranking as one of the best strikeout arms in the majors.
Like Gonzalez, Neshek was succeeding at his craft, which would make a major change seem like an iffy idea. But after reading a series of books by The Juice Master (also known as U.K. health and nutrition mogul Jason Vale), Neshek began questioning his own nutritional habits. After that came more books. They included scientific tomes such as "The China Study" and disturbing exposés such as "Slaughterhouse." Before reading those heavier books, Neshek's wife, who was already a vegetarian, had gobbled up "Skinny Bitch," a slickly packaged book on vegan diets that also propelled Fielder and his wife to give up meat.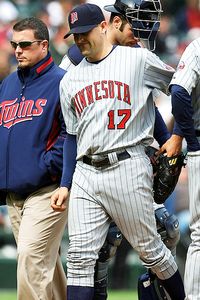 Jonathan Daniel/Getty Images
Pat Neshek's first season on a vegan diet was derailed by injury.
Neshek says his sensibilities already leaned in that direction. Eating meat, he felt, wasn't doing anything for him. As a kid, his dad would often make fresh-squeezed juice for the family, having been swayed by the infomercials of Jay "The Juiceman" Kordich. Living in Florida in 2004, Neshek took advantage of the orange and grapefruit trees in his backyard, making juice for himself both at home and on the road with his portable juicer. Soon he added apples, carrots, spinach and other items to the mix to blend in other nutrients.
"It was at that point when I started noticing how my body reacted to better things going into me," he said.
Neshek's diet changed little by little from that point. First, he tried to buy only organic foods. Like Gonzalez, he worried about the cost of shopping for high-end produce and foods, especially at his then-minor league salary.
"To be honest, I'm about as cheap as they come," Neshek noted. "And I was this way before being a ballplayer! But it's pretty easy and pretty cheap if you know how to cook. I guess the message in the end is that what you pay for is what you get. If you pay for something with no nutritional value, you are going to feel like garbage."
His next concern was whether his meals would taste bad.
"But I was wrong," he said. "The meals were more tasty, so I guess we just kept going."
Next to go were milk and other dairy products, except cheese. Neshek was in the major leagues by that point, and he phased out red meat. But his decisions didn't come easily. Neshek had wondered how he'd get the kind of protein, iron, Omega-3 acids and other key nutrients he'd need to survive the long slog of a 162-game season -- let alone excel at his sport.
By substituting items such as brown rice and beans, tofu spiced to taste like different meat dishes, and flaxseed oil and various legumes, he found that his body held up even better than expected. Though Neshek admits he's hardly a demon in the weight room, he has put on seven pounds of lean muscle since switching to his now-vegan diet and a refined workout program last offseason.
He started off this year again by averaging more than a strikeout per inning through 15 games before a torn ulnar collateral ligament knocked him out for the season. Tommy John surgery has an increasingly high success rate for major league pitchers, and Neshek's optimism won't hurt as he tries to make his way back in 2009.
That doesn't mean he should expect to completely avoid ribbing from others in the dugout, though. Neshek says he has gotten some questions from teammates wondering why he went vegan. Most of them have respected his decision, with a few, including fellow pitchers Scott Baker and Dennys Reyes, asking questions in an effort to learn more. Manager Ron Gardenhire, however, is another story.
"At first he liked to kid me about what I was eating," Neshek said. "One day, he walked over to the food stand in spring training, grabbed a hot dog and started [saying] something like, 'Mmmm, meat … Don't you just love meat? … mmmm …' I looked at him and smiled and said, 'Meat? I don't think that hot dog contains much meat, if any.' He laughed. He's been the toughest on me, in a good way."
The ultramarathon runner
Ultramarathon running is already tough enough. A typical race can cover 100 miles or more, often in scorching heat, blistering cold or at dizzying elevation. As one of the leading ultramarathon runners in the world, Scott Jurek has had to deal with all of those challenges and more, vaulting scorpions in the desert, even meeting an occasional bear on the trails.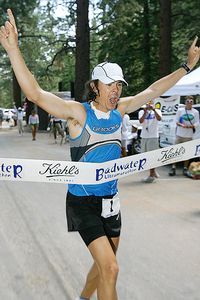 Robyn Beck/AFP/Getty Images
Scott Jurek is proof that athletic endurance doesn't have to be compromised by a vegan diet.
But Jurek adds another degree of difficulty to the mix. As a strict vegan, he goes through his grueling training regimen on a diet consisting of fruits, vegetables, grains and nuts. This seems completely impossible when you consider Jurek's typical calorie intake during peak training periods: 6,000 to 8,000 calories a day. Despite all that calorie loading, he packs just 165 pounds on his super lean, 6-foot-2 frame.
"For breakfast it's a dense, caloric smoothie," Jurek explained. "Then you've got lots of fruits and almonds. People assume it's all carbs. But there's also fat -- avocados, rich monosaturated fats, almonds, olive oil."
He's just getting warmed up.
"For protein you've got beans, lentils, combining whole grains. Tofu and tempeh. Then for carbs: whole grains, breads, cereals, fruits and veggies, whole foods, unprocessed foods. There's three main meals, then lots of smaller snack foods and mini-meals throughout the day."
Jurek's background didn't seem to portend a vegan diet years later. Born and raised in Minnesota, Jurek lived on meat and potatoes, regularly going out for hunting and fishing expeditions. After competing at Nordic skiing in his younger days, he ran his first ultramarathon in 1994.
As his ultramarathon career progressed, Jurek began phasing out meat from his diet. In 1999, Jurek read "Mad Cowboy," the investigative book about the beef industry that prompted Oprah Winfrey to famously declare she'd never eat another burger. He became a vegetarian that year. Then, just before taking on the 100-mile Western States Endurance Run, he went vegan.
"I had my doubts, sure," Jurek recalled. "Am I going to be strong enough, have enough protein? There were all those common disclaimers, how it would affect my performance. When I went on to win the race, I realized it was all just this mental barrier. After performing well on [the vegan diet], I never really doubted it afterwards."
Neither did Jurek's rivals. Not after he went on one of the most dominant runs in the history of his sport, including seven straight Western States victories. Instead, he often gets feedback from other distance runners, with everyone from beginners to high-level competitors telling Jurek that he inspires them to train harder and to seek out alternative diets.
Still, Jurek says he never tries to impose his personal choices on anyone else. Nor does he see his vegan eating as a way to enhance performance. Like Danzig, Jurek says his diet does help him indirectly, in that it helps him recover from the pounding that his sport dishes out. A lot of people excel at ultramarathon running while living on unhealthy diets, he says.
"But where are they going to be in 20 years?" Jurek asked. "For me, it's about optimizing health. It's about lifestyle and longevity. Then you think about what vegetarian diets can do for the mass population, in terms of lower consumption of resources. When you look at the numbers, it's pretty staggering."
Traveling around the world, while competing everywhere from Death Valley to Greece, Jurek has learned how to maintain his vegan diet wherever he goes, without skimping on taste. So, Scott, any tips to pass along to others thinking about going veggie, or even vegan?
"It's really not that hard once you get things down," he said. "You just have to be a little creative. Sometimes you may not find a great vegetarian protein source in a restaurant -- no tofu, for instance. So you can do something like add chick peas to salad. Ethnic foods are good, too. Mexican beans, Asian tofu, Indian lentils. [To] some people it's this weird diet. But most grocery stores have a plethora of foods. Just keep variety in your diet, and you'll be good."
Jonah Keri is a regular contributor to Page 2 and the editor and co-author of "Baseball Between the Numbers." You can contact him here.