Welcome to Page 2's third annual midseason review mega-nostalgia jubilee. For those of you new to the concept, here's how it works: We review the year-to-date performances of all 30 MLB teams and look ahead to their future prospects. Instead of assigning a letter grade to each team, every club gets a player from a past big winner to illustrate how they've done.
Last year, with the Brewers the big story in baseball midway through the season, we assigned a member of the '82 Brewers to every team (Robin Yount to the Brewers, Rollie Fingers to the Red Sox, etc.) to tell the story of that team's season. In 2006, the Tigers were on top of the baseball world, allowing us to dig up members of the '84 Tigers and dole them out to each current team (Sparky Anderson for the Tigers, Chet Lemon for the Cardinals and so on.
This year's biggest story has been the best-in-baseball Tampa Bay Rays. But considering how often we've been covering them lately and that the Rays have no glory days worth revisiting, we needed another choice. With the Cubs tied for the second-best record in the game and going for their first World Series title in 100 years, they seem like the natural choice. Besides, after giving last year's love to the Brewers, only to have the Cubs chase them down and win the NL Central, we owe one to the North Siders.
Just gotta crank up "When Doves Cry" for some 1984 flavor (a pain Shelbyville Milhouse knows all too well) ... and we're off.
NL EAST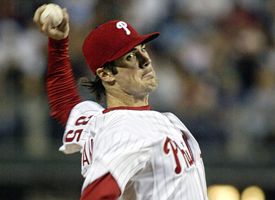 H. Rumph, Jr/AP Photo
Cole Hamels was left off the NL All-Star team despite a 9-6 record, 3.18 ERA and .204 batting average against.
Philadelphia Phillies (50-43): Ron Cey
The Penguin led the Cubs in homers and RBIs in '84, enjoying his last solid season as a regular at age 36. This year's Phillies rank second in the NL in homers and runs scored, with a power core of Ryan Howard, Chase Utley and Pat Burrell and complementary hitters like Jimmy Rollins and Jayson Werth that make the team an offensive force. But do the Phils have enough starting pitching to hold onto first place all year, let alone make a run deep into the playoffs? Cole Hamels is having another monster season, but Jamie Moyer and Kyle Kendrick have been merely functional behind him and Brett Myers was so bad that the Phillies sent his 5.84 ERA and $26 million contract to the minors.
The Phillies might benefit more than any other team in baseball from one big move. Acquire a second ace the way the Brewers did with C.C. Sabathia and suddenly you have a team with a killer offense, a monster bullpen with the best quartet in the majors (Brad Lidge, J.C. Romero, Ryan Madson and Chad Durbin) and two starters to carry the load. The big question is whether Pat Gillick waited too long to make a move. A.J. Burnett and Erik Bedard have both performance and health questions hanging over them, and there may not be another top pitcher on the trade market.
Florida Marlins (48-44): Jay Johnstone
The Marlins are one of the most fun teams in baseball, with a total payroll lower than A-Rod's salary and a bunch of young bashers who've shocked everyone by leading the majors in homers, even after Miguel Cabrera's departure. A division that lacks a complete team and the additions of injury-healed Josh Johnson and top prospect Chris Volstad to the starting rotation give the Fish a fighting chance to pull a shocker and win the East.
Johnstone was reduced to pinch-hit duty late in his career, but he continued to deliver in that role with the Cubs, while also keeping his reputation alive as one of baseball's biggest pranksters. His best gag came while with the Dodgers. Dressed up in Tommy Lasorda's uniform with heavy padding underneath to imitate his skipper's generous physique, Johnstone ran out to the mound to talk to a Dodgers pitcher, carrying a copy of Lasorda's book and a can of Slim Fast with him. Johnstone served as a constant reminder that baseball is supposed to be fun, a message that gets lost with today's buttoned-down personalities. Well, except for underdog teams like the Marlins, and the Slip 'n' Sliding Texas Rangers.
New York Mets (48-44): Keith Moreland
Moreland was a garden-variety outfielder who had enough pop to be useful but needed better players around him to be part of a championship team. The Mets have likewise produced run-of-the-mill results, playing just a game above .500 since Labor Day of last year. It's weird to say that about a team with David Wright, Jose Reyes, Carlos Beltran and now Johan Santana. But the Mets have done a poor job of developing young talent post-Wright and Reyes. They've also had misfires on seemingly minor trades (Heath Bell to the Padres) and now lack the depth they need to cover for multiple injuries. Despite all those factors, they're tied for second, just 1½ games out in the East. If Oliver Perez can continue his recent hot streak and recapture his '07 form, they just might pull it off.
Atlanta Braves (43-49): George Frazier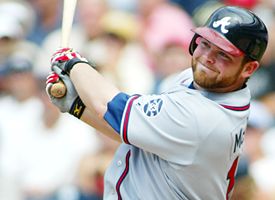 Rob Leiter/Getty Images
With 17 home runs and 50 RBIs, Brian McCann is that rare catcher who can produce big numbers.
Frazier comes from a species of player that no longer exists: The high-inning relief pitcher. He topped 100 innings three years in a row during his prime, including 108 combined innings for the Indians and Cubs in '84.
Are the days of winning Braves teams also behind us? If Atlanta misses the playoffs this season, that'll be three years in a row, following a stretch of 14 division titles in 15 years. There are some encouraging signs, though. The Braves' young pitching has been a revelation, Brian McCann has evolved into one of the most productive catchers in the game, Jeff Francoeur is too talented to keep struggling this badly, and there should be plenty of money available once Mark Teixeira bolts for free agency. Actually, with a plus-30 run differential that's better than everyone in the division except the Phillies', the Braves might be better than their record suggests, and a sleeper team to watch in the second half.
Washington Nationals (35-58): Larry Bowa
Bowa was never much of a hitter. But at age 38, he was one of the worst in the game (.223/.274/.269), making him the black sheep of an otherwise excellent Cubs team. Meanwhile, the Nationals have resembled the ghastly kid you leave in the attic and feed with fish heads in an otherwise competitive NL East. Their best player's out for the year, their lone All-Star representative has a career .305 OBP, and a once-promising young outfield of Wily Mo Pena, Lastings Milledge and Austin Kearns now looks horrendous. Most alarmingly, the great Montreal-to-D.C. experiment has yielded many of the same problems that the Expos faced, with the Nats bringing in the smallest TV audience of any MLB team, by a wide margin.
With a new stadium, plenty of youth on the roster and an improving farm system, there's hope for better things down the road. Just not this year. Or next. And probably not the year after that either.
NL CENTRAL

Chicago Cubs (55-37): Gary Matthews
Matthews' OBP surged to .410 in '84, making him a cornerstone of the team's offense and the fifth-place finisher in the MVP voting. The Cubs have surged to a .360 OBP this season, best in baseball. That's up 27 points from last season's 18th-place showing.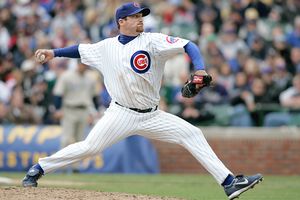 Scott Boehm/Getty Images
What, you didn't have Ryan Dempster on your preseason Cy Young favorites list?
A quarter century after Matthews' on-base abilities helped spark a 25-win improvement for the Cubs, Kosuke Fukudome has provided a similarly huge boost, with a team-leading .392 OBP. Big seasons from Ryan Theriot (.388 OBP), Mark DeRosa (.372 OBP) and rookie catcher Geovany Soto (.289/.372/.535, 24 doubles and 16 homers) have also been huge in turning the Cubs into baseball's best offensive team, and a vastly improved squad compared to last year's division winners. If Ryan Dempster keeps up his startling near-Cy Young form (maybe) and Rich Harden stays healthy (big maybe), this team has no weaknesses -- and becomes as good a bet as anyone to win it all.
Milwaukee Brewers (51-41): Rick Sutcliffe
It's an obvious comparison to make: '84 Cubs make an in-season trade for Rick Sutcliffe, who goes 16-1 in the NL, wins the Cy Young and leads the Cubs to the NLCS. The Brewers make an in-season trade for C.C. Sabathia, followed by … well, that's the question. The Crew has reversed last year's fast start/weak follow-up, starting 20-24 but going 30-17 since. They were doing it before Sabathia came on board, with an offense loaded with young stars like Ryan Braun, meat-free Prince Fielder, Corey Hart and J.J. Hardy, an ace-worthy effort from Ben Sheets and surprise contributions from role players like three-true-outcomes overlord Russell Branyan. This is now a team that's built to withstand the rigors of a long season and wreak havoc in the playoffs.
The possibility of a Cubs-Brewers NLCS to decide the pennant, with long-suffering fans of both teams yelling at each other from 90 miles away, is almost too good to imagine. Plus, then maybe we could finally push Favre Watch to the sidelines for good.
St. Louis Cardinals (51-42): Bob Dernier
Dernier enjoyed a where-the-heck-did-that-come-from season in '84, posting a .356 OBP, 45 steals, 94 runs scored and a 17th-place MVP finish. Ryan Ludwick (.281/.361/.569) has been a huge surprise for the Cardinals and one of the biggest catalysts for their own where-the-heck-did-that-come-from season. Also deserving praise: The efforts of pitching coach Dave Duncan, who's performed two more miracles this year with Kyle Lohse and Todd Wellemeyer, and the quiet effectiveness of general manager John Mozeliak, who nabbed Lohse for a ridiculously low one-year, $4 million contract, while the Mariners invested the GDP of Belgium in the disaster that is Carlos Silva. The Cardinals may end up the victims of circumstance, though, compiling a 90-win season but falling short behind the loaded Cubs and Brewers.
Cincinnati Reds (44-49): Thad Bosley
Bosley was a mostly unremarkable player who became known for an oddity. With the Royals in 1987, Bosley pinch-hit in the eighth inning of a July 5 game against the Blue Jays, reaching on an error and later scoring the tying run. He stayed in the game to play second base. This event was notable because Bosley threw left-handed. In the 21 years since, no lefty-thrower has ever played second base or shortstop in a major league game.
The Reds have been a beacon of weirdness in their own right. They traded away Josh Hamilton, the guy who might win the AL MVP award, only to get back the guy who might win the NL Cy Young award, Edinson Volquez (11-3, 2.36 ERA, 116 K's). Also on the roster: Johnny Cueto, who allowed one hit and struck out 10 in his first major league start and looks like Pedro Martinez at times; Aaron Harang, fourth in Cy Young voting last season; perennial 40-home run hitter Adam Dunn; standout rookie first baseman Joey Votto; elite closer Francisco Cordero; future MVP candidate Jay Bruce; All Star-caliber second baseman Brandon Phillips and future first-ballot Hall of Famer Ken Griffey Jr. For all of those fascinating assets, the Dusty Baker-managed Reds are going nowhere yet again. Expect major changes this offseason, Walt Jocketty's first as the new GM.
Pittsburgh Pirates (43-48): Dickie Noles
Noles was the Cubs' resident arsonist, compiling a 5.15 ERA in an otherwise solid bullpen. The Pirates' once-promising set of young starting pitchers now looks abysmal, with Zach Duke, Tom Gorzelanny, Paul Maholm and presumptive staff ace Ian Snell all flailing and the Bucs owning the worst team ERA in baseball. On the plus side, the Pirates somehow woke up with baseball's best outfield, with Nate McLouth, Jason Bay and Xavier Nady providing offensive fireworks, the latter two being among this year's top All-Star snubs.
Considering that offense looked like the team's prevailing problem with pitching the strong suit, could a few pitcher turnarounds, combined with some well-placed moves, make the Pirates a surprise contender in '09? Stranger things have happened.
Houston Astros (42-50): Porfi Altamirano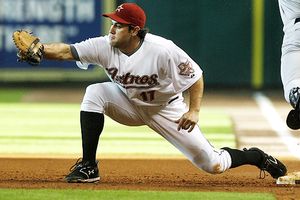 Icon SMI
It's not a stretch to say that without Lance Berkman the Astros would be the worst team in baseball.
The '84 Cubs player with the best name meets the '08 player with the best game, Lance Berkman. Fat Elvis is having a vintage Stan Musial season that would make him a runaway MVP candidate on a team that wasn't appallingly bad otherwise.
Sadly, Berkman's efforts have been spectacularly wasted. Five of the Astros' starting eight and four of the team's five top starters are over 30, and J.R. Towles, Michael Bourn and Hunter Pence have been huge disappointments in trying to carry the youth vote. For all the Steinbrenners and Angelosii who get outsized reputations as damaging, meddling owners, Drayton McLane's pressure tactics to overpay and keep big-name players past their expire dates has turned one of baseball's best teams in the late '90s and early aughts into one of the bleakest franchises in the majors. Don't expect much help from a barren farm system either. The Astros could end up one of the three worst teams in baseball over the next half-decade.
NL WEST

Arizona Diamondbacks (46-46): Lee Smith
One of the worst seasons of Smith's illustrious career was still good enough for the Cubs in '84. Could the Diamondbacks pull off a similar feat this year, riding a .500 record to an NL West crown? They may have to get there that way, if the offense keeps sputtering.
The D-backs have gotten Cy Young-caliber performances from Brandon Webb and shrewd offseason acquisition Danny Haren. But the offense has been subpar for the second straight season, ranking just 11th in the NL in runs scored despite playing in one of the league's best hitter's parks. Stephen Drew and Chris Young have stalled in their early-career development, while Justin Upton has struggled after a fast start. But the biggest problem has been in left field. Eric Byrnes was awful before succumbing to season-ending leg injuries, undermining the confidence that management showed in handing him a multi-year contract extension. Homegrown outfielder Carlos Quentin would've made for a great replacement, but he's challenging for AL MVP honors with the White Sox after a giveaway offseason trade. Rumors have circulated lately that the D-backs might pursue Barry Bonds, giving the team a sorely needed lefty bat. The Snakes deny interest.
They shouldn't. Sign Barry, even off for four months, and their playoff hopes improve dramatically. A trade for Adam Dunn would also work. Standing pat could be a disastrous decision.
Los Angeles Dodgers (45-47): Dick Ruthven
Shockingly, Ruthven (the No. 1 overall pick in 1973) was the Cubs' Opening Day starter in '84. It's shocking because Ruthven went on to post a 6-10 record with a 5.04 ERA that was 23 percent worse than league average. The Cubs got lucky, in that carrying him in the rotation all year (save for a two-month stint on the DL) didn't come back to bite them. They at least had the good sense to leave Ruthven off the roster for the NLCS.
The Dodgers don't have that wiggle room. They have two everyday players -- Juan Pierre and whoever's playing shortstop -- who are at or below replacement level. Yet the team might not upgrade either spot: Deluding themselves into believing a broken-down Nomar Garciaparra can handle shortstop looks like a possibility, as does leaving Pierre in the lineup to wage his daily quest to hit the ball out of the infield. As with the D-backs, seeing the Dodgers do nothing would be a shame. They've got enough quality prospects to make deals, and they're just a game out of first with Arizona in a free fall.
San Francisco Giants (39-53): Warren Brusstar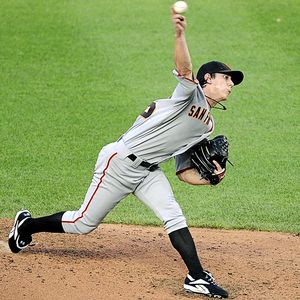 Mark Goldman/Icon SMI
Tim Lincecum is 10-2 despite pitching for a team that struggles to score runs.
Check out Brusstar's 1978 Topps card, from his days with the Phillies. Why don't baseball players look like this anymore? Five-inch perm, adult film star 'stache, wad of chaw the size of a grapefruit (OK, maybe Big League Chew now) -- those were the days.
Likewise, the Giants are just a shadow of their former selves, whether compared to the big Bonds years, or even back to the days of Mays and McCovey. They haven't been as bad as some of the doomsday predictions suggested, but that's setting the bar pretty low. They have the most compelling young pitcher in the game in Tim Lincecum, great tag-team partners in Matt Cain and Jonathan Sanchez … and almost nothing else. The farm system's slowly improving, but it's going to take time to reverse years of punting the draft and any semblance of building from within before the Giants become relevant again. If I were Brian Sabean, I'd get my resume ready.
Colorado Rockies (39-54): Chuck Rainey
Rainey spent nearly his entire career playing for the two teams that at the time carried the longest championship droughts, and supposedly the biggest curses: the Red Sox and the Cubs. Then just when it looked like Rainey might get a shot at a playoff share, the Cubs shipped him to Oakland at the deadline in '84.
Nothing has gone right for the Rockies this season either, after a perfect convergence of inspired play and late-season luck fueled Colorado's charge to the World Series. The middle infield's been racked with injuries (with Troy Tulowitzki suffering through one of the worst sophomore slumps of all time), Willy Taveras has become an offensive sieve, Todd Helton has shown Neifi-esque power, and young starters Jeff Francis, Franklin Morales and Greg Reynolds have lost a lot of their luster after dismal year-to-date performances. Last year was probably a case of too much, too soon for the Rockies. If they get a suitable bounty for Matt Holliday and keep developing young talent, though, an '07 repeat might not be far off.
San Diego Padres (36-56): Richie Hebner
The world needs ditch diggers too.
--Judge Smails, "Caddyshack"
Though he had an excellent 18-year career -- and a strong '84 season in which he hit .333 in 81 at-bats -- Hebner was a known ditch digger. Specifically, he dug graves at a cemetery owned by his father in the offseason throughout much of his career.
The Padres have played more like the ditch diggers that the esteemed judge had in mind, the kind confined to copious shoveling because they're failing at other pursuits. Khalil Greene has tanked after his 27-homer breakout, the catcher position has been a black hole, Trevor Hoffman's running on fumes, and the non-Peavy wing of the starting rotation has fallen short of expectations. Peavy, Adrian Gonzalez, Chase Headley and Kevin Kouzmanoff are keepers. Kevin Towers should aggressively market anything else that's not nailed to the floor.
Monday, we'll roll out the AL midseason review. Until then, in the immortal words of Jean-Paul Sartre, "Au revoir, gopher."
Jonah Keri can be reached at jonahkeri@gmail.com.