If there's one thing Albert Pujols does not do on a baseball field, it's surprise people.
He puts up the same numbers every year. He's so good so often that we run out of things to say about him. His demeanor never changes. He swings, he crushes the ball into the stratosphere, he rounds the bases. He's the most consistent player in all of baseball. He's the most consistent professional athlete on the planet. He may be the most consistent player in any sport ever. If he were publicly traded on Wall Street, he'd be the one stock that delivers steady growth, shaking off recessions and the collapse of the country's banking and mortgage structure, while others fall to pieces.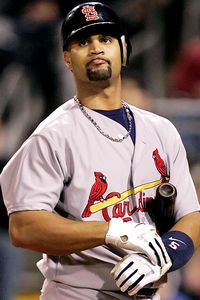 AP Photo/Gene J. Puskar
Albert Pujols' consistent excellence at bat, on the basepaths and in the field is unmatched in the National League.
Albert Pujols is a metronome, and some people are bored with him.
That's the impression you get when you read the sports pages these days. Pujols leads the majors in a slew of categories, from slugging average and OPS to more advanced stats like Value Over Replacement Player and Runs Created. He's one of the best baserunners and defenders in the league at his position. There is no good statistical argument that could possibly favor any other player in the league as more valuable this season.
Yet again and again, we read another tortured argument for a vastly inferior player as NL MVP. The arguments against Pujols, and in favor of lesser candidates, get more ridiculous by the day. Here's a recent sampling of some beauties from various baseball columnists:
"Albert Pujols is the NL's best hitter, hands down. Through Friday, he was first in on-base/slugging (1.098), second in batting average (.353) and hits (177), tied for fourth in doubles (42), tied for fifth in homers (34) and seventh in RBIs (107). If the fourth-place Cardinals were in a pennant race, he would win the MVP voting in a landslide."
Makes sense. Albert Pujols has been, by far, the best player in the league. But Adam Kennedy and Cesar Izturis are terrible. So Albert Pujols can't be MVP.
This is faulty argument No. 1 for why the best player shouldn't win the award. Only a player who leads his team to the playoffs should get the honor. But wait; that's not all. Ideally the MVP should come from a team that not only makes the playoffs, but does by a slim margin. After all, the Angels would've made the playoffs this year even if Francisco Rodriguez (or Vladimir Guerrero, or Joe Saunders, or Ervin Santana) weren't around.
"Philadelphia's Ryan Howard wasn't in MVP discussions a month ago because of his low average and high strikeout total. But he's there now, thanks to his numbers since Aug. 27: .369 (31-for-84), 11 homers, 31 RBIs. He's the NL's leader in homers (46) and RBIs (141), and he's leading the Phillies' latest surge."
Apparently some MVP voters only count games that start after Aug. 27 and have no qualms about choosing a player with negative defensive value, who hits .247 against the field (a Mario Mendoza-like .217 against lefties) with a lower OBP (.336) than Pujols' batting average (.349).
This goes to another voter bias: rewarding supposed clutch ability. Ryan Howard saves his best performance for the last five weeks of the season. For that, he's rewarded with gobs of MVP speculation, and maybe even the trophy itself a few weeks from now. There's no penalty for his more pedestrian performance from April to late August. The Phillies needed wins before Memorial Day as surely as they do after Labor Day. But contributions are valued differently at different times of the year -- even if the final numbers end up the same. Meanwhile, Pujols dominates for a full 162 games, and he's somehow downgraded for not raising his game late in the year -- even if he did more to help his team from wire to wire than anyone else.
"Pujols' team faded. I don't think he's a factor. Delgado or Ryan. The Delgado-Howard MVP race changes every day."
That comment wasn't from a columnist, but rather Hall of Fame third baseman Mike Schmidt. But the argument for Delgado remains equally puzzling no matter who makes it.
| | | | |
| --- | --- | --- | --- |
| Player | AVG | OBP | SLG |
| Pujols | .349 | .453 | .633 |
| Delgado | .271 | .351 | .520 |
Pujols is the best defensive first baseman in the league. Delgado … isn't. Pujols runs the bases better than any first baseman in the league. Delgado … doesn't. When Delgado finished the month of April hitting .198, there were calls for the Mets to cut him. At the end of June, he was hitting .228. Pujols has been the best player in the league all year. But Delgado is the MVP candidate?
Schmidt's comments aside, Delgado is a classic media creation, a case where storyline trumps actual on-field contributions. Pujols being great every year doesn't sell papers. The Comeback Kid story, an aging first baseman who looks washed up halfway through the season, only to emerge with a big second half and redeem the team that choked last year … now that sells papers. Every year we get at least one bizarre candidate entering the MVP discussion. Shannon Stewart's parlay of his successful second-half slap hitting in 2003 comes to mind. Delgado this season is another prime example.
"It's almost as if we want Carlos Beltran to be our own personal A-Rod. In Beltran, we have a bonafide superstar ballplayer who we collectively jump on at the first sign of duress while we fail to properly offer accolades when they're deserved. He's done nothing to deserve that except failing to lift the bat off his shoulder against Adam Wainwright in the 2006 NLCS. He might get a shot at redemption this October. Let's hope so."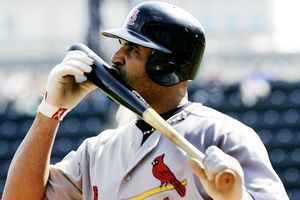 AP Photo/Gene J. Puska
There's no denying Pujols swings a sweet bat.
Every word in that paragraph is spot on. Beltran (.281/.372/.502, 21/24 SB, Gold Glove defense) gets more undeserved scorn than any player short of A-Rod, derided for the things he supposedly can't do and underappreciated for the things he does so very well (Joe Posnanski, as usual, gets it). It doesn't mean Beltran has come close to equaling Pujols' contributions this year.
"It's a tough call. Wright's Mets have faded late, and that might have cost him an MVP last year. But his top competitors are Ryan Howard, whose .248 batting average would be the lowest ever for an MVP, and Albert Pujols, who missed nearly a month of the season."
Wright is (.297/.384/.533, 15/20 SB) one of the best players in the game. But last season was the year to vote for him; he doesn't stack up to Pujols this year.
"No one has done as much for a single team this season as Manny Ramirez has done for Los Angeles. Not only has he transformed the Dodgers, he has changed the balance of power in the National League."
CC Sabathia (15 NL starts this season) had the same argument in his favor until the Brewers went into September tank mode. Ramirez has been a Dodger for an even shorter time, playing exactly 48 games in the National League this year.
This type of reasoning can get boiled down to absurdity if we let it. There's no denying Manny's major impact on the Dodgers' fortunes this year. But once we start reducing player value arguments to a span of a couple months, why not take it down even further? If a player does all his damage in September and his team wins, is that better than Ramirez doing it for two months? What if the season comes down to a tie in the standings with one game left -- and a pitcher throws a shutout? Would that be a more indispensable performance?
In fact, why not just reduce all of this to a single play? Maybe the most valuable players in major league history aren't players at all. Perhaps more credit should go to Don Denkinger, Jeffrey Maier, and Steve Bartman.
"Juan Pierre hit a home run. For that reason alone, Dodgers left fielder Manny Ramirez merits strong consideration in the National League MVP race."
You can't even make this stuff up.
If Pujols doesn't win the MVP award this year, it'll be the second time in the past three years that he deserved to win, but didn't. In 2006, Pujols led Howard in every category (in most cases by a wide margin) except homers and RBI and also led his team to an NL Central crown and an eventual World Series crown (while Howard's Phillies missed the playoffs). Yet Howard edged out Pujols for the award. If Barry Bonds wasn't putting up numbers that no one in the sport's history had seen before, Pujols would have several more trophies to add to his 2005 award.
But Pujols' status as the underappreciated superstar goes beyond mere hardware. Many MVP voters will find any excuse possible to vote for a player on a playoff team, no matter how good another player's numbers may be (except in 2006, apparently -- and a few other times). Other voters fail to consider context, figuring that position, park effects and other factors shouldn't matter. Still others do go by the numbers -- just the wrong ones.
No, Pujols' relative lack of recognition, given his incredible accomplishments, runs deeper than trophy talk. At age 21, Pujols had one of the best rookie seasons in sports history: .329/.403/.610, with 37 homers and 130 RBI. Since then, he's been the same player every year. He hits .330, slugs .600, gets on base at least 40 percent of the time, hits between 30 and 50 homers, never makes a mistake on the bases and plays near-flawless defense. Every single year. Eight years in a row. Most recently, with the prospect of major surgery hanging over his head on a daily basis. Pujols ranks fifth on the career OPS list. The players ahead of him? Babe Ruth, Ted Williams, Lou Gehrig, and Barry Bonds.
As amazing as that kind of high-level consistency is, it doesn't pop. Carlos Delgado's back-from-the-dead comeback? That pops. Josh Hamilton, a former No. 1 overall pick who washed out of the game on a wave of drug abuse and erratic behavior, then returned to hit a bunch of homers and light up the Home Run Derby? Pops. Manny Ramirez, linchpin of the most famous World Series-winning team in decades, a malcontent with dreads, baggy pants and an attitude who gets himself traded from one behemoth media market to another, then lights up the league? That definitely pops.
Not everyone is bored with Pujols' greatness. Cardinals fans get it. Students of the game get it. In fact, Pujols getting overlooked may simply be a function of the headline-obsessed media, eager to jump on the next, big thing, ignoring the bigger thing that's been staring them in the face all along.
For Albert Pujols, excellence is not an act, but a habit. Give him his due.
Jonah Keri is a regular contributor to Page 2 and the editor and co-author of "Baseball Between the Numbers". You can contact him at jonahkeri@gmail.com.
Also See
ESPN Top Headlines