We may have a contender for best fan reaction to a sports event, ever. From ESPN.com's story on Matt Millen's firing:
"I've been a season-ticket holder for 28 years and because they fired Matt Millen, I'm going to renew," said Detroit Lions fan Eddie Gates.
"This is the happiest day of my life."
You can't blame Lions fans for getting emotional over Millen's sacking. Their deposed general manager's track record of failure makes the Washington Generals look like winners. Millen presided over one of the worst series of drafts in sports history. His player personnel decisions fueled a run of losing seasons that was as dull as it was depressing.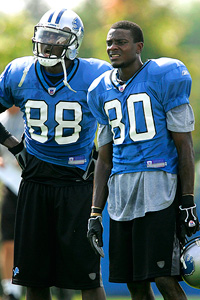 AP Photo/Paul Sancya
Mike Williams and Charles Rogers: two of the Lions' bounty of wide receivers from the Matt Millen era.
The hardworking folks in the ESPN research department held their noses long enough to dig up the stinky results. Millen's nine first-round draft choices, they note, have combined for one Pro Bowl appearance. Only five of the nine top picks remain with the team.
Relatively speaking, Millen's first three picks as Lions GM, in 2001, were good ones:
OT Jeff Backus (first round), Michigan: started every game for Lions (115) since being drafted in 2001.
C Dominic Raiola (second round), Nebraska: has played in 115 consecutive games (99 straight starts). That's the longest active games-played streak in the NFL by a center.
DT Shaun Rogers (second round), Texas: one of two Pro Bowlers selected by Millen. Rogers was traded to Cleveland in March. Millen later told SI.com, "Mark my words: If Shaun Rogers is healthy, he'll be the NFL Defensive Player of the Year." Huh?
It got worse after that. Much, much worse. After the success of 2001, Millen began laying a series of eggs. Quality aside, his picks also grew stranger by the year, as Millen turned the Lions franchise into a game of "EA NCAA Football," run 'n' shoot edition. After four first-round wide receiver picks in six years, Millen finally got a pair of viable wideouts -- with gaping holes almost everywhere else on the field.
Lions' first-round picks under Matt Millen
Year
Position
Player
College
Notes
2008
OT
Gosder Cherilus
Boston College
Zero starts in three games
2007
WR
Calvin Johnson
Georgia Tech
six touchdowns in 13 career starts
2006
LB
Ernie Sims
Florida State
1.5 sacks in 35 career starts
2005
WR
Mike Williams*
Southern California
two touchdowns in six starts for Lions
2004
WR
Roy Williams
Texas
29 touchdowns in 54 career starts, Pro Bowl in 2006
2004
RB
Kevin Jones*
Virginia Tech
27 touchdowns in 49 starts for Lions
2003
WR
Charles Rogers*
Michigan State
four touchdowns in nine career starts
2002
QB
Joey Harrington*
Oregon
62 interceptions in 55 starts for Lions
2001
OT
Jeff Backus
Michigan
started all 115 games of the Matt Millen era
* No
longer
with team
Millen's string of draft failures, combined with the team's dismal record during his tenure and the groundswell of "Fire Millen" enthusiasts he inspired, make the $5 million (a year!) man No. 1 on our rundown of worst GMs (minimum tenure of six years). In compiling this list, we tapped into a Page 2 article from last year, "The GMs We Love to Hate." We stripped out shorter-tenured candidates such as Isiah Thomas, considered suggestions for other tweaks and shortened the list from 25 to 10.
1. Matt Millen, Detroit Lions (31-84, .270 winning percentage in seven-plus seasons):
• Four years into his tenure -- all sub-.500 seasons -- owner William Clay Ford was impressed enough to give Millen a five-year contract extension at $5 million per year.
• Has drafted 5,720 wide receivers in the first round of the NFL draft, a record that will never be broken.
• The "Fire Millen" slogan became a phenomenon in Michigan and elsewhere. "Fire Millen" chants, signs and T-shirts have shown up at Lions, Red Wings, Pistons, Michigan and Michigan State games, at WrestleMania, across the country. A Detroit radio station organized the "Millen Man March" after Millen's contract extension was announced in December 2005. For years, fans of rival teams held up "Keep Millen" signs.
2. Elgin Baylor, Los Angeles Clippers (619-1153, .349, 21 seasons): A major caveat to start: When you're employed by Donald Sterling, for years one of the cheapest owners in sports, you're already running the team with one hand tied behind your back. Still, plenty of sports franchises have succeeded with small payrolls (Tampa Bay Rays, anyone?). Baylor's track record includes a 12-70 debut season that ranks as one of the worst ever, five seasons of 65 or more losses and just two winning seasons. When Baylor won the NBA Executive of the Year award in 2006 after guiding the Clippers to a 47-35 record, it was the ultimate backhanded compliment. Voters were probably just shocked to see the Clips claim their first winning season in 14 years.
3. M. Donald Grant, New York Mets (1277-1550, .452, 17 seasons): Part of the old guard that still saw players as indentured servants, Grant refused to accept the advent of free agency in baseball. He then refused to pay anything close to market value for top talent, preferring to trade away the team's most expensive players. That led to the infamous trade of Tom Seaver, an event which still drives many Mets fans nuts. Don't forget that Grant included Nolan Ryan in a package deal for Jim Fregosi in 1971, one of the most lopsided trades ever made in any sport. If not for the Miracle Mets of '69, Grant might've trumped even the mighty Millen.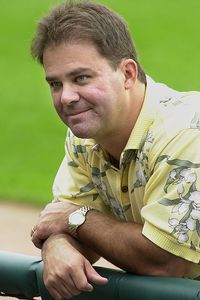 AP Photo/Carlos Osorio
Randy Smith teamed with Millen to make Detroit the cradle of rotten general managers.
4. Randy Smith, Detroit Tigers (551-745, .425, eight-plus seasons): Traded six players for Juan Gonzalez. Offered Gonzalez $140 million … and had the deal rejected. Signed players such as Bobby Higginson and Damion Easley to expensive contracts, even though interest from other teams was minimal. Matt Anderson (No. 1 overall in 1997) and Eric Munson (No. 3 overall in '99) headlined his draft disasters. Traded away Luis Gonzalez, Travis Fryman, David Wells, Cecil Fielder and Brad Ausmus (twice) in lopsided deals. Architect of three 100-loss teams, the last one a 43-119 disaster that fell onto Dave Dombrowski's shoulders after Smith's ouster. All that came after a 2½-year stint in San Diego in which the Padres went 140-179. Hired at age 29 by the Padres, Smith poisoned the well on hiring young GMs for years before Theo Epstein leaped from the Padres to the Red Sox and took the helm at age 28.
5. Mike Milbury, New York Islanders (279-360, .437, 11 seasons): Nicknamed "Mad Mike" in honor of his penchant for blockbuster trades, as well as his blustery style, Milbury faced a tough task when the Islanders hired him in 1995. Like Baylor with the Clippers, Milbury had to build teams on the cheap every season, as unstable ownership forced a number of dump trades. But Milbury's ill-advised deals continued even after well-heeled new owner Charles Wang assumed control in 2000. The list of top players traded under Milbury's watch includes Zdeno Chara, Wade Redden, Bryan Berard, Tommy Salo, Olli Jokinen, Todd Bertuzzi and Raffi Torres. Two of his most reviled moves were his selection of Rick DiPietro No. 1 overall in 2000 over future stars Dany Heatley and Marian Gaborik and his trade of a future star in goalie Roberto Luongo. His crowning achievements centered on anything and everything to do with Alexei Yashin -- from Milbury's trade of Chara, Bill Muckalt and No. 2 overall pick, Jason Spezza, to get the sulky Russian while his value was depressed, to handing Yashin a 10-year, $87.5 million contract, to the tailspin that Yashin's career took on Long Island.
6. Dave Littlefield/Cam Bonifay Pittsburgh Pirates (890-1324, .402, 15 seasons): No GM had more of a knack for trading great talent and getting so little in return than Littlefield. From getting next to nothing for established stars such as Jason Schmidt and Aramis Ramirez, to selling low on players who blossomed elsewhere such as Chris Young and Oliver Perez, to a parting shot in which he traded for Matt Morris with $9.5 million left on his contract, Littlefield's six-year track record will go down as one of the most extraordinary in MLB history. Only Sandy Koufax's run in the '60s was more impressive.
Then again, Littlefield's predecessor, Cam Bonifay, was no better. Bonifay's reign of error included lucrative multiyear contracts for Kevin Young, Pat Meares and Mike Benjamin, as well as an eye-popping six-year, $60 million deal for Jason Kendall, all at a time when the team had zero disposable income. Going from Cam Bonifay to Dave Littlefield as your GM is like getting over a raging case of whooping cough, only to learn you have leprosy.
7. Billy Knight, Atlanta Hawks (169-323, .343, six seasons): First, the good moves: Knight brought in Joe Johnson and Mike Bibby in trades and made wise draft choices in Josh Smith and Al Horford. Still, the team's perennial giant hole at point guard defines Knight's legacy. In 2005, Knight drafted forward Marvin Williams over Chris Paul and Deron Williams. A year later, Knight passed on a slew of talent to pick Shelden Williams, ostensibly because he promised to be Duke's next big bust. Paying big bucks to Speedy Claxton in an attempt to fix the point guard dilemma didn't help.
Bill Bavasi in Seattle
| | | |
| --- | --- | --- |
| Year | Record | Payroll, MLB rank |
| 2004 | 63-99 | $81.5 million, 11th |
| 2005 | 69-93 | $88 million, eighth |
| 2006 | 78-84 | $88 million, 13th |
| 2007 | 88-74 | $106 million, seventh |
| 2008 | 58-100* | ($117 million, ninth) |
| * Fired | June 16 | |
8. Bill Bavasi, California/Anaheim Angels and Seattle Mariners (790-923, .461, 11 seasons): Pretty good track record as a farm director, highly quotable, never backed away from criticism in his entire career. But Bavasi made a bunch of head-scratching moves as GM of the Angels and Mariners. Six years after signing fat, past-his-prime first baseman Mo Vaughn to a disastrous multiyear contract with the Halos, Bavasi signed lanky, past-his-prime first baseman Richie Sexson to a disastrous multiyear contract with the M's. Bavasi's lack of success in Seattle was particularly puzzling, given the Mariners' healthy payrolls and huge success in the years leading up to his hire.
9. Woody Woodward, Seattle Mariners (837-876, .489, 11 seasons): Woodward was also the Yankees' GM in 1987, part of a gulag of Steinbrenner whipping boys filling the role during the lean years between Gene Michael and … Gene Michael. It wasn't Woodward's record that was so bad as much as his trade record. He presided over an era that included Randy Johnson, Ken Griffey Jr., Alex Rodriguez and Edgar Martinez, yet finished below .500 and made deals so heinous that they set the Mariners back long after Woodward left the GM post.
Jason Varitek and Derek Lowe for Heathcliff Slocumb will always be the signature Woodward deal. But how about Omar Vizquel for Felix Fermin and Reggie Jefferson? Mike Hampton and Mike Felder for Eric Anthony? Tino Martinez, Jeff Nelson and Jim Mecir for Russ Davis and Sterling Hitchcock? Our favorite was a 1996 deadline deal, one that slipped under the radar under the time. In the trade, the Mariners acquired a useful veteran hitter, Dave Hollins. In return, they dealt a prospect who first came up under the name David Arias. You now know him as David Ortiz.
10. Jim Paxson, Cleveland Cavaliers (185-307, .376, six seasons): The Cavs eked out one winning season in six years under Paxson, a 42-40 effort in LeBron James' second year (and Paxson's last as GM). Like many other unsuccessful GMs, a legacy of poor drafts doomed Paxson's stint in Cleveland -- if you're going to spend high draft picks on the likes of Trajan Langdon and DeSegana Diop, why not just trade one of them for Jiri Welsch and save yourself the trouble? Paxson earns a point for somehow dumping Shawn Kemp's hellacious $70.8 million contract on Portland years ago. Subtract 50 points for when Paxson botched the Carlos Boozer negotiations, with Boozer then going to Utah and instantly becoming an elite player.
Dishonorable Mention: Kevin McHale, Minnesota Timberwolves; Billy King, Philadelphia 76ers; Jim Beattie, Montreal Expos/Baltimore Orioles; Ed Wade, Philadelphia Phillies/Houston Astros; John Holland, Chicago Cubs; Harry Sinden, Boston Bruins; Wes Unseld, Washington Wizards; Frank Lane, multiple teams.
Jonah Keri is a regular contributor to Page 2 and the editor and co-author of "Baseball Between the Numbers". You can contact him at jonahkeri@gmail.com.