ESPN.com illustration
Any number of events can make a sports year memorable. A major scandal, a bad bounce in a huge game or a dunderheaded decision for the ages can be enough. But one sports year stands out for nothing more than sheer greatness. That's 1961, the year of the dynasty.
1961 HIGHLIGHTS
Cincinnati defeats in-state rival Ohio State 70-65 in OT in NCAA title game, the Buckeyes' first loss of season. … Major League Baseball expands beyond original 16 teams, as American League adds the Angels and Twins. … Gary Player wins Masters by 1 stroke over Arnold Palmer, making an up and down from the bunker on the 18th hole while Palmer double-bogeys. … A.J. Foyt wins first of his four Indy 500s. Oscar Robertson completes rookie season in NBA by averaging 30.5 points, 10.1 rebounds and 9.7 assists. … Jerry West also debuts, averaging 17.9 per game. … Wilt Chamberlain averages 38.4 per game, third-highest ever. … Celtics win third of eight NBA consecutive NBA championships. … Blackhawks beat Red Wings in six games for the Stanley Cup -- the last time they've won it. … Roger Maris, Mickey Mantle duel for Babe Ruth's single-season home run before Mantle tails off and Maris hits No. 61 on the season's final day. … Led by MVP Frank Robinson (.323, 37 HRs, 124 RBIs), Reds improve by 26 games and win first pennant since 1940. … In fourth year as Alabama coach, Bear Bryant records first undefeated season. … The Packers begin their dynasty under Vince Lombardi, beating the Giants 37-0 in the NFL championship.
You could trace the New York Yankees' dynasty back to 1936, when Joe DiMaggio took over for Babe Ruth as the team's main attraction and ushered in a new era, one that saw the Bronx Bombers win four World Series in the '30s, four in the '40s and six in the '50s. But 1961 was one of the two most famous seasons in Yankees history (along with the Murderers' Row season in 1927). As a team, the Yankees were dominant -- winning 109 games, compiling their best record in 22 years and winning their 19th World Series.
An even bigger story was the assault waged by Mickey Mantle and Roger Maris on Ruth's single-season home run record. As the summer wore on, media and fan attention multiplied. If you think the attention paid to the Yankees and the Red Sox is over the top now, imagine if the Yankees were in the midst of the biggest championship run in baseball history, with far fewer teams vying for attention, a media corps even more obsessed with the East Coast, and Alex Rodriguez and Jason Giambi both going after the home run record -- which never had been broken by Mark McGwire, Sammy Sosa and Barry Bonds. By the time Maris finally broke Ruth's record, he was so shell-shocked by the media and so racked by nerves that his hair fell out.
That same year, the Boston Celtics were in the midst of the greatest dynasty in NBA history. Boston's championship in 1961 was the team's fourth in five years, the Celtics' third in a stretch of eight straight. This was a team that featured Bill Russell, Bob Cousy, Sam Jones, Frank Ramsey, Satch Sanders and K.C. Jones -- and none of them was the team's leading scorer, with that honor going to Tommy Heinsohn. For all the attention heaped on this year's Celtics for winning their first title in 22 years, imagine if they won every year -- like the 1990s Bulls, only if Michael Jordan never quit to go (attempt to) hit curveballs.
Meanwhile, the Green Bay Packers won their first NFL championship in the Vince Lombardi era, with four more to follow in the next seven years. The '61 Packers featured an unthinkable 12 Hall of Famers, with the likes of Bart Starr, Jim Taylor and Ray Nitschke toiling for Lombardi. This was the team that raised the NFL's profile, paving the way for Broadway Joe Namath, the Steel Curtain, America's Team and all the rest. The Packers' dynasty lasted through the NFL-AFL merger, the first two Super Bowls and the rise of football as a TV gold mine, a concept that had seemed light years away just a few years earlier.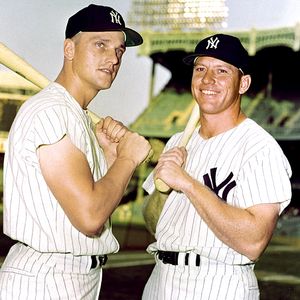 AP Photo
The M&M boys put on a home run chase in 1961 that's still talked about today.
Golf brought a convergence of dynasties. Arnold Palmer was at the height of his powers, winning the British Open and the Vardon Trophy in the middle of a stretch that brought four PGA Tour money titles in six years. But Arnie's Army was about to get a challenge from the greatest golf superstar of all time. A chunky kid from Columbus, Ohio, named Jack Nicklaus won the U.S. Amateur Championship in '61, launching a list of career accomplishments that Tiger Woods now chases with every swing. As it was with football, golf on TV became a network cash cow, with Palmer and Nicklaus about to wage some epic battles.
College basketball nearly delivered a dynasty of its own, a rarity in a sport in which talent always is in flux. Fresh off a national championship in 1960, Ohio State made it back to the title game in '61, led by the indomitable duo of Jerry Lucas and John Havlicek. This was the second of five straight conference titles for the Buckeyes and the second of three straight Final Fours. But just as Nicklaus would rise up in golf, intrastate rival Cincinnati took down the Buckeyes. Oh, and UCLA was a year from starting the greatest dynasty in college hoops history.
Parity has become a sports buzzword for this current generation. Expansion, free agency and revenue sharing have leveled the playing field, offering more teams the kind of hope and faith that have made modern dynasties almost impossible. But dynasties galvanize the sports world in a way no other phenomenon can. They create brand-name teams and players for casual fans to recognize and villains for other fans to hate.
Does a year that featured the greatest dynasties in baseball, basketball and football, giants in golf and college hoops, and a legendary home run chase (without chemical enhancements) add up to the greatest 12 months in sports history? It just might.
Page 2's Most Memorable Sports Years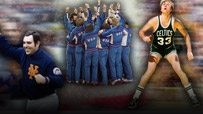 With 2008 already full of amazing moments, Page 2 is looking back at the greatest years in sports history.
THE YEARS
•
Jonah Keri on 1961: The year of the dynasty
•
Jim Caple on 1968: A year of unrest
•
Jim Baker on 1969: New York, New York
•
David Schoenfield on 1972: AL in trouble
•
Eric Neel on 1978: Greatest duel ever
•
Mary Buckheit on 1980: A miracle
•
Mike Philbrick on 1984: Bridging the gap
•
Paul Lukas on 1986: Three great weeks
•
DJ Gallo on 1994: The good old days
•
Scoop Jackson on 1998: Still resonates
•
Kieran Darcy on 2001: Darkness, and light
•
Patrick Hruby on 2004: End of exuberance
VOTE
•
PollCenter: Best year ever -- '80, '86, '98, '01 or '08?
ESPN Top Headlines