By Jimmy Kimmel
Page 2
Before I begin the annual tirade that my friends are now very sick of hearing, I should admit that -- like all sports fans -- I'm biased. My favorite sport is baseball and my favorite athlete, hands-down, is Steve Garvey, son of Joseph and Mildred. Joseph Garvey drove the Dodgers' team bus. His son went from batboy to 10-time All-Star. They called him the Iron Man, they called him Popeye, they watched him play in 1,207 consecutive games, which remains a National League record to this day. Garvey was named most valuable player in 1974; NLCS MVP in 1978 and 1984; and All Star MVP in 1974 and 1978. He is a five-time Gold Glove winner, the concrete slab on which the great Dodger teams of the '70s and early-'80s were built, the man who transformed the lowly San Diego Padres into a World Series team.
Steve Garvey. I get excited just typing his name.
In a black footlocker that holds all my most prized possessions, there is a worn manila folder bursting with newspaper clippings. Hundreds of them. The label, written by my 12-year-old hand, reads "Steve Garvey." I don't know why I saved all this stuff, but I'm glad I did. My favorite of the many yellowed headlines is from the 1978 NLCS --it blares "SHOTGUNNING GARV DESTROYS PHILS." I loved that. I still love it.
In 1974, Garvey's name was left off the All-Star ballot, so more than a million fans wrote in votes for him. Not only did he end up starting, he won the MVP award. In crunch time, there was nobody you would rather have at the plate. There was no player more consistent, no player more dependable, no player more popular.
So the question remains: Why isn't Garvey in the Hall of Fame?
Each year, I read various "explanations" from baseball writers as to why they didn't vote for Garvey. They say his stats were "empty;" that he lingered longer than he should have; that he was a below-average fielder; that he played it "safe" to protect his streak. Whenever I read this stuff, I wonder if they were watching the same games I was watching.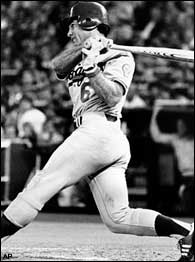 If you bled Dodger blue, you loved Garvey.
Hindsight is cold. We have computers now that "re-value" baseball players of the past. They travel back in time with new and frequently nonsensical formulas designed to quantify greatness -- or, more often, to make a case against it. Some of these ratios and quotients even purport to rank a player's leadership, a ridiculous notion when you think about it. These are the "facts" pointed to most often when Garvey's Hall of Fame qualifications are discussed: Random, machine-generated equations. His on-base percentage wasn't good enough. His OPS (whatever that is) doesn't compare to some of the other guys. He hit into too many double plays. Even the stats from his MVP season were apparently so "subpar," I'm surprised they haven't tried to take the trophy back.
All I know is this: When I was a kid, Steve Garvey was one of the best players in baseball ... if not the best player. Obviously, the writers in the '70s and '80s agreed, since he finished in the top six in MVP voting five different times. Isn't the true measure of a player's worth how he fared against the best players of his time? If not, shouldn't it be?
One cannot make a reasonable argument against the consistency of Garvey's play. He hit .300 seven times and finished his career with 2,599 hits. His career batting average was .294. His career fielding percentage was .994. But what seems to have been forgotten -- and this is what really gets me -- is how well he played when it counted. Besides his everyday excellence, Garvey held nearly every significant NLCS batting record before the wild-card round (and the Braves) washed out every mark that preceded it. He appeared in five World Series, which speaks for itself. In 55 post-season games, he batted .338, with 11 home runs, 31 RBI and an OPS of ... well, I couldn't figure that out. But I'm sure it was pretty good. Hated rival Reggie Jackson once called Garvey the best clutch hitter he'd ever seen.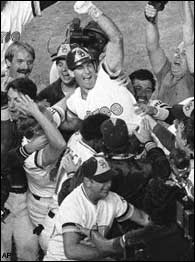 Just ask the Cub fans if Garvey is clutch.
Is there a Chicago Cubs fan older than 30 who doesn't remember how Garvey almost single-handedly obliterated their World Series hopes in 1984? Was there a Chicago fan back then who doubted Garvey would one day be welcomed into the Hall of Fame? Was there a Phillies fan in 1977 or 1978 who doubted it? I could go on and on -- and believe me, if we ever meet, I will. For God's sake, they named a Junior High school after him!
The reason Steve Garvey isn't in the Hall of Fame has little to do with baseball. It's because he couldn't live up to the "perfect" status we assigned him. The paternity suits -- which seem quaint by today's standards -- made him a national punch line. The same writers who created his All-American image now punish him for embracing it. Of course, if he had been using steroids and human growth hormones during his playing career, everyone would have looked the other way. You can be super-human; you just can't be human.
And so another year passes without Steve Garvey making the Hall of Fame. All I know is that his name belongs in Cooperstown some day. And, by God, if I have to break into the place and spray paint it on the wall, I will.
Jimmy Kimmel is the host of Jimmy Kimmel Live, which airs Monday through Friday on ABC at 12:05 a.m.
Jimmy
Kimmel
WHERE'S THE IRON MAN?