By Kevin Jackson
Page 2
My NFL team had been totally dismissed in one tidy sentence.
The words struck such a nerve that I had the brief urge to smack the person who had dared to insult my squad.
If only it hadn't been my mother.
"The Seahawks? They've never done anything -- at least not anything that I can remember," said dear ol' Mom, who punctuated her comments with a chuckle.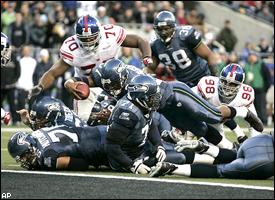 AP
Shaun Alexander has streamrolled over opponents this season.
I think it was the chuckle that hurt the most.
Or maybe it was the fact that Mom, who knows virtually nothing about football, was able to sum up the dismal history of the Seattle Seahawks in four words.
They've never done anything!
If she had spent a week reading "Total Football," Mom couldn't have been more accurate.
Twenty-nine seasons, three playoff victories. Total.
The Agony
• As the Giants' loss to the Seahawks proved, faith in the Giants can be exhausting. And Roger Director, a Giants fan since the '50s, sees his team facing the enemy of all enemies: Bill Parcells.


As my friend David Schoenfield is very fond of saying, "The Seahawks don't get mentioned enough in the conversation about sports' all-time worst franchises."
And he's right. Even when it comes to dubious achievements, the Seahawks remain irrelevant.
Tucked away in the Pacific Northwest, the Seahawks have never even appeared on the cover of Sports Illustrated -- unless you count Marcus Allen running over 'Hawks linebacker Keith Butler in 1982. Seattle's trip to Philadelphia this week will be the franchise's fifth appearance on "Monday Night Football" since 1992.
But you can't blame East Coast bias for the Seahawks' lack of relevancy. No, we'll chalk that up to all those 9-7 and 7-9 seasons. Not good enough to threaten anyone, not bad enough to ever land the No. 1 pick.
Chances are, your knowledge of the Seahawks is limited to the following: Largent, Zorn, Boz, Alexander, Hasselbeck, dropped passes, excruciatingly painful losses and no playoff victories since 1984, the longest current drought in the NFL. (When the national media does get around to mentioning the 'Hawks, it's usually to cite that last statistic … over … and over … and over …)
The 10 Worst Seahawk Losses of the New Millenium
1. Jan. 4, 2004, NFC wild-card playoff: Packers 33, Seahawks 27 (OT). "We want the ball, and we're going to score." Matt Hasselbeck was right … but his pass near midfield scored a 52-yard TD for Green Bay's Al Harris. 2. Nov. 23, 2003: Ravens 44, Seahawks 41 (OT). The NFL later apologized for the refs' failure to restart the clock in the final two minutes. The Seattle defense apologized for blowing a 17-point lead in the final six minutes. 3. Oct. 10, 2004: Rams 33, Seahawks 27 (OT). On the bright side, Seattle was up 27-10 with six minutes left. (Editor's note: No, this is not a typo. Seattle really did blow a 17-point lead in the final six minutes of two games in back-to-back seasons.) 4. Jan. 8, 2005: Rams 27, Seahawks 20. Bobby Engram couldn't pull in a potential game-tying TD pass in the game's final seconds. 5. Dec. 6, 2004: Cowboys 43, Seahawks 39. Dallas erases a 10-point deficit in the final two minutes, with the help of a recovered on-side kick, a TD "noncatch" by Keyshawn Johnson and 1,256 rushing yards from rookie Julius Jones. 6. Jan. 9, 2000: AFC wild-card playoff, Dolphins 20, Seahawks 17. The final game at the Kingdome. Holding a 17-13 lead, the 'Hawks have Dan Marino backed up on his own 8-yard line, facing a third-and-17 late in the fourth. Marino gets out of the hole and levels the 'Dome with the final meaningful drive of his career. 7. Jan. 6, 2002, Jets 24, Raiders 22. True, the Seahawks weren't playing. But after beating Kansas City earlier in the day, all Seattle needed was a win by the heavily favored Raiders to make the playoffs. Instead, John Hall hit a miracle 53-yard field goal as time expired to give the Jets their first win in Oakland since 1962. 8. Oct. 26, 2003: Bengals 27, Seahawks 24. Matt Hasselbeck has two passes tipped into the air for interceptions in the final eight minutes, both coming with the Seahawks in range for a potential game-tying field goal. 9. Oct. 2, 2005: Redskins 20, Seahawks 17 (OT). The only real "Seahawk loss" on this year's schedule so far. Josh Brown raises his hands in victory as he clanks a 47-yard field goal off the left upright as time expires. 10. Oct. 24, 2004: Cardinals 25, Seahawks 17. A terrible Cardinals team drops Seattle to 3-3 after the 'Hawks had looked terrific in a 3-0 start. Hasselbeck plays the worst game of his career, misfiring on 27 of 41 passes and throwing four interceptions.
One of the top highlights of the franchise's history was when team employees stood in front of moving vans when vile owner Ken Behring attempted to move the club to Los Angeles in 1996.
If the Seahawks were a dog, the rest of the NFL would be an electric fence.
My buddy Bill Simmons has written a lot on Page 2 about Seattle's history of come-from-ahead losses. In fact, he's quite amused by it. Every time the Seahawks choke away a game in astonishing fashion, I get an e-mail from the Sports Guy asking me where the latest gaffe rates on my list of "the 10 worst Seahawk losses of all time." Eventually, the list got so long that we had to restrict it to "the 10 worst Seahawk losses of the new millennium."
That allows me to leave off the game in which Vinny Testaverde scored a touchdown with his helmet, a call so gawd-awful that it immediately prompted the NFL to institute instant replay.
Of course, the list still includes the game in which time stood still (when the refs failed to start the clock and Seattle blew a 17-point fourth-quarter lead at Baltimore in 2003), the game that derailed the Horse Trailer (when Dallas rallied from a 10-point deficit in the final two minutes on "Monday Night Football" last season, forcing John Madden to pull Shaun Alexander's photo off the Horse Trailer), the game that verified no lead is EVER safe (when St. Louis rallied from 17 down in the final six minutes last season) and, of course, the playoff game when we got too cocky during the coin toss for overtime ("We want the ball and we're gonna score!").
Die-hard Seattle fans will be thankful that we're leaving off the game with Joe Nash's trick knee in Cincy, the game with Fredd Young's "dropped" interception at Houston, the game where Bo flattened Boz, and the game where the blue and green "gained" minus-7 yards, an NFL record that still stands. The team's history is so bad that it reads like the episode guide for "Friends."
(OK, I will now resume writing in phrases that people outside of the 206 area code will be able to understand.)
Now, I know what you're thinking: The Seahawks are 9-2. They've got the best record in the NFC. They own a one-game lead in the race for home-field advantage with victories in hand over the Giants, Cowboys and Falcons. They've got the NFL's No. 1 offense, a decent defense and Alexander plowing toward the single-season TD record.
This could be their year!
That's how normal fans would think. It's not how a lifelong Seahawk fan is programmed to think.
Three weeks ago, I hit my low point while sitting in the south end zone at Qwest Field during the Seahawks' 31-16 victory over the Rams. (Yes, I live in Connecticut, and I regularly attend games in Seattle. My wife already has the intervention scheduled if you'd like to swing by.)
As Alexander broke loose for a 17-yard TD run with 1:18 remaining, the crowd went wild … while I cringed.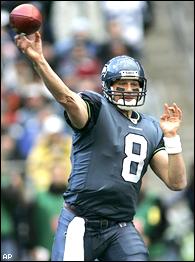 AP
If the Seahawks go to OT again in the playoffs, Hasselbeck will probably let his arm do the talking.
See, the Rams had no timeouts and there were less than two minutes remaining -- meaning the Seahawks could have taken a knee and run out the clock (every educated 'Hawk fan learned the take-a-knee chart after the Baltimore debacle). Instead, by scoring, Seattle gave the ball back to St. Louis, which needed a TD, a successful onside kick and another TD and two-point conversion to force OT. (Pretty close to how Dallas rallied to beat Seattle on "MNF" last fall.)
As I explained all this to my friend Victor (who's not a Seahawk fan and thus is 100 times more rational), he just politely shook his head. When I finished laying out these impossibly elaborate scenarios for doom, he quietly said, "Dude, you've got issues."
I've got to admit, he's right.
I want to believe, I really do. I want to enjoy this ride and see whether it just might take us into February.
I can still hear Simmons' words echoing from our phone call after the Patriots stunned the Rams in Super Bowl XXXVI: "KJ, this should give you hope that someday it'll be the Seahawks' turn. This proves anybody can come from out of nowhere and win it."
I marvel at the miracle victory over the Giants last Sunday -- a game the G-Men lost in true Seahawk fashion, a game that just might indicate, as Simmons suggested to me last week, that our karma is changing in a "My Name Is Earl" fashion.
The impossible Week 7 victory over Dallas also made me think that maybe the "electric fence" had finally been turned off.
I even brainwashed my 4-year-old daughter into saying, "The Seahawks are going to the Super Bowl" over and over as our guests arrived for Thanksgiving dinner. (I've found that children are easier to brainwash than adults.)
I just wished her grandmother hadn't laughed in her face.
Kevin Jackson is an executive editor for ESPN.com. He can be reached at kevin.jackson@espn3.com.