By Chuck Klosterman
Page 2
I am an apolitical person. Absolutely nobody believes me when I say that, but it's true. Every conservative person I know thinks I'm mixing Noam Chomsky's personal Kool-Aid, and every liberal I know seems to assume I want to shampoo Ann Coulter's hair while watching outtakes from "The Passion of the Christ." I have no idea how this happened. For example, I don't have an opinion on abortion. I really, truly do not. You want to have an abortion? Fine; take my car keys, You think abortion is murder? Well, you're probably right. Who knows? Either way, it doesn't have anything to do with me. Do I think George W. Bush is the worst president of my lifetime? Well, of course I do -- but that's not because he's a Republican. It's because he somehow (a) got into Yale, yet (b) claims "the jury is still out" on the theory of evolution.
Everything is situational, and that reality informs how I interpret the world. At least within my mind, it seems as though any people who consciously and consistently perceive themselves as right-leaning or left-leaning are simply admitting that they don't want to think critically about complexity. It always strikes me as staunchly unsophisticated and mildly insane.
And this worries me.
This worries me because I cannot reconcile my other reality. And that reality is that I am the most conservative, reactionary sports fan I have ever met.
Within the context of life, I am the centrist pragmatist who doesn't even vote; within the context of sports, I am a potential war criminal. I wish Kenesaw Mountain Landis were still the commissioner of baseball. When John McEnroe insists that men's tennis should allow only wooden rackets, it sounds totally reasonable. Whenever I talk about the Colts, I inevitably refer to them playing in Baltimore, and it always makes me vaguely mad when I realize this is no longer the case (and has not been for 22 years). No matter what he does, I somehow find myself supporting Bob Knight in drunken arguments; Knight could jam the face of a Texas Tech guard into the gears of a John Deere combine for failing to get back on defense, and I would eventually find myself in a bar saying things like, "Well, modern kids do need discipline."
I am conservative about sports I do not even watch: I dislike Kurt Busch, but I can't even pretend to explain why. The last time I watched a NASCAR event, I was in an airport and it was still OK to carry machetes onto the plane by claiming you needed them for work. ("Don't mind me," the traveler could simply say to the flight attendant, "I'll just need to hack through some foliage as soon as we land in Montpelier." It was a simpler era, particularly for maple syrup harvesters.)
What's intriguing about this particular dichotomy is that I'm clearly not alone; for whatever reason, the default worldview for most serious sports people (and especially for members of the sports media) is staunchly unprogressive. Frank Deford and Jim Rome both lean hard left on almost all social issues, but they openly loathe the proliferation of soccer. And that position is important: For all practical purposes, soccer is the sports equivalent of abortion; in America, hating (or embracing) soccer is the core litmus test for where you exist on the jocko-political continuum. I recently saw an episode of "PTI" when Tony Kornheiser and Michael Wilbon actively self-identified themselves as liberals, yet still came out in favor of the NBA's newly installed dress code (curiously, Kornheiser would capriciously reverse his position in subsequent episodes). Now, we all know this dress code is illogical. It limits freedom of expression, and it inadvertently exacerbates the league's current image problem; the code only serves to remind people of the cultural gap between the players and the fans. It's the very definition of reactionary.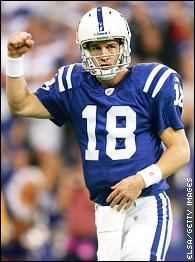 Getty Images
In Chuck's world, Peyton and the Baltimore Colts are still undefeated.
And I kind of support it, too.
Is this pure hypocrisy? Sometimes. Take the recent situation with the Minnesota Vikings' "sex boat" scandal. Obviously, I have no idea what really happened on that boat -- but I have some suspicions. I suspect that several players were having not-so-romantic intercourse with "enthusiastic" women who expected more than a nice dinner at Red Lobster in return. I suspect people were casually talking about how Ricky Williams is a genius while wishing they had brought along some Nutter Butters. I suspect people were probably playing the latest Clipse album at a dangerously high volume and kept bringing their Lexus keys into the bathroom stalls. And -- in a vacuum -- I have no problem with any of that. In all likelihood, the Vikings committed a bunch of victimless crimes, and the enforcement of those laws is far worse than the acts themselves.
But the sex boat situation still bothers me. And it bothers me because the Vikings are football players. When Minnesota beat the Green Bay Packers 23-20 that week on a 56-yard field goal, and the Fox cameras cut to a close-up of Daunte Culpepper kneeling on the ground in prayer, I found myself disgusted. This felt like a travesty. You see, Brett Favre would not have been on that sex boat. I know this. I know this because BRETT FAVRE JUST LIKES TO PLAY THE GAME. BRETT FAVRE JUST WANTS TO GO OUT THERE AND THROW THE OLD PIGSKIN AROUND THE OLD BACKYARD. AND YOU KNOW, SOMETIMES BRETT FAVRE HURTS YOU, BECAUSE BRETT FAVRE TAKES A LOT OF RISKS. HE'S A RIVERBOAT GAMBLER! BUT YOU CAN NEVER FAULT BRETT FAVRE, BECAUSE BRETT FAVRE LOVES TO PLAY THE GAME. BRETT FAVRE WOULD PLAY FOR FREE. IN FACT, IF THERE WERE NO OTHER OPTION, BRETT FAVRE WOULD TAKE OUT A SMALL BUSINESS LOAN FROM A LOCALLY OWNED BANKING INSTITUTION AND PAY THE NFL FOR THE OPPORTUNITY TO THROW THE FOOTBALL TO THE LIKES OF DONALD DRIVER, BECAUSE BRETT FAVRE EMBODIES A DYING MYTHOLOGY WHICH SUGGESTS THAT THE ICONS OF A SOCIETY CAN REPRESENT (AND AT TIMES TRANSCEND) THE HIGHEST VALUES OF THAT SOCIETY IN A WHOLLY ALTRUISTIC CONTEXT. DO YOU NOT REALIZE THAT BRETT FAVRE LOVES TO PLAY THE GAME? WELL, HE VERY MUCH DOES.
Inside my skull, this is how I feel. And this feeling is (probably) a little crazy; were I to hold comparative views in a political setting, I would likely be advocating the construction of a 20-foot containment wall along the Rio Grande to stop illegal aliens from entering Texas and taking all the jobs normal Americans refuse to do. But such reactionary sentiments are not always so irrational; sometimes these anti-progressive tendencies are my only grains of legitimate grit.
Case in point: I don't think Pete Rose should be allowed into the Hall of Fame (and for all the same reasons you've heard 1,000 times before). What he did was the worst thing a pro athlete can do; gambling is substantially worse than taking steroids because it invalidates the very idea of unadulterated competition. I don't think Rose should even be inducted posthumously; even when his corpse is decomposing beneath the damp Cincinnati soil, his sole legacy should be that no man can ever outhit the integrity of the game itself. On this point, I am completely inflexible, and I am almost certainly correct.
Every six months or so, I argue over the Pete Rose Situation with one of my associates (usually while playing EA college football, a video game where I insist on running the wishbone and always run the option on third-and-5). Nothing ever changes in our dialogue; after 20 minutes of Rose talk, the conversation inexorably devolves into a debate about the use of instant replay for pro and college football, a technology I despise.
"How can you be against this?" my forward-thinking associate always asks. "Why would you prefer a system where referees get things wrong? How can anybody be idealistically against accuracy?" I counter by pointing out how instant replay slows the game down (which it does), and how it stops referees from making decisive decisions (which is becoming more and more common), and that any game played by imperfect humans should only be controlled by equally imperfect humans (which -- I suppose -- is kind of like arguing against stem-cell research). Certainly, part of me believes all of those things. But part of me also knows those three responses overlook some rather obvious truths, and part of me knows that tendency is conscious. And the reason I am willing to overlook what's obvious is because I would rather understand an old problem than feel alienated by a flawed solution. Which, I suppose, is precisely what conservatism is.
The world at large can change and I won't mind; I can always evolve with the world because I never understood it in the first place. It's easy to be open-minded and flexible when you don't really care. However, I already understood sports when I was 8. I need those old laws to remain in place because -- intellectually and emotionally -- these principles are static. What am I going to do if sports become one more thing I can't relate to? What will I do every weekend for the next 50 years? Talk to people on the telephone? Read Agatha Christie novels? Dream?
We need to get back to our core values. We need to rediscover the things we've always known. The Brewers are in the American League. No one will ever win a Super Bowl with a running quarterback. Terrell Owens will always be a cancer to whatever team he plays for. So will Antoine Walker. And the Baltimore Colts and Los Angeles Rams must always lose big games whenever they play outdoors, because those franchises need to be penalized for building exciting, innovative offenses that only seem to work indoors (a geographic venue that must universally indicate some kind of inauthentic, unmasculine manifestation of accelerated modernity).
The Indianapolis Colts. I meant to write "Indianapolis." And "St. Louis."
There is no future.
Chuck Klosterman is the author of "Killing Yourself to Live: 85% of a True Story" and is a senior writer for Spin magazine and columnist for Esquire. He will be writing for Page 2 once a month.