By Chuck Klosterman
Page 2
Editor's Note: Columnist Chuck Klosterman has landed in the Motor City, and he's revved up to update Page 2's Super Blog multiple times each day for the next week. Check back later today for his next installment.
OTHER DAYS:
TUESDAY
|
WEDNESDAY
|
THURSDAY
|
FRIDAY
Monday, 10:46 p.m. ET
DETROIT -- I'm kind of struggling right now, because I just found out I'm going to die. Actually, I'm going to kill myself, but it won't be on purpose. Earlier this evening, I inadvertently drove my rented Pontiac directly into oncoming traffic; a few minutes later, the Motorola GPS in my rental car inexplicitly quit working (there is a little green light that is supposed to illuminate when you push the device into the cigarette lighter, but this technological miracle no longer occurs). In other words, I've just driven directly into oncoming traffic with the assistance of a global positioning system, and now I don't even have that.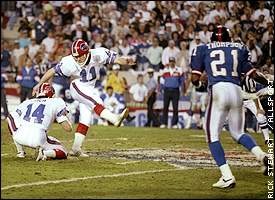 Buffalo is haunted by Scott Norwood's miss, but it's lost on Chuck Klosterman.
I honestly have no idea where I am right now, and I've already been here for two days. Over the coming week, I will be forced to drive many, many times; I can't imagine any plausible scenario that does not result in me either (a) crashing into a concrete barrier or (b) getting lost in a sector of the metro area where people who get lost never get found. This is probably it for me; this is where I look into the mouth of the lion. As soon as this blog stops being updated, assume I am dead. Melissa, if you are reading this, please go through my apartment and hide the drugs.
So,
anyway
, it has been a wonderful life and whatnot, and I will (probably) not die in vain. But I'm still going to feel a little stupid, having come all the way to Michigan in order not to see the Super Bowl; I could have just as easily not seen it in New York (without all this dying and typing and constantly losing my hotel key in suburban liquor stores). I can't deny it: I've missed Super Bowls before. Remember Super Bowl XXV, when Scott Norwood shanked a field goal and caused Vincent Gallo to make a self-indulgent movie? I don't. I never saw that game; somehow, I was at a party at 6 p.m. on a Sunday that did not include a television (of course, this was during college and the Gulf War, so my priorities were a little different -- I needed those extra three hours to convince a desperately bored girl that she needed to buy more Soundgarden cassettes). I also saw only seven plays of the not-so-classic 1995 battle between Steve Young's 49ers and Stan Humphries' San Diego Chargers, and I swear San Francisco scored touchdowns on four of them. I think that might have been during the period of my life when I spent 87 days in the Indiana prison while my girlfriend hung herself. Or maybe I was reading a magazine. It's always 50-50, rockers. Still, I wonder if my ability to recall the Super Bowls I missed unconsciously proves how meaningful the Super Bowl must be; clearly, the game has become the kind of social marker I use to construct personal memory. For example, I do not really remember being 5 years old (and I certainly don't remember what life was like in 1978), but I do recall the circumstances surrounding Super Bowl XII -- I remember how the furniture in our living room was arranged, and where I laid on the carpet, and the quality of the reception on our Zenith TV. I remember that Robert Newhouse threw a fullback option pass for a touchdown after licking the stickum off his hands; it was a sweep to the left, which still seems counter intuitive (Newhouse being right-handed). So -- somehow -- I can't recall anything about how I felt on Christmas morning of 1977, but I can remember specific details about Tom Landry's unorthodox play calling from Jan. 15, 1978. Hmm. This notion is kind of depressing me. But maybe it's just the dying.
Monday, 1:54 p.m. ET
Something that's becoming clear (and perhaps predictably so) is the ferocity with which the NFL aspires to promote the concept of the Super Bowl, a goal that requires everyone involved (including you) to embrace a specific philosophical contradiction: On one hand, we are supposed to view Sunday's game as the most significant conflict since the Tet offensive, because only a game of that magnitude could warrant such an ostentatious display of hyper-accelerated Americanism; at the same time, we are forced to concede that the game itself is fundamentally meaningless, since nothing this mammoth and transcendent could possibly hinge on something as trivial as Hines Ward's proficiency at running the corner post. It's the kind of circular logic that drives the Patriot Act: This singular game is so important that it's (obviously) more important than any single game.
Here's (sort of) an example: There is a lot of Super Bowl merchandise available in this Renaissance Center, and throughout the city as a whole. This, obviously, is neither surprising nor problematic. But here's what always baffles me: Why would anyone buy a T-shirt (or a hat, or an ascot, or a waterproof matador cape) that merely promotes "Super Bowl XL"? An inordinate percentage of the available items in the Renaissance Center's gift kiosks do not feature the logos of the Seahawks or the Steelers; they generically advertise the abstract existence of a football game. This would be like going to see Marilyn Manson at Madison Square Garden and buying a $22 T-shirt that said, "THEATRICAL, DRUG-FUELED ROCK CONCERT." It reminds me of the nonspecific commercials TV networks like NBC run that promote the channel itself, almost as if they assume there are actually people who privately think, "I have no idea what's on television right now, but I better check NBC first. I get the impression they're especially confident about the quality of their current programming."
And yet ... I suppose all of this nondenominational Super Stuff inadvertently defines the aforementioned concept of the Super Bowl, unquestionably the most bipartisan athletic affair in modern culture. At every sporting event, there is a percentage of the audience who does not care who wins and who loses; the Super Bowl is probably the only major sporting event where this is true for the majority of its audience. Twenty minutes ago, I ran into a reporter named B.J. Reyes, a newspaper reporter from Hawaii who's working on a freelance story for That's Guangzhou magazine, an English language publication in China. Football is (apparently) growing in popularity over there, especially as a youth sport (although they don't play tackle, for some reason -- it's all flag). Weirdly, Philadelphia Eagles tight end Chad Lewis is the face of the NFL for the people of China. Lewis attended BYU, and because he subsequently did a Mormon missionary in Taiwan, he speaks Cantonese fluently. Consequently, Lewis has become the gridiron's Far East ambassador; when the Super Bowl was first broadcast in China, he simultaneously delivered both the play-by-play and the color commentary. Within the world's strongest socialist regime, Chad Lewis is Brent Musburger.
Reyes told me that -- for the third year in a row -- the Super Bowl is scheduled to be televised in Guangzhou on a one-hour delay, which means it's essentially live, but it's on the air at something like 7 a.m. I'm guessing the game will be watched by one percent of the local populace, which (though I could be wrong) is approximately 67 billion people. And I'm sure these people won't care what happens. But perhaps they'll understand the concept, even if I do not.
Monday, 10:23 a.m. ET
DETROIT -- I am currently typing in ESPN's Detroit command center, which essentially means I am on the 18th floor of a very confusing building that is (apparently) supposed to signify the city's renaissance, inasmuch as the facility is actively called The Renaissance Center. This is a universe without corners; The Renaissance Center is essentially four cylindrical skyscrapers that provide no sense of geometric order. I keep hoping to bump into Ron Jaworski; I have no doubt he could enthusiastically explain the logic of this structure, as well as detailing what I should do if I step out of an elevator and everyone in the food court has dropped into Cover 2.
It's oddly quiet here on the 18th floor; there are about 14 dudes in one room and all of them are staring at laptop computers. Two people are talking about Brett Favre's possible retirement, and I occasionally hear John Clayton's dulcet voice mention something abstract about free agency. Everyone is understated; somehow, I anticipated more physicality. Thus far, I have exchanged a playful forearm shiver with absolutely no one. There is apparently an ESPN "Global Planning Meeting" at 11 a.m.; there are several sheets of paper on the walls proclaiming this event. I suspect this meeting will be where ESPN (a) plots how to cover the Super Bowl and (b) decides how it will respond to the Palestinian elections (I say we play hard to get). It's weird being here, because everybody knows each other, and I don't know anyone, and everyone has work to do, and I have nothing to offer; all I can really do is look at the Internet and check the results from the SAG awards. I see that the big winner was "Crash," a movie designed for people in Los Angeles who just figured out that racism was "complex" (and must therefore be secretly central to every conversation any two Americans ever have). I wish one of the bears from "Grizzly Man" would eat Matt Dillon and Ludacris. In other news, an intriguing dynamic is beginning to emerge within the hearts and minds of the Motor City. The local Detroit media appear obsessed with two diametrically opposed scenarios: The first is that Super Bowl XL is going to prove their community is a vibrant, dynamic metropolis with limitless resources and underrated energy; the second is that hosting this Super Bowl will prompt everyone in the national media to mercilessly criticize the totality of the metro area at every possible opportunity.
Will there be any Chuck Finley sightings at the Super Bowl?
Detroit is like a 16-year-old girl who just paid $110 for the haircut she always wanted, but now she's driving to school and checking herself in the rearview mirror, and she's starting to suspect that she looks a little like Tawny Kitaen on the cover of "Out of the Cellar." Kids can be cruel, rockers.
Sunday, 11:30 p.m. ET
Here is a true story about Detroit that happened to somebody who isn't me: A man employed at one of the city's two major newspapers exited his downtown Detroit office to go home and drink a glass of wine; he worked the late shift, so it was already around midnight. The journalist adjusted his glasses and chatted on his cellular telephone, briskly striding down the sidewalk toward the company parking lot. Suddenly, an unknown car pulled up beside the journalist, screeching to a halt; a large gentleman emerged from behind its steering wheel. This unknown gentleman walked over to the newspaperman and wordlessly punched him in the face, knocking him to the ground. "Get up," said the puncher. "Get up!" The newspaperman did not get up, as he suspected following these directions would result in more face punching. "Get up," the unknown assailant repeated. "Get up! You know what this is about! You know what this is about!"
The puncher kept making demands, but the victim's terror slowly morphed into mild confusion; to the best of his recollection, he had done nothing to warrant an unannounced pummeling.
"I think you have the wrong guy," he said, still crouching on the Michigan pavement. "I've never seen you before. I was just walking to my car. You are hitting the wrong guy." The journalist peered up at his attacker; the attacker looked down at his victim's face. It immediately became clear the puncher was, in fact, punching the wrong dude. Obviously, this was an awkward situation. The puncher uttered an expletive, returned to this vehicle, and fled the scene. The newspaperman found his cell phone, readjusted his glasses, and found himself oddly unsurprised by the event that had transpired. This, after all, was his hometown. It's great to be in Detroit. When ESPN asked me to cover Super Bowl XL, I was hesitant. I have a lot on my plate these days: I'm developing a sitcom for UPN about Antonio Davis' wife (it is tentatively titled "Oh No You Did Not Just Use The Metric System!" and is slated to star Wanda Sykes). I'm also trying to reenergize the tourist economy of New Orleans with "unconventional" humanitarian Anna Benson (she's like a cross between Thomas Paine and Albert Schweitzer, plus a killer rack). I enjoy watching football, but I also enjoy contributing to the actualization of society; in gambling terminology, this is what we refer to as a
push
. However, I eventually came to my senses: I simply could not pass up the chance to spend a week in hyper-sexy Detroit (the so-called "Houston of the North") in order to hear 140,000 sportswriters explain why Jerome Bettis is a class act. The Super Bowl represents different things to different people. To some, it is akin to a secular holiday -- a drunken, three-hour Christmas for those who hate Jesus. To others, it is simply the annual matchup between the finest pro football team in the American Conference and the finest pro football team in the National Conference; mysteriously, that is not the case this season, as both teams are from the AFC. But regardless of how you feel, one question demands consideration: What does the Super Bowl mean to me? What does the Super Bowl represent to Chuck Klosterman, a random writer you have never met and (in all likelihood) have never even heard of? That is the quandary that has America talking. And that is the quandary I will attempt to answer through this sporadically updated weblog, a process Arctic Monkeys fans like to call "blogging." I have never "blogged" before, and people sometimes ask me why I do not have a "blog." The short answer is: "For pretty much the same reason I don't own a dog." If you're interested in the long answer as to why I do not "blog," you will have to read my blog, located at whyidonothaveablog@blogspot.gov (please leave comments and trackbacks!). As you might anticipate, I'm rather stoked about this new venture, as it will allow me to do the following "blog-o-centric" things:
Create useless slang for retarded hipsters.

Post semi-nude photos of a young Cloris Leachman.
I guarantee this will be the greatest one-week sports blog ever written, or at least the best one since Jacqueline Susann's unforgettable blogging of the 1967 Ice Bowl. If this is not the best sports blog you have ever read, I will personally drive to your home, clean your garage, wash your car, shingle your doghouse with pancakes, and blow up your children with dynamite. That is my guarantee. I shall not Vander-jack this opportunity; like Kobe against the Raptors, I am Napoleon Solo (i.e., unstoppable one-on-one). So, wassup, rockers? Do you (metaphorically) feel me? It's time we all embrace a little game I like to call North American football. It's time to make keen references to Shaun Alexander's addled skull. It's time to get punched by random strangers. This is Super Bowl XL.
And I am ready.
Chuck Klosterman is the author of "Killing Yourself to Live: 85% of a True Story" and is a senior writer for Spin magazine and columnist for Esquire.