Personality profile: '85 Bears vs. '07 Patriots
A perfect 11-0 record and constant media attention won't allow America to forget the New England Patriots for even a moment this season. It seems like we can't look anywhere these days without seeing Tom Brady's perfect cheekbones, Bill Belichick's homeless-chic, or a screamfest between two journalists debating whether the Pats are going to run the table.
There's no denying that the Pats are a stone-cold points machine, coolly dissecting their way through NFL defenses as though they were scrimmaging the junior varsity on a Wednesday afternoon. However, regardless of what they do on the field, the Patriots will never hold a candle, in charisma, to the team of my youth -- the 1985 Chicago Bears -- who played in an era when teams dared to combine excellence on the field with personality off it.
What follows is a position-by-position breakdown of each team and why -- even if New England scores 100 points a game en route to a perfect season -- it will always run a distant second to the '85 Bears.
Head coach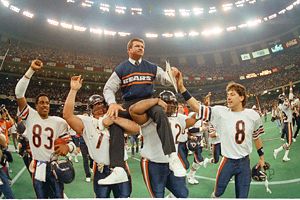 AP Photo/Phil Sandlin
The Ditka swagger spawned a Super Bowl title,
a "Saturday Night Live" skit and a Levitra ad.
Before their NFC Championship Game against the Rams, Mike Ditka explained that there were "teams named Smith and teams named Grabowski. We're Grabowskis." If he uttered that phrase now, Ditka's PR wonk would probably have to issue a contrived apology to everyone in America named Smith and to Polish-Americans for making assumptions about their ability to field teams. Ditka had so much swagger, and such a great moustache, that he was immortalized forever in a "Saturday Night Live" skit and later a Levitra ad. Ditka launched a sort of central-casting version of the Pennsylvania-steel-kid-turned-hardened NFL coach, a character that has been oft-imitated but never replicated (see Dave Wannstedt and the Wann-stache).
Ditka had the added responsibility of managing defensive coordinator Buddy Ryan throughout the '85 season. Ryan began looking for his next job halfway through the year (an ethic that would be right at home in today's NFL) and announced the night before the Super Bowl that he was leaving to coach the Philadelphia Eagles. The Ditka/Ryan feud came to a head at halftime of the Monday night loss to Miami, when Ditka offered to take Ryan "out back" to resolve a conflict. "We can do it any way you want to," he said. "We can go right out back and get it on, or you can shape your ass up."
Belichick, on the other hand, is known for cheating, being grumpy and going down as perhaps the least interesting coach in history to win a bunch of Super Bowls. On the plus side, he made an appearance on the Denis Leary drama "Rescue Me," as, appropriately, a mourner at a funeral. He is also known as the only coach in the Madden games not to use his name, preferring instead to go with "NE COACH" due to his lack of membership in the NFL Coaches Association. Bah humbug. Fans can also read transcripts of Belichick's weekly cliché-filled news conferences at allthingsbillbelichick.com.
EDGE: Bears. This isn't even close.
Quarterback

If by personality you mean a GQ photo spread portraying Tom Brady, among other things, carrying a sheep, then yes, Tom Brady has loads of personality. Nobody would argue that Brady is the superior quarterback, and probably the superior human being in every conceivable way. But Jim McMahon had the audacity to moon reporters, flaunt the NFL's uniform regulations, sport a Mohawk and engineer a couple of unbelievable comebacks in 1985, leading his team to a runaway Super Bowl XX victory in the process. And he did all of this with an alarmingly mediocre 82.8 quarterback rating.
The Bears were so charisma-laden at quarterback in '85 that even their backup, Steve Fuller, was immortalized forever in a "Super Bowl Shuffle" lyric, explaining that he can "run like lighting and pass like thunder." Fuller passed like thunder all right, to the tune of one touchdown and five interceptions.
EDGE: Bears
Running backs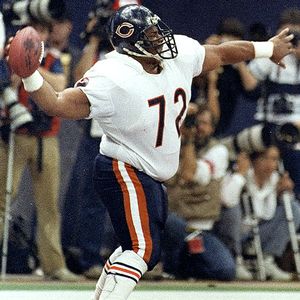 AP Photo/Amy Sancetta
William Perry scored three touchdowns in 1985. Laurence Maroney has two this season. Seriously.
This discussion begins and ends with Walter Payton, who, as opposed to the dreadlocked cyborgs that populate NFL backfields today, exuded personality and class in everything that he did. Payton rushed for 1,551 yards in '85 for a 4.8 average and had nine rushing touchdowns. Laurence Maroney, by contrast, will be remembered as the only guy on the Pats' offense who managed to score less than Mike Vrabel. Or William Perry in 1985.
Both teams also have a significant WGF -- White Guy Factor -- at play in their backfields. Quite simply, the Bears had perhaps the mother of all Gritty White Fullbacks You Love in Matt Suhey, who operated in an era before fullbacks became 260-pound wonders of testosterone and weight training. Suhey also sported a top-shelf '80s mustache. In fairness, the Patriots have two potential fits in this area, as well, with Kyle Eckel and Heath Evans both toting the rock. Minus, of course, the 'stache.
EDGE: Bears. Two white guys running the ball in the same offense seemingly hasn't happened since Csonka and Kiick, but Payton was, well, Payton.
Receivers

There is some debate as to whether the '85 Bears even had wide receivers on the roster, which I see as a positive. The majority of the NFL's problem children of late have come from the WR position (see: Moss, Randy and Owens, Terrell). The Bears were led in receptions by Payton, who had 49 catches and two TD receptions.
The Patriots' otherworldly receiving corps includes Moss, who I believe had 49 catches in a recent game against the Bills and was still upset over his lack of looks. Moss garnered newfound fame for taking the 2006 season off as a sort of de facto sabbatical, while still suiting up in a uniform and collecting a salary. Perhaps the most startling thing to think about regarding the Pats' receiving corps is that one day we'll likely have to sit through a Randy Moss enshrinement in Canton. Sobering.
The '85 Bears best-known receiver was a speedster named Willie Gault who was a member of the 1980 Olympic team that boycotted the Moscow games. In 2006 Gault set a world record in the 100-meter dash masters division (age 45-49), running 10.72 seconds, and he explained in 1985's Super Bowl Shuffle that he was "as smooth as a chocolate swirl."
EDGE: Neither. The Bears may not have had WRs on their roster, but the Pats have Randy Moss, who cancels out any other charisma potential.
Lines

The '85 Bears were perhaps the first NFL squad to feature a grotesquely overweight defensive lineman possessing the quickness and foot speed of a linebacker -- a practice that is common in the league now. William "The Refrigerator" Perry made more of a splash in his turn as a short-yardage back, but the Bears' defensive line featured a DT nicknamed "Mongo" (Steve McMichael) who would go on to minor fame as a professional wrestler, and "The Colonel," Richard Dent, who racked up 17 sacks on the season and was named MVP of Super Bowl XX. Dent made a mere $90,000 in base salary for his efforts in 1985.
The Patriots have Vince Wilfork, Ty Warren and Jarvis Green on the defensive line, all fine players, each of whom probably has $90,000 wedged between the cushions in their Escalades. This trio has also combined for an underwhelming 7½ sacks so far this season.
Even the Bears' offensive linemen -- Jay Hilgenberg, Tom Thayer, Mark Bortz, Keith Van Horne, and Jimbo Covert -- were folk heroes in their own right and were featured on posters throughout the Chicagoland area. Covert later participated in a Wrestlemania 2 Battle Royal, and he's now the CEO at LifeSource blood center.
EDGE: Bears
Linebackers

The '85 Bears' defense featured perhaps the best collection of linebackers to appear on the field at once: Mike Singletary, Wilber Marshall and Otis Wilson. You already know about Singletary, a Hall of Famer, and Marshall, who should be in Canton. So I'll instead focus on "The Junk Yard Dog," Otis Wilson, a Louisville product who had 10½ sacks in '85. To wit, Wilson's lyric from "The Super Bowl Shuffle":
"I'm mama's boy Otis, one of a kind. The ladies all love me for my body and my mind. I'm slick on the floor as I can be. But ain't no sucker gonna get past me. Some guys are jealous of my style and class. That's why some end up on their ass. I didn't come here lookin' for trouble. I just get down to The Super Bowl Shuffle."
Who wouldn't want to be loved for both their body and their mind?
In another memorable quote, this time from 1986, Wilson said of Green Bay's Charles Martin after a dirty hit on McMahon: "I'd like to go get my magnum and blow his ass away." It's that kind of transparent honesty that is missing in pro sports today. Wilson, however, has polished his rough edges and now runs a successful foundation in Chicago that provides health, nutrition and fitness programs for Chicago's inner-city schools.
Of the Pats' four starting linebackers, three started their careers with other teams, which is more of an indictment of the NFL's free-agency era than the players themselves. While the Bears 'backers became a part of Chicago lore, one gets the impression that current players are just interchangeable parts, and this year's Patriots might be next year's Jets.
EDGE: Bears
Defensive backs

The Patriots' defensive backfield is exceptional, no question, populated by nameless, faceless athletes who can all run and hit and who will all probably be forgotten within a year or two after their careers end. The notable exception is Rodney Harrison, who made headlines with a violation of the league's substance-abuse policy earlier in the season.
Perhaps the '85 Bears' most memorable defensive back was free safety Gary Fencik, who entered the league as a 10th-round draft choice out of Yale. Not to be outdone by Tom Brady's clean-cut Ivy League boy ethos, Fencik was also featured on the cover of GQ, in September 1986. While leading the Bears' defensive backfield on its Super Bowl run in '85, Fencik also had time to earn his MBA from Northwestern, and he's currently a managing partner in a global money-management firm based in Chicago.
EDGE: Bears
Kicker

We rarely see the Patriots' kicker, Steven Gostkowski, due to the fact that Belichick likes to go for touchdowns on red-zone fourth downs, especially when his team is up big in the fourth quarter. Gostkowski might be a wellspring of charisma, but we'll never know it.
In 1985, the Bears drafted a rookie kicker out of Georgia named Kevin Butler, who called his fiancée from training camp in Platteville, Wis., and explained that "we're going to have to change the date of our wedding, because we're going to the Super Bowl and it's on January 26th."
That same kicker was nicknamed "Butthead," and his team won Super Bowl XX, 46-10, over the Patriots.
EDGE: Bears
FINAL TALLY: The Bears win seven charisma categories and split the eighth, in a horribly biased study. Perhaps I should try politics.
Ted Kluck is the author of three books, including "Paper Tiger: One Athlete's Journey to the Underbelly of Pro Football." Visit him online at www.tedkluck.com.