By John Kruk
Page 2
How many of you thought the Rangers would be in first place in the AL West?
How many of you even gave them a chance?
Come on, none of you did. I didn't. But these guys are showing people up every night. Detroit and Cincinnati are getting most of the press as this year's surprise teams, but long term? I'll take the Rangers.
I was talking to the Texas GM, John Hart, the other day, and he was telling me just what a special group this is. You go into most clubhouses 15 minutes after the game and the place is practically empty. Not in Texas. These guys stick around hours after the game, just talking about baseball. That's pretty refreshing to hear, seeing how most teams today are more a conglomerate of business partners than a team.
You have guys like Michael Young and Hank Blalock leading this "baseball first/business never" charge. With A-Rod and Rafael Palmeiro gone, these guys have stepped up and given this team a new voice. Take a look at the standings. I don't care if it's only April. It's working. You think the last-place Blue Jays are saying, "Hey, it's only April?"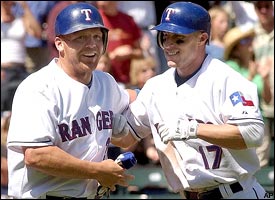 Budding stars like Kevin Mench and Laynce Nix have given the Rangers a reason to smile.
If you want to know what it means to be a teammate, you need to look at how guys interact when the game is over. When R.A. Dickey came to Texas last year, he brought his pregnant wife with him. What does Blalock do to make him feel welcome? He tells Dickey to move into his place so he can take care of his family. Blalock says he and his wife will find another place to live for a while. He's 23 years old, and he has that kind of leadership? That's a team I root for.
Let's not forget about Alfonso Soriano. Now, the Rangers will admit they had some concerns about him. Here's a guy coming from the Yankees, where all he's done is win. For some guys, coming to a team like Texas can be a huge letdown, and you see it in their attitude. Not with Soriano.
From everything John Hart tells me, this guy has been unreal from Day One. He comes in early, stays late. Always keeps guys loose by cracking them up. He's one of the most popular players in the clubhouse.
Not only that, but he's teaching these guys how to win, how to have that mental edge before you even step on the field. Same goes for Brad Fullmer -- baseball's version of the gym rat. He won a ring with Anaheim and now he's bringing that drive to the Rangers.
Some people debate that Soriano's stats and A-Rod's stats are a wash. But you look at their contracts and I'll tell you what: It's no wash. The Rangers made out on that deal.
Still, the most important thing about these young guys is that they want to be in Texas. You combine that attitude with the money the team freed up by trading A-Rod, and this team is ready to explode.
Blalock, Soriano, Fullmer and Laynce Nix ... John Hart isn't dumb. He'll make sure these guys don't go anywhere.
When this team gets the final couple of pieces, the AL West isn't going to know what hit them. You'll see. This team has a shot at being the Braves of their division. That's how good these young guys are.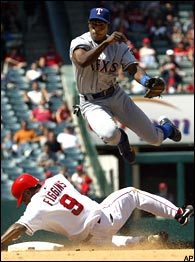 Alfonso Soriano has helped the Rangers leap to the top of the AL West.
In a couple of years, when the Rangers are a legit World Series contender, they might want to thank the guy who helped them out the most -- the guy who made most of their player moves possible.
Alex Rodriguez.
Forget a couple years. I hope they win it this year.
God Bless America
I know there are a lot of people who think we shouldn't be at war with Iraq. But regardless of how you feel, you still need to support the men and women in our armed forces.
Like Pat Tillman.
Next time you look at a professional athlete, don't just assume he has a huge ego and only cares about money. Tillman proved that isn't what every athlete is about. Now, I'm not saying you need to go to war for your country to prove this, but being on the field for the love of playing -- that was definitely part of Pat Tillman. And that is what a majority of guys in pro sports are about.
But getting back to Tillman the soldier ... how many people would do what he did in the prime of his career? And what would Ted Williams' numbers have been if he hadn't lost almost five full seasons to the military?
Think about how different all our lives might be without men like Pat Tillman protecting us and our freedom. That's why my prayers go out to Pat, his family and every other member of our armed services. Because of them, I can wake up and know that my family is safe, and I can go outside and play with my son. Think about the people who have lost their lives in this war so we can enjoy our families, our country.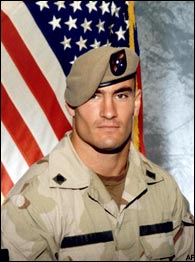 Pat Tillman reminded us of what's great about sports, and humanity.
So whether or not you think it's right -- that doesn't matter. The fact is, the people over there don't have a choice, so we should give them all the support we can.
"American Idol" update
A lot of media people across the country have been calling me about my takes on "American Idol."
They say they don't believe I watch the show. Then they ask me who I think will win it all, and give me their take.
Whoa! So they can watch it and I can't?
Anyway, I know I've ripped on "Big Red" John Stevens, but I have to say I agree with Simon Cowell. This kid (and that's what he is: a kid) has taken shots from everyone in the country. And he's taken them like a champ.
He's got more guts then I'll ever have. I would never, ever, ever sing in public. If I had a record deal and the thing would sell 10 million copies, I still wouldn't do it.
So we won't be seeing "Big Red" on "American Idol" anymore. But I wish him luck finishing high school and whatever else he decides to do.
John Kruk is an analyst for ESPN's "Baseball Tonight"