By John Kruk
Page 2
If you want to know why the older pitchers have been dominating lately, you aren't going to find the answers by breaking down mechanics and style.
It goes all the way back to Little League and all through college and the minors. Bottom line -- today's young pitchers have been babied since they first threw a ball.
These kids are taught that pitch count and innings are everything. They throw numbers at them on how someone can break down if they pitch too much too soon. You know what? You put that into anyone's head and I guarantee you they will break down. And how are you supposed to know what a pitcher has if you don't push them? These are kids. Did you ever get tired playing ball when you were a kid?
When a pitcher finally gets to the major leagues, he goes out and gives the team six innings and he's happy with that? You go ask Terry Mulholland or Curt Schilling if they're ever happy with that. They know their job is to pitch nine innings, but like every other starting pitcher they get pulled because of pitch counts.
There's only one thing that determines whether or not a pitcher should gets pulled -- the batters.
I asked Mitch Williams why he decided to retire. He told me he didn't decide -- the batters did. They told him it was time to go. And that's what should determine when a pitcher comes out of a game. Not some statistic about what might happen.
And forget about this "quality start" stat. What the hell is that? Six innings with three runs or less is a quality start? What happened to the other three innings? I'll tell you, your bullpen is going to get awfully tired if your rotation only gives "quality starts."
If you don't believe me, like I've said before, look at the numbers. They don't lie.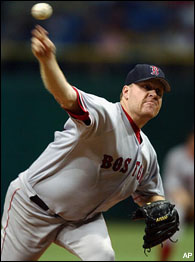 You think Curt Schilling is a happy with a quality start? No -- he wants to go 9.
The Phillies had a pitcher in the '50s named Robin Roberts. He had six seasons in a row of over 300 innings. If he played today they would shut him down at 200.
Take an Red Sox-Angels game from 1974. Nolan Ryan vs. Luis Tiant. Ryan goes for 13 innings while Tiant goes 14.1. The Angels won 4-3. You think they were counting pitches then?
And that was 19 years before Ryan ended his Hall of Fame career. So I don't think all those innings affected him too much. Now if you started telling Ryan when he was 9 years old that a game like that might end his career -- who knows?
The other day everyone was talking about Mike Stanton pitching in his 900th game -- same as Cy Young. One small difference: Mike has about 800 innings under his belt while Cy had 7,500.
What? Were people made differently back then? No way.
Now I'm not saying you have to pitch nine innings. It still all comes down to winning. So when guys like Greg Maddux and Tom Glavine tell their manager they have nothing left, you have to respect that. But you can't respect a manager for taking out a guy just because some computer printout says after a certain pitch count he's a sitting duck.
OUT WITH THE NEW

There are two things that we need to get rid of in baseball.
First, the aluminum bat needs to be eliminated from the college game. And two, tell all the scouts to throw away their radar guns.
If you want to know why pitchers come out of college with no ability to pitch inside, look at the bats they face. In the majors, you jam a guy with a wooden bat and he takes a swing, the damn thing will probably shatter. Try that in the College World Series or something with an aluminum bat? It's not going to shatter, but it might just go 400 feet into the seats.
Not only that, but the speed of the ball off an aluminum bat is just scary. With the size of some of these batters, it's only a matter of time until one of these pitchers gets seriously hurt.
Right now it's all about money. Who do you think gets paid when a major college team uses a brand of bat? Right, the coach. Now college basketball coaches take heat for getting money from sneaker companies, but a sneaker isn't going to kill anyone.
OK, the radar gun. This thing is a joke. You don't get people out with speed. You get them out by location and changing speeds.
Hank Aaron said it best. You can time a jet coming through the strike zone. But put some movement on it?
You hear about what this guy hit on the gun, or how this guy has lost a few mph. If the guy is still getting outs who cares what he hits on "the gun?"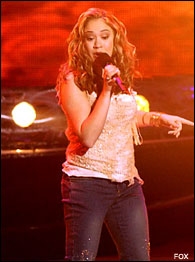 You won't hear anything from Diana in Kruk's CD player.
FINAL ON IDOL

OK, here's my final take on "American Idol."
Yeah, final. I'm through. I'm not watching it ever again and I think you know why.
What is wrong with America that LaToya London would get voted off? I've heard all sorts of stories about the voting and how it might be affected by people who bet on it. And if that's the case, then that's pretty disappointing. That's how we're trying to make some money? Betting on "American Idol"?
Jennifer Hudson was voted off last month and she's still talking about the storm that knocked out power in Chicago so her "fans" couldn't watch and couldn't vote.
Seriously, they need to fix this voting thing. I don't know how, but it's not working. Why don't they let the public get it down to the final five and let the judges pick? What are they there for anyway?
They could use the system TV networks use when they blackout a game. Wherever you're from -- those votes don't count for you. They're blacked out.
The people left can't even sing. It's not just looks. Looks don't do a thing when you're trying to listen in your car.
Clay Aiken, Kelly Clarkson and Ruben Studdard: they can all sing. But Diana DeGarmo and Fantasia Barrino? I would never listen to those two.
Hey, love him or hate him, maybe they should let Simon make all the picks.
What do I care? I'm done with it -- forever.
John Kruk is an analyst for ESPN's "Baseball Tonight"