By John Kruk
Page 2
As the baseball season comes into the home stretch, there's one player who continues to amaze me.
No, not Barry Bonds or Adrian Beltre. Sure, those guys are having great years, but the guy who blows me away every time I see him is Derek Jeter.
I broke into the majors in 1986; and since that time, I've either been in games, been watching games or been talking to guys who have done both.
And with all that information, I'm sold on Jeter. If I started a team today, he's the first guy I'd want. No question.
See, you want a guy who is all about winning. It's the first and last thing he thinks about. Yeah, there are guys out there who hustle and say they want to win, but it doesn't consume them the way it consumes Jeter.
When it's game time, Jeter isn't out there to be your buddy and say "nice play" if you get him out. He's out there to kick your ass.
Wanting to win to that degree isn't something you can practice. Very few guys have that desire. Larry Bird had it. Michael Jordan had it.
There are many people out there that look at Alex Rodriguez this way. Well, Alex may be one of the best players in the game, but he definitely doesn't have what Jeter has.
When the Yankees made the trade for A-Rod, there was all sorts of talk that Jeter shouldn't play short. The best player on the team should, and everyone said that was A-Rod.
Well, I'll tell you -- Joe Torre did the right thing. He put his best player at short.
Now, I know people can throw all kinds of numbers at me, telling me why there are better players out there than Jeter.
I know all that stuff. I'll be the first to admit that Jeter isn't the best hitter. He isn't the best shortstop or the best baserunner, either. But you put what he has all together, and you'd be crazy not to make him the cornerstone of your team.
Yes, Bonds will probably break Hank Aaron's home run record; and a few years later, A-Rod might even catch him. Even knowing all that, I'll still take Jeter.
A couple of weeks ago, I was up in Boston talking to Curt Schilling. Jeter walks by, and Curt asks me, "Hey, you think that guy's any good?"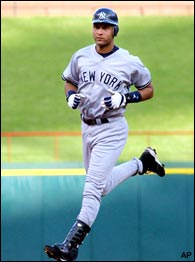 Derek Jeter is without question the cornerstone of the Yankees.
Well, let me tell you: In baseball talk, that question means one thing -- and it isn't, "Is this guy any good?" It's more like, "How is this guy that good?"
Schilling doesn't fear many people when he's on the mound, but I'll tell you: He fears Jeter. And he isn't alone. You won't find a pitcher in the AL who likes to face this guy, especially with the game on the line.
And it isn't like Jeter just started playing like this. He's been doing it ever since he came to the Yankees in '96.
Look at the 2001 Divsion Series against the A's. Yeah, I'm talking about "the play" -- the one where Jeter flipped the ball to Jorge Posada at home to get Jeremy Giambi.
I still remember watching that. I saw Jeter going over to the first-base line and I said, "What the heck is he doing over there? That can't be right."
You never see a shortstop playing over there. On a play like that, the shortstop is just another spectator. Not Jeter. Not with his instincts.
I know a lot has been made of that one play. I'm using it because it's one of the few that everyone talks about, and because it represents what I'm trying to tell you.
If you want to see how the game is supposed to be played, go give George Steinbrenner some of your money, buy a ticket and watch Jeter.
I hope my son learns to love baseball in time to see Jeter play. If he does and he wants to play the game more, then I'm going to teach him to model his game after Derek, not after me.
And if he does that, maybe he can take care of his daddy when he gets a little older.
That being said, there's still one thing that Jeter can't do for the Yankees. He can't pitch.
Emergency call to the bullpen
Where do you start with the questions about the Yankee pitching staff?
Kevin Brown's health? Mike Mussina's health? Will the relievers hold up? How will Javier Vazquez do in big October games?
How about the fact that their ace right now is Orlando Hernandez, and he's a guy that anyone could have had a few months ago for about $300,000?
Or how about Esteban Loaiza? The Yankees decided he was a bust after a couple of starts. Now they can't give him away. He's no fan favorite, either. When he was roughed up in his first start, the Yankee faithful gave it to him. You know what? He probably deserved it. Well, Esteban couldn't keep his mouth shut and told the media that New York fans don't know a thing about baseball, anyway.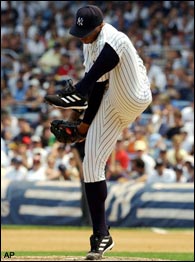 The fact that El Duque is the Yankees' best starter at the moment is sort of scary -- for Yankee fans.
Wrong town to pull that move in.
So to sum up for Loaiza: The team doesn't want you and the fans don't like you. That can't help his confidence in the stretch run.
Okay, so the starters have a few question marks. Everyone knows that. But the other thing that people need to start thinking about is the bullpen.
Paul Quantrill, Tom Gordon and the incomparable Mariano Rivera have done a great job for the Yanks. Saved that team a bunch of wins.
But how long can these guys hang on? They're relievers for a reason. They aren't built to go this many innings.
This has to concern Joe Torre and pitching coach Mel Stottlemyre. Forget about their starters being healthy; they need some guys to start eating innings.
Throw in the status of Jason Giambi and the problems with the bench, and you have a September with plenty of Maalox moments for Torre. These aren't the Yankees of a few years ago.
Of course, after saying all of that, I'll tell you something else about the Yankees.
Don't ever count them out in October.
The real Dream Team
A big tip of the hat to the U.S. women's softball team.
Wow. That's how you dominate. Nine games, nine wins. They outscore their opponents 51-1, and the one run was a meaningless footnote in the gold-medal game.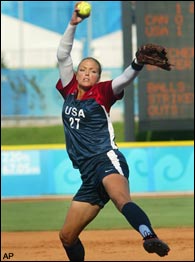 Red, white and blue has never looked so good thanks to Jennie.
They just laid down the gauntlet and said to the other teams, "If you think any of you has a chance, you're kidding yourself." It was like Larry Bird looking around the locker room before the three-point contest at the All Star Game.
"Hey, Larry. What are you looking for?"
"I'm looking for the poor son of a bitch that's coming in second."
The other day on the air, I mentioned this team and said there's no way I could ever hit their pitchers. I guess someone from the team heard that, because they sent me a warm-up jacket and some other stuff.
That was pretty great. Let me tell you, though -- if the men's hoops team sent me something, it would end up in the closet. But I'm wearing this stuff. I'm fine with my manhood.
So, hats off to a true team effort. If you're an American and you're not proud of what these women did ... well, there's something wrong with you.
John Kruk is an analyst for ESPN's "Baseball Tonight."