By John Kruk
Page 2
We're nearing the end of the regular season, so I think it's time to hand out the first annual Kruk Awards.
Most of the guys I pick aren't going to win any real awards. And with some of the awards I'm giving out, they probably wouldn't want to, anyway.
So let's just jump right into it.
MOST VALUABLE PLAYER
No, not the American League MVP or National League MVP. I'm just talking about the most valuable player in the game today.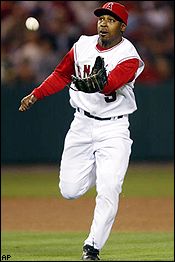 Figgins has started games at six different positions this season.
This year, I'm giving it to Chone Figgins of the Angels. Where would this team be without him? I can tell you one place they wouldn't be -- in the hunt for a playoff spot.
There is no better utility guy in the game today. Chone has played every position except first base and catcher. Oh, sure, he hasn't pitched yet. But he probably would if they ask him.
Now there are plenty of guys out there who can fill in at a few slots, but none of them is a switch-hitter with a .288 average, 15 triples and 31 steals.
Think of what the Angels have gone through this year with injuries. At one time or another, they lost Troy Glaus, Garret Anderson and Darin Erstad, had to give Vlad Guerrero some time at DH because of his problems, and now Adam Kennedy is done for the year. Every time an injury happened, Chone stepped in and kept them on track.
I know about Bonds and Pujols and all those guys. But they show up to the ballpark every day knowing they're going to play and where they're going to hit in the order. Not Chone. He has to take a few grounders all over the field, and then find some time to hit. If you think that doesn't sound like a big deal, imagine going to work every day and not knowing what your boss will have you do that day -- but you have to be prepared for all of it.
If there's a more valuable player in the league, then I'd like to meet him.
MOST VALUABLE PITCHER
Brad Lidge of the Astros gets the honors, with a 5-5 record, 25 saves, 17 holds, a 2.06 ERA and an incredible 143 K's in 87.1 innings.
Here's a guy who was basically unknown until they decided to end the Octavio Dotel experiment at closer. Everyone who's loving Houston right now is looking at the numbers the offense has put up, but the reason the Astros even had a shot at the postseason was Lidge. When you gave him the ball at the end of the game with the lead you pretty much had a win.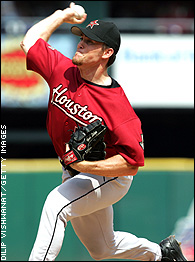 Lidge has fanned 14.74 batters per innings.
As far the the debate over the real pitching awards, the Cy Young, a couple quick thoughts on that. Everyone knows that they're going to give it to Roger Clemens, but is he the best pitcher in the NL? I don't think so. Sure, Rocket is great, Randy Johnson has been the most dominant. It's certainly not his fault his team stinks.
Johnson only has 14 wins, so he's definitely not getting the hardware, but if it's just about the most wins then Curt Schilling should edge out Johan Santana.
LOOK TO THE FUTURE AWARD
This one is all about David Wright, the July callup for the Mets.
This guy is the only thing the Mets have going as far as future stars. Mike Piazza is almost at the end and Cliff Floyd isn't getting any younger. Not only that, but Wright was without question the best player on the Mets for the second half. And he's doing it in New York, which is never an easy place to play.
With this kind of performance (.296, 12 HRs in 230 at-bats) the Mets definitely have a player to build around. They can't do it with Matsui or Reyes. Who knows if they'll ever even get a healthy season from those two
If the Mets aren't putting David Wright front and center by next spring, they're making a huge mistake.
TIME TO RETIRE TO THE AL AND DH AWARD
Looks like we have a tie here with Jeff Bagwell and Mike Piazza.
Nothing against these guys. I'll tell you that I still love watching them swing the bat, but their play in the field is killing their teams. You hate to say it because they've been class acts for their whole career, but in the end it's about wins and losses -- not being a nice guy.
They need to take some advice from the career of Harold Baines and head to the AL. Harold had 10 great years after he became a DH.
These guys would still have four or five more years if they followed. If they don't they're going to find themselves out of the game and it won't be on their terms.
And with guys like this, you never want to see that happen.
MAYBE NEXT YEAR AWARD
Congratulations Josh Beckett of the Marlins. You're a winner here.
After last season everyone, myself included, thought Josh would be the next great pitcher in the NL. He shut down the Giants, Cubs and Yankees when those teams were on fire in the postseason.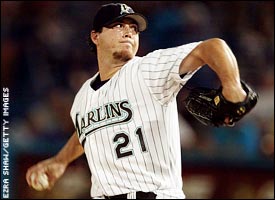 Getty Images
Beckett hasn't turned into an ace with his 7-9 record and 4.00 ERA.
This season he is 7-9 with a 3.82 ERA. What? How did that happen? I know he had some problems with blisters and if there's something else wrong that he's not talking about, hey, I'll understand. But what I've been able to see has been pretty disappointing.
Honestly, I don't think Josh is capable of being a 20-game winner. I don't think he wants the weight of being The Man in Florida. And most importantly, I don't think he cares that much about the game.
I'd love to be wrong on this one, but like the award says, we'll just have to wait until next year.
MAKES THE MOST OUT OF NOTHING AWARD
Here you go David Eckstein of the Angels. You earned it.
I don't know if you've ever watched Eckstein play, but let me put it this way -- if you lined up every major leaguer from Yogi Berra's era to today and said pick out the guy who doesn't belong -- everyone would pick Eckstein. Come on! The guy looks like he should be in Little League!
His throws look like it takes every ounce of energy to get them to first. His swing is less than impressive. But then you look at the numbers ... .280 with a .342 OBP and only five errors.
Man, I wish I had made the most out of my ability as much as Eckstein has. How the hell does he do it?
Ryder Cup
For the next two years everyone is going to be talking about the beating the U.S. took in the 2004 Ryder Cup.
They'll break down the pairings, how people played, who they were matched up against ... let me tell you, all this talk is just useless.
If you want to know what really went wrong with the U.S. team, look at Chris Riley.
Everyone was writing about this guy coming into the tournament. After all, that's the typical treatment they give to a Ryder Cup rookie. It was all the same stuff. What an honor ... What's it like to play with these guys? ... How did you feel when team captain Hal Sutton picked you?
That being said, you figure that Riley would be so pumped, that he'd wake up Friday morning and probably not sleep again until Sunday night.
If you did think that, you couldn't have been more wrong.
On Saturday, after a "grueling" round, Riley told Sutton he was too emotionally spent to go on and he should find someone else to play for him.
By the way, this was after a winning round with Tiger Woods. First Ryder Cup, fifth Ryder Cup -- how do you do that to your team?
That's like your closer going into the seventh game of the World Series and saying, "Hey guys, I already saved three games already so I'm pretty beat. I'm going to sit this one out."
When I watched this go down I honestly thought that Gary Miller would tear him apart, but I guess he was too flabbergasted, too.
I don't know where Chris Riley is right now, but for his sake, I hope there aren't any mirrors around.
John Kruk is an analyst for ESPN's "Baseball Tonight."