By Richard Lapchick
Page 2
If you believe in equal opportunity in sport, Tuesday might have been the saddest day in the history of American college football. I was in a state of disbelief when Dr. Fritz Polite, my colleague at the University of Central Florida, e-mailed me that Ty Willingham had been fired from the University of Notre Dame. I thought he was joking. Dr. Polite knows how closely I follow the situation of the dearth of African-American head coaches in Division I-A football.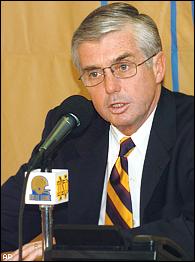 AP
Notre Dame needs a new approach to compete at a high level.
I have been so involved that when Fitz Hill resigned from San Jose State just over a week ago, we hired him as a visiting scholar and research fellow in our program at UCF. Hill was one of the five African-American head coaches who started this season in Division I-A.
I also knew that Tony Samuel, the head coach at New Mexico State, had been dismissed last week, leaving only three of the five who began the season still in place. I was confident that Willingham, Karl Dorrell at UCLA and Sylvester Croom at Mississippi State were safe. Dorrell and Willingham both had teams headed for a bowl game, while Croom was in his first year.
Notre Dame, in spite of a difficult loss to top-ranked University of Southern CalifornI-A last weekend, was still 6-5 this year, and played one of the more grueling schedules in college sport. I understood that his returning players and recruits gave him the potential for a much-improved team next year. And athletic director Kevin White announced earlier that Notre Dame intends to change its scheduling policy so that it wouldn't always be playing the monster opponents the Irish traditionally face.
All About the Irish
Commentary:
Notre Dame had a record of honoring the full length of contracts for football coaches. Willingham's .583 winning percentage in South Bend is equal to, or better than, Bob Davie's and Gerry Faust's -- two of the three previous Notre Dame coaches whose contracts were honored in their entirety.
In 2002, White made the courageous decision to hire the best available coach for America's most prestigious football program. It was courageous because his choice was Willingham, who happens to be an African-American.
All of these things make me deeply disappointed that Notre Dame made the decision to let Willingham go. I say that this might be the saddest day in the history of college football partially because this decision at Notre Dame suggests that the chances of African-American football coaches getting Division I-A jobs have been all but shut down now.
Today, there are two African-American head coaches left in Division I-A football, and there are none in Division I-AA beyond the historically black colleges and universities. In I-A, that's only 25 percent of the sport's high mark, when eight African-Americans led Division I-A programs back in 1998. Even then, only 7 percent of the 117 Division I-A coaches were African-American. Today, that number is down to less than 2 percent -- and nearly 44 percent of football's student-athletes are African-American.
I have watched press conferences at which white coaches took the reins of their programs for the first time. I've heard some of those coaches say, in effect, "I knew if I worked hard and prepared my players to be great student-athletes, I would get this opportunity to be a head coach in Division I-A." But such dreams have been denied for most African-Americans.
In college and professional basketball, African-Americans are hired or fired so often that we barely notice. In football, we are a long way from that point. The Black Coaches Association recently instituted the Hiring Report Card, which looks at the process by which schools hire their head coaches. A study that we released just last week shows that the decision-makers in the hiring process are overwhelmingly white -- including 95 percent of the college and university presidents, 93 percent of the athletic directors, 91 percent of the faculty athletics reps and 100 percent of the Division I-A college commissioners. In a recent column for ESPN.com's Page 2, I asked, "Does this have an impact on hiring head football coaches? How could it not?"
But we also sometimes need to examine the firing process. One might have expected that the futures of Hill at San Jose State and Samuel at New Mexico State could have been in question. I did not have that question about Willingham.
I asked Hill this afternoon how he reacted to Willingham's dismissal. In his response, he asked, "Could Notre Dame go and hire another African-American coach? If that's not a question, then we would not have the problem of the history of African-American coaches in Division I-A. As I was stepping aside from my position at San Jose State just last week, I asked my president, 'Will you consider hiring another African-American head coach?'"
Hill believes the American athletic establishment views African-Americans collectively regarding their record, and not individually as white coaches are judged. That, of course, is part of the problem. African-Americans have historically been hired for some of the nation's most ineffective football programs. This year in ESPN's preseason poll, Notre Dame, at No. 38, was the top-ranked program to have an African-American coach. UCLA was 53rd, and no other Division I-A school with an African-American head coach made ESPN's list of 67 schools.
Sports Illustrated ranked all 117 Division I-A schools, and had Mississippi State 82nd, New Mexico State 99th and San Jose State 111th. That put the median ranking of these five schools at 77, and left lots of work for those African-American head coaches to get their teams up to the level of the national powers.
It has been more than a decade since there were as few as two African-American head coaches at the end of a college football season. In 1993, James Caldwell led Wake Forest and Ron Cooper coached Eastern Michigan. The only year in which more than two African-American head coaches were hired was 1995, when Cooper left Eastern Michigan for Louisville, Bob Simmons went to Oklahoma State and Willingham took over at Stanford.
Today, the only good news is that the Black Coaches Association is stronger than ever and has its Hiring Report Card in place. Some of the athletic directors overseeing openings already have contacted Floyd Keith, the BCA's Executive Director, for his input on a list of African-American candidates.
The women's movement in sport gained its most vigorous momentum not after the passage of Title IX in 1972, but when women took colleges and universities to court for lack of implementation. Perhaps we have reached this sad point in college sports where legal actions have to be considered to complement the effects of the Hiring Report Card.
Something dramatic needs to happen if this incredible slap in the face of African-American coaches and student-athletes is to be rectified. As it stands on Nov. 30, 2004, American college football as an institution has reached a new low point.
Richard E. Lapchick is the Chair of the DeVos Sport Business Management Graduate Program in the College of Business Administration at the University of Central Florida. The author of 10 books, Lapchick also directs UCF's Institute for Diversity and Ethics in Sport, is the author of the annual Racial and Gender Report Card, and is the Director of the National Consortium for Academics and Sport. He has joined ESPN.com as a regular commentator on issues of diversity in sport.