Single page view
By Richard Lapchick
Special to Page 2
The NBA conference finals and the new WNBA season both began this past weekend – exciting times for basketball fans.
Twenty-one years ago, David Stern took over as commissioner of an NBA in decline. Attendance was down, the 1980 NBA Finals between the Lakers and 76ers was shown only on tape-delay after the late-night news, and the game had no iconic players. Critics worried the league was "too black" and expected changes that would increase its popularity among its predominantly white fan base.
Stern made it clear from the start that his policy would be to put the best players on the floor, as well as to put the best people in front offices and league headquarters. The result, 21 years later: The NBA and the WNBA are the best in all of sports regarding hiring practices for diverse peoples. The most recent Racial and Gender Report Card, which has been released over the last month and a half, shows that these leagues are far and away the industry leaders.
Instead of making the NBA "more white," Stern helped market a nucleus of superstars that included Dr. J, Magic Johnson, Larry Bird, and Michael Jordan. The percentage of African-American players steadily increased from the mid-1980s, and hasn't been below 75 percent since the 1991-92 season. It is now at 76 percent, with another two percent made up of players of color who are Asian and Latino.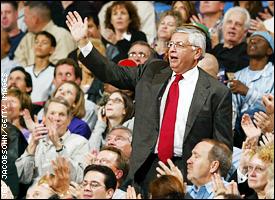 The Commissioner is a man of the people when it comes to fostering diversity.
At a time when other leagues had hired few, if any, African-American coaches, NBA teams hired them regularly. In their histories, the NBA has had 52 African-American head coaches, while Major League Baseball has had 21 African-American and Latino managers and the NFL has had eight African-American head coaches.
Then there were African-American general managers, team presidents and, finally, an African-American owner. The NBA beat the other pro sports to these hires by a decade or more in some cases.
The NBA has also been ahead of other leagues in appointing women to key professional positions, both at league headquarters and in team front offices. Stern, of course, also was instrumental in creating the Women's National Basketball Association.
Stern recently told me that his goal was to reach a point at which no one would notice when African-American coaches and general mangers were hired or fired, and that has really been the case for some time now in both the NBA and the WNBA.
The NBA Racial and Gender Report Card was released last week. When compared to all the men's leagues, the NBA had the best record for hiring people of color in the following areas:
• Players, at 78 percent
• League office vice presidents, with 12
• League office professional staff, at 29 percent
• Limited partners as owners., with six
• Head coaches, with 40 percent
• CEOs/ team presidents, with 10 percent
• General managers, with 17 percent
• Team vice presidents, with 12 percent
• Team professional administration, with 24 percent
The NBA was also best among the men's leagues at hiring women, in the following categories: • League office vice presidents, at 13
• League office professional staff, at 44 percent
• Owners, at three (tied with the NFL)
• Limited partners as owners, with 18
• Team vice presidents, with 17 percent
The WNBA's Report Card shows that the WNBA's record exceeds even that of the NBA. When the WNBA is compared with the men's leagues, it has the best record for hiring people of color in the following categories:
• League office, with 40 percent
• Assistant coaches, at 45 percent
• General managers, with 23 percent
• Team presidents, with 16 percent
• Team senior administration, with 19 percent
• Team professional administration, with 31 percent
When the WNBA is compared to the men's leagues on the basis of gender, it has the best records in the following categories: • League office professional staff, at 90 percent
• Team vice presidents, with 28 percent
• Team senior administration, at 42 percent (tied with Major League Soccer)
• Team professional administration, with 44 percent