Single page view
By Richard Lapchick
Special to Page 2
As coach of the New York Knicks, my father helped integrate the NBA in 1950 when he signed Nat "Sweetwater" Clifton from the Harlem Globetrotters. I spent more than 20 years as one of the American leaders of the sports boycott of South Africa. For nearly 20 years, I have authored the Racial and Gender Report Card, looking at the racial and gender hiring practices of pro and college sports in off-the-field positions, including team front offices and college athletics departments. I have been called the "racial conscience of sport."
As coach of St. John's, my father spent 20 of his last 30 years working in higher education between 1936 and 1965. I have been involved in higher education since 1970. We both thought that universities were a higher moral playing field than most of society. I often wonder why we shared that belief. On issues of race and gender, it has turned out to be more of a half-truth.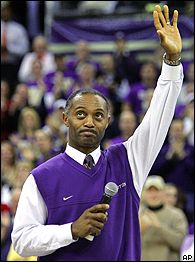 Tyrone Willingham got a new job quickly, but there are still far too few African-American head football coaches.
This morning, the 2004 College Sport Racial and Gender Report Card was released. And while it surely showed some reasons for our faith, it also begged the question, "Why did we place so much faith in our colleges and universities on matters of race and gender?"
I have no doubt that Myles Brand, the NCAA's president, has a strong moral compass on these issues. He has demonstrated it with bold statements at the NCAA convention in January 2005. In his State of the NCAA address, he called the lack of opportunity for people of color in football head coaching positions "appalling." He has supported the Black Coaches Association's Hiring Report Card for college football coaches. He helped create the NCAA's Office of Diversity and Inclusion to better balance who is hired at the NCAA and its member institutions. Brand just hired Charlotte Westerhaus, an African-American woman, for the position of vice president for Diversity and Inclusion as a direct report. He has been bold and forthright, but he inherited a college sports system that was way behind professional sports on issues of race and slightly better than everyone except the NBA and WNBA on gender hiring practices.
The college report was published after those for the NBA and WNBA, NFL, MLB and MLS because college athletics have more professional opportunities than all the professional sports combined. An enormous number of professional positions exist at the NCAA's 1,028 active member institutions. These include nearly 39,000 head and assistant coaches, more than 3,200 athletics directors and associate and assistant athletics directors, and more than 4,800 academic advisors, compliance coordinators and managers for business development, fund-raising, facilities, marketing, ticket sales and media relations. Then there are all the assistants and support staff. We released the 2004 College Sport Report Card at the annual convention of the Black Coaches Association, which is the organization most closely connected to the issues in the report.
Thus, in terms of expanding opportunities in sport for women and people of color, the greatest prospects exist at the college, and not the pro sports level. Brand had a juicy target.