Kobe Bryant? Chris Paul? Kevin Garnett?
Millions of words have been typed, and oodles of bandwidth have been devoted to the NBA MVP debate. We'll leave that argument to the experts.
Instead, Page 2 identifies the candidates for the Least Valuable Player and taps Knicks coach Isiah Thomas to provide insight on their chances.
Kwame Brown, L.A. Lakers-Memphis
Statistical analysis: Think the Lakers were happy to dump this guy on Memphis? The former No. 1 overall pick is averaging 18.9 minutes per game and shooting 41 percent on free throws. Brown did score a season-high 11 points on April 2 -- wait, that was against the Knicks. Since then he has a streak of three consecutive DNP-CDs, including last Friday's blowout loss to the Warriors, in which he was the only Grizzly not to play. The one thing that undermines Brown's LVP chances is his contract, which expires at the end of this season.
Isiah Thomas analysis: "What's an expiring contract?"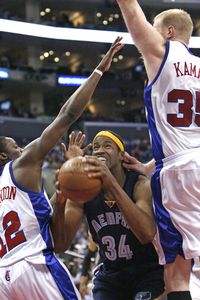 AP Photo/Gus Ruelas
He doesn't score, he doesn't rebound, he doesn't block shot, he doesn't pass. But Jason Collins makes $6.1 million!
Jason Collins, New Jersey-Memphis
Statistical analysis: Ranks last in John Hollinger's PER rating -- 321st. No wonder the Nets traded him. Despite averaging nearly 16 minutes per game, has scored just 131 points all season. That's right, he averages less than a bucket per game. He has 46 turnovers to 25 assists and doesn't actually grab many rebounds either. We'll go out on a limb here and suggest Collins is in the NBA only because he's 7 feet tall.
Isiah Thomas analysis: "Look, statistics don't win basketball games. And you can't tell me Jason Collins isn't a winner. He played on two NBA Finals teams with the Nets. Plus, at $6.1 million per year, he makes only $300,000 more than Jerome James, so we'd love to have him on the Knicks."
Daequan Cook, Miami
Statistical analysis: A shooting guard ideally should make more than 37 percent of the shots he takes. Nevertheless, Cook went for 58 points in a three-game span in early March … for the Iowa Energy of the D-League. In Cook's favor is a solid 83 percent success rate on free throws. Now, if he could only get to the line for more than one attempt per game.
Isiah Thomas analysis: "Even I would've advised him to stay in school another year."
Adonal Foyal, Orlando
Statistical analysis: Once drafted eighth overall by Golden State (just ahead of Tracy McGrady), the Warriors decided after 10 seasons that Foyle wasn't actually very good. In 78 games with the Magic, he's averaging 1.8 points and 2.6 rebounds. Ranks 281st in PER.
Isiah Thomas analysis: "We were going to offer a first-round pick for Foyle a couple of years ago, but then I found out he started a group called 'Democracy Matters,' which helps generate political activism on college campuses. But there is no democracy on the Knicks! This a dictatorship. Well, at least it was until a couple of weeks ago."
Dan Gadzuric, Milwaukee
Statistical analysis: The 6-11 center is averaging 2.9 rebounds and shooting 53 percent from the line. Throw in his 3.1 points a game and you can easily deduce that he is more valuable to the Bucks on the far, far, far end of the bench.
Isiah Thomas analysis: "This guy played at UCLA! That's the team I had in the MSG office pool! With that pedigree and the fact that he's averaging only 10 minutes a game, he should be pretty well-rested to contribute."
Robert Horry, San Antonio
Statistical analysis: During an injury-plagued 2007-08 season, Big Shot Bob has appeared in only 45 games. He's also shooting a career-worst 32 percent from the field and 25 percent on 3-pointers. The switch from jersey No. 5 to No. 25 hasn't exactly helped him "recapture" his youth.
Isiah Thomas analysis: "Anyone who chucks a towel into the face of Danny Ainge has a place in my heart."
Yao Ming, Houston
Statistical analysis: Sure, he averaged 22.0 points and 10.8 rebounds before his injury, but Rockets have gone 18-5 since he went out.
Isiah Thomas analysis: "Yao is a decent player. I don't think I'd trade Nate Robinson for him or anything (love those dunks!), but I think the injury that really hurt the Rockets was the one to Steve Francis. I love me some Stevie Franchise."
Smush Parker, Los Angeles Clippers
Statistical analysis: What do you have to do to get released by the 14-64 Heat? You have to get in a fight with a female parking attendant. Now with the Clippers, Parker has brought his "A" game out west, shooting 32 percent from the floor and 22 percent from 3-point range.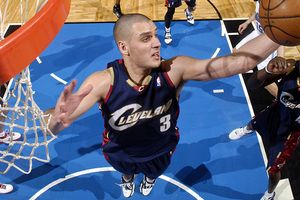 Fernando Medina/Getty Images
Sasha Pavlovic goes up for the rebound -- probably off his own missed shot.
Isiah Thomas analysis: "This guy is from New York City! He went to Fordham! That's about 10 subway stops from here. Having a Big Apple guy return home to play with the Knicks? That's a no-brainer. Of course it would work."
Sasha Pavlovic, Cleveland
Statistical analysis: A "shooting" guard who ranks 307th among regular players with a 36.3 field goal percentage. Cavs are 17-12 when he doesn't play, 26-23 when he does.
Isiah Thomas analysis: "Great players make their teammates better. Did you know Bill Laimbeer shot 53 percent one year? So when people ask me if the Knicks will be interested in LeBron when he becomes a free agent, I say no, he doesn't make his teammates better."
Shavlik Randolph, Philadelphia
Statistical analysis: This is a guy who was once thought to be so great that Michael Jordan personally recruited him to UNC (he chose Duke). Now? After coming back from a broken and dislocated ankle, Randolph has played in only seven games and averaged 0.9 points. Bottom line: "Don't bring your Shav-ness on us."
Isiah Thomas analysis: "This guy reminds me a lot of Laimbeer without the personality, the toughness, the ability to rebound, the ability to shoot and the ability to lead the team as a role player. Hey, he's not going to be an exact copy of the guy. Still, I'd love to see him playing at MSG."
Luke Ridnour, Seattle
Statistical analysis: He backs up 41 percent shooting with porous defense -- all for a team that is 18-61.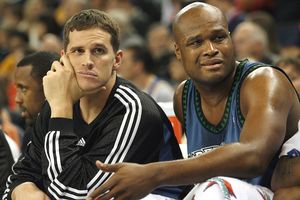 AP Photo/Dino Vournas
It wasn't easy, but we found this photo of Antoine Walker sitting on the bench.
Isiah Thomas analysis: "I hear Seattle is moving to Oklahoma City? Why would anyone want to move a pro basketball team to Arkansas?"
Antoine Walker, Minnesota
Statistical analysis: Logged a DNP-CD for the past 25 T-Wolves games. According to coach Randy Whitman, "He's a very competitive guy who wants to play, but I think he understands what we needed to try to accomplish here." When he does manage to get in the game, the $8 million man has shot 36 percent from the floor and 53 percent from the line.
Isiah Thomas analysis: "This guy is a winner. He won in college with Kentucky. And he sort of helped the Heat win a title. Plus, Walker's mere presence would give Eddy Curry a big boost to see he didn't have the biggest weight problem on the team."
Jerome James, Knicks
Statistical analysis: Five minutes played in total this season at a salary of $5.8 million.
Isiah Thomas analysis: "Criticize me if you want, but try to find someone else shooting 100 percent from the field and the line. Yeah, I thought so."
Thomas Neumann, Mike Philbrick and David Schoenfield contributed to this article. Isiah Thomas did not.