Commentary
Chuck Liddell's dancing diary, Week 3
Updated:
October 5, 2009, 4:27 PM ET
By
Chuck Liddell (as told to Laura Lane)
| Special to Page 2
Editor's note: UFC Hall of Famer Chuck Liddell is taking his skills from the octagon onto the dance floor by competing on ABC's "Dancing With the Stars" (Mondays at 8 p.m. ET and Tuesdays at 9 p.m. ET on ABC). While knockouts might not help Liddell with the samba, if there's one thing the MMA legend knows how to do, it's win. Liddell will be checking in with Laura Lane and Page 2 every week he's still on the show, which -- if he has anything to say about it -- will extend all the way to the finale.
This week went well. I got through it and got three points better than last week, so I can't complain. Then again, Len [Goodman, one of the judges] wasn't there, so that kind of helped. Mickey Rourke came out to watch me on Monday. He's a friend of mine. I've known him for a while. I ran into him and we were talking about a movie project he's doing, and I said, "Yeah, if you want to come by" and he said, "Yeah, I'll come by the set." He came by and checked it out. He thought my dancing was good. He was disappointed because he was in town Monday and Tuesday and he didn't realize I danced both days. I don't think he'll do the show, but I don't know. If he wanted to, it'd be great.
[+] Enlarge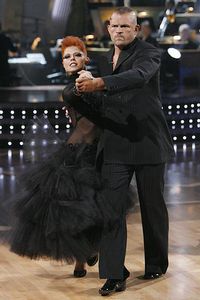 Adam Larkey/ABCLiddell looks pretty intense out there, doesn't he?
This week we danced the tango to the White Stripes' "Seven Nation Army." It's fast and it pumped me up. It's one of the songs I like. Anna [Trebunskaya, Liddell's partner] wanted to do an aggressive kind of look. She was getting a tattoo on the side of her face and she asked me to do one on my head. They actually tried to bedazzle it and I had to say no. They wanted to put rhinestones all over it and I was like, "Uh, I don't think that's gonna happen."
With the tango I was able to do a little bit more of some impact stuff. We started out with a big move that wasn't really technical. I just kind of ran at Anna and tackled her and threw her up. We had that big pause that kind of helped me relax right away. It was Anna's idea to start the dance with my shirt and my jacket off. The Pit X move at the end -- that was me, that was for all my guys. I don't have a chance to do it all the time. People call it the Iceman X, but really it's the Pit X.
The judges gave me a 6, a 7, and a 6 (for a total score of 19 out of 30). That's three points better than last time! When we first started, it took me four days to get a rumba walk. This is not easy for me, but I am getting better. I was a lot more comfortable this time than I was last time. There were a lot less nerves. I don't know if it was because I got to come out there and be aggressive and have that mindset, or if it was because I had done the show before. I hope it's a little of both, and next time I hope it's a little easier. There were some good dances this week. A couple of them were disappointed by their performances, but I thought everyone did well.
Kathy Ireland was eliminated. It's hard to see anybody go, because when you're in it you know how hard it is to do this stuff and how much work you put in. After last week, Michael Irvin said he doesn't want to ever go home or be in that position again. I think he went back and started working even harder at it.
After Monday night's show I usually go out to celebrate with my friends and whoever comes to my show. I'm pretty much off all day Tuesday until the show at night. Last Monday night I went out with some friends who came to watch. We went to Koi [a Japanese restaurant in Los Angeles] first and had some food. Then we went to see Steel Panther; they used to be called Metal Skool. Then I went to Teddy's, because someone said some of the "DWTS" people were at the Roosevelt Hotel. Mickey wasn't feeling too good, so he went home early before the crowd went out.
This week is going to be interesting. We're doing the samba, and people are going to laugh at our wardrobe choices. It's a traditional outfit for this. Anna said it involves ruffles and fringe. I don't know what that exactly means, but I'm guessing it's going to look like Big Bird. It should be interesting. It is what it is. It's got a reason behind it. I told Anna with the tattoo, as long as you can't explain the rhinestones, I'm not putting those on my head. So as long as you can explain the reason for it and I can understand it, we can wear stuff.
To check out more updates from Chuck follow his Twitter feed, and to vote for him check out the "DWTS" Web site.